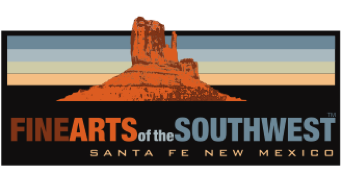 © 2010-2023 by Fine Arts of the Southwest, Inc. All rights reserved.
Unauthorized reproduction or use is strictly prohibited by law.
A strikingly beautiful large Modernist Sterling silver cocktail-style ring set with multi-colored, semi-precious stones by H. Fred Skaggs, Scottsdale, AZ, c.1950's
One of the greatest and most influential American Modernist jewelers of the 20th Century, H. Fred Skaggs (d.1982) was a modest man of mild demeanor who never sought fame or renown, preferring to quietly make his revolutionary jewelry in his succession of two small shops in downtown Scottsdale, Arizona for some 30 years. Skaggs' jewelry
is revolutionary in a number of significant ways; his unusual, swooping, streamlined designs are daring and innovative, his skillful manipulation and imaginative use of metals and their varying textures, choice of unusual, interesting stones and unique ways of shaping, setting and presenting them.
Fred Skaggs had perhaps his most profound influence on the career trajectory of the young Hopi Indian artist, Charles Loloma (1921-1991) beginning in the late 1950's when they were both living and working side by side in the Kiva Crafts Complex created by Lloyd Kiva New on 5th Avenue in downtown Scottsdale, Arizona. Charles and his wife Otellie were making and selling their "Lolomaware" pottery at the time and Skaggs offered to trade Loloma jewelry-making lessons in exchange for pottery pieces. Loloma, who had already done some initial experimentation with jewelry-making, was intrigued and and the rest is history. For the rest of his life, Loloma credited Skaggs with being his most significant inspiration and mentor in jewelry-making. Looking at Skaggs' unique and inventive designs, uses of different textures and surfaces in metals, asymmetric ring and bracelet shapes and unusual use and variety of set stones it's easy to see the genesis of a great many of Loloma's jewelry ideas and techniques.
This striking large silver cgocktail-style ring is a perfect case in point; its interesting arrangement of a continuous encircling row of hand-carved asymmetrically-shaped, multi-colored, semi-precious stones set next to each other in freeform silver bezels all the way around the circumference of the ring surrounding a larger, oval-shaped center stone. The ring is set with six different types and colors of semi-precious stones; purple amethyst, pink tourmaline, green peridot, orange citrine and grey quartz all arranged around the larger, central stone which appears to be a whitish-grayish colored rutilated quartz.
Interspersed at regular intervals dividing the ring's face into sections are six outwardly-radiating narrow raised bars of applied-silver. The brightly polished surface of the round tips of these bars and the polished silver bezels around the stones provides a wonderful visual and textural juxtaposition and counterpart accent to the darkly-finished silver surface of the oval-shaped face of the ring. The oval ring face is mounted on a beautifully shaped and gracefully hand-wrought silver wire shank. This deliberate textural juxtaposition of smoothly polished and rougher un-polished darkened areas of silver is a lesson Charles Loloma took well to heart and used many times during his subsequent career. Another interesting and unique innovation as can be seen below on the ring's underside is that Skaggs left the back of the stones open so that the light could shine more brightly and evenly through them.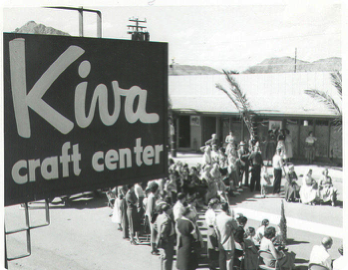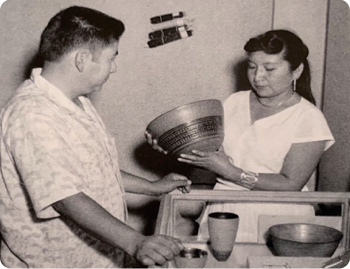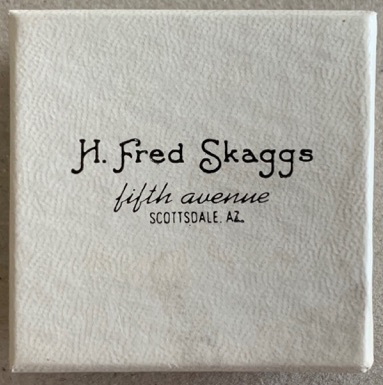 The "Skaggs Fifth Avenue" Box
Fred Skaggs clearly had a very sly sense of humor. Notice the distinct resemblance in name and design presentation on his jewelry box to the famous "Saks
Fifth Avenue" department store in New York City. Fifth Avenue in dusty, little Scottsdale, Arizona in the mid-to-late 1950's had yet to become a world-famous shopping destination, but a small group of talented and dedicated artistic friends, colleagues and collaborators at Scottsdale's Kiva Craft Center led by Lloyd Kiva New, H. Fred Skaggs and Charles and Otellie Loloma were in the process of changing that forever. Above left, exterior view of the Kiva Crafts Center in Scottsdale, Arizona, c. 1950's. Above right, Charles and Otellie Loloma in their pottery studio and shop at The Kiva Craft Center, Scottsdale, AZ. c. 1956.
Left photo source and © Scottsdale Historical Society. Right photo source and © "Loloma, Beauty is his Name" by Martha H. Struever, Wheelwright Museum, Santa Fe, 2005, pp. 12.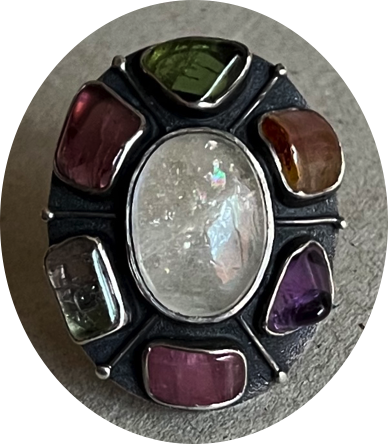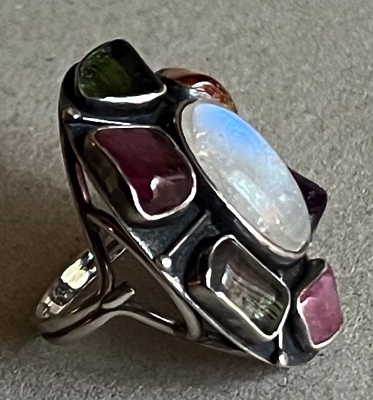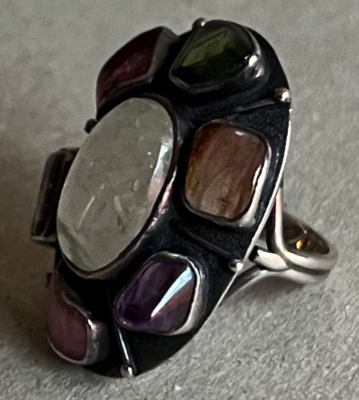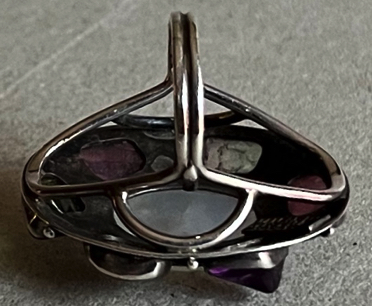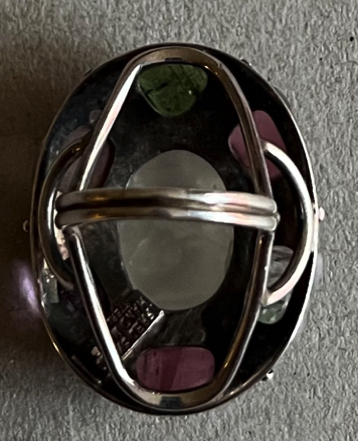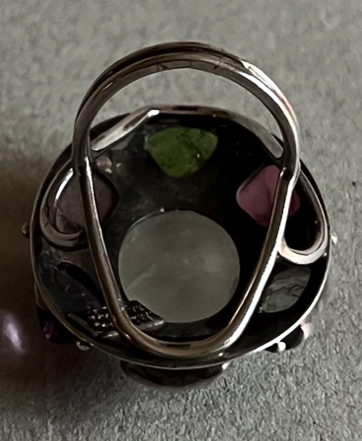 The ring measures a size 7 3/4 on a professional graduated ring sizer. The ring's face measures 1 1/2" in height and
is 1 1/4" wide at its widest center point. The ring weighs a very comfortable 10 grams or 3/8 ounce. The ring is in generally excellent original condition particularly for its 70 or so years of age; a couple of the smaller stones have slight cracks, but they are all generally intact and quite secure in their bezels. The ring is properly signed
"Fred Skaggs" and marked "Handmade Sterling" on a silver plate attached onto the interior of the ring.
This ring is a beautiful, eye-catchingly unique and extremely easy-to-wear Modernist jewelry masterwork by one of the finest and most innovative American Modern jewelry masters. It is unconditionally guaranteed to turn heads every time you wear it, including your own.
Price $2,350