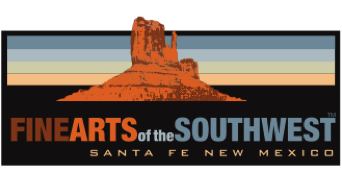 © 2010-2023 by Fine Arts of the Southwest, Inc. All rights reserved.
Unauthorized reproduction or use is strictly prohibited by law.
A beautiful Modernist-style hammered
Sterling silver cuff bracelet by H. Fred Skaggs, Scottsdale, AZ, c.1950's
One of the greatest unsung heroes of Southwestern jewelry and one of the most innovative American Modernist jewelers of the 20th Century, H. Fred Skaggs (d. 1982) was a shy and modest man of mild demeanor who never sought fame or renown, preferring to quietly make his revolutionary jewelry in his succession of two small shops in downtown Scottsdale, Arizona for some 30 years. Skaggs' jewelry is revolutionary in a number of significant ways; his unusual, swooping, streamlined designs are daring and innovative; his skillful manipulation and imaginative use of metals and their colors and textures, his choice of unusual, interesting stones and unique ways of shaping, setting or presenting them.
Fred Skaggs had his most profound and enduring influence on the career trajectory of the young Hopi Indian artist, Charles Loloma (1921-1991) beginning in the late 1950's when they were both living and working side by side in the Kiva Crafts Complex in downtown Scottsdale, Arizona which was conceived and created by the distinguished Native American educator and art impresario Lloyd Kiva New (dates) as a unique creative community, a venue for artists to live, work and exhibit while enjoying and learning from the creative ferment fostered by a community of artists.
This striking hammered Sterling silver cuff bracelet is a perfect case in point; it looks simple but is anything but, it's all plain silver all right there with no applied decoration or ornamentation to hide any flaws or mistakes behind. Instead there are a variety of subtle and accomplished techniques simultaneously at work here, the bracelet shank is subtly repousseed or domed all the way around and the interior is lightly planished meaning it is hammered with continuous small hammer strikes all the way around to create a lovely interior texture that only its wearer could see, an "inner beauty" technique that Skaggs' student, Charles Loloma, would later seize and expand upon to dazzling effect.
The bracelet's inner circumference end-to-end is 5 3/4" and the gap between the terminals is 1 1/8" for a total interior circumference of 6 7/8". This size could be carefully adjusted somewhat, if desired, by a qualified professional jeweler. The bracelet weighs an easily wearable and extremely comfortable 63 grams or 2 1/4 ounces. The bracelet is in excellent original condition, particularly for its going on 70 years of age with a fine soft patina from age and use. There are various scratches and small dings in evidence which in our view only adds to the bracelet's subtle appeal. The bracelet is properly signed "H. Fred Skaggs" with Skaggs' (HFS) hallmark and also marked "Handmade and Sterling" on the interior.
This bracelet is a beautiful, extremely easy-to-wear Modernist masterwork by one of the finest American Modern jewelry masters of all time; a man whose enduring artistic legacy lives on both in his own ground-breaking work and in that of
his brilliant Hopi student.
SOLD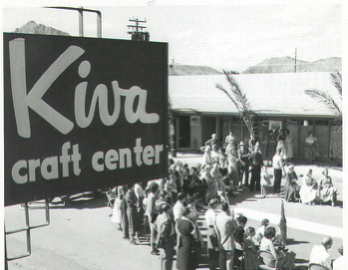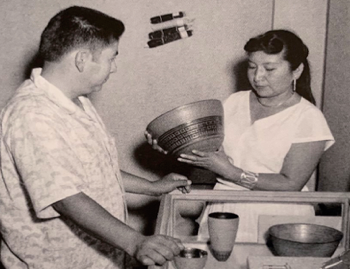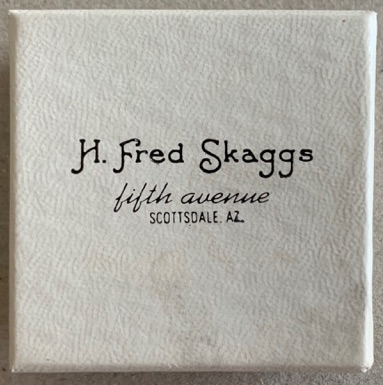 The "Skaggs Fifth Avenue" Box
Fred Skaggs clearly had a very sly sense of humor. Notice the distinct resemblance in name and design presentation on his jewelry box to the famous "Saks
Fifth Avenue" department store in New York City. Fifth Avenue in dusty, little Scottsdale, Arizona in the mid-to-late 1950's had yet to become a world-famous shopping destination, but a small group of talented and dedicated artistic friends, colleagues and collaborators at Scottsdale's Kiva Craft Center led by Lloyd Kiva New, H. Fred Skaggs and Charles and Otellie Loloma were in the process of changing that forever. At left, exterior view of the Kiva Crafts Center in Scottsdale, Arizona, c. 1950's. At right, Charles and Otellie Loloma in their pottery studio and shop at The Kiva Craft Center, Scottsdale, AZ. c. 1956.
Left photo source and © Scottsdale Historical Society. Right photo source and © "Loloma, Beauty is his Name" by Martha H. Struever, Wheelwright Museum, Santa Fe, 2005, pp. 12.
Charles and his wife Otellie were making and selling their unique and distinctive line of "Lolomaware" art pottery at Kiva Craft Center during this time and Skaggs offered to trade Loloma jewelry-making lessons in exchange for pottery pieces. Loloma, who had already done some initial experimentation with jewelry-making, was intrigued and accepted the offer and the rest is wonderful artistic history. For the rest of his life, Loloma always credited Skaggs with being his real inspiration and mentor in jewelry-making. Looking at Skaggs' unique and inventive designs, asymmetric shapes and unusual uses of metal and stones it's easy to see the genesis of a great many of Loloma's jewelry ideas and techniques.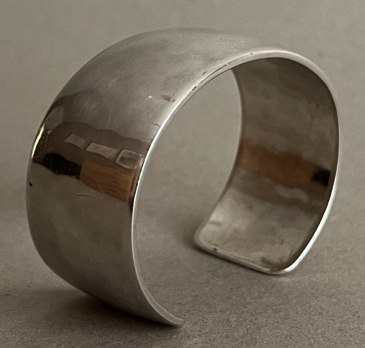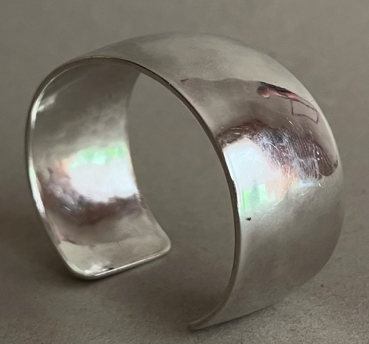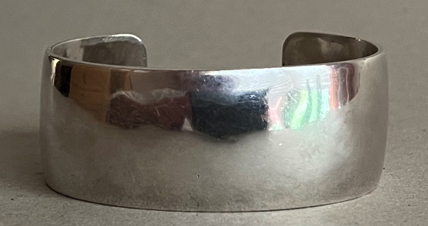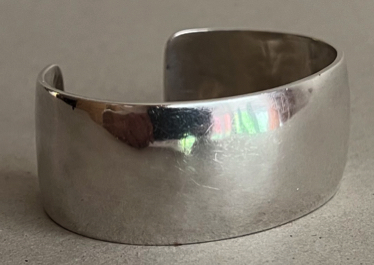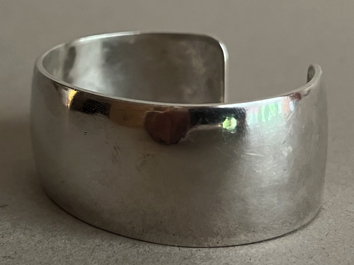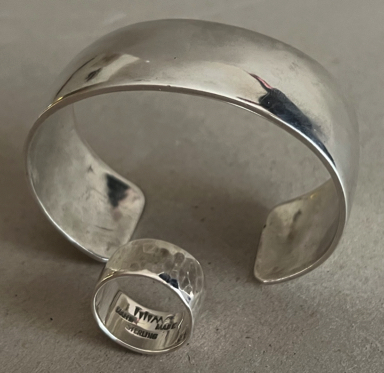 At center, the bracelet pictured with a Charles Loloma silver band ring, c. 1960. The planished texture on the Loloma ring is on the outside and the inside is polished, the exact opposite of the textures of the Skaggs bracelet, but the overall concept of mixed textures is very similar.