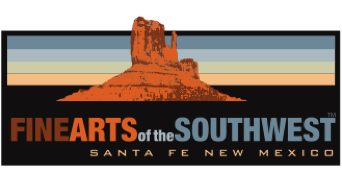 © 2010-2021 by Fine Arts of the Southwest, Inc. All rights reserved.
Unauthorized reproduction or use is strictly prohibited by law.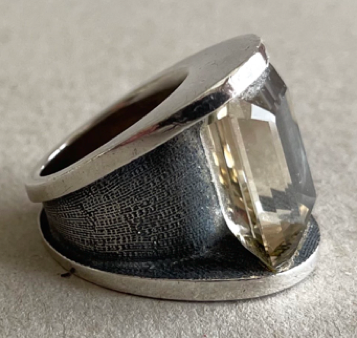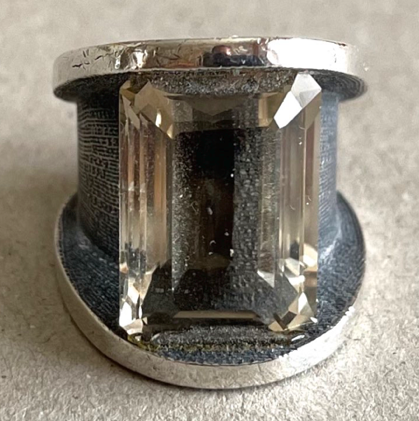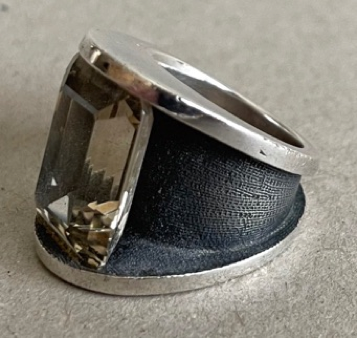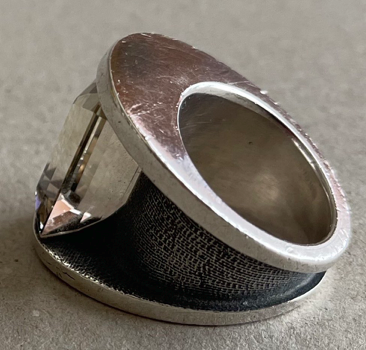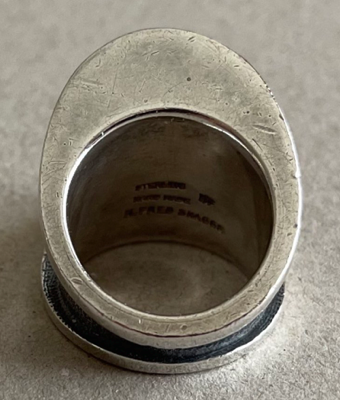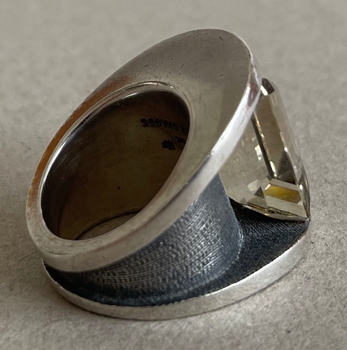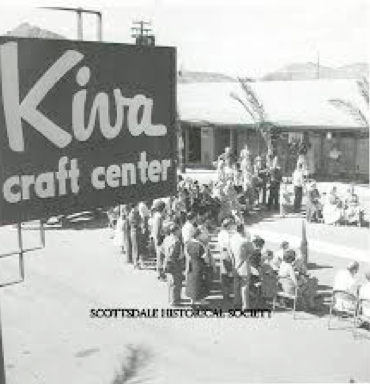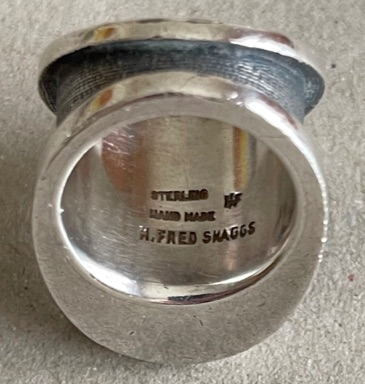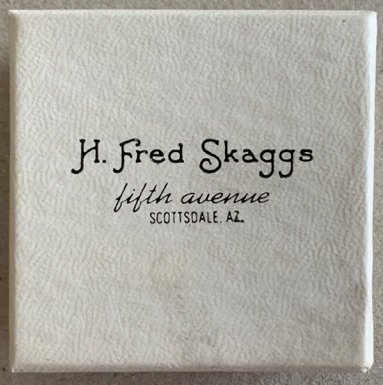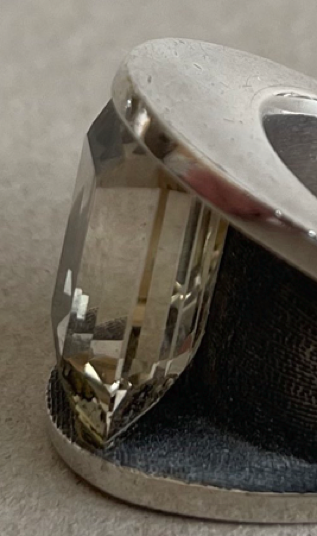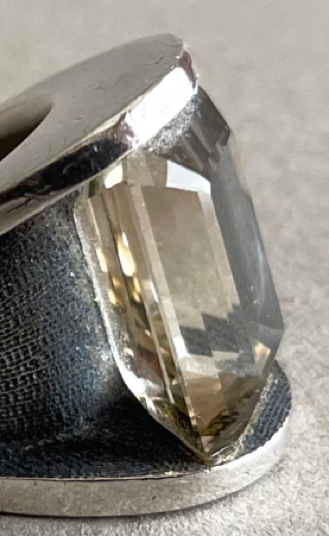 This exceptional ring is a perfect example of Skagg's using his imaginative aesthetic and exceptional craftsmanship to create a beautiful and unique artistic statement. The ring's silver shank is an extraordinary and daring conception. It appears to have been cast in a single piece into a deeply-channeled oval shape. The top and bottom sections of the shank were polished to a smooth brightness while the deeply recessed interior surface was left with a dark grey color and rough texture. This contrast between the bright polished outer surfaces and the dark rougher inner recessed surfaces sets up a marvelous contrast and visual tension which serves to perfectly frame and highlight the large, beautifully-faceted emerald cut light yellow citrine stone Skaggs placed in the ring. And the clean "suspended" setting he used is again quite daring and almost magical in its beauty. It looks simple, setting a stone without a bezel or prongs to hold it in place, but it's not. It's a feat of almost scientific engineering to cut and place the stone in such a way inside the rings recessed channel that its completely secure floating almost freely, suspended in midair like a lovely light yellow cloud.
The ring measures a size 6 1/2 on a professional graduated ring sizer. The ring's face measures 1" in height and around 1/2" in width. The ring weighs a very comfortable and easy to wear 19 grams or 5/8 ounce. The ring is in completely excellent original condition with some age-appropriate wear and it is properly signed "H. Fred Skaggs" and it is also marked "Handmade" and "Sterling" on the interior. This ring is a precious, beautifully-fashioned piece by someone who was one of America's most imaginative and accomplished jewelry artists himself and who was the formative teacher of and inspiration to the most significant and renowned Native American jewelry artist of all time.
This startlingly almost wildly modern ring was created in modest and humble circumstances by a unique and self-effacing individual who spoke loudest and most eloquently through his art. It was created at a great distance and under conditions very different from those in the fancy high fashion jewelry houses in the major capitals of the world, but we are certain that the great artisans at Tiffany, Cartier, Van Cleef and Arpels, Bulgari and Harry Winston would all have been very proud to say they had created this ring.
Price $1,650
A unique Sterling silver and citrine ring by Modernist jewelry master, H. Fred Skaggs, Scottsdale, AZ, c.1950's-60's
H. FRED SKAGGS (d.1982) is an unsung hero of the jewelry world. Unlike his now world-famous jewelry student, Charles Loloma (1921-1991), Skaggs is not a household name today, but he was a fantastic, far ahead-of-his-time jeweler with great artistic vision and truly exceptional technical virtuosity. In the late 1950's, there was a potent artistic witches brew of sorts occurring at The Kiva Craft Center on downtown Scottsdale Arizona's 5th Avenue. Conceived of and facilitated by the talented Native American fashion impresario and teacher Lloyd Kiva New, the idea was to provide live and work space for various artists to make and sell their creations within a defined artistic community and in the process to feed off each others proximity, creative energy and inspiration.
In addition to Kiva New himself, some of the most prominent artists in residence at Kiva Craft were Modernist jeweler, H. Fred Skaggs and Hopi Indian painters and ceramic artists Charles Loloma and his wife Otellie. This idea of one artist inspiring another worked perfectly with Skaggs and Loloma. Skaggs admired Loloma's pottery pieces and he offered to trade him jewelry-making lessons for them. Loloma, who found Skagg's jewelry fascinating, readily agreed to the arrangement and history was thus made.
For almost the entirety of his career, Skaggs worked quietly and modestly in his small Scottsdale shop where he made and sold his daring Modernist silver and gold jewelry for decades from 1956 until his death in 1982. Skaggs shunned the limelight, but he influenced generations of jewelers to come with his innovative shapes, technical mastery and creative uses of metals and stones. For the rest of his storied jewelry career, Loloma always credited Skaggs with being his biggest influence and indeed you can see the genesis of many of Loloma's "signature" ideas in earlier work done by Skaggs; the triangular "Shield" style earrings, the daringly shaped bracelets and rings and the use of multi-colored often unusual stone settings and the dramatic manipulation of polished and unpolished metal surfaces in the same piece.
THE "SKAGGS FIFTH AVENUE" BOX
Fred Skaggs clearly had a very sly sense of humor. Notice the distinct resemblance in name and design presentation on his jewelry box to the famous "Saks Fifth Avenue" department store in New York City. Fifth Avenue in dusty, little Scottsdale, Arizona in the mid-to-late 1950's had yet to become a world-famous shopping destination but a small group of talented and dedicated artistic friends, colleagues and collaborators at Scottsdale's Kiva Craft Center seen above at right led by Lloyd Kiva New, H. Fred Skaggs and Charles and Otellie Loloma were in the process of changing that forever.
Sorry, this cardboard box is not included in the sale of this ring. Kiva Craft Center photo source and © Scottsdale Historical Society.