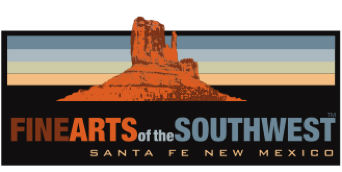 © 2010-2021 by Fine Arts of the Southwest, Inc. All rights reserved.
Unauthorized reproduction or use is strictly prohibited by law.

A pair of Danish mid-century modern wood, leather and
steel armchairs by Hans J. Wegner, circa 1950's
These fabulous armchairs were designed by the famed Danish architect and furniture designer, Hans J. Wegner (1914-2007). The chairs are made of a fine smooth black leather with very lovely natural wood arms finished with a beautiful soft satin finish. The legs appear to be stainless steel. The chairs each measure 25 1/2" width, 24" depth and 29 1/2" in height. They are in excellent original condition and are properly signed on the bottom with the label of Hans Wegner's Danish furniture distributor. The label reads as follows: "Johannes Hansen, Copenhagen, Denmark, Design, H.J. Wegner".
Price $6,850/pair plus shipping