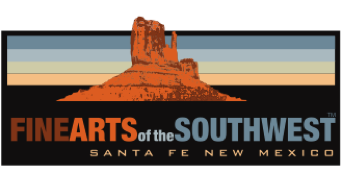 © 2010-2021 by Fine Arts of the Southwest, Inc. All rights reserved.
Unauthorized reproduction or use is strictly prohibited by law.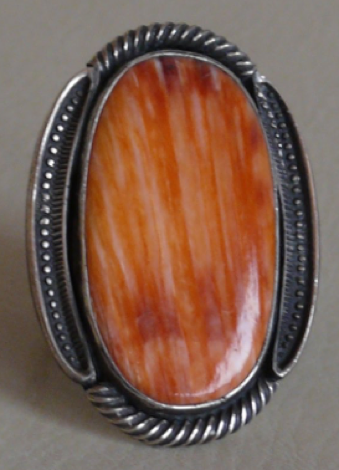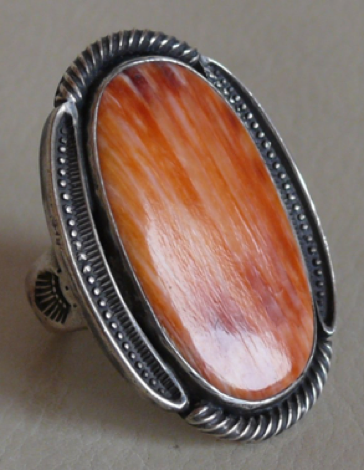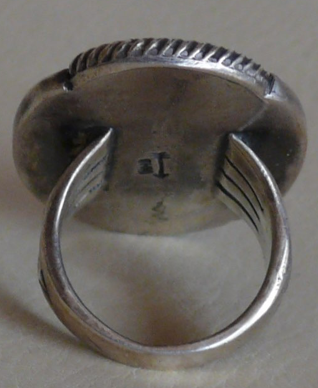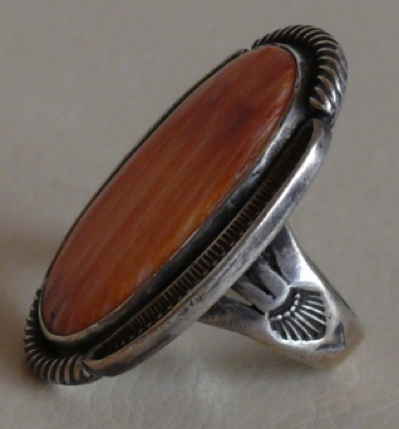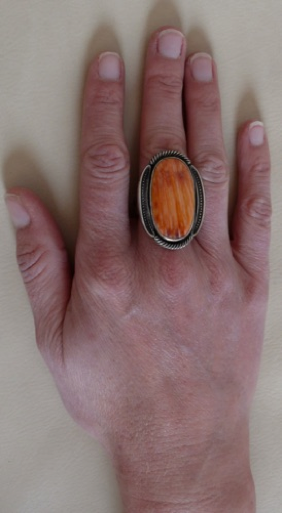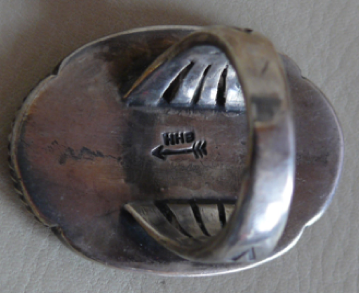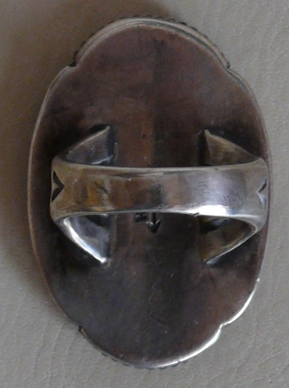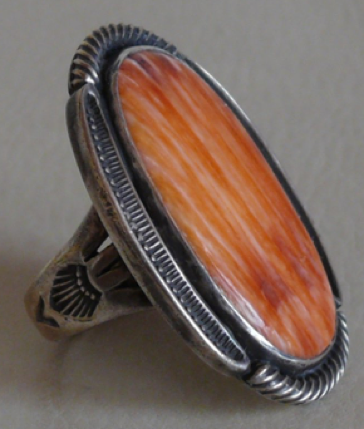 A very finely-made Navajo ingot-silver ring set with a large orange spondylus (Spiny) oyster shell by Harry H. Begay, c. 1980's-90's
The highly-accomplished Navajo silversmith, Harry H. Begay (Active 1970's-) has been silversmithing for over forty years and is very well-known for his beautifully-crafted, traditionally-based, ingot-silver jewelry.
This process of making ingot-silver jewelry is infinitely more labor intensive than making jewelry from commercially-available materials such as sheet silver and silver wire. Begay first melts the raw silver and casts it to form an ingot "slug" from which it is then painstakingly hammered to form the desired shape of the particular piece of jewelry. After the piece is fully shaped and formed, it is then variously decorated with repoussee, chisel, file and stamp work, all techniques Begay is a complete master of.
This meticulously-crafted ring features a beautiful, large oval-shaped piece of orange Spondylus or spiny oyster shell which measures slightly less than 1 3/8" in length and 3/4" in width at its widest point. The shell is set in a beautiful highly detailed bezel surround featuring stamped panels on either side and twisted silver wire on the top and bottom. The ring's shank is further decorated with additional stampwork.
The ring measures size 9 1/4 to 9 1/2 on a professional graduated ring sizer and weighs a very comfortable 23 grams or 7/8 ounce. The ring is in excellent original condition and it is properly signed with Harry Begay's hallmark of his capital letter initials "HHB" underlined by a feathered arrow.
This is a beautifully-made, easy-to-wear piece by one of the 20th Century's finest Navajo silversmiths.
Price $1,475