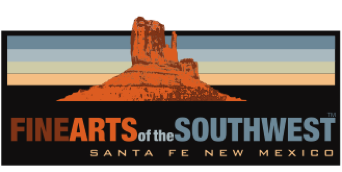 © 2010-2021 by Fine Arts of the Southwest, Inc. All rights reserved.
Unauthorized reproduction or use is strictly prohibited by law.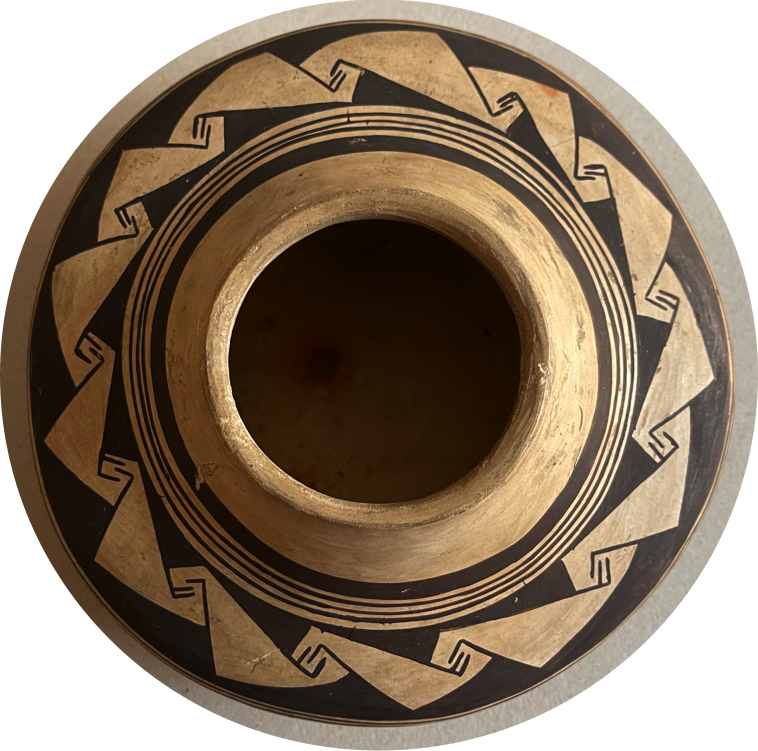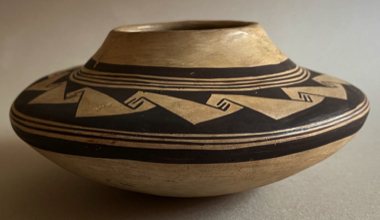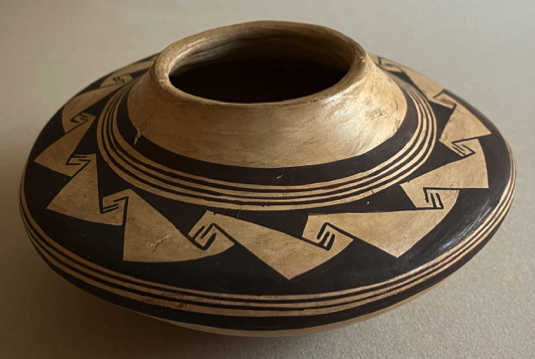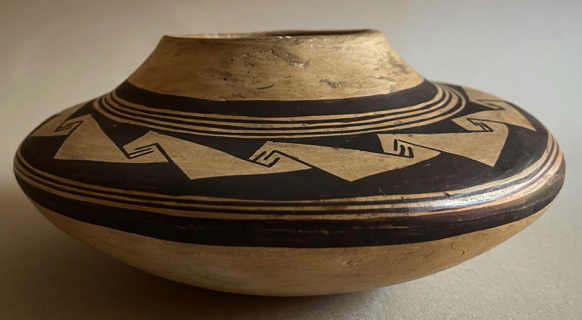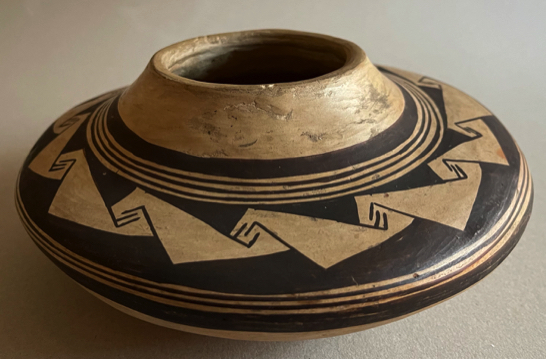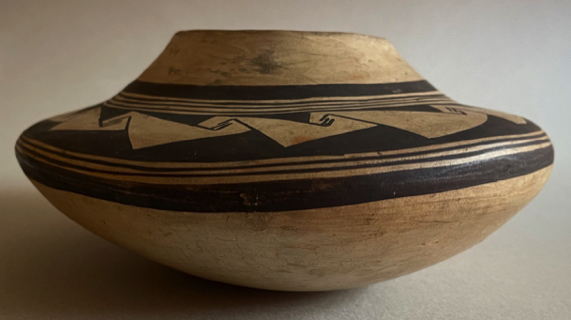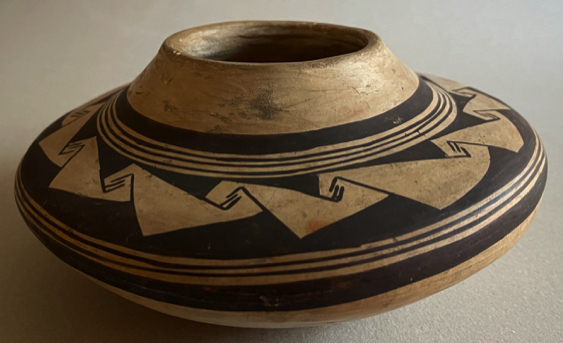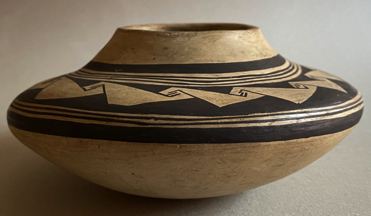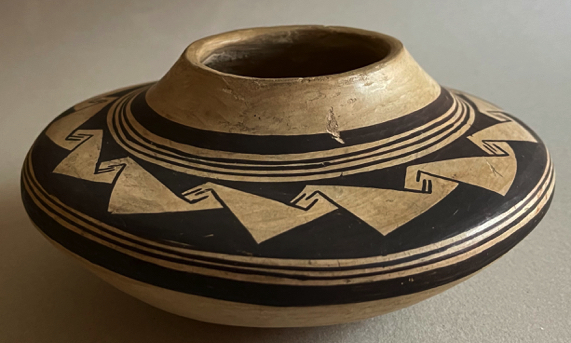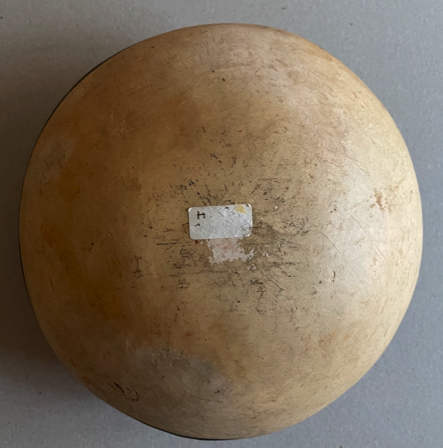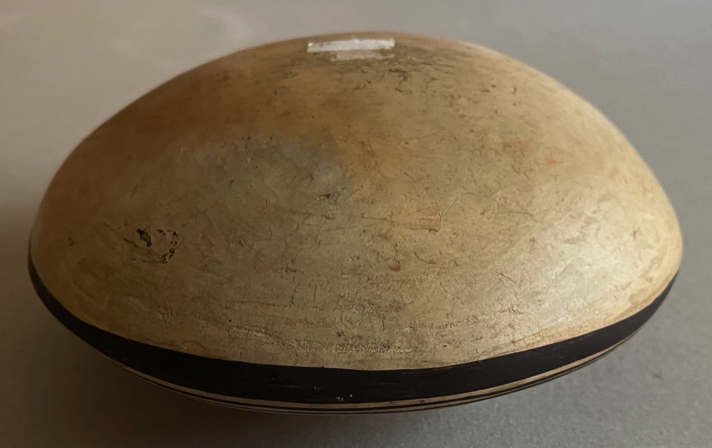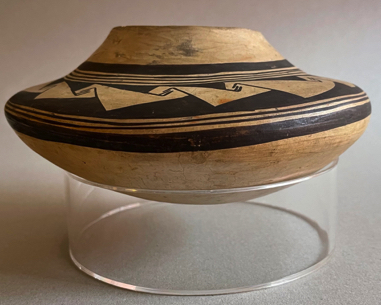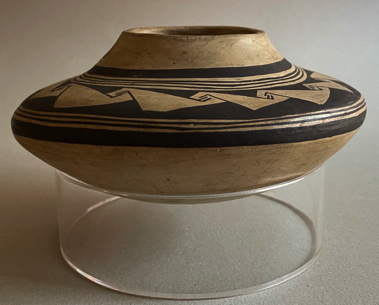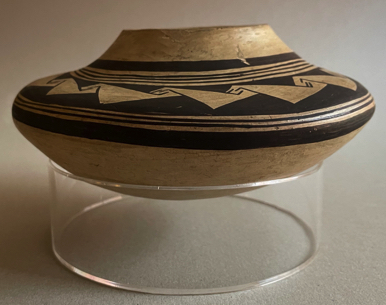 A stunning historic Hopi black-on-cream
pottery seed jar by Nampeyo, c. 1900
First off, we should all look this fresh and beautiful at 120 or so years old. This extraordinary jar is the
work of the renowned Hopi pottery Matriarch, Nampeyo of Hano at her finest artistic and technical ability.
The jar's shape is extraordinary, her modern version of the dramatic swooping low-profile Sikyatki Polychrome pottery "Flying Saucer" style jars made by ancient Hopi potters from the 14th through 17th centuries. Technically, Nampeyo has also borrowed a page from the ancients here bringing her early 20th century creation to life by forming it with Hopi Antelope Mesa clay renowned for its fine even texture and beautiful color. Also, following the ancients she fired the jar using high-temperature burning Lignite coal also from the Hopi Antelope Mesa. Firing pottery with coal is an extremely difficult and painstaking process but when done correctly yields spectacular results as can be seen here.
The jar has achieved a clear whitish yellow color and an almost porcelain smoothness and surface hardness.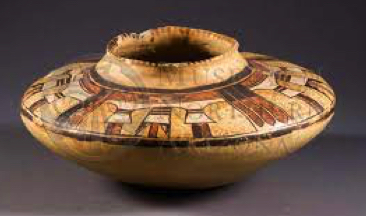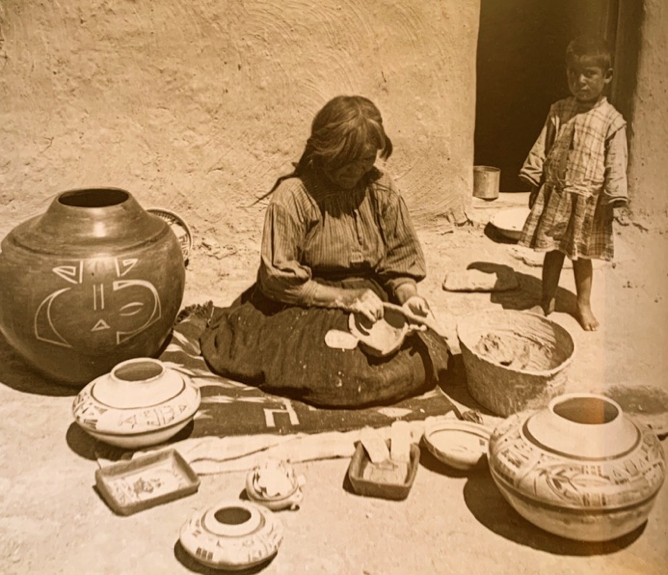 Nampeyo chose here to limit her color palette to a stark black paint applied to the creamy white yellow clay surface.
The painted design is both classically ancient and starkly refreshingly Modern at the same time; a continuous circular panel of interlocking geometrically terraced designs. So ingeniously has this been done that the push pull effect of the inetrelationship between the jars positive and negative spaces is almost unbelievable; M.C. Escher would definitely have been proud of this one! It is pieces like this that reveal Nampeyo as one of America's earliest and most accomplished Modernist painters and her work was accomplished while sitting on a blanket in the dirt in front of her small stone home on a windblown dusty desert mesa in remote northern Arizona. No Paris art studios or new york lofts for her! Also no art stores to purchase materials, she made everything she used, clay, paint, brushes etc. entirely by hand.
View of Walpi Village on the Hopi First Mesa, 1911
Photo source and © Leo Crane Collection, Cline Library, Northern Arizona University
"This is a wonderful jar by Nampeyo."
-Edwin L. Wade, Ph.D.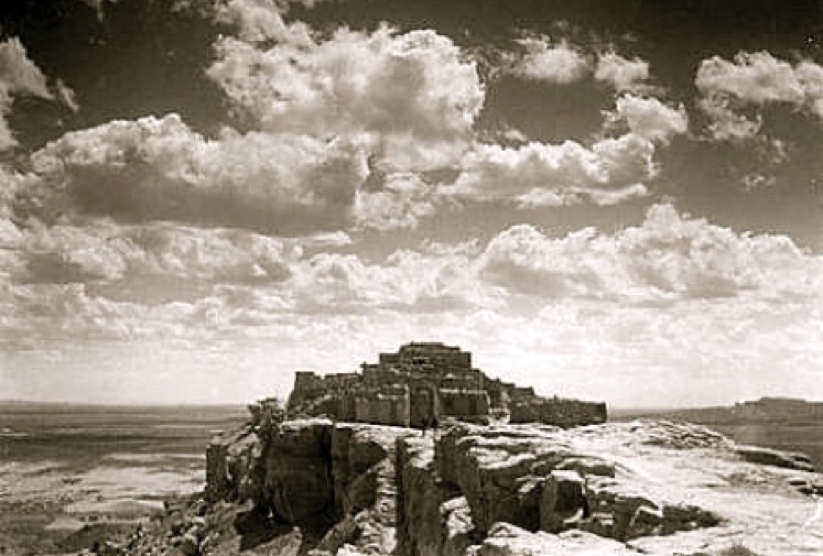 Hopi Sikyatki Polychrome jar c. 1500-1600.
Photo source and © Northern Arizona University
The jar measures 7 1/2" in diameter and is 3 3/4" in height. While not incredibly large in size it possesses a distinctive monumentality, just by looking at it one doesn't know if it is seven inches or seventeen inches. The jar is in excellent, rather remarkable original condition for its well over a century in age. There are only one or two extremely small surface scrapes visible, but nothing of any consequence. There are no cracks, no significant chips and a thorough examination of the vessel under Ultraviolet light reveals no evidence of restoration or overpainting at all. The jar is slightly uneven and has a slight lean to it when viewed from certain angles. This is entirely normal for a traditionally handmade round bottom Pueblo pottery jar, but it can be all elevated if desired by placing the jar upon an acrylic or woven fiber platform stand as shown below. This sort of display also has the advantage of being able to view the entire rounded bottom of the jar.
The jar has been definitively authenticated as Nampeyo's work by the distinguished Hopi pottery authority,
Edwin L. Wade, Ph.D. Dr. Wade is presently writing a brief essay of authentication for the jar and when it is completed,
the signed original copy of this essay on Dr. Wade's letterhead will be included along with the purchase of the jar.
This is a rare and beautiful artistic gem from the fertile mind and talented hands of one of the country's
and the world's greatest ceramic artists.
SOLD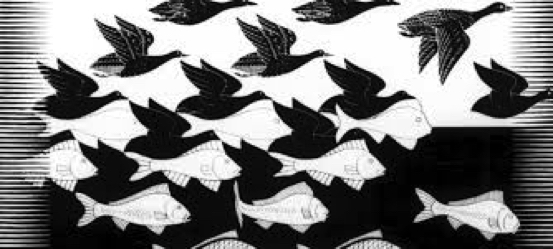 M.C. Escher "Sky and Water", n.d.
Photo source and © National Film Board of Canada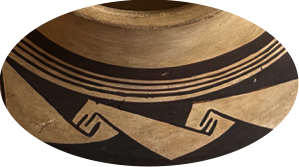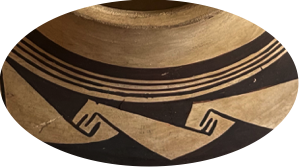 Take note of the similarly-shaped low-profile jar in the foreground of this historic photograph entitled, "Mrs. Nampeyo, an acknowledged best Hopi Indian woman Pottery maker, 1st Mesa, Hopiland, Ariz. Sichomovi" by R. Raffius, 1905.
Photo source and © Keystone-Mast Collection, UCR/California Museum of Photography, University of California, Riverside