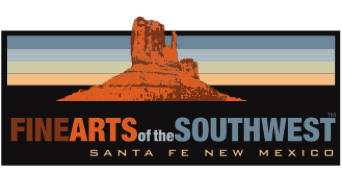 © 2010-2022 by Fine Arts of the Southwest, Inc. All rights reserved.
Unauthorized reproduction or use is strictly prohibited by law.
A rare Historic Hopi black-on-red "Koyemsi" or mudhead
pottery figurine attributed to Nampeyo, c. 1900-1910
ex: Fred Harvey Company
This is an extremely rare and highly unique historic object. All historic Hopi effigy pottery pieces are rare, but we have seen a few of them over the past thirty-five years. We have never before now seen a freestanding three-dimensional pottery Mudhead kachina effigy; we have seen a painted Hopi pottery tile or two with mudhead imagery but never a pottery effigy figurine let alone one this early or this finely made. The circumstances, timeframe, details and provenance of the piece itself all point to this piece as being the handiwork of the great Hopi pottery Matriarch Nampeyo of Hano (1858-1942) and we will discuss these reasons in more detail shortly.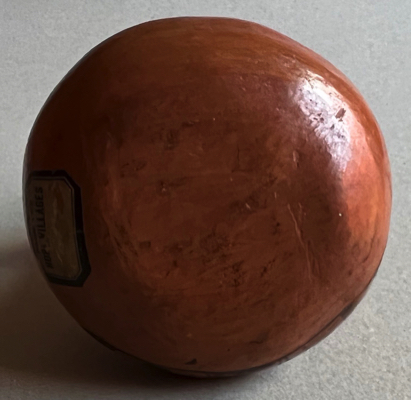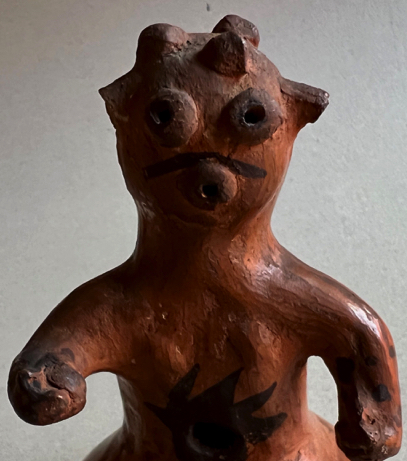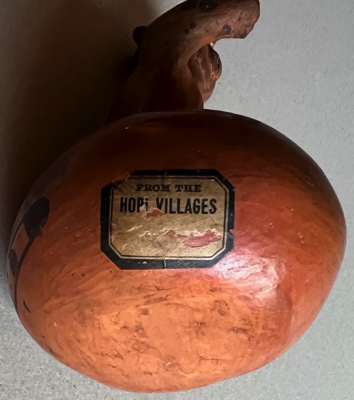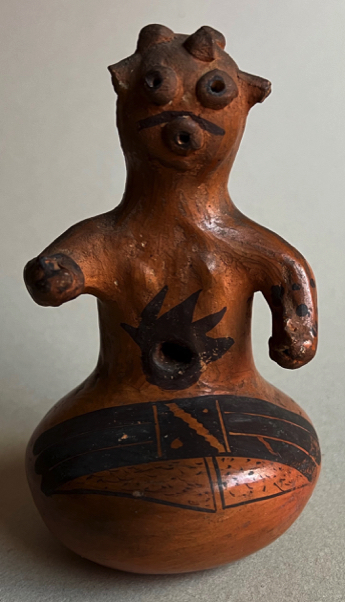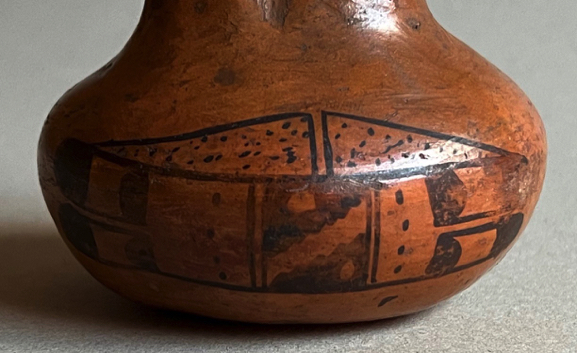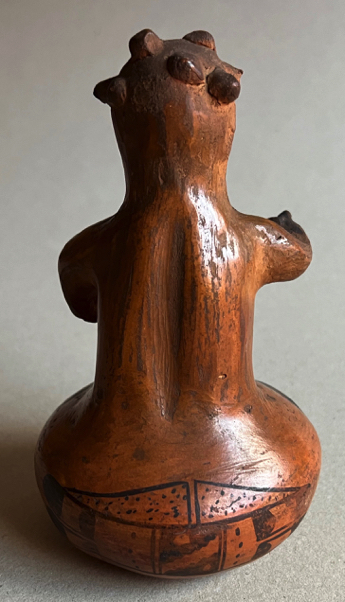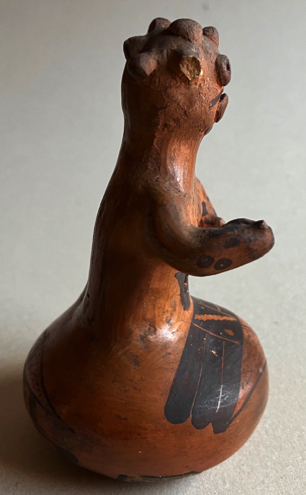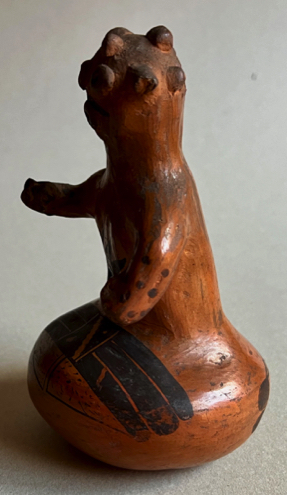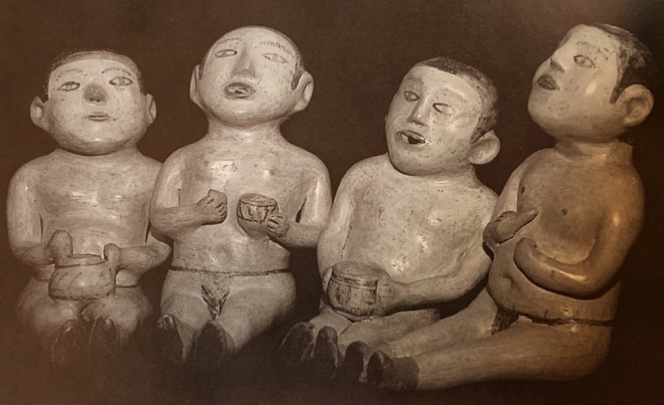 Hopi pottery human figurines by Nampeyo, c. 1922
-Photo source and ©, "Nampeyo and her Pottery" by Barbara Kramer, UNM Press, 1996, pp.158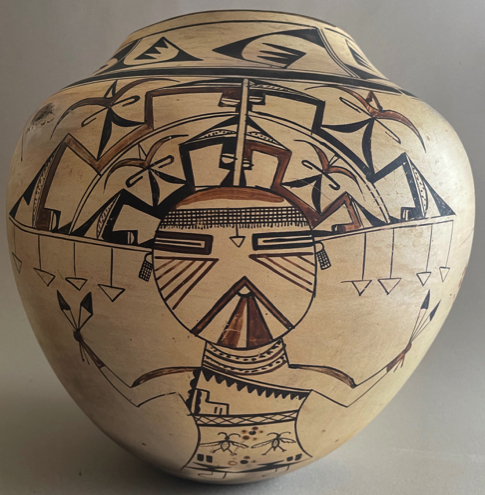 And now to the question of why Nampeyo as the maker? There are several reasons beginning with the black-on-red configuration, a color scheme Nampeyo favored in the early 20th Century. More importantly, Nampeyo was known to have made human pottery figurines during this time period and later as shown below. There is no other early 20th Century Hopi potter who is documented to have done so. Moreover, the quality of the pottery-making here is of the highest level, the formation and painting of the figure with stippled split-feather motifs with diagonal serrated terrace designs in the centers which is another Nampeyo design signature.
The fine stone polishing is particularly noteworthy and is another well-known characteristic of Nampeyo's pottery. Finally, the Fred Harvey "Hopi Villages" paper sticker points too in her direction as she, through both her younger brother and English trader, Thomas Keam, sold many Kachina-themed pottery pieces to The Fred Harvey Company and on top of this was also her multi-year summer pottery-making residency at Fred Harvey's Hopi House.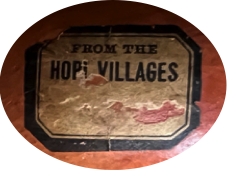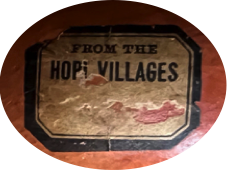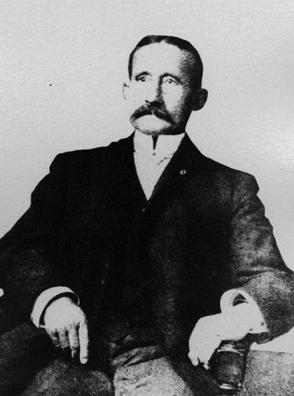 Mudheads in general, also known as "Koyemsi" from their place of origin at Zuni Pueblo are a subject matter to be approached with a degree of caution as there is a great deal more to them than what they appear to be on the surface; whimsical clownish figures who make a loud and often deliberately clumsy spectacle of themselves at Hopi dances, variously making fun of and mocking themselves and the other Kachina dancers and engaging members of the audience with their amusing awkward antics. There is, however, a much deeper purpose at work here. These mudhead "clowns" are actually strict disciplinarians of sorts, societal "keepers of the faith" as it were showing by exaggeration and mirth what the norms of acceptable behavior for the larger society are and should be, setting rather than breaking boundaries as to what is acceptable behavior and belief within Hopi society at large. Humor, in many societies, is the most effective method of conveying and teaching important truths.
This decorative figure is in the historic tradition of the use of Kachina imagery in Hopi pottery as a way to attract a non-Hopi audience of potential purchasers. Around the turn of the century, as tourist visitation to Hopi and the Southwest in general was increasing dramatically, enterprising Hopi Indian traders such as Englishman, Thomas Varker Keam (1842-1904) and Nampeyo's older Brother, Thomas Polaccaca (b. 1849 approx.) recognized this as a potential market and commissioned Hopi potters to make pieces with Hopi Kachina imagery and sought out and bought such older Kachina imagery pieces as existed to sell to traders and tourists. This is most likely what happened here, this effigy was made by Nampeyo in our opinion and then purchased by a trader such as Polaccaca or Keam who then sold it to The Fred Harvey Company for later sale at one of their company trading posts.
Alternatively, this piece could have been made during the Nampeyo family's periodic annual summer residency at The Fred Harvey Company's "Hopi House" on the South rim of the Grand Canyon from around 1903-1908. The conclusive evidence here of course is the prominent Fred Harvey Company's black bordered paper sticker affixed to the figure's base which reads "From The Hopi Villages". Such tags were often attached to Hopi pottery, basketry and Kachina doll pieces acquired by the Harvey company at the time of inventory and were considered an ironclad guarantee of quality and authenticity.
The Mudhead figurine stands 6" in height and it is 3 1/2" in width at its widest point. It is in generally excellent original vintage condition with no restoration and no overpainting in evidence under thorough UV-Light examination. There is a very minor amount of loss to the figure's right ear. The slightly shorter than normal arms are not in any way due to damage. They are deliberately portrayed physical distortions of the figure's body, part of the unfortunate circumstances of the Mudhead's birth. (See quotation below.)
This is an unusual opportunity to acquire an extremely rare and significant historic Hopi pottery piece with a
wonderful story. If only this figure could talk and fill us in on a few more juicy details of its fascinating life!
Price $3,950
At left, a modern day view of Hopi House. At right, Nampeyo and her family at their summer artist residency at Hopi House c. 1907. In the photo are Nampeyo, her husband Lesou, their eldest daughter Annie, their second daughter Nellie, their son William, their third daughter Fannie and possibly Annie's infant daughter, Rachel.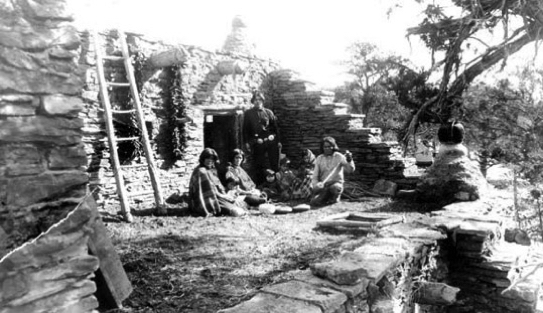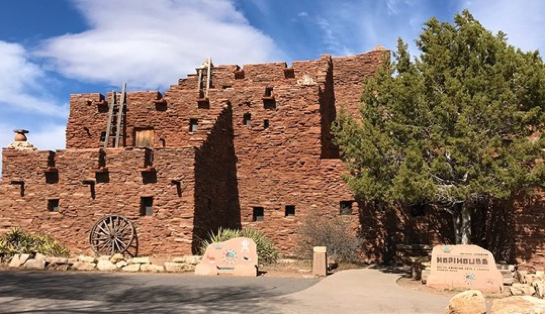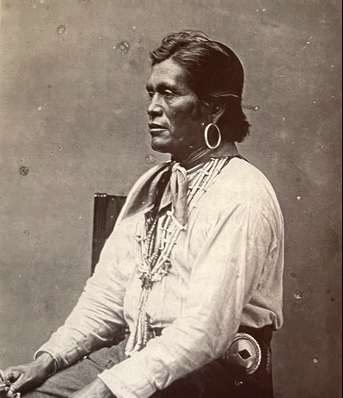 At left, Hopi Indian trader Thomas Varker Keam. At right, 1890 Smithsonian Institution photo of Nampeyo's younger brother, Indian trader, Tom Polaccaca entitled, "Tom Polaccaca, Tewa Indian". Polaccaca was the anglicized spelling of his Tewa Indian name. At center, a large Hopi pottery storage jar with several images of the Polikmana Kachina by Nampeyo, c. 1895. This jar could have been originally commissioned from and/or acquire directly from Nampeyo by either Thomas Keam or Tom Polaccaca and later sold to prominent Santa Fe Indian trader, J.S. Candelario.
-Thomas Varker Keam photo source and © Cline Library, NAU, Flagstaff, AZ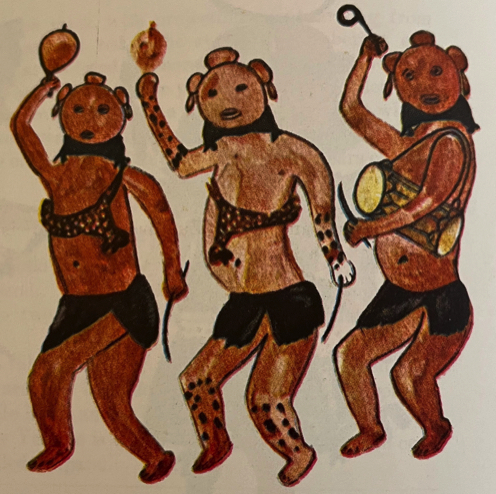 At left, detail of Hopi Mudhead kachina mask from The Hopi Journal by Alexander M. Stephen. At right, illustration of Hopi Mudhead kachinas from "Hopi Katcinas drawn by Native Artists" by Jesse Walter Fewkes, 21st Annual Report, Bureau of American Ethnology, Washington D.C., pp. 152.
Hopi Mudhead Kachinas at an unknown Hopi dance, c. 1905.
"Nampeyo Design Elements" section of "Canvas of Clay" by Edwin L. Wade and Allan Cooke, El Otro Lado Publishing, 2012, pp. 238-9
"The figures of the Koyimsi are characteristic, each wearing a helmet with knobs full of seeds."
-Smithsonian Ethnologist and Archeologist, Jesse Walter Fewkes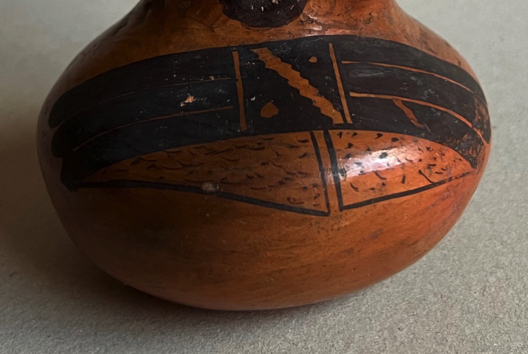 "According to the Zuni origin legends, the father or head Koyemsi incestuously produced nine children with his sister. In his remorse for this heinous act the father beat himself and rolled in the mud until his head was covered in bulbous welts coated in mud. Upon their birth, the children of this union resembled their father, appearing with faces and bodies disorted by various mud-covered protuberances. The incestuous nature of their conception bars the Koyemsi from becoming kachinas themselves. Instead, they act in secondary roles, such as spokespersons for the other kachinas. While neither a priest nor ceremonial dancer, the Mudhead Clown is a part of many social gatherings, performing as curers, directors, warriors, messengers, sages, and tricksters."
-Quotation source and © The Tony Hillerman Portal, University of New Mexico University Libraries