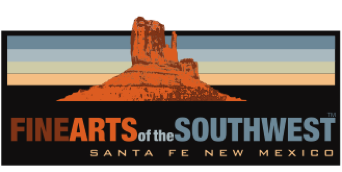 © 2010-2023 by Fine Arts of the Southwest, Inc. All rights reserved.
Unauthorized reproduction or use is strictly prohibited by law.
A historic Hopi black-on-yellow pottery bowl
with a painted image of Polikmana Kachina, possibly
by the Nampeyo family, c.1920's
This sweet smaller-sized bowl is a significant participant in Southwestern history. The use of Hopi kachina imagery on Hopi pottery, especially on smaller more easily transportable pieces such as this bowl or small decorative pottery hanging plaques or pottery tiles is primarily an invention of the late nineteenth and early twentieth century promoted by several prominent Hopi area indian traders such as Thomas Varker Keam, Thomas Polacca, the trading post owning brother of the great Hopi potter, Nampeyo and Juan Lorenzo (J.L.) Hubbell. The creation of such pieces was accomplished to meet a burgeoning demand for authentic Hopi-looking souvenirs for the then rapidly increasing stream of visitors to the Southwest to be able to easily carry back home with them, in Fred Harvey Company touring cars and on the Santa Fe railroad.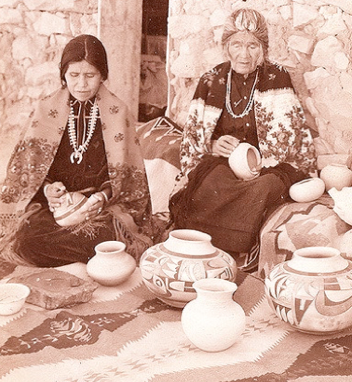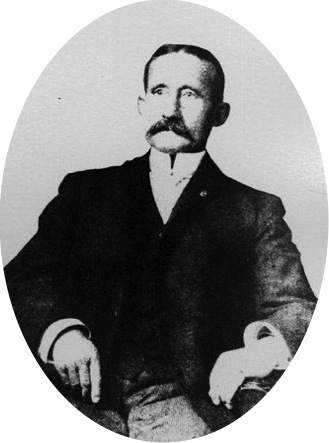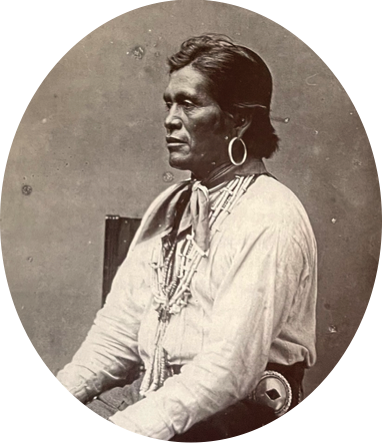 At left, Hopi Indian trader Thomas Varker Keam. At center, Arizona Indian trader Juan Lorenzo (J.L.) Hubbell. At right, 1890 Smithsonian Institution photograph of Nampeyo's younger brother, Indian trader, Tom Polacca entitled, "Tom Polacca, Tewa Indian".
-Thomas Varker Keam photo source and © Cline Library, NAU, Flagstaff, AZ. J.L Hubbell photo source and © National Park Service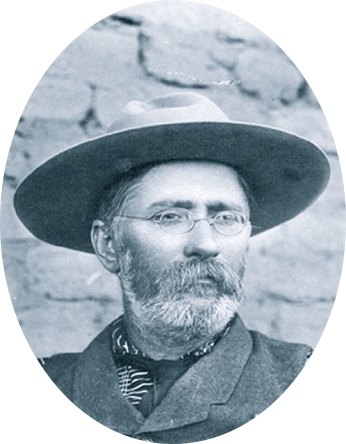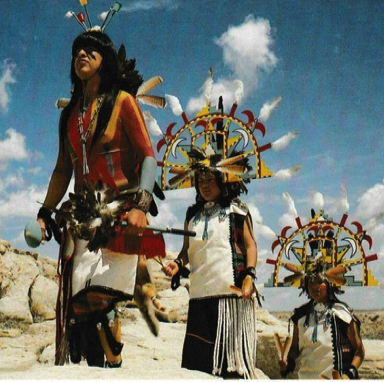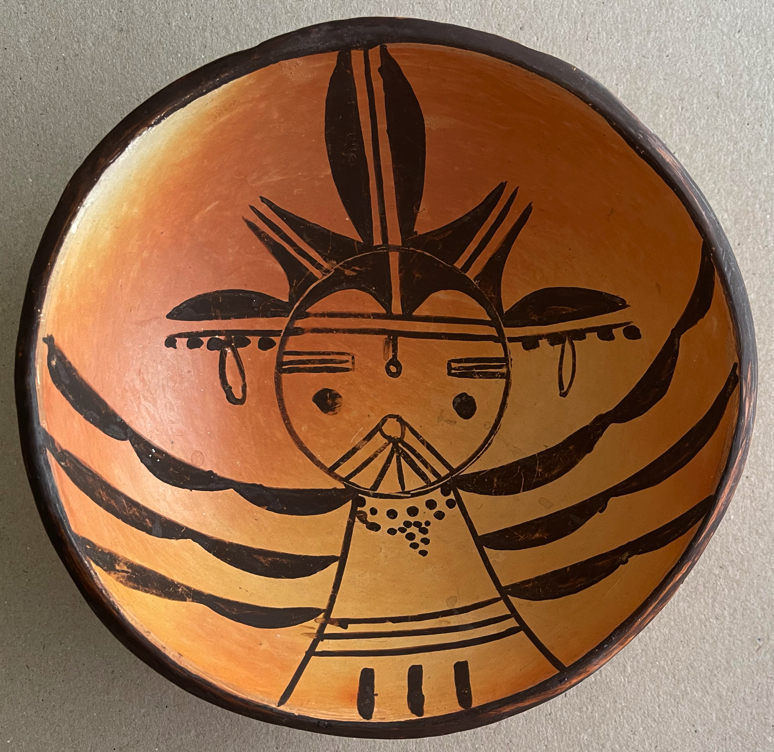 At left, a large Hopi pottery storage jar with images of the Polikmana Kachina by Nampeyo, c. 1895. This jar could have been originally
commissioned from and/or acquired directly from Nampeyo by either trader Thomas Keam or Tom Polacca and later sold to prominent Santa Fe Indian trader, J.S. Candelario. At center, Polikmana kachina dancers at the Hopi Butterfly Dance. At right, Nampeyo and Fannie Nampeyo making pottery, c. 1920.
-Center photo source and © Arizona Highways Magazine. Right photo source and © Frashers Fotos.
Hopi kachinas presented a fascinating subject matter. There are a wide variety of them and the various representations are very visually striking such as this image of Polikmana kachina known in English as "Butterfly maiden."
"Polik-mana or Butterfly Maiden is a kachina or spirit being, in Hopi mythology. Every spring she dances from flower to flower,
pollinating the fields and flowers and bringing life-giving rain to the Arizona desert. She is represented by a woman dancer at the yearly Butterfly Dance, a traditional initiation rite for Hopi girls. The rite takes place in late summer, before the harvest, to give thanks to Polik-mana for her spring dance. Hopi girls participating in the Butterfly Dance wear ornate headdresses called 'kopatsoki.' "
-Quotation source and © Wikipedia
The bowl has some distinct characteristics of the Nampeyo family, namely in the formation of the piece, the superb shape and the excellent quality of polishing and firing, the particular, somewhat abstracted depiction of the Kachina figure and the painting style and use of black rim painting. Within this distinguished family of potters if we had to guess the specific maker here our choice would be Fannie Polacca Nampeyo (1900-1986), Nampeyo's youngest daughter who would have been in her twenties when this bowl was made when she was already an extremely accomplished potter.
The bowl is unsigned as was most Hopi pottery at this time although examples of signed Nampeyo family pottery begin
to appear during this decade. Interestingly, the bowl is not a polychrome; there is no red paint at all in the design, but rather a black-on-yellow and this restricted palette gives the bowl a unique and interesting graphic feel and striking appearance. The beautiful creamy-to-dark yellow firing blushes on the vessel also adds to this.
The bowl measures 5 1/2" in diameter and it is 1 3/4" in height. It is in excellent original condition and particularly so for its century or so of age. There are some extremely tiny chips and minor abrasion around the rim and a couple very small pits in the vessel's outer wall. A thorough examination of the bowl under Ultraviolet light reveals no evidence
of restoration or overpainting. This piece was clearly cared for and well taken care of by its previous owners. We would rate the condition as being a 9+ out of 10. There is also some slight residue evidence of two historic stickers having once been on the bottom of the bowl, most likely from a Fred Harvey or J.L. Hubbell Company trading post which is completely consistent with the commercial historic "souvenir" nature of such a piece. On one of these stickers, the
word "Hopi" written in blue ink can be read.
This bowl is a lovely and historic piece which packs a large amount of visual power and presence into its small size.
Price $1,250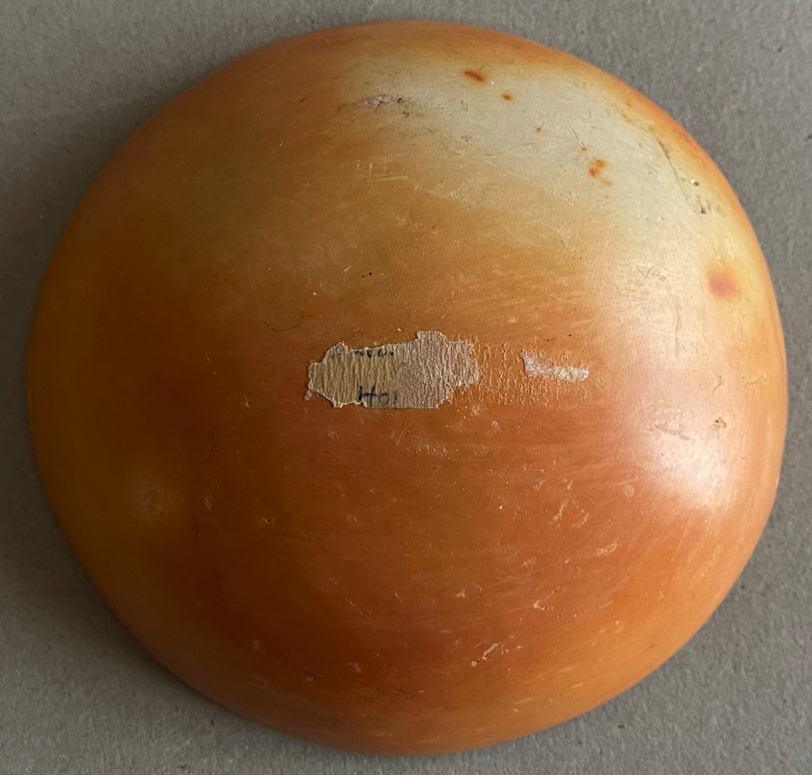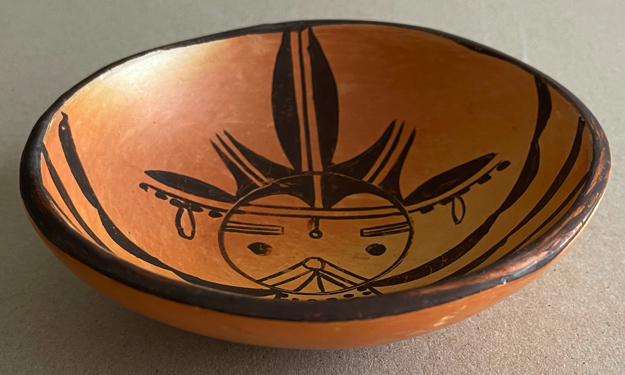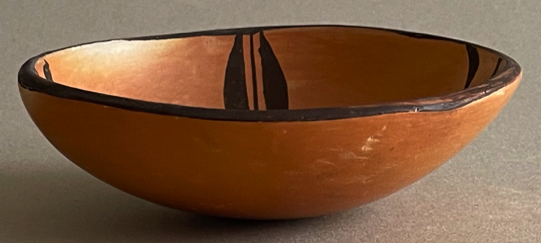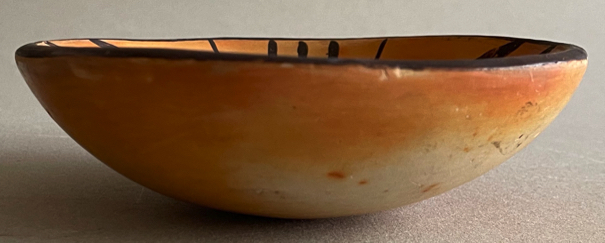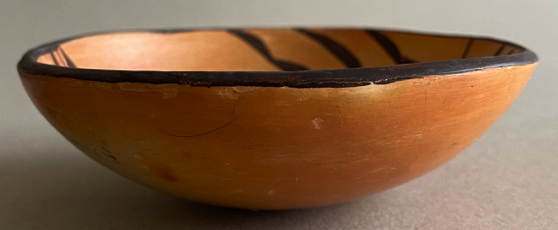 View of some of the 100 Hopi pottery Kachina tiles purchased in 1918 and mounted above
the fireplace at the Sunrise Trading Post near Leupp, Arizona not far from the Hopi mesas.
-Photo source and © "Hopi and Pueblo Tiles" by Kim and Pat Messier, Rio Nuevo Publishers, Tucson, AZ, pp. 29