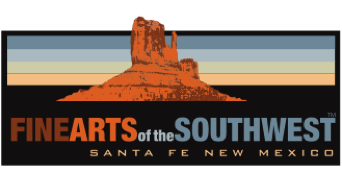 © 2010-2023 by Fine Arts of the Southwest, Inc. All rights reserved.
Unauthorized reproduction or use is strictly prohibited by law.
A rare and unusual historic Hopi double-slipped pottery bowl attributed to Nampeyo and family, c. 1915-20
It's hard to know where to look first here, both the inside and the outside of this marvelous bowl
are equally beautiful, equally compelling and completely different.
In the closing years of the 19th Century beginning around 1898, the renowned Hopi potter, Nampeyo (1859-1942) artistically revived and re-interpreted two ancient and similar forms of ancestral Hopi pottery which are referred to today as Bidahochi Polychrome and Homolovi polychrome as seen below. Both of these pottery types are named after their respective prehistoric villages now in ruins, where they were produced and they are very closely related both in appearance and in geographic location on the southern end of the Hopi mesas in northern Arizona. These now-ruined villages are no more than 15-20 miles as the crow flies from each other. In appearance, both these pottery types are characterized by the visually striking use of a thick white Kaolin paint outlining around darker design areas.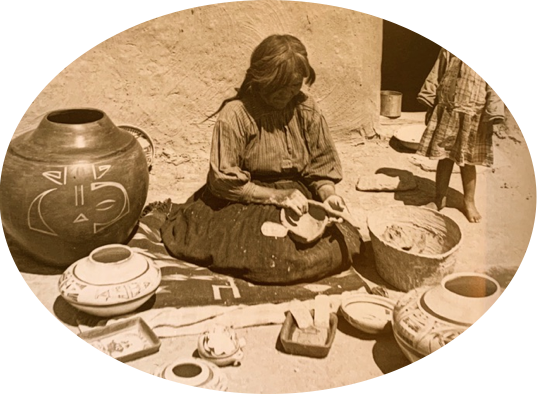 At left, note the large "Red Polychrome" jar to Nampeyo's right in this historic photograph entitled, "Mrs. Nampeyo, an acknowledged best Hopi Indian woman Pottery maker, 1st Mesa, Hopiland, Ariz. Sichomovi" by R. Raffius, 1905. At right, Nampeyo and her eldest daughter Annie making pottery, c. 1905.
Left photo source and © Keystone-Mast Collection, UCR/California Museum of Photography, University of California, Riverside. Right photo source and © Milwaukee Museum
At left, Homolovi Polychrome jar, c. 1375 A.D. At right, Bidahochi Polychrome bowl, c. 1400 A.D.
Right photo source and © Icollector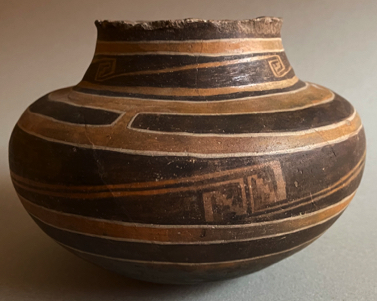 Nampeyo's own personal creative interpretation of this pottery design became known as Hopi "Red Polychrome".
Nampeyo dramatically used white outlining around different red and black design areas against a deep red background as seen here on the exterior of this bowl. For the next decade and a half or so, Nampeyo and her eldest daughter Annie (1886-1968) were the only Hopi potters who made this pottery type and they eventually stopped doing so around 1915-1920 for reasons known only to them. In later years and decades, other Hopi potters such as Grace Chappella, Lena Charlie, Zella Cheeda and Garnet Pavatea would also occasionally make "Red Polychrome" pottery vessels.
So they are generally rare, particularly the earlier Nampeyo family examples such as this bowl and what makes this piece that much more rare and unique is that this particular bowl is double-slipped which is to say that it is a "Red Polychrome" piece done in red, black and white on the exterior and a much more usual Hopi black-on-yellow piece on the interior. It's like one inner bowl nestled inside a completely different second outer bowl. Over the past 35-plus years that we have been buying and selling historic Hopi pottery this is only the third such double-slipped vessel that we have ever seen and the other two of these were also made by Nampeyo.
The pottery making here is simply superbly done, the bowl is beautifully formed and very finely stone-polished to an exceptional "baby's bottom" smoothness. The shape is somewhat unusual for a Hopi bowl, more upright and angular and this reflects Nampeyo's Hopi-Tewa Indian heritage. The Tewa people were invited by the Hopi to migrate to First Mesa and establish themselves there in the late 17th Century from their homes in the Rio Grande Valley in New Mexico and the shape and size of this bowl is more akin to what you would normally expect to find in the historic pottery of Rio Grande Pueblos such as Santo Domingo, Cochiti and San Juan than what you would typically find at Hopi where historically pottery bowls generally tended to be somewhat larger and differently shaped, a bit flatter and wider in profile and
with incurving rather than outwardly flaring rims.
The bowl measures a medium-sized 7 1/4" in diameter and is 3 1/4" in height. It is a somewhat usual size and format, too small really for a food or serving bowl. Too, the wear pattern on the bowl's interior is fairly light having worn off some of the interior painted design but not having really abraded or otherwise damaged the surface of the clay body.
We believe that this use pattern would be consistent with some kind of more gentle use than food service and eating, such as preparing a tonic or a medicine or perhaps used as a vessel in which to hold a quantity of ground corn meal
for home use in greeting the day or for use in blessing the kachina dancers in the various Hopi dances.
The bowl's exterior has one slight chip and a small amount of abrasion here and there. There are no cracks and no significant chips. A thorough examination under ultraviolet light reveals no restoration or overpainting in evidence. There is a small inscribed word "HOPI" scratched into the bottom of the bowl, this strikes us as something an earlier non-Hopi collector might have done. All in all, for a century or so year old piece, the bowl is in fairly remarkable original condition.
This bowl is a uniquely beautiful and rare historic Hopi pottery jewel made by some of the finest Hopi potters in history.
Price $1,575
The painting on this bowl is a fascinating combination of very complex and less complex design motifs, the red polychrome exterior design is a complex geometric mixture of linear and repeating diagonally-oriented rectangular designs encircling the entire vessel while the black-on-yellow interior design is a beautifully executed and characteristically Nampeyo four-part design of stylized corn plants against two other four part design motifs, one
a floral-like design with four petals done in negative space and the other done in positive around it. It looks fairly simple, but it is anything but. A somewhat quirky and very interesting little design idiosyncrasy can be seen on the top
of the bowls' interior where there are four horizontally opposed yellow rectangles. Three of these rectangles have three parallel black ticking lines painted inside them while the fourth rectangle is blank. This four sets of three painted ticking line designs around the rim of a bowl is another distinct Nampeyo and family design signature.
The significant and skillful manipulation of negative space and the use of multiple opposed four-part design motifs are telltale Nampeyo and Nampeyo family design signatures. Our feeling is that most likely this bowl was formed by Nampeyo herself and painted at least in part by Annie, perhaps Annie painted the exterior and Nampeyo painted the interior. This Mother-Daughter sharing of pottery making and decorating duties was a common practice at Hopi and other pueblos for centuries up to and through the middle decades of the 20th century. Nampeyo worked closely in conjunction with her various daughters, Annie, Nellie and Fannie especially during the 1920's when her chronic eye disease, trachoma worsened and she was unable to paint for long periods so she would form the vessels and direct her various daughters how to paint them. This is why we are leaving our attribution of this piece to "Nampeyo family" because to us it has several typical characteristics of both Nampeyo and Annie.