© 2010-2021 by Fine Arts of the Southwest, Inc. All rights reserved.
Unauthorized reproduction or use is strictly prohibited by law.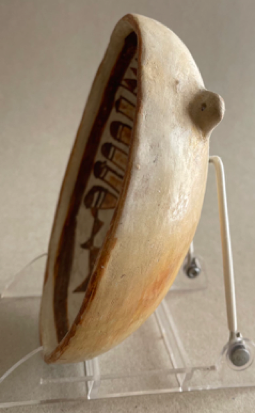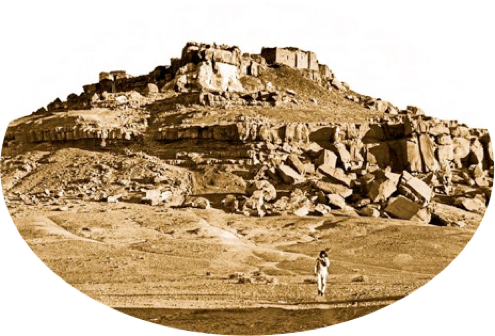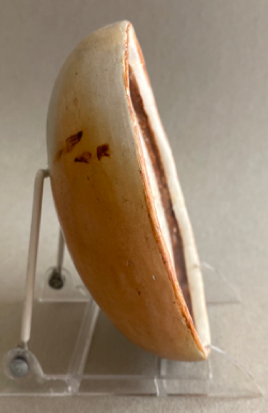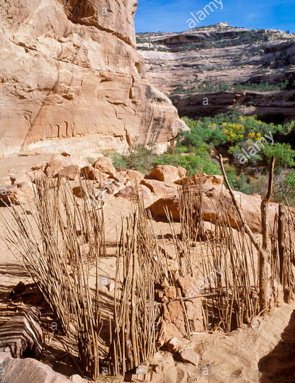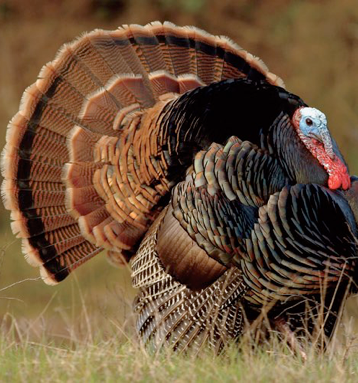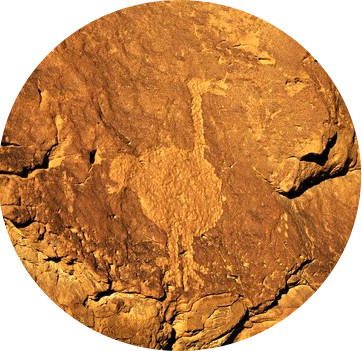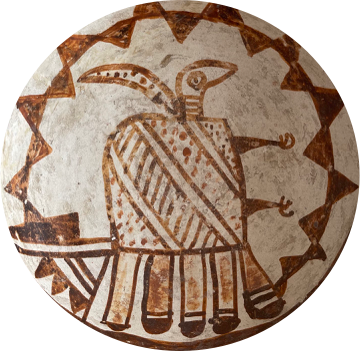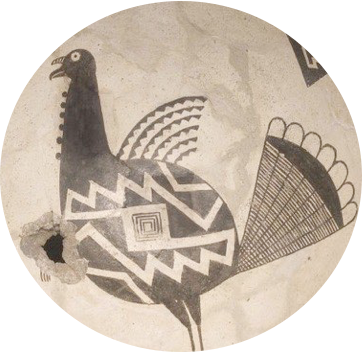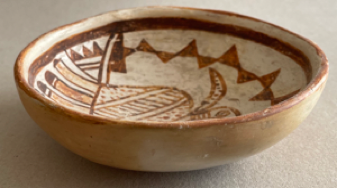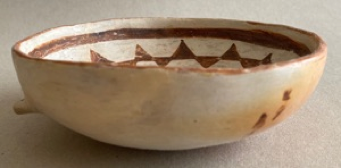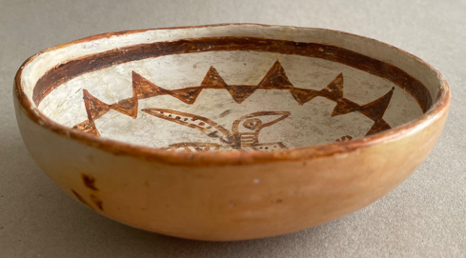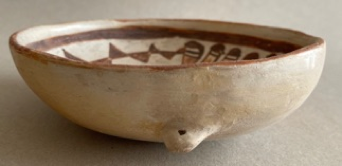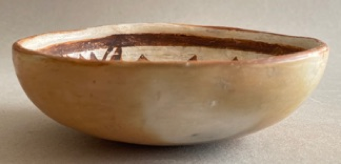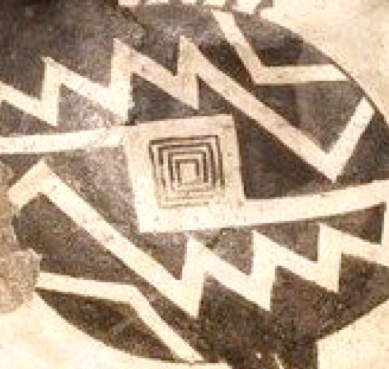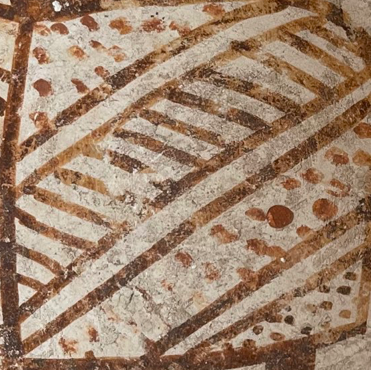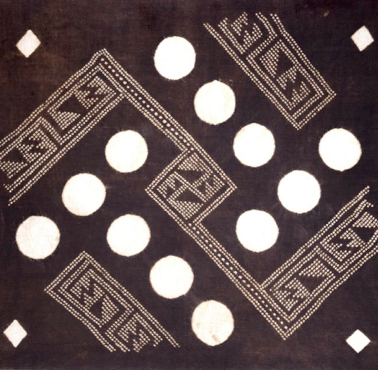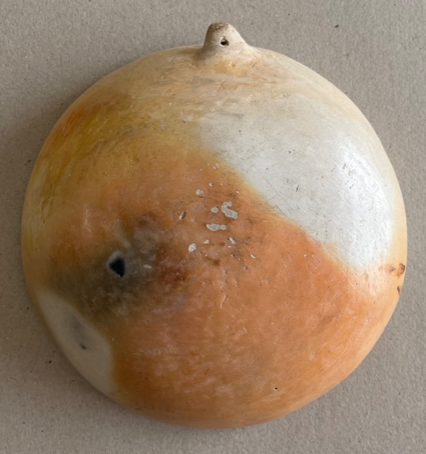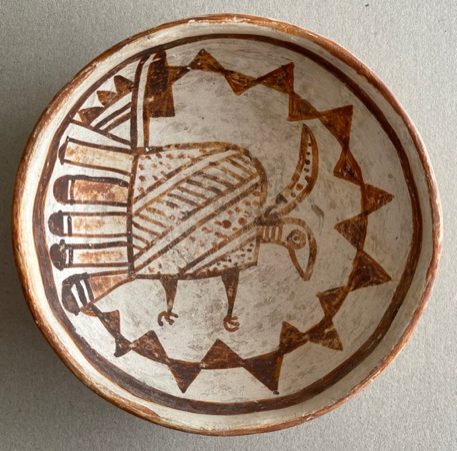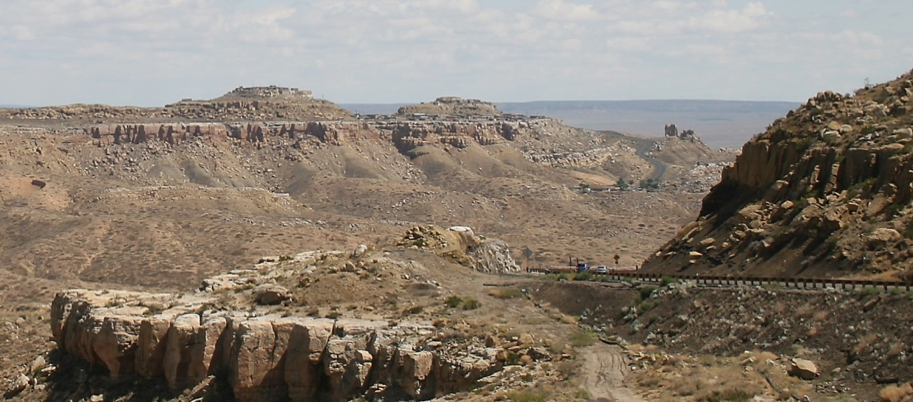 A rare and unusual historic Hopi variant-type pottery bowl with a large turkey pictorial image, Mishongnovi village, Second Mesa c. 1890
Mishongnovi Village on Second Mesa, c. 1900
Photo source and © Pinterest
We recently discussed this unusual historic Hopi pottery bowl with the distinguished historic Hopi pottery authority and scholar, Dr. Edwin L. Wade and this is the specific type attribution he gave it, "Mishongnovi Black-on-Cream". Mishongnovi is one of the smaller Hopi villages, located on a small hilltop site on lower Second Mesa across from its sister village, Sipaulovi. To define the pottery type Dr. Wade cited such characteristics as the unusual rust-brown paint, a combination of vegetal bee weed and ground mineral paint pigment possibly containing some amount of iron and the slight bleeding of the painted design into the whitish-yellow kaolin clay surface due to the intense heat of its high temperature coal firing. This is a rare and variant Hopi pottery type and is very seldom seen. Mishongnovi was not in 1890 and is not now one of the major pottery producing villages at Hopi.
At left, a male wild turkey. At right, prehistoric turkey pens at Turkey Pen Ruin, Grand Gulch Primitive Area, Utah.
Left photo source and © allaboutbirds.com. Right photo source and © Alamy Stock Photos.
The large turkey image in the bowl is a distinctly older somewhat pictographic Sikyatki Period (1375-1625 A.D.) style depiction of one of the most important birds in the lives of the ancient pueblo people of the Southwest, the turkey. (The flat perspective of the bird's body and his tiny curled claws are indicative of this type of presentation.) Turkey pen enclosures, turkey bones and other remains and turkey themed cultural objects such as turkey feather blankets, other artworks and numerous rock art depictions are found throughout the prehistoric Pueblo world of the American Southwest at places like Utah's Grand Gulch, Canyonlands and the Escalante wildernesses, Colorado's Mesa Verde and New Mexico's Chaco Canyon. Turkeys, along with dogs, were the only domesticated animals kept by the Ancestral Puebloans. It is generally thought that this domestication began around 800 A.D. Turkeys were important as a source of food, feathers and bone implements.
At left, a Classic Mimbres black-on-white pottery bowl with pictorial turkey image, Southern New Mexico, c. 1100 A.D.
At right, an Ancestral Puebloan petroglyoph of a turkey, Una Vida Ruin, Chaco Canyon National Historic Park, NM.
Left photo source and © Wired Magazine. Right photo source and © Randy Langsraat, Anasazi Photography
The painted turkey design on this bowl is rendered in a rust brown, mineral-based paint only over the cream clay body of the vessel. The alternating feathers in the turkey's tail appear to have a second paint color, but this is really a visual illusion formed by using a lighter application of the same pigment. The complex geometric design inside the bird's body is reminiscent of ancient Ancestral Puebloan textile designs and other ancient pottery designs such as the Mimbres culture of Southern New Mexico, pictorial turkey bowl also seen here.
The bowl measures 7 1/4" in diameter and it is 2" in height. It is in excellent slightly restored condition.
Several cracks to one area of one side have been professionally restored to a very high standard and are completely unnoticeable except under Ultraviolet light examination.
This bowl is a very rare and unusual historic Hopi ceramic with a beautiful and somewhat folky depiction of an ancient creature which played an extremely important role in the survival and maintenance of Pueblo cultures in the American Southwest.
Price $2,400
At left, a Southwest Anasazi textile, c. 1200 A.D. At right, detail of Mimbres pottery turkey bowl, c. 100 A.D.
Left photo source and © George Shaw Gallery, Basalt, CO. Right photo source and © Wired Magazine
View of Arizona Highway 264 passing by Mishongnovi Village at rear center.
Photo source and © by Reinhard Schon