© 2010-2021 by Fine Arts of the Southwest, Inc. All rights reserved.
Unauthorized reproduction or use is strictly prohibited by law.
An outstanding historic Hopi pottery jar with a corrugated neck by Nampeyo of Hano, c.1905-1910
ONCE AGAIN WITH THE INCOMPARABLE HOPI POTTERY MATRIARCH NAMPEYO we have a master class in Modern art being taught to us by someone who never once in her entire life set foot in an art studio. Nampeyo created her extraordinary art masterpieces under circumstances that would make most modern artists cringe and run for the hills and while doing so, she set a standard of quality, beauty and innovation which has never been equalled. That she could conceive of and execute such extraordinary artworks sitting on the dirt under the broiling sun and the howling wind and blowing dust boggles the imagination yet here is the evidence and it is quite convincing evidence to say the least.
What a piece this is; possessed of a beautiful organic, globular shape and a freshness and a powerful and exuberant expression of design that literally and figuratively takes one's breath away. From what deep well does such inspired and awesome artistry spring up from? Nampeyo's long and distinguished cultural heritage and history as a member of a prominent pottery-making family on the Hopi mesas and no doubt her own inimitable re-interpretation and presentation of the centuries-old ancient designs of her Hopi Sikyatki pottery heritage and something else indefinable that always separates the greats from the not so greats; the hand of the divine possibly. Whatever the reasons, we are far the better for having a work of art such as this one in our midst and presence.
This jar has virtually all of the characteristics associated with Nampeyo's fine work beginning with its beautiful shape and finely formed vessel walls. The stone polishing is superb and the firing in difficult to work with extremely high-temperature lignite coal is flawlessly done yielding gorgeous "blushes" of various shades and gradations of white and yellow across the vessel's surface. But it is the painted design which truly steals the show here; a complex four-part layout which literally explodes across the entire vessel's surface. The design field is done in complete four-part bilateral symmetry meaning that the two opposite designs on either side of the jar are matching pairs. This is a spatial arrangement which Nampeyo employed quite often in her work. The two pairs of designs are quite different from each other but work together in perfect harmony.
The pendant feather design is a motif adapted and stylized from ancient Sikyatki pottery and it is made all the more beautiful by Nampeyo's graceful painted arabesques shifting subtly but completely intentionally in color from black into red. The artistic skill and imagination and the extreme technical and physical control required to execute such a design using a yucca fiber brush and hand-ground earth and plant pigments is almost impossible to contemplate. On the other two sides of the jar are designs reminiscent of stylized Hopi kachina masks or headdresses with Nampeyo's often used stylized "clown face" or "Kilroy" motif at the bottom, seen here at upper right and at the top seen here at upper left, very interestingly executed in a positive/negative design in which the artistry of the unpainted spaces is just a significant as that of the painted ones. The jar's designs are made all the more remarkable for their stark, almost shocking modernity and especially so given the fact that they are derived from centuries-old ancient Hopi pottery motifs re-interpreted and re-presented in a stylized manner in a unique and highly personal manner all Nampeyo's own.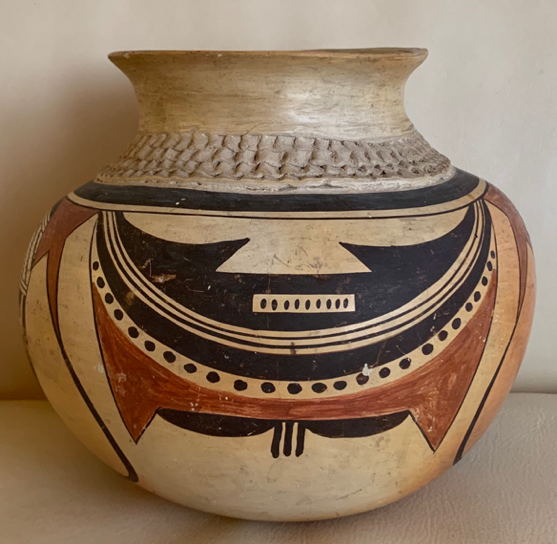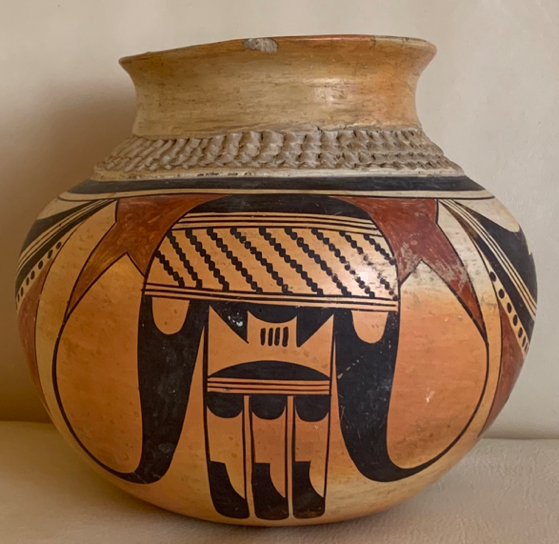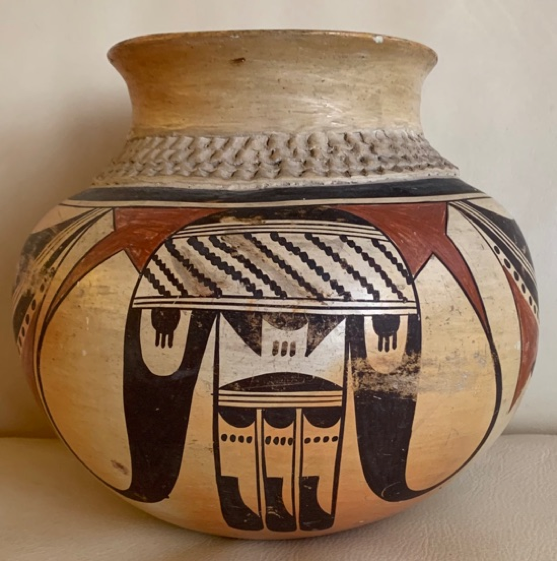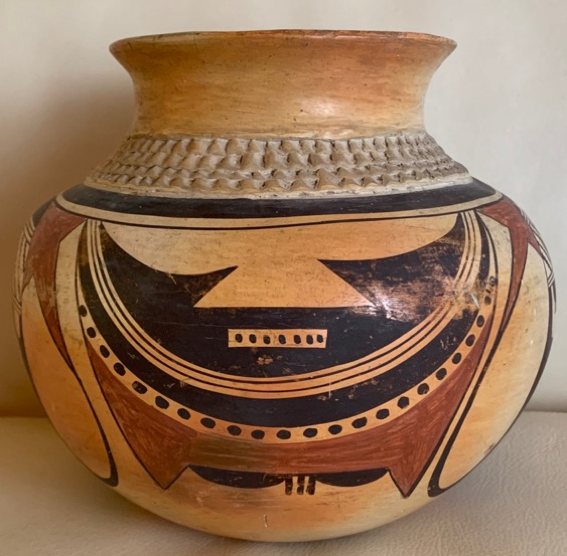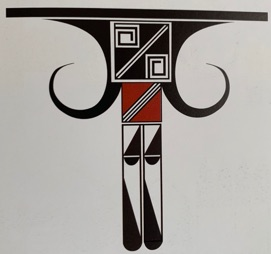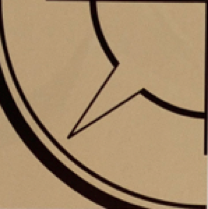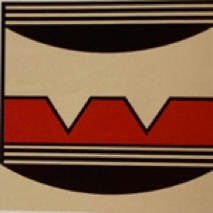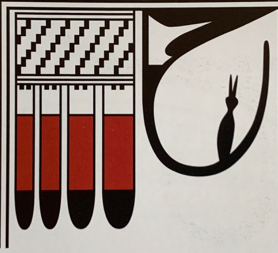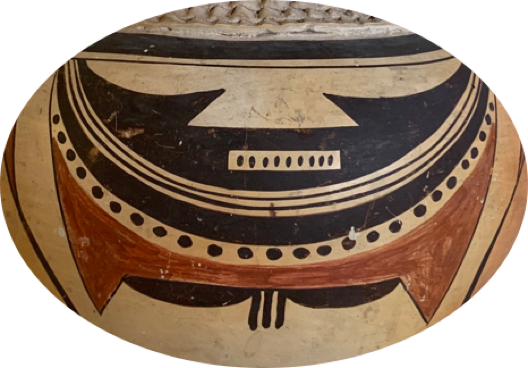 Nampeyo pottery designs illustrated in "Canvas of Clay" by Edwin L. Wade, Ph.D and Allan Cooke, © El Otro Lado, 2012
"This superb jar is a masterpiece of proportion and design,
fully representative of Nampeyo's finest work."
-Edwin L. Wade, Ph.D.
As the final and crowning decorative touch, Nampeyo applied several encircling bands of corrugation around the neck of the jar. In actuality, while they are in their placement at the top of the jar the "crowning touch" as we mentioned, so to speak, these corrugated designs were, in fact, the very first "decorations" Nampeyo applied to the jar well before the jar was painted and they function beautifully to frame and set off the finished painted design field. The various dots and diagonal surfaces in the painted designs seem in ways to echo the variegated corrugated surface itself. We have seen a number of Nampeyo jars with corrugated surfaces including one pictured here below in which the corrugation was applied directly with her fingertips leaving distinctive fingerprints in the clay surface, but it appears that the corrugation on this particular jar was made with an implement, possibly a stick of wood.
The jar measures a medium-sized 9" in height and it is also 9" in diameter. It is in generally very good original condition particularly for its 110 or so years of age. There are a few areas of abrasion and paint loss and some insignificant tiny slip cracks here and there. There are no cracks in the clay body, no significant chips, just a small 1/4" chip on the rim. On the interior bottom of the jar there is some slight evidence of exfoliation due possibly to the jar having held water at some time period. There is a somewhat unusual inscription on the jar's bottom which reads "Hopi Arizona". This inscription is fired into the jar in what appears to be the same black paint used in the painted designs meaning that it is original to the piece. Nampeyo is known to not have spoken, read or written in the English language so this inscription was most likely put there by one of her elder pottery-making daughters and assistants, Annie Healing Nampeyo (1884-1968) or Nellie Nampeyo (1896-1978) or painted by her copying an inscription shown to her by someone else.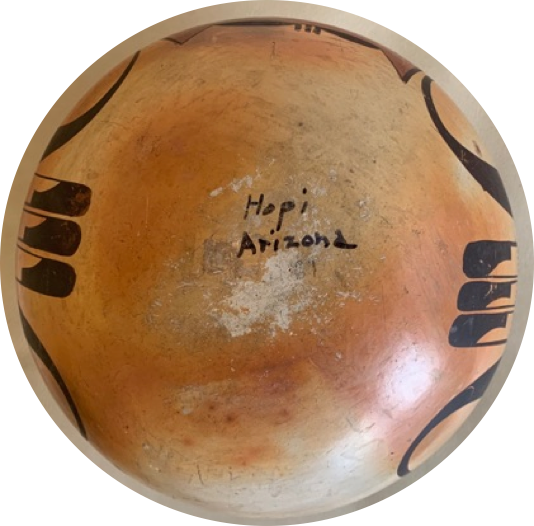 At right, Nampeyo and her family are shown in their "summer residence" at Hopi House at the Grand Canyon in a Fred Harvey Company promotional post card.
The upper and lower case configuration of the inscription resembles Annie's hand which we have seen on other examples of Annie's and Nampeyo's pottery which Annie is known to have signed for her on rare occasion. This inscription might indicate that this particular jar was made for exhibition and sale at The Fred Harvey Company's famous Hopi House built by architect Mary E.J. Colter in 1905 on the South Rim on the Grand Canyon where Nampeyo and her family resided over a couple of summers in the first decade of the 20th Century, demonstrating, making and selling their pottery. The jar also has a slight amount of "lean" as it sits on a table when seen from certain angles but, this is completely normal for an older-style, round-bottomed jar which were originally and historically meant to sit on a sand floor in a room in a Pueblo home. In our view, this slight asymmetry only adds to the handmade human nature of the piece, but if this bothers you, the jar can always be placed atop a clear lucite pottery base which would allow it to be displayed in a somewhat straighter fashion and still allow you to view the round bottom. There is also a small area of slightly shadowy or ghostly diagonal painted designs where it appears that Nampeyo herself changed her mind about the placement and spacing of some of the diagonals and adjusted them accordingly.
Now its time for the wind-up. At the end of the day we have been very fortunate to have had quite a few of Nampeyo's pottery masterpieces over the years, including a sizable number which are now on display in the permanent collections of important museums such as The Art Institute of Chicago and the Scottsdale Arizona's Museum of the West. Some of these pieces have been larger, some smaller, some differently shaped and designed, but for pure all-out visual explosiveness, originality and dynamic energy, this 9" jar stands tall with the finest of any of them.
Price available upon request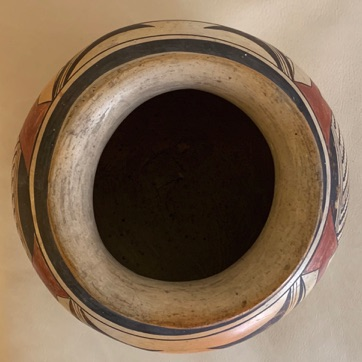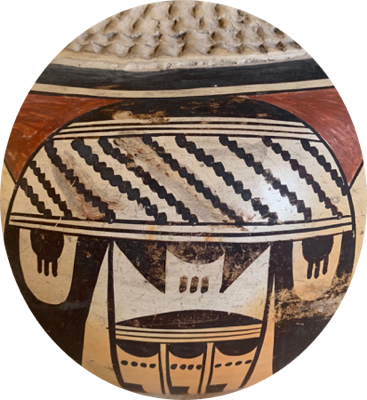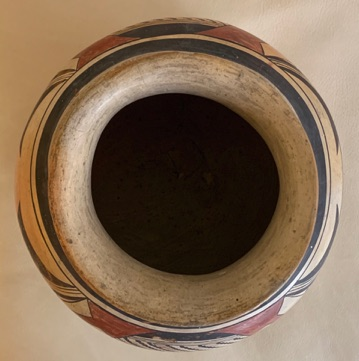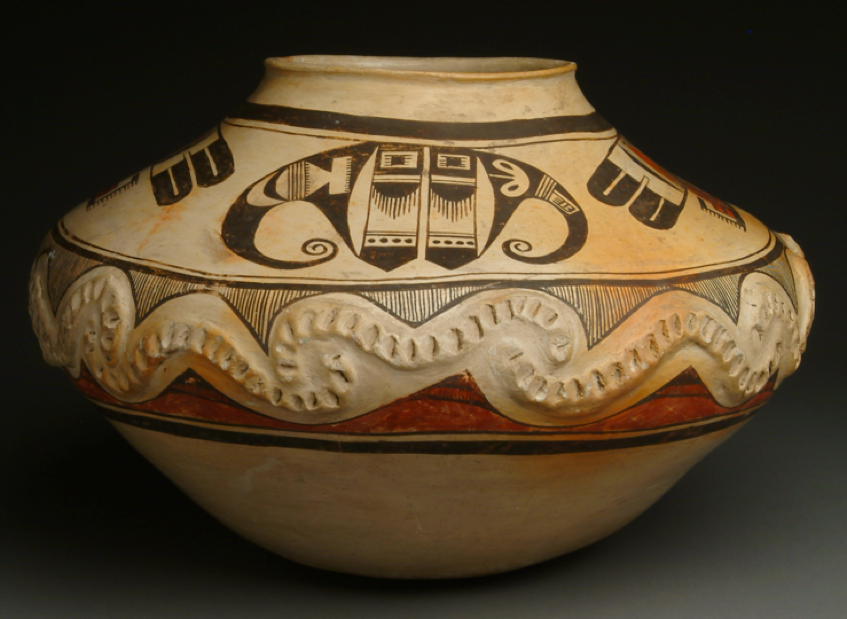 A large Nampeyo pottery jar with corrugation, c. 1905, sold by us in 2002 and now
in the permanent collection of The Scottsdale Museum of the West, Scottsdale, Arizona
Photo source and© Fine Arts of the Southwest, Inc., Santa Fe, NM. Photo by Addison Doty.