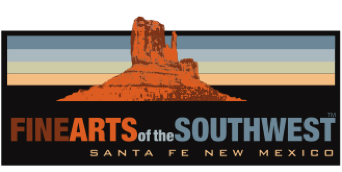 © 2010-2022 by Fine Arts of the Southwest, Inc. All rights reserved.
Unauthorized reproduction or use is strictly prohibited by law.

A historic "Sikyatki Revival" style Hopi polychrome pottery bowl by Nampeyo and/or Annie Nampeyo, c. 1905
The only other people who could have painted this piece other than the two Nampeyos were primarily western Modernist artists such as Pablo Picasso, Georges Braque and possibly Salvador Dali so wildly abstracted and modern-looking
are the designs. And we say this with only a little tongue in cheek as Nampeyo's version of early 20th Century Modernism was every bit as ground-breaking and daring as theirs was.
This is the so-called "Sikyatki-Revival" style of pottery making at Hopi in full swing with a variety of absracted stylized bird and feather designs drawn from the incredible design vocabulary of the ancient Hopi Sikyatki period of pottery making between 1375 and 1625 A.D. Sikyatki pottery was also notable for its technical sophistication and specific techniques. The pottery is not slipped as in most other forms of Pueblo pottery making because the clay used was of
so fine a texture that it did not require the addition of a tempering agent and a sort of self-slip or "float" could be generated from the clay body of the vessel itself by vigorous stone polishing.
"When I first began to paint, I used to go to the ancient village and pick up
pieces of pottery and copy the designs. That is how I learned to paint. But now,
I just close my eyes and see designs and I paint them."
-Nampeyo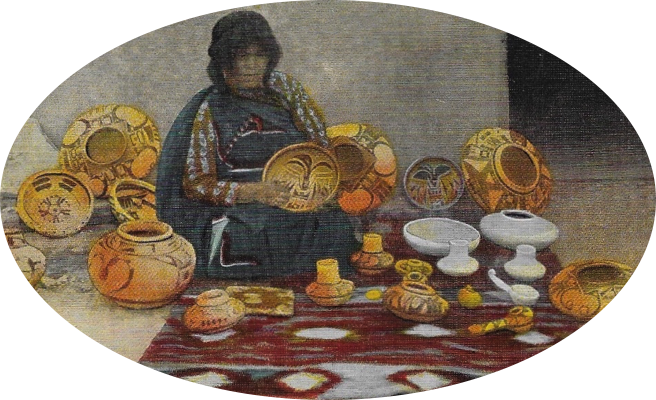 An original Fred Harvey Company commercial postcard featuring Nampeyo, c. 1905.
"The most expert modern potter at East Mesa is Nampeo, a Tanoan woman who is a thorough artist in her line
of work. Finding a better market for ancient than modern ware, she cleverly copies old decorations, and imitates the Sikytaki ware almost perfectly. She knows where the Sikyatki potters obtained their clay, and uses it in her work. Almost any Hopi who has a bowl to sell will say that it is ancient, and care must always be exercised in accepting such claims."
-Jesse Walter Fewkes, "Archeological Expedition into Arizona in 1895"
Bureau of American Ethnology 17th Annual Report, 1895-96, pp.660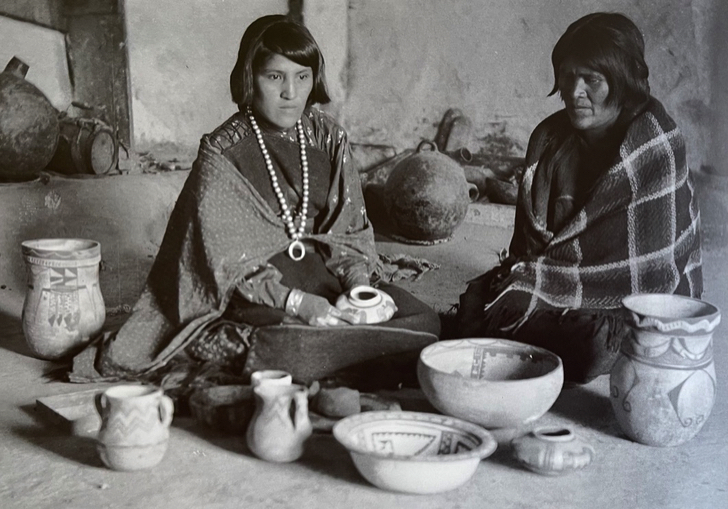 With this bowl, as in almost all other pottery by Nampeyo and Annie, almost all of which is unsigned, attribution to
the artist is made for numerous and various reasons, both stylistically and technically. On Nampeyo's side here, is the near perfect construction of this vessel, the shape and form are superb and the long stroke stone polishing which is
a telltale of her work is simply astonishingly well done, among the finest we have ever experienced. The surface of the bowl, particularly on the back is soft and silky as a baby's bottom.
Two more technical details; the exceptionally well-achieved high temperature coal firing and beautiful whitish-yellow
firing blushes are a Nampeyo standard as is the extra added coil of clay on the underside of the bowl's rim. The most likely possibility here in our view is that Nampeyo made the vessel and eldest daughter Annie painted it, which was a fairly typical arrangement. The painted design is just a bit "looser" than Nampeyo's painting usually is which suggests the involvement of Annie's hand. Annie would have been around twenty years old when this bowl was made and she was already an extremely capable potter by that time having grown into it at her Mothers knee since babyhood.
The bowl measures a nice-sized 9" in diameter and is 2 1/4" in height. It is in very fine original condition. There is some degree of abrasion wear to parts of the interior design which could be restored if desired but we would not recommend this as the visual integrity and strength of the design is still largely intact. Structurally, the bowl is in completely excellent condition, there are no cracks no significant chips and thorough examination under Ultraviolet light reveals no evidence at all of any restoration or over painting.
All in all, this bowl is a beautiful and beautifully made example of one of the most
beautiful types of historic Pueblo pottery ever made.
Price $3,250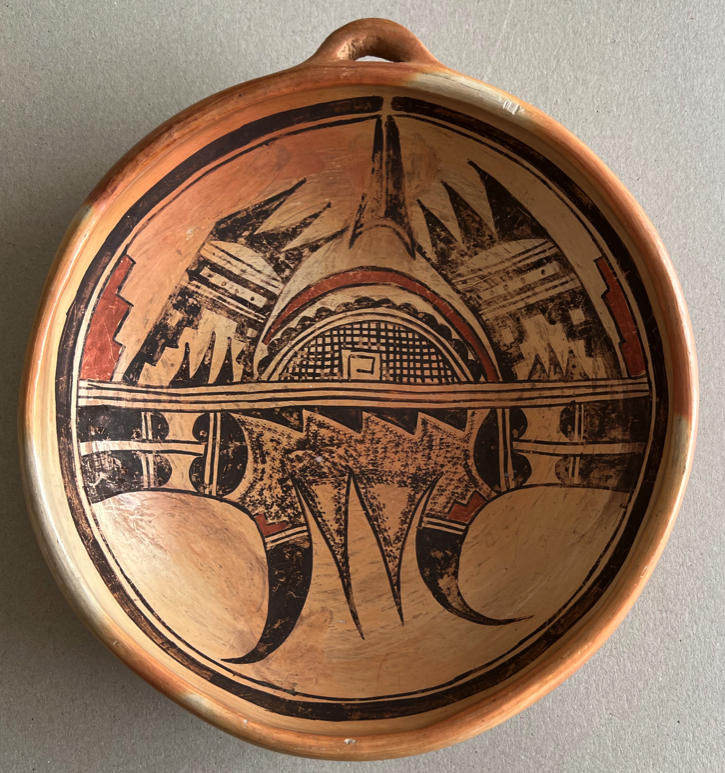 This exceptionally fine quality of clay combined with the painstaking method of firing the pottery using ultra high temperature Lignite coal from the nearby Hopi Antelope Mesa yielded a vessel with extremely hard fired walls which, accordingly allowed vessel walls to be made thinner and thus allow for the amazingly daring swooping vessel shapes
of the incredibly large low-profile Sikyatki jars with their almost gravity-defying nearly horizontal upper bodies.
Nampeyo did not begin the Sikyatki Revival herself, but she quickly became the undisputed master of it so much so that the Smithsonian Insitution's archeologist, Jesse Water Fewkes who excavated Sikyatki village in 1895 and introduced
its extraordinary ancient pottery to the world expressed the somewhat over-wrought concern that Nampeyo's work so resembled Sikyatki ware that the two could be easily mistaken.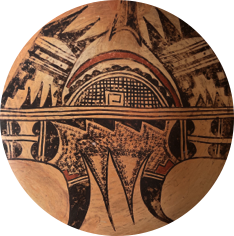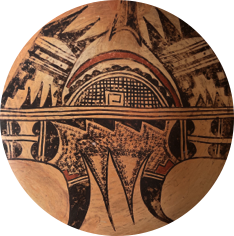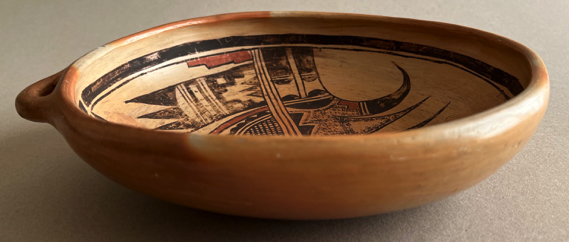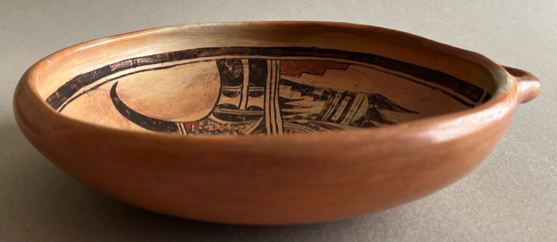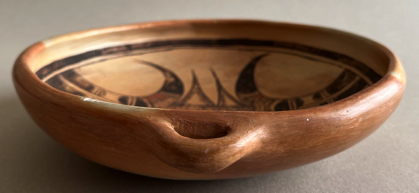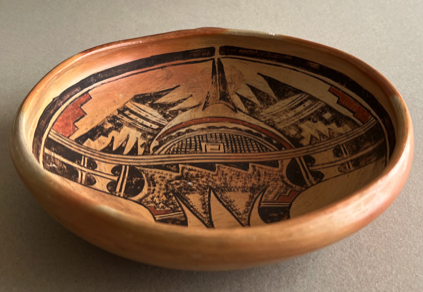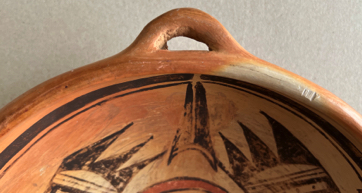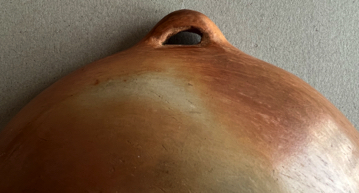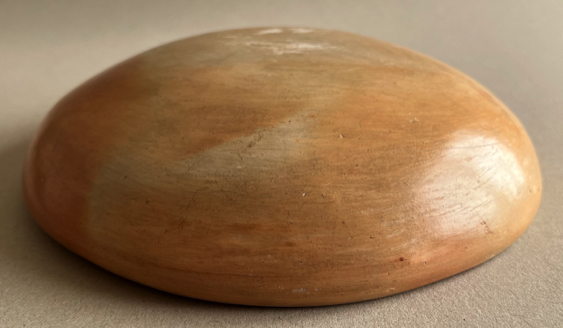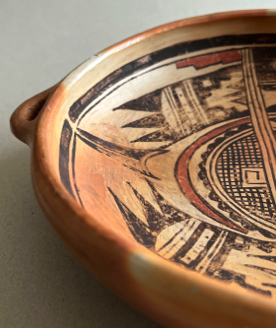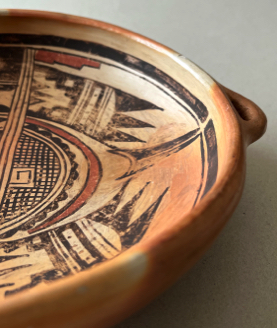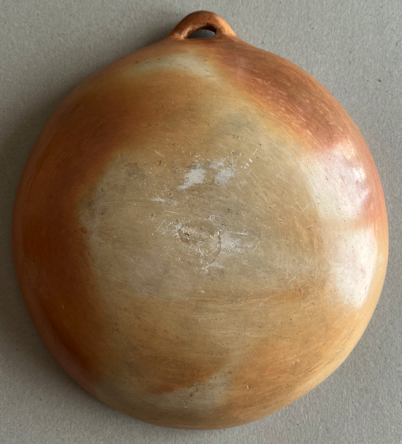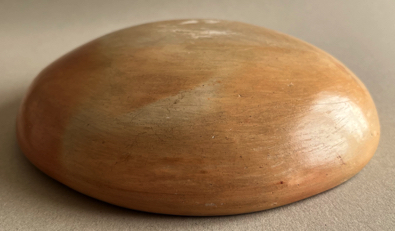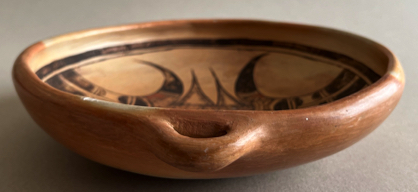 Nampeyo and her eldest daughter Annie making pottery, c. 1905.
Photo source and © Milwaukee Museum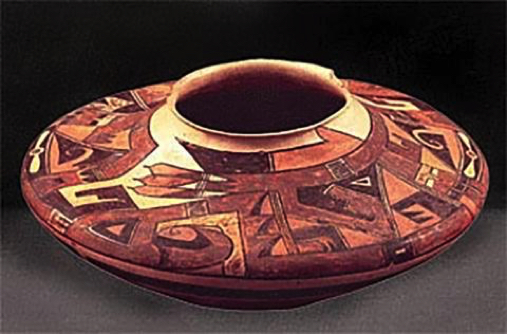 Sikyatki Polychrome "Flying Saucer" jar, c. 1550 A.D. Many of Nampeyo's abstract and stylized designs were inspired by designs on Sikyatki pottery.
Photo source and © Arizona State Museum