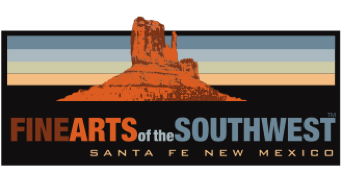 © 2010-2021 by Fine Arts of the Southwest, Inc. All rights reserved.
Unauthorized reproduction or use is strictly prohibited by law.

An exceptionally beautiful and significant Hopi polychrome pottery figural canteen featuring a large image of Polikmana Kachina (Butterfly Maiden) by Nampeyo of Hano, c. 1890
Ex: Martha H. Struever Collection 1994
We will dispense with our customary lengthy and detailed description here and instead leave the floor primarily to the excellent scholarly essay below which was recently written at our request about this marvelous canteen by the distinguished historic Hopi pottery authority, Edwin L. Wade, Ph.D. We will describe the basics of the size and condition and provenance of the piece here and Dr. Wade will then take over the discussion.
The canteen measures 9 1/2" in width measured across its face from lug to lug. It is 9" in height and 8" in depth. It is in generally outstanding original condition especially when considering its considerable age of 130 or so years. We should all look this good at anywhere near this age. There is a collection number "128" on the back of the canteen.
There are no cracks and no significant chips, there are a few assorted abrasions and scratches and some lovely dark fire clouding which only adds to the beautiful patina of the vessel in our estimation. A thorough examination of the canteen under Ultraviolet light reveals no evidence of restoration or overpainting at all.
As for the provenance of this piece, it is quite distingusihed. It was formerly in the collection of the renowned Native American Arts delaer and collector and Nampeyo pottery authority Martha H. Struever of Chicago, Denver and Santa Fe and was sold by her in 1994. Marti was a longrtime colleague and friend of ours and we knew well her enthusiasm for Nampeyo's kachina canteens, bowls and tiles which she collected with great appreciation and excitement.
This canteen is a stunning and unique historic Hopi pottery piece, a true treasure for anyone interested
in collecting fine historic Pueblo pottery. And now, over to Dr. Wade.
Price available upon request
Historic photo postcard of Polikmana Kachinas in a Hopi Butterfly Dance, c. 1930's
Photo source and © Frasher's Fotos
Above, a historic Hopi Polikmana kachina doll attributed to James Kewanytewa. To view our website listing of this kachina doll, please click here. At left and right, Polikmana Kachina dancers.
A FIGURATIVE CANTEEN BY NAMPEYO c. 1890
The sculptural form of the modern Hopi canteen evolved from a shape introduced in the 16th century by Sikyatki potters. Prior to that time canteens were either globular or conical, possessing lug or looped handles, and were oriented on a vertical axis. In other words, they sat upright. The Sikyatki innovation was to situate the canteen on its back, or its horizontal axis, constrict the vessel's neck into a diminutive spout, and tilt that spout forwards.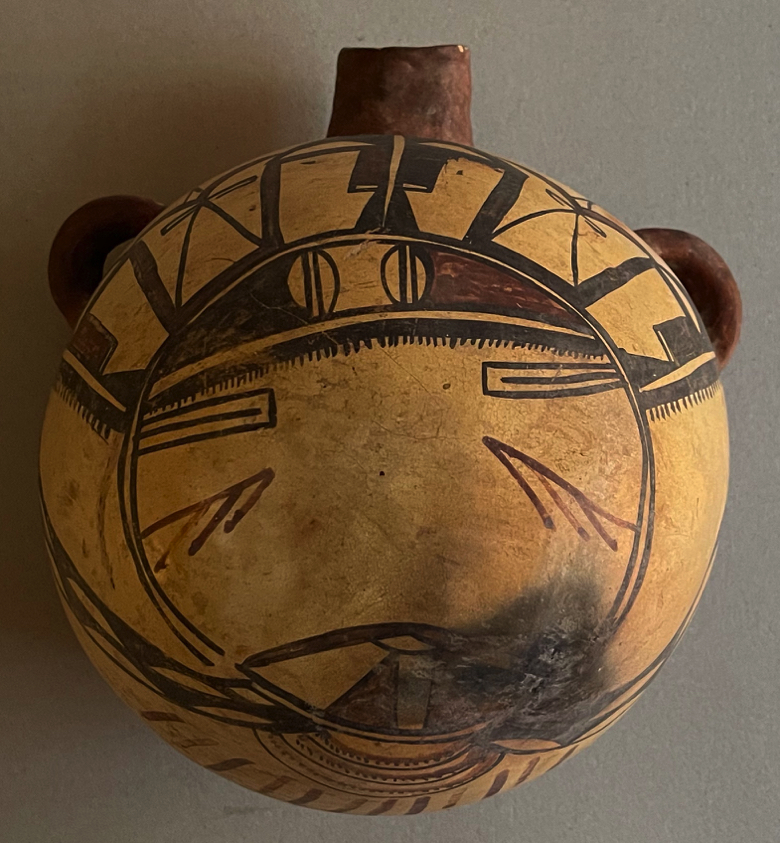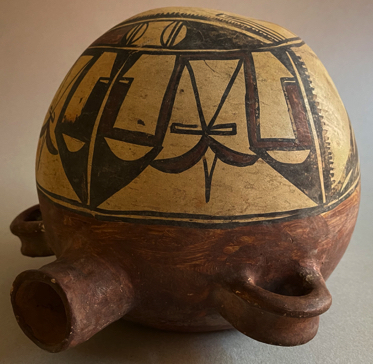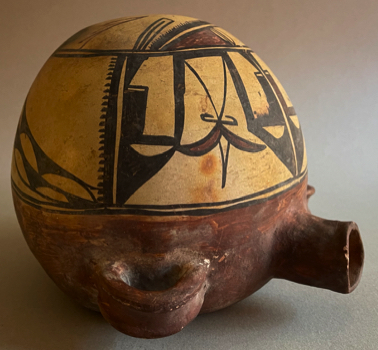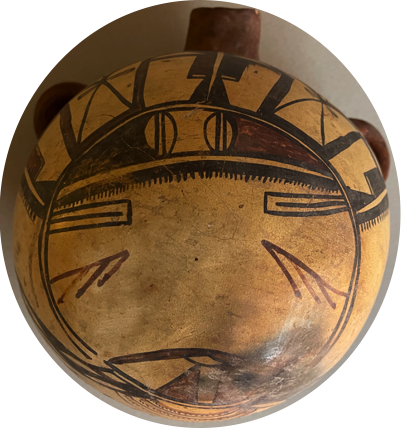 Another dating indicator of this canteen is its size and the exaggerated swelling of the domed body. Within 10 years the tourist curio trade will become full blown and the functional authenticity of a vessel irrelevant. Canteens will have become miniaturized and flattened for easier shipping and economy of work time. What was lost however, as seen in this vessel, was the three-dimensionality achieved by the exaggerated dome as a design field. The Mana's face is centralized with the elaborate Tableta and lower body parts pulled back as a surround, creating visual tension as does the dome itself. As with an overblown balloon, the dome appears fragile and ready to pop.
Canteens of this period were hard to make-challenging in both the forming of the vessel and in creating a compatible composition for it. Nampeyo was widely recognized as a master of the art as commented upon by Alexander Stephen in The Hopi Journal on Dec. 13 1893:
"Talking with some Walpi women. The Walpi woman (hopi wu'qti) alone understand well the art of pottery
and its decoration. Hano women do make some pottery and decorate it, but it is not beautiful. I called their attention to numpe'yo, but they said she was the exception and had learned her art from Hopi women."
-Alexander M. Stephen, Hopi Journal, 1936, pp. 1020
As history would validate, Nampeyo did not learn her art from the neighboring Hopi yet, even in the smallest communities jealousy may prosper.
-Edwin L. Wade, Ph.D.
Compositionally this had the effect of radically reorienting the decorative fields of the canteen. Rather than the 360-degree or circumferal painting that occurred on earlier vessels, now the painting was restricted to the pot's domed upper-body. Until the emergence of the tourist trade in Indian art during the late 1880s, Hopi canteens were normally undecorated utilitarian ware. The rarity of painted examples suggests that when they did occur, such embellished canteens possessed significance beyond the mere capacity to hold water.
This particular canteen with its exquisitely molded form and innovative painted composition reveals the hand of the master potter Nampeyo in its creation. Sculpturally it conforms to similar vessels made in the Polacca Polychrome tradition. The domed face of the pot has been lightly slipped in kaolin clay and then stone-polished so diligently that a fine compressed clay float has risen to the surface. However, some crazing is still evident, thus dating the work to the end of the Polacca tradition 1885 – 1890. In 1893, as shown in photos taken by James Mooney, Nampeyo was experimenting with a pure Sikyatki slip which she would apply to her revival vessels. It is worth noting that the figurative composition of the supernatural Polikmana or Butterfly Maiden precedes the later Sikyatki revival and stylistically shares nothing with that design tradition.
Sikyatki Polychrome pottery Kachina canteen, c. 1500-1600
Photo source and © "Generations in Clay", Northland Press, Flagstaff, 1980.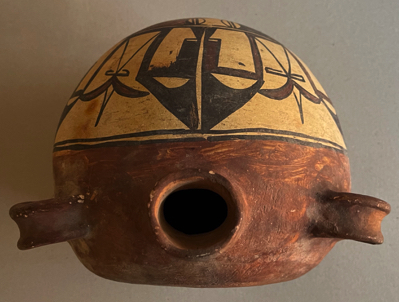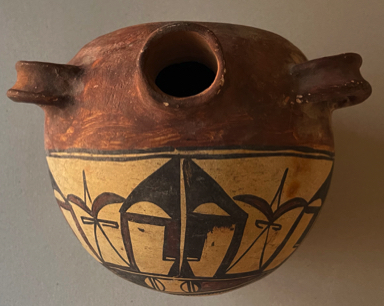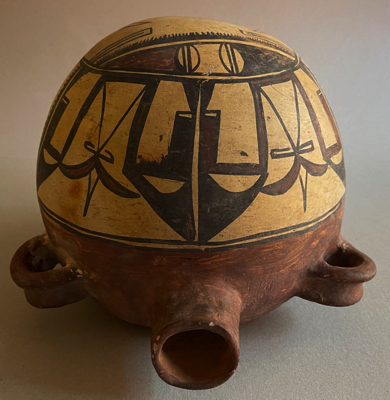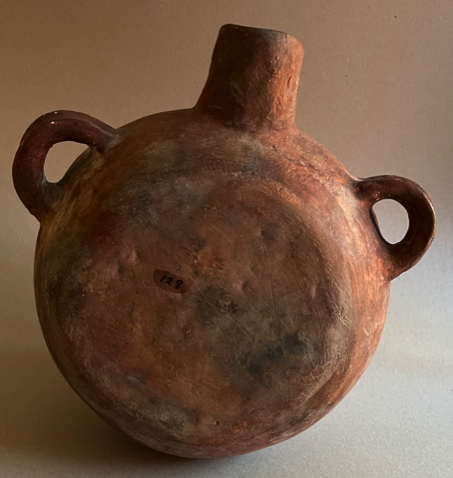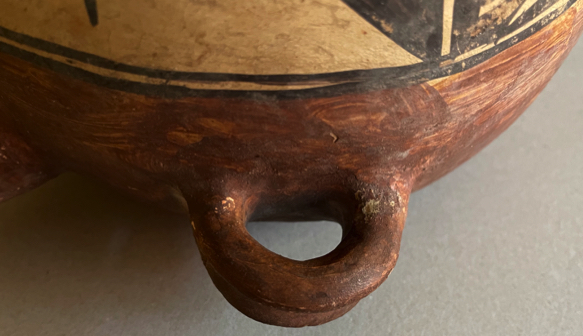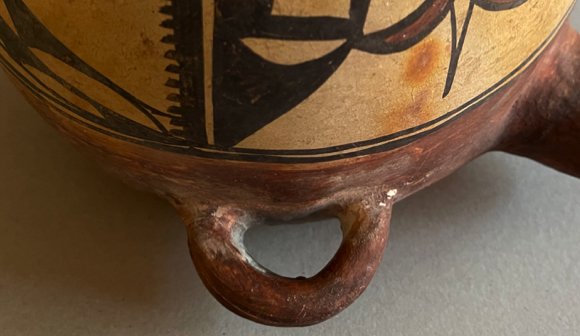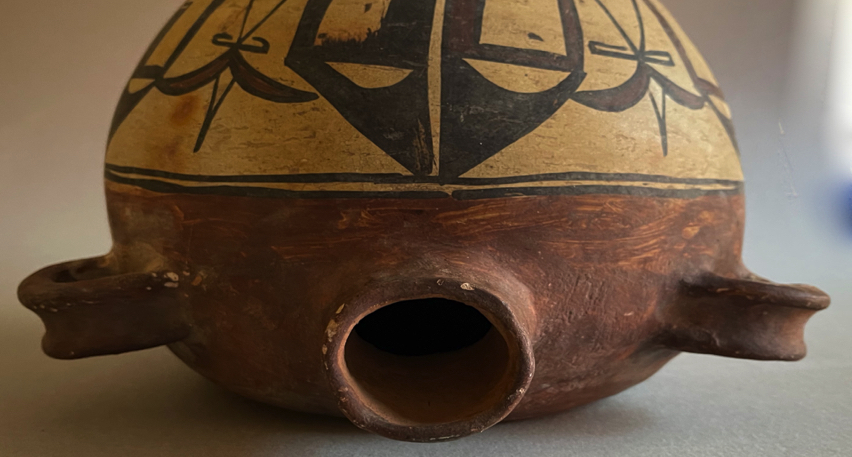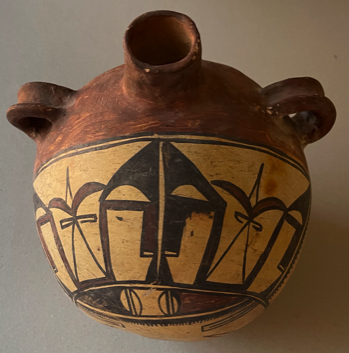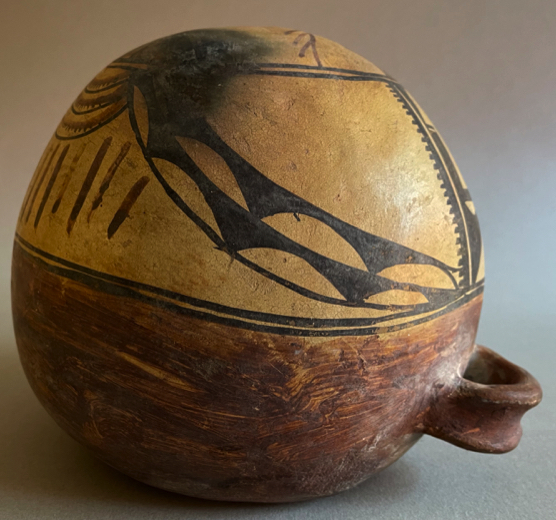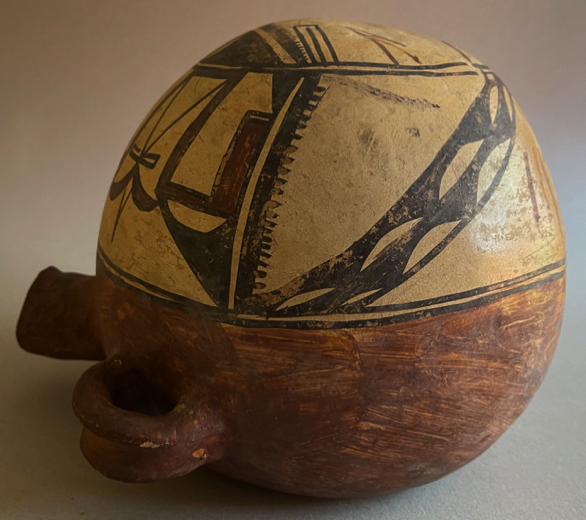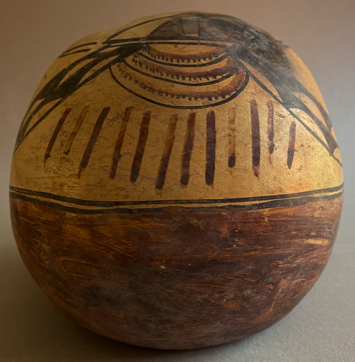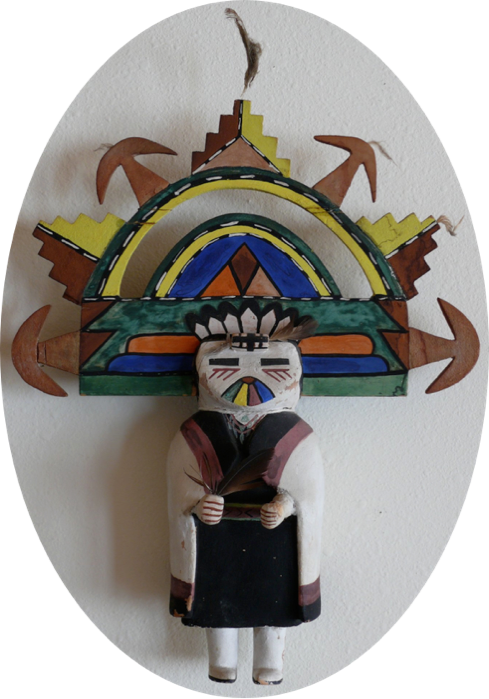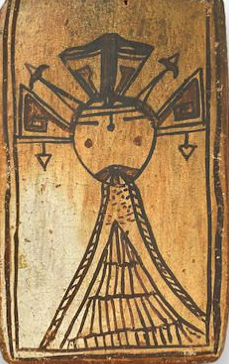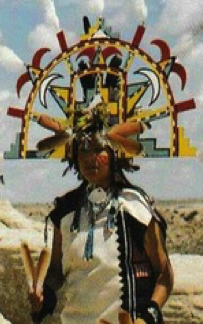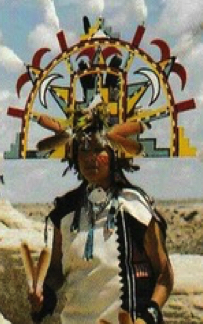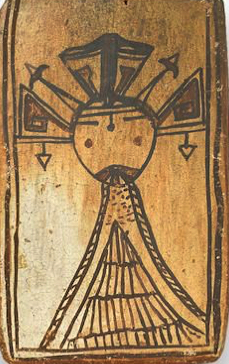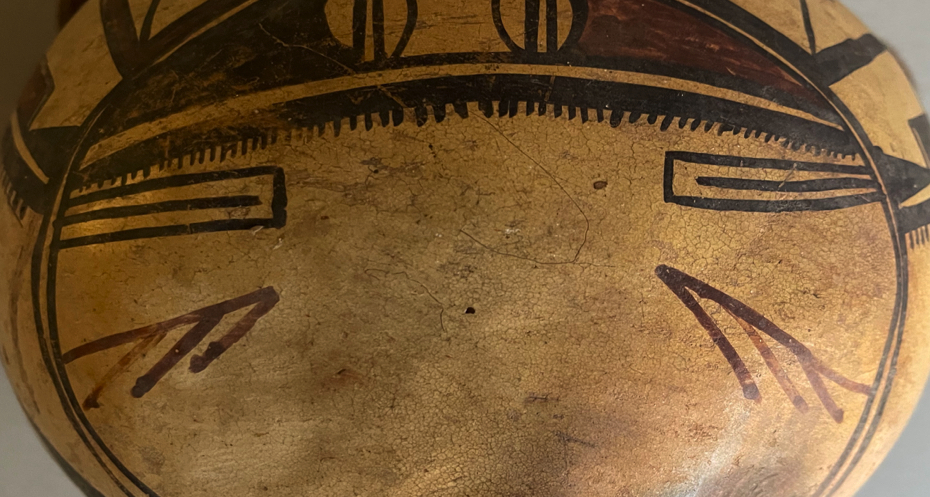 Above, close-up view of this canteen. At left and right, detail of Hopi pottery tiles with Polikmana imagery.
Left and right photo source and © Bonhams
"The form is the design and the design is the form."