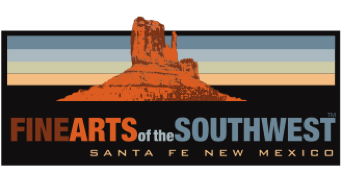 © 2010-2022 by Fine Arts of the Southwest, Inc. All rights reserved.
Unauthorized reproduction or use is strictly prohibited by law.

An exceptionally beautiful and significant Hopi Polacca
polychrome pottery canteen featuring an image of Polikmana Kachina (Butterfly Maiden) by Nampeyo of Hano, c. 1890
Ex: Martha H. Struever Collection, Santa Fe, NM, 1994
This canteen is an extraordinary piece in every way, it's extravagantly beautiful, incredibly sculptural, and historically and culturally significant. This is the skilled hands and inspired mind of the great Master Hopi pottery matriarch, Nampeyo of Hano (1858-1942) all the way, displaying her extraordinary mastery in every single detail from the vessel's shape and formation to its painted design, polishing and firing.
The beauty and historic integrity and importance of this piece was recognized by one of the canteen's most previous owners, the late Grande Dame of the Santa Fe Indian art world and longtime Nampeyo pottery authority, Martha Hopkins Struever (1931-2017) who purchased this vessel in the early 1990's and in 1994 sold it to a client whose family recently sold it to us. Marti was a longtime colleague and friend of ours and we knew well her great and particular enthusiasm for Nampeyo's kachina canteens, bowls and tiles of this time period which she collected herself with the greatest appreciation and excitement. In addition to the Struever collection provenance, the canteen also comes with a written authentication essay by another prominent historic Hopi pottery scholar and author, Edwin L. Wade Ph.D.
Historic photo postcard of Polikmana Kachinas in a Hopi Butterfly Dance, c. 1930's
Photo source and © Frasher's Fotos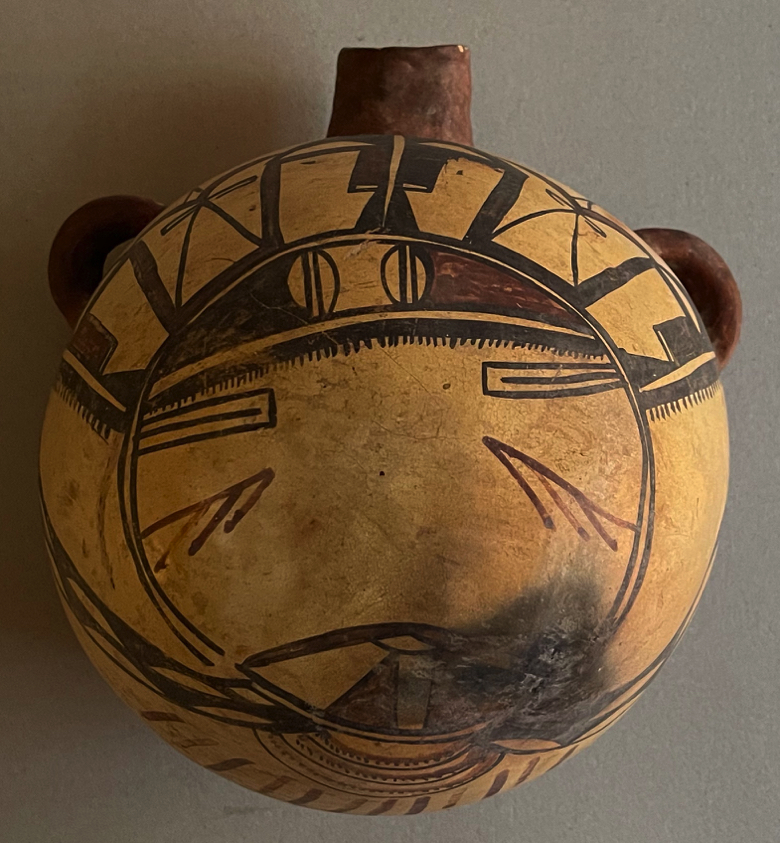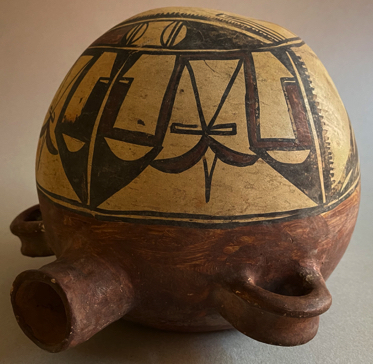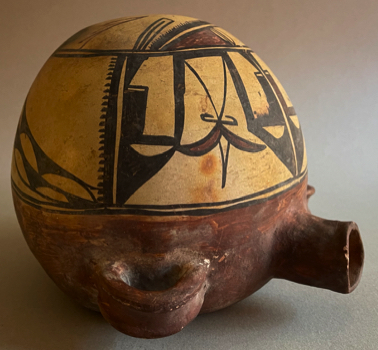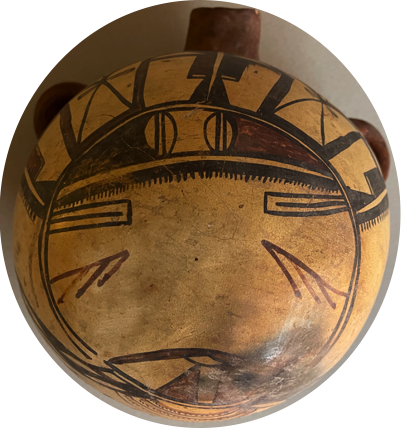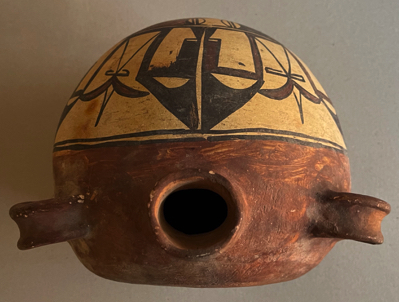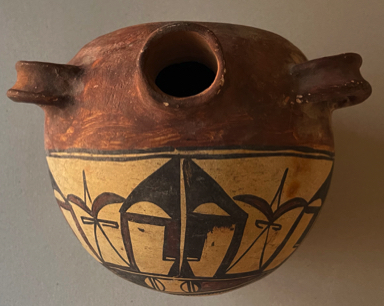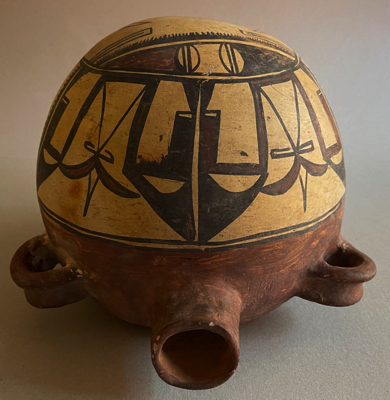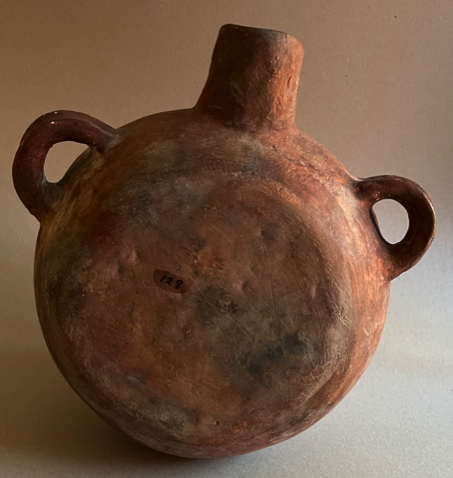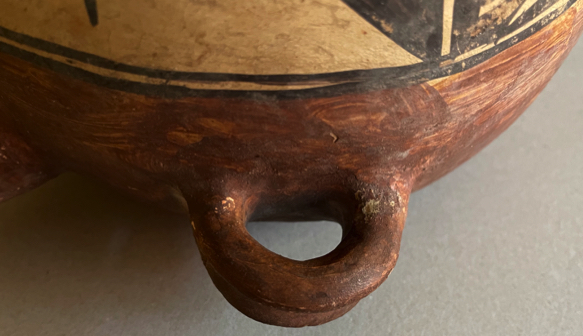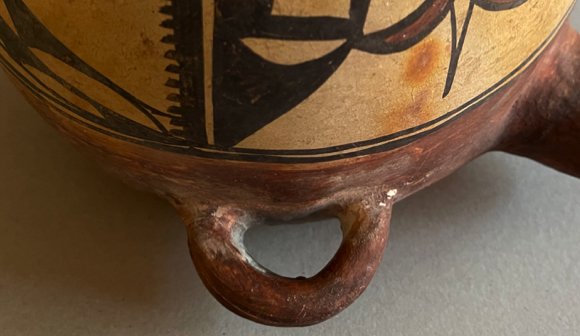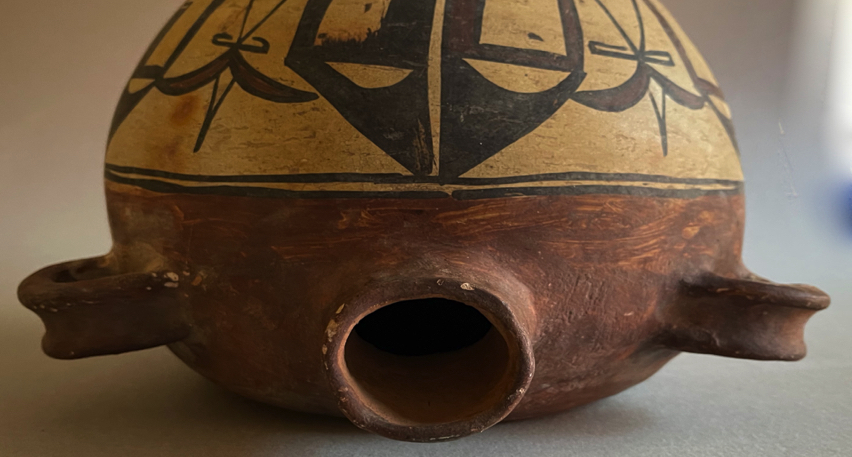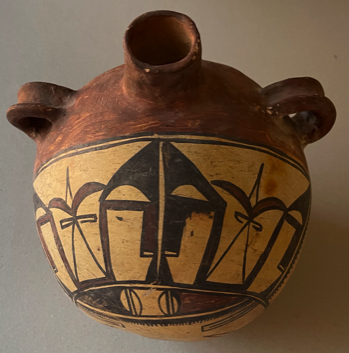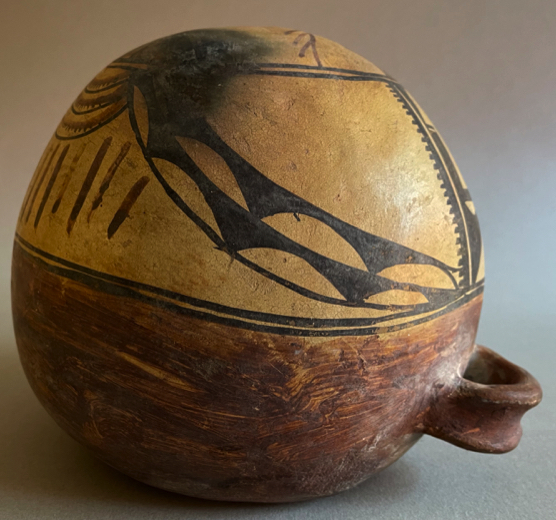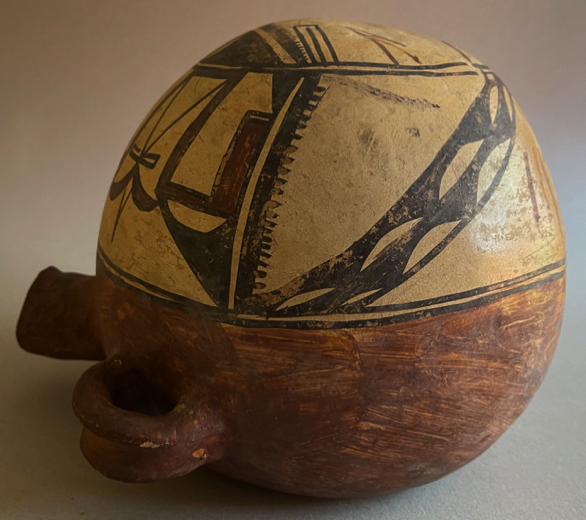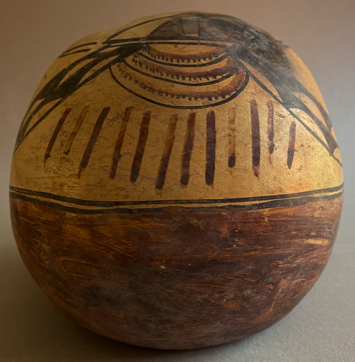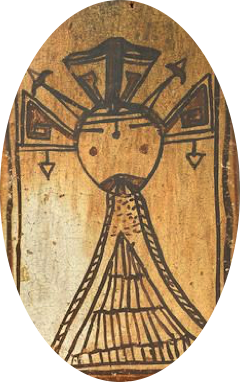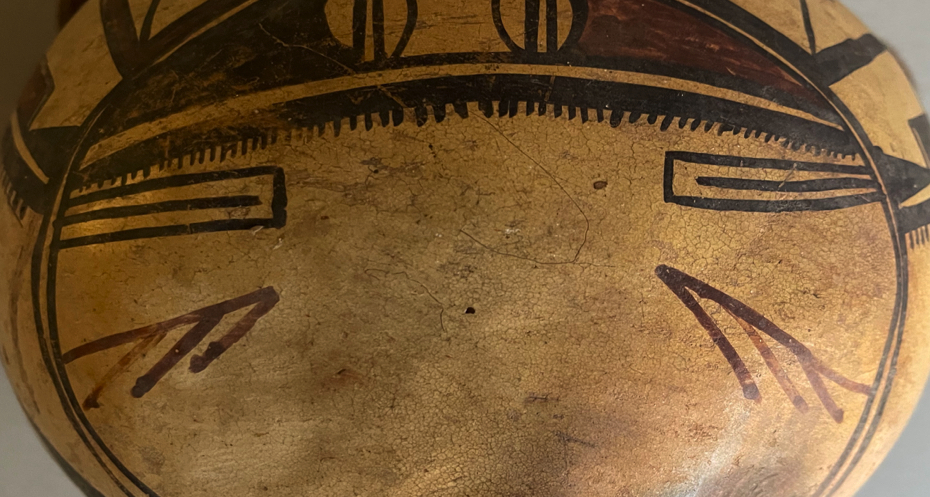 At center, a large Hopi storage jar, c. 1895 by Nampeyo with images of Polikmana Kachina formerly in the collection of Santa Fe Indian trader, J.S. Candelario. At left and right, detail of Hopi pottery tile with Polikmana Kachina imagery.
Left and right photo source and © Bonhams
"The form is the design and the design is the form."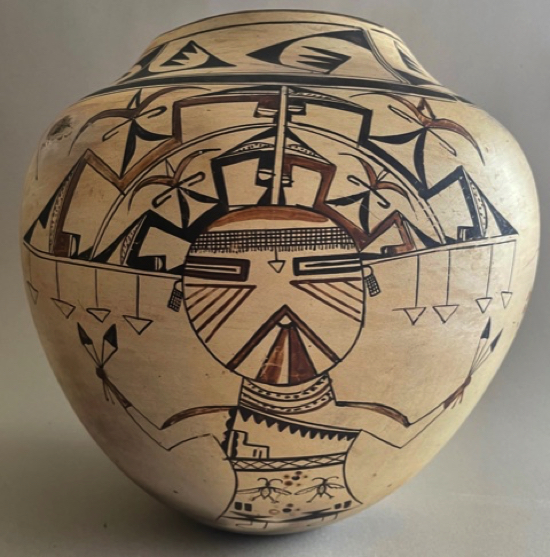 The canteen is prominently shaped like a woman's breast in the time-honored tradition of historic plainware Hopi canteens. What could be more nourishing and life-sustaining in the harsh arid desert than the liquid which comes from a woman's breast? The painted design of the Butterfly maiden kachina is applied here across the entire face of the canteen, stretched if you will in perspective to reinforce the depth and width of the vessel itself. The canteen's lugs are
carinated and the spout is forward facing, both of which are telltale signs of Nampeyo's hand.
The canteen measures 9 1/2" in width measured across its face from lug to lug. It is 9" in height and 8" in depth. It is in excellent original condition especially when considering its considerable age of 130 or so years. We should all look this good at anywhere near this age. There is an unknown collection number "128" on the back of the canteen.
There are no cracks and no significant chips, there are a few assorted abrasions and scratches and some lovely dark fire clouding which only adds to the beautiful patina of the vessel in our estimation. A thorough examination of the canteen under Ultraviolet light reveals no evidence of restoration or overpainting at all. It was very likely never actually used as a canteen, but collected and preserved for its artistic and decorative value.
This canteen is a truly stunning and unique historic Hopi pottery piece, a rare treasure by an amazing artist for
anyone interested in fine historic Pueblo pottery. It would be a proud addition to any collection, anywhere.
Price available upon request
Beginning around the late 1880's and early 1890's, encouraged and likely commissioned by Hopi Indian trader Thomas Varker Keam working in conjunction with The Fred Harvey Company and others, Nampeyo and then other Hopi potters such as Paqua Naha, began making pottery pieces with a variety of Hopi kachina imagery. Pottery tiles and bowls, smaller and easier for visiting tourists to transport than larger pieces, were especially popular as were small-sized miniature Kachina face canteens and pottery Kachina effigy figures. As a full-size fully-functional canteen, this piece is not fully of the tourist era retaining all the characteristics of historic Hopi utilitarian canteens. Nampeyo also incorporated Hopi kachina images into numerous of her much larger pottery pieces as well, such as the very large storage type jar we have pictured above, which is also a fully functional pottery vessel but was likely never used as a storage jar but rather most probably commissioned by Keam or Harvey as an impressive display piece possibly for use in a prominent Fred Harvey/Santa Fe Railway hotel such as The El Tovar at The Grand Canyon or the Hotel La Fonda in Santa Fe.