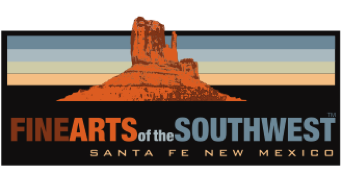 © 2010-2022 by Fine Arts of the Southwest, Inc. All rights reserved.
Unauthorized reproduction or use is strictly prohibited by law.
This is quite an exciting moment for us with this new and wonderfully unprecedented historic discovery. We've been enthusiastically buying, selling and collecting Nampeyo's pottery for over 35 years now and we have never ever seen
the likes of this piece. It is totally and completely unique in our experience. And while we were initially trying to figure out how it might have been made and why and for whom, we showed it to one of our most experienced and knowledgable longtime Native American Art colleagues and he said that to him the point of this extraordinary pottery piece was completely and immediately apparent:
"It's obvious...it was made to serve scrambled
eggs at The El Tovar for Thomas Moran."
Now to some extent, this is a somewhat tongue-in-cheek and humorous response regarding the prominent American landscape painter who frequented the Grand Canyon regularly in the early years of the 20th Century to make commissioned paintings for the Santa Fe Railroad and The Fred Harvey Company, but there are more than a few grains
of solid and highly-plausible historic truth to the possibility of a situation very much like this one having been precisely the case here. It ties together many of the seemingly separate elements of the emerging early Southwestern tourism industry at the turn of the 20th Century and the existing Southwestern Native cultures in the region, especially the Hopi at the same time and in the same place.
In 1905, The Fred Harvey Company almost simultaneously opened both the luxurious 95-room El Tovar Hotel designed
by Charles Whittlesey and The Hopi House designed by Mary E.J. Colter as important parts of expanding their tourist presence at The Grand Canyon's South Rim. The El Tovar provided luxurious lodging and fine dining while The Hopi House was envisioned as a living museum paying tribute to the Hopi culture and a souvenir sales shop where Native artisans created local arts and crafts which were in turn then sold in the gift shop alongside other historic Native American and other Southwestern pieces. Visitors and guests to the South Rim were ferried up to the so called "Grand Canyon Village" from the main Santa Fe Railroad line at Williams, Arizona on the special "Grand Canyon Railway", a 64-mile long narrow-gauge spur railroad from Williams to the Grand Canyon completed in 1901 by The Atcheson,
Topeka and Santa Fe Railroad.

As an important element of The Fred Harvey Company's various tourist and cultural attractions at this exotic far-flung destination was the already renowned Hopi pottery maker, Nampeyo of Hano (1858-1942). Nampeyo and her family were commissioned to live as artists in residence at The Hopi House during the summers of 1905 through 1910 where Nampeyo made pottery and she and her eldest daughters Annie and Nellie gave pottery making demonstrations to Fred Harvey Company and Santa Fe Railroad tourists and guests who were staying at the nearby El Tovar Hotel just steps across from The Hopi House. Nampeyo and her family were given living quarters in Hopi House for these residencies. At this time, The El Tovar was the very epitome of luxurious rustic lodging in the wilds of the American Southwest offering a very civilized lodging and dining experience to those intrepid travelers who wanted to experience the untamed wonders of the Southwest in utmost style and comfort.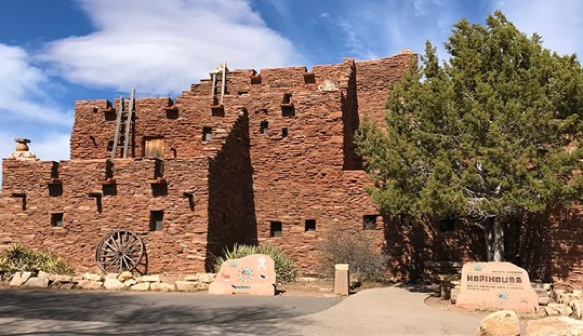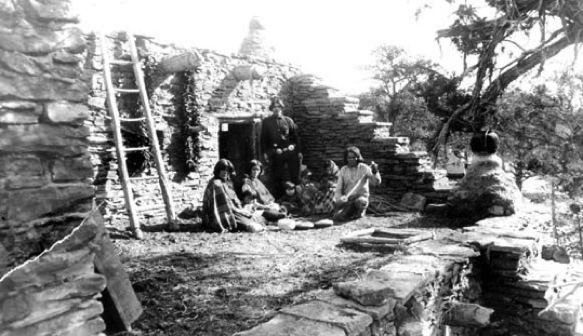 The use of Native American or Native American themed pottery dishes for fancy food service was a popular notion during these burgeoning years of Southwestern tourism. Fred Harvey Company architect Mary E.J. Colter famously designed and had manufactured an elaborate china dining and serving set featuring ancient Mimbres culture pottery designs for use in the dining cars of the Santa Fe Railroad's luxurious Southwest passenger trains, The Chief and The Super Chief. A modern day version of Mary Colter's Mimbres-themed china design as presently served at The El Tovar can be seen below.
American presidential visits were also a regular occurrence at the stately El Tovar in the early 20th Century, including those of former President Theodore Roosevelt in 1907,1911 and again in 1913 and subsequent Presidents William Howard Taft, Calvin Coolidge and Herbert Hoover. The Grand Canyon was one of Teddy Roosevelt's favorite places and he returned there regularly throughout his life both during his Presidency and afterwards. Other famous personages patronizing The El Tovar during this same general time period were noted physicist Albert Einstein, playwright George Bernard Shaw and intrepid Western author Zane Grey. Also, there is the possibility that this dish could have been specially commissioned from Nampeyo for the occasion of a special visit to El Tovar by a President of a different sort, perhaps a Chief Executive of The Fred Harvey Company or of The Santa Fe Railroad. Might there also originally have been more than one of these types of serving pieces made? It's certainly within the realm of possibility, time may eventually reveal the answer though in the past 35-plus years this is the only one we have ever seen.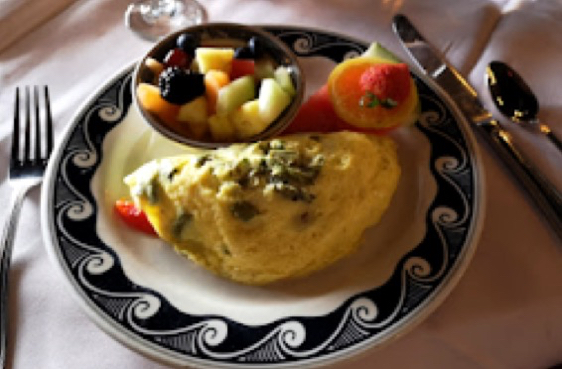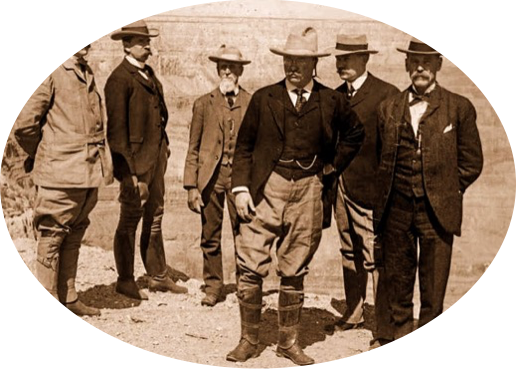 The lower oval-shaped bottom section of the serving bowl features in its center a marvelous and intricately painted central design in the form of a large stylized bird's body filled with repeating geometric and stylized feather motifs, many such as the "Clown" or "Kilroy" face, characteristic to Nampeyo's personal design repertoire and based at least
in part on ancient Hopi Sikyatki-style pottery designs from the 14th to 17th century. The selection and use of a stylized bird and feather design by Nampeyo for the interior decoration of this dish is particularly interesting and not just a little ironic given this dishes' obvious intention and function as a service dish for a cooked bird or bird's eggs. Around the rim of the bowl surrounding the covered lid is another elaborately painted panel of repeating geometric and feather designs. The overall quality of the designs and painting here is simply outstanding.
A unique two-piece Hopi polychrome pottery serving dish with a chicken figural lid by Nampeyo, likely made at Hopi House, Grand Canyon, c.1905-1910
At left, a modern day view of Hopi House. At right, Nampeyo and her family at Hopi House c 1907. In the photo are Nampeyo, her husband Lesou,
their eldest daughter Annie, their second daughter Nellie, their son William, their third daughter Fannie and possibly Annie's infant daughter, Rachel.
At left, a modern-day egg breakfast being served in The El Tovar Hotel's dining room on a modern day version of Mary Colter's original Mimbres-themed design for The Santa Fe Railroad. A very similar egg breakfast might very well have been served to former President Theodore Roosevelt during his 1903, 1905, 1911 or 1913 visits in this very same dining room in this very same Nampeyo pottery dish. It's a truly fascinating possibility to contemplate indeed! At right, President Theodore Roosevelt (third from right) at the South Rim of The Grand Canyon, 1903.
Left photo source and © Xanterra. Right photo source and © Wikimedia.
The lower part of the serving dish measures 9 1/2" in length and 7 1/4" in width and all together the assembled two-piece dish measures 5" in height. When we acquired the dish this bottom section had been broken into five or six pieces as pictured below which had been glued back together in a somewhat amateurish fashion. There was also a coat
of varnish applied to the dish's bottom perhaps to help hold the pieces together. The professional pottery restoration which we commissioned and was recently completed was most skillfully and respectfully accomplished using no added plaster or overpainting and it has returned the dish to its former glory.
A Fred Harvey Company promotional panoramic postcard promoting the new Hotel El Tovar, c. 1905.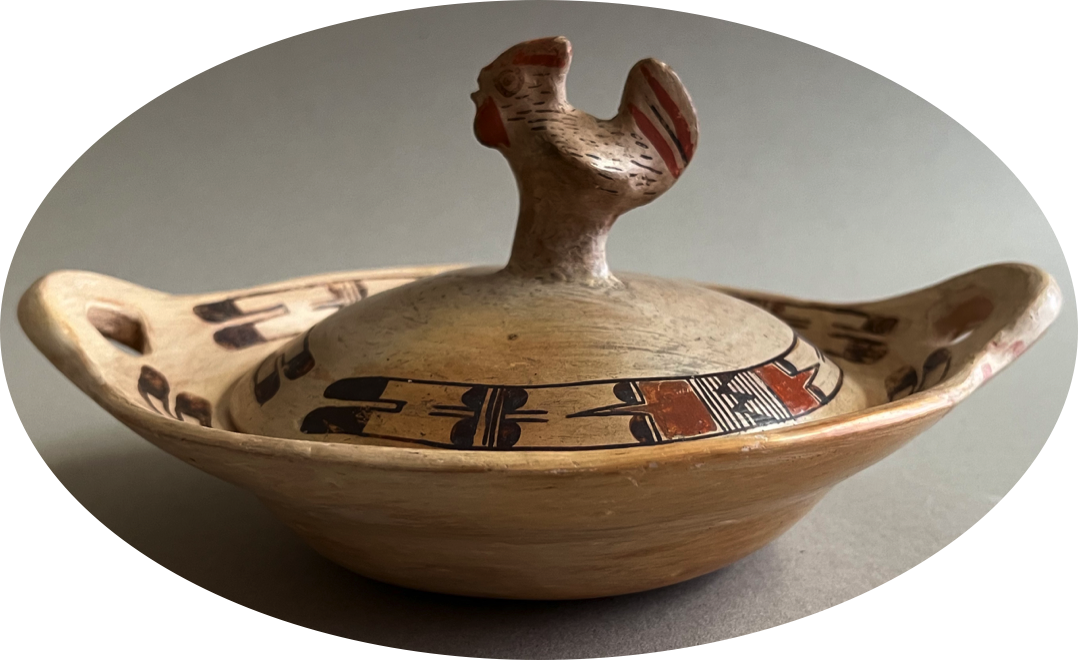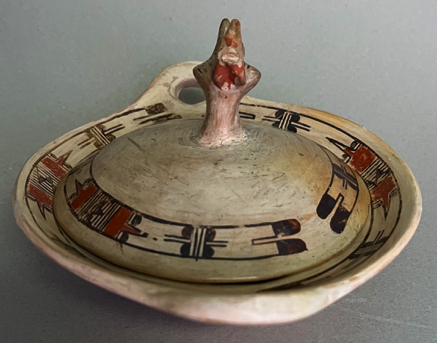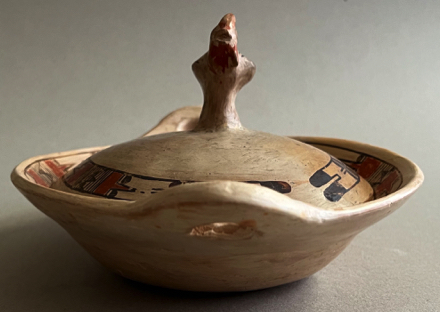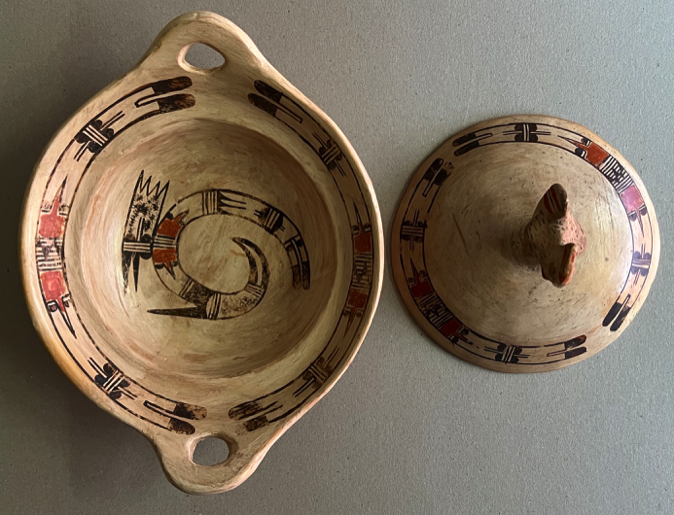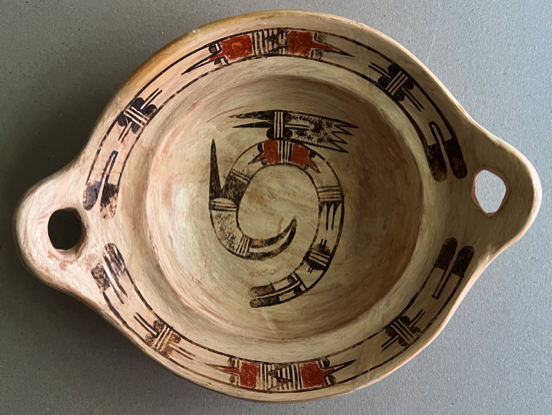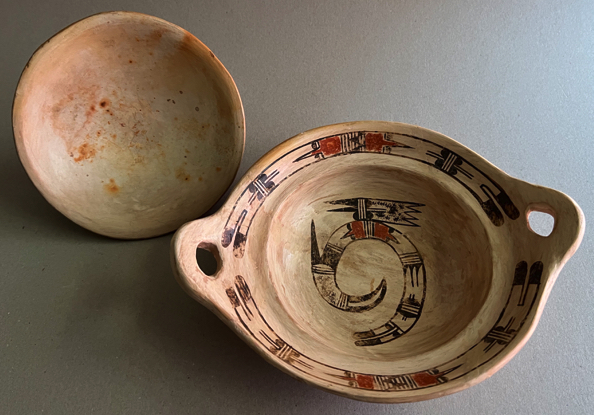 Since this chicken-themed covered serving dish is obviously a completely non-traditional Hopi form of pottery, it is entirely within reason that some enterprising Fred Harvey restaurant or Hotel Manager came up with the fascinating notion of commissioning the great Native American pottery matriarch Nampeyo who happened to be in temporary residence just across the way to make one or a few elaborate chicken and possibly other-themed serving dishes for the enjoyment of important patrons or possibly for the pending arrival of a very special individual visitor.
At that time, The El Tovar featured an elaborate menu on which chicken and egg preparations figured quite prominently, using chickens and eggs from The El Tovar's own private poultry farm for dishes such as "Scrambled Eggs with Diced Ham, Country Style", "Cheese and Parsley Omelette", "Chicken Soup with Rice, Oriental", "Chicken Livers and Mushrooms", "Breast of Chicken El Tovar in Sherry-Cream Sauce" and "Chicken Leg Fricasee with Noodles, Paprika Sauce", any of which could have been beautifully presented and served in this covered pottery "chicken" dish as it is precisely the perfect size for an individual serving.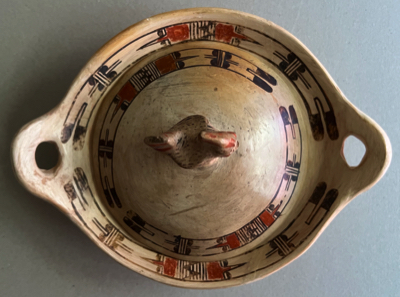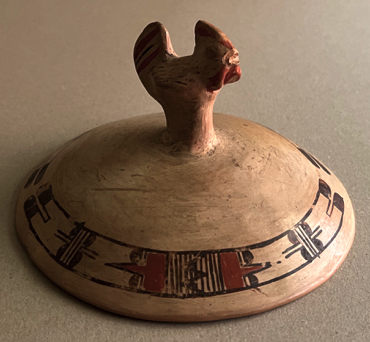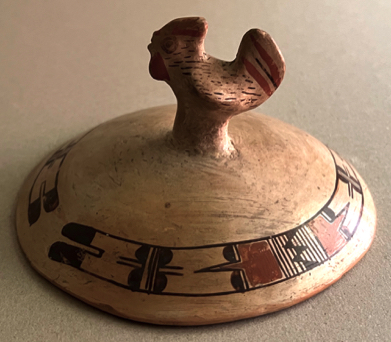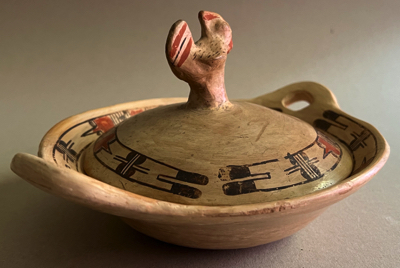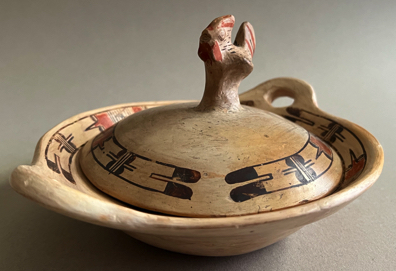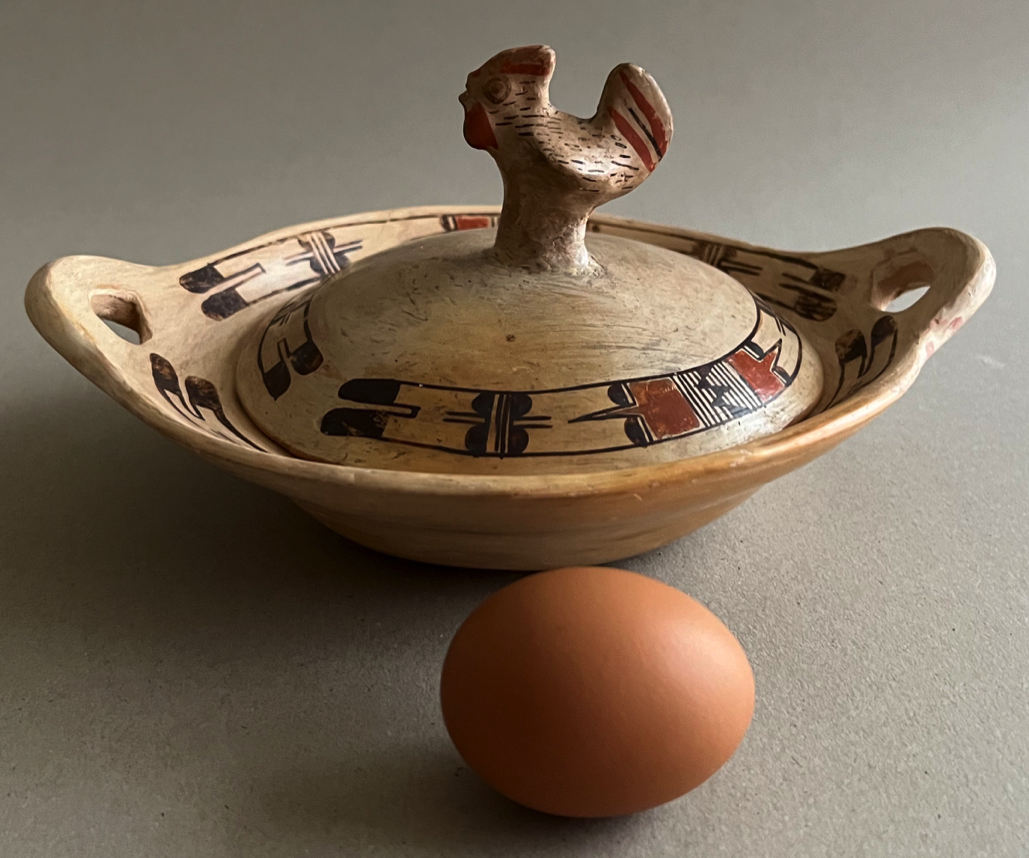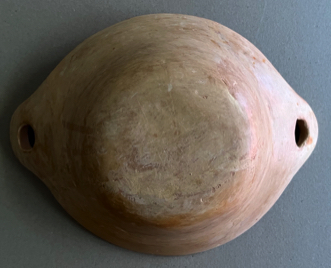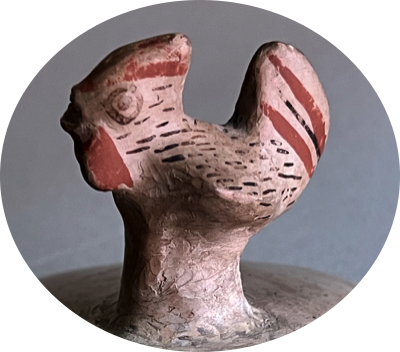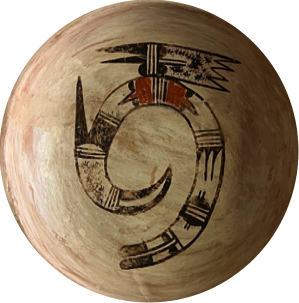 The lid's design is equally remarkable with an encircling painted band composed of repeating polychrome clown faces
and feather designs. Atop the lid is a masterfully formed and very finely-painted chicken or rooster effigy handle complete with big red wattles and red cockscomb fully demonstrating the ability of this incredibly talented artist at perfectly making something she had most probably never made before. The overall quality of the potting, design and painting throughout this vessel are all quite noteworthy; the vessel walls are thin and beautifully formed, the painting is most precisely done and the firing with high temperature Lignite coal, a difficult ancient process which Nampeyo had thoroughly mastered, is perfectly achieved.
The top section or lid of the dish was essentially intact when we acquired the dish. There was a slight crack at the top center and some abrasion wear to the painted designs likely from repeated use and washing and a small portion of the front of the Rooster's beak was slightly abraded. A thorough ultraviolet light examination of the entire dish reveals
no added plaster or overpainting anywhere on the vessel.
This unique serving dish is an extraordinary artifact at once capturing exceptional beauty and extraordinary rarity;
a product of an esteemed world-famous maker made likely for an equally well-known patron or patrons at a famous, iconic place at an important and unique juncture in American history. Here's your chance to make all the museums and other Pueblo pottery collectors bright green with envy. Owning, interpreting and contemplating the passage through time of a unique piece such as this one is an unprecedented personal opportunity to touch America's past in a meaningful and immediate way while basking in the presence of genuine artistic and historic greatness.
Price $6,750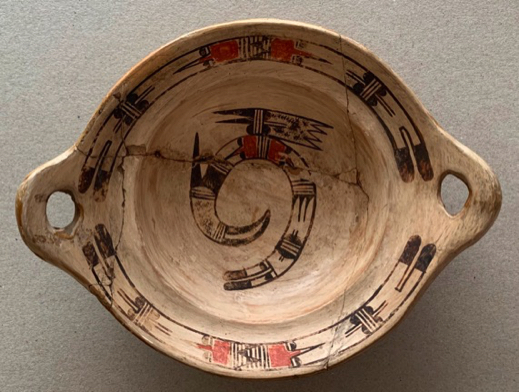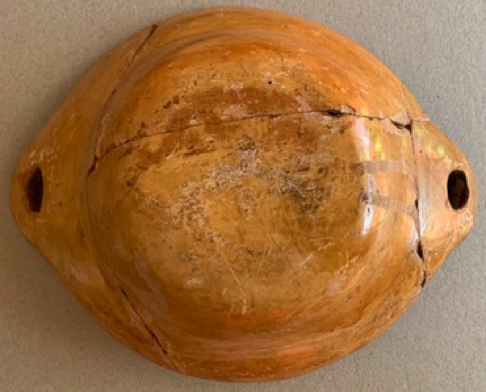 The bottom section of the dish before professional restoration.