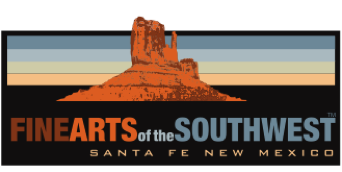 © 2010-2022 by Fine Arts of the Southwest, Inc. All rights reserved.
Unauthorized reproduction or use is strictly prohibited by law.

An exceptional historic Hopi "Sikyatki-Revival" style low-profile polychrome pottery jar
with stylized bird and feather pictorial designs
by Nampeyo of Hano, c. 1905-1910
This jar is remarkable for any number of reasons beginning with its lovely, daringly low-profile swooping horizontal shape adapted by Nampeyo and other Hopi potters from ancient 14th-17th century Hopi "Sikyatki Polychrome" type (1375-1625 A.D.) ceramic jars. The bird and feather design motifs were also adapted from Hopi Sikyatki pottery designs made during this time period. This period was the literal ''golden age" of historic Hopi ceramics where beautifully made and elaborately decorated pottery jars, bowls, canteens and other vessels with wildly unique and complex depictions of animal, bird, insect and mythical creatures abounded.
The overall presentation here is rich and complex and masterfully done, fully revealing the incredibly inspired mind and talented hands of this extraordinary artist. Let's begin at the beginning, with the gorgeous, dramatic, low-shoulder Sikyatki style shape. Nampeyo didn't singlehandedly create the Sikyatki pottery Revival at Hopi, but she was a master at understanding and absorbing its nuances and demanding techniques and she took it to even greater artistic and technical heights than even her ancient forbears did in some ways. The jar is just perfectly and evenly formed; gravity-defyingly low and finely thin-walled. The precise long-stroke stone polishing, a telltale Nampeyo characteristic, is beautifully accomplished here and the extremely treacherous to achieve high-temperature Lignite coal-firing, another Nampeyo "signature" is also perfectly achieved here yielding a sumptuous rich yellow-orange color with beautiful lighter yellow firing clouds or "blushes".
"When I first began to paint, I used to go to the ancient village and pick up
pieces of pottery and copy the designs. That is how I learned to paint. But now,
I just close my eyes and see designs and I paint them."
-Nampeyo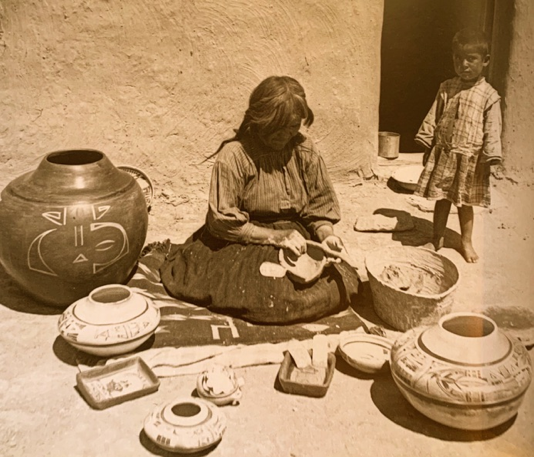 "Mrs. Nampeyo, an acknowledged best Hopi indian woman Pottery maker 1st Mesa Hopiland, Ariz. Sichomovi."
R. Raffius, 1905 photo source and © Keystone-Mast Collection, UCR/California
Museum of Photography, University of California, Riverside
"Nampeyo makes her designs after some she has seen on ancient ware."
-Hopi Ethnologist Alexander M. Stephen, 1893
The overall design is so completely explosive and dynamic it is almost breathtaking; a double four-part horizontally-opposed arrangement, a classic Nampeyo layout and presentation. This arrangement gives the jar's design a distinct and energetic sense of spinning motion, as we have previously said in reference to other earlier Nampeyo pieces we have had which have used a similar design arrangement that "Nampeyo invented the propeller before the Wright Brothers invented the airplane." The individual panels in the four-part opposed design field are generally symmetrical, but as can be seen here there are charming idiosyncrasies and variations in parts of the designs, within the harmonious and balanced overall design each of the panels is a marvelous and complex composition in and of itself with a dynamic sense of overall energy and motion. And every bit of it done according to age-old Hopi tradition straight out of the potter's imagination, without the slightest use of any preliminary sketches, templates or studies. Its nothing short of sheer visual genius!!
Another very interesting feature of this jar's design field is that it does not stop at the jar's upper shoulder
as these design treatments often do. The design on this jar extends all the way around the mid-body of the jar down to the lower shoulder framing line which gives a lot more design space which beautifully features both multiple horizontal and vertical renditions of another one of Nampeyo's distinctive design "signatures", the "Kilroy" or clown face design. Too, the jar has a distinct "monumentality" to it, which is to say that without
a visual comparison for scale you wouldn't really know if it was 9" in diameter or 19" in diameter.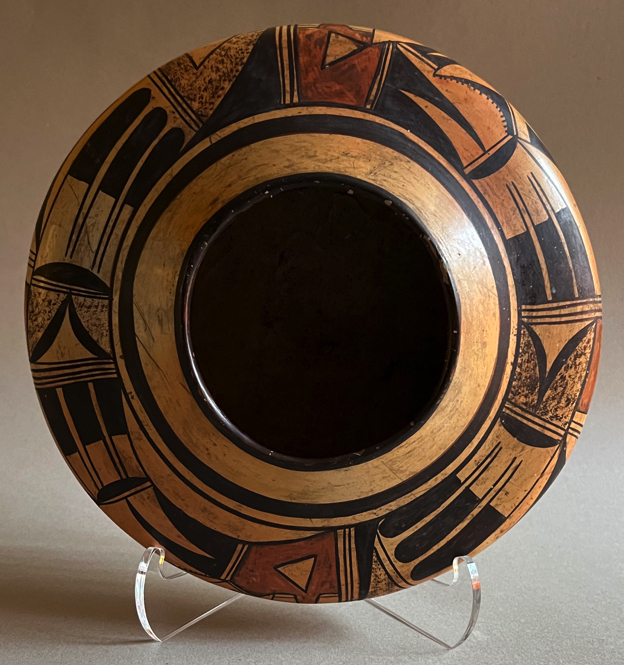 Above center, a Sikyatki Polychrome "low-profile" jar with feather motifs, c. 1500-1550 A.D.
Photo source and © Bonhams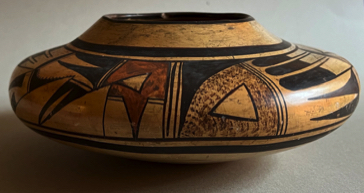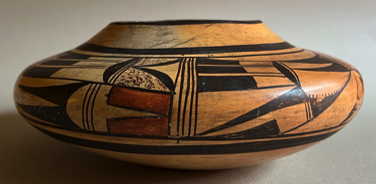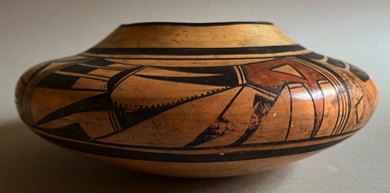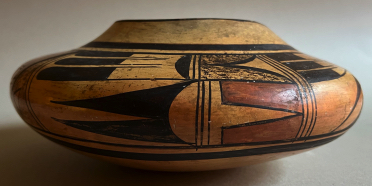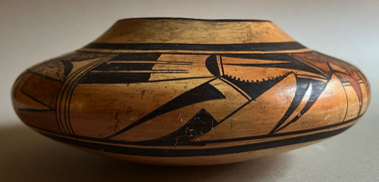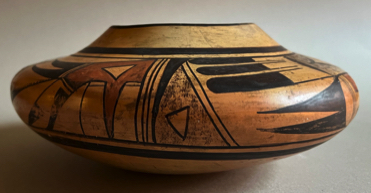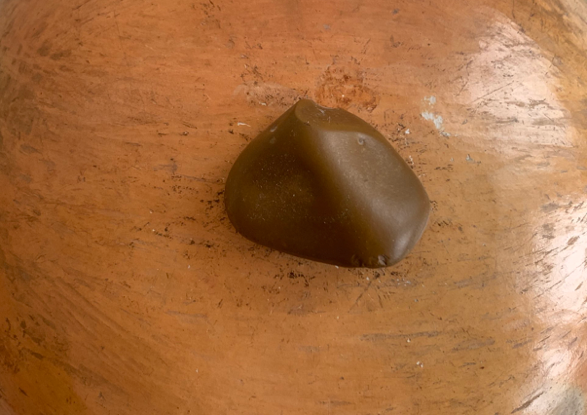 The remarkable stone-polishing on this bowl was accomplished possibly using this very polishing stone or another one like it. When she was a young woman, Nampeyo found this centuries-old polishing stone in the ruins of the ancient Hopi pottery-making village of Sikyatki and used it to polish her own pottery for many years.
Later, she gave it as a special gift before her death in 1942 to her then-teenaged Great-Granddaughter, the now-also renowned Hopi potter, Dextra Quotskuyva Nampeyo (1928-2019). Dextra also used it on her pottery and many years later gifted it to her special close friend and ours, the late Santa Fe Native American Arts dealer, Martha Hopkins Struever (1931-2017) , who subsequently gave the stone to us.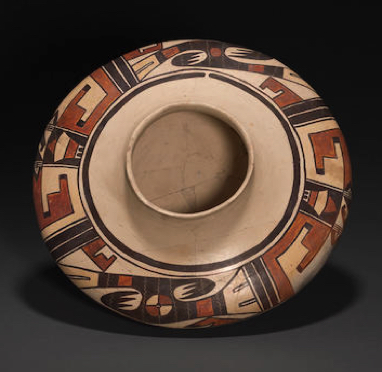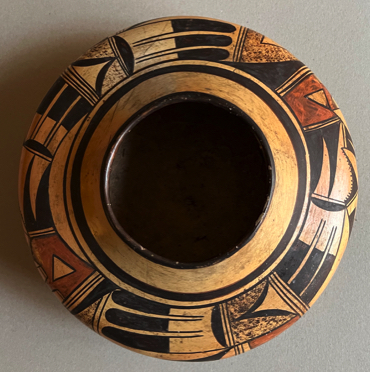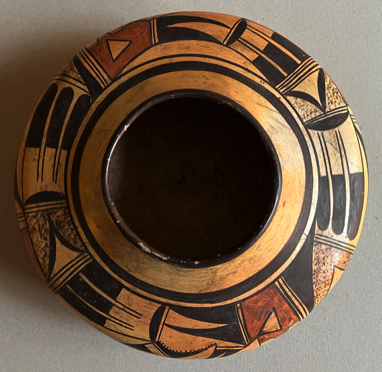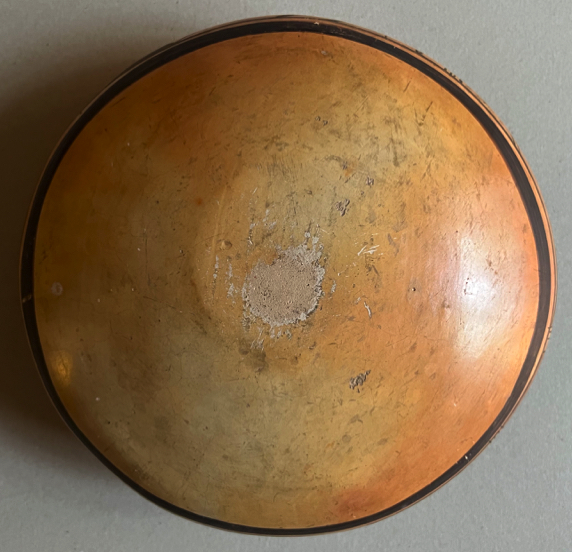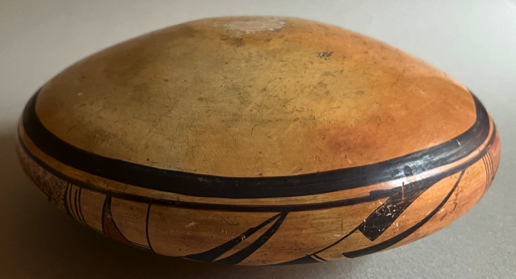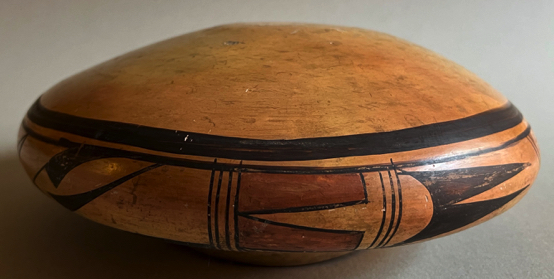 The jar measures a very nicely-sized 9" in diameter and it is 3 1/2" in height. It is in remarkably fine original condition, and particularly so in light of its century-plus of age. A thorough examination under Ultraviolet light reveals no evidence at all of any restoration or overpainting. There are a few tiny inconsequential nicks and
a tiny chip around the rim and some small scratches here and there on the body of the jar as well as a small area of abrasion to one part of the jar's shoulder, but that's all and for its 105-110 years of age that's more than a little impressive, in fact its fairly remarkable especially when you consider the extremely primitive circumstances under which this jar was made (Nampeyo sitting out on the ground on a blanket in the desert heat or cold using only raw materials; clay, paint, brushes etc. which she found and gathered herself.) and then later transported from Hopi by buckboard wagon or mule to a nearby trading post where it was sold and then likely taken by its new owner train on The Santa Fe Railway to its eventual destination on the East Coast, the old family collection from whom we acquired it.
Over the past twenty-five years, we have placed perhaps sixty or seventy top-quality historic Hopi jars by Nampeyo and others in various museums around the country from The Art Institute of Chicago to The Gilcrease Museum in Tulsa, Oklahoma to The Scottsdale, Arizona Museum of the West. In our view, this unique and striking jar is the artistic, technical and historic equal of any of these pieces, a fully-realized masterwork
by the inspired mind and immensely skilled hands of a master artist.
Price available upon request