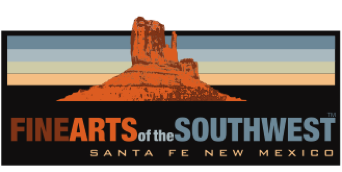 © 2010-2021 by Fine Arts of the Southwest, Inc. All rights reserved.
Unauthorized reproduction or use is strictly prohibited by law.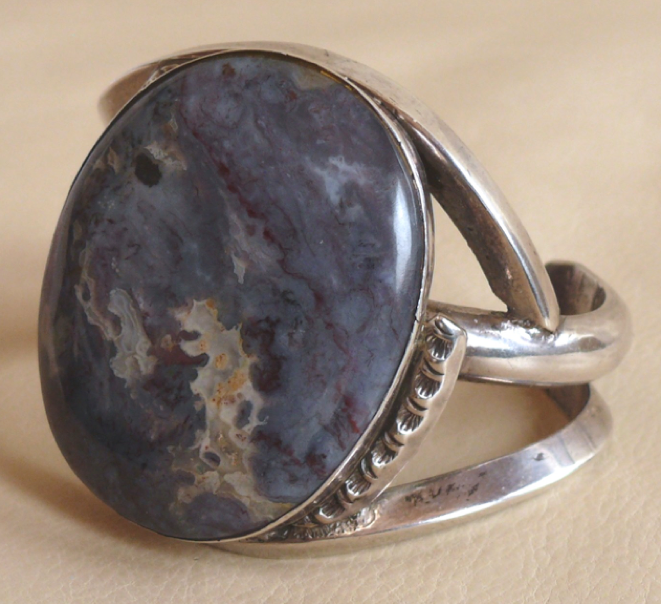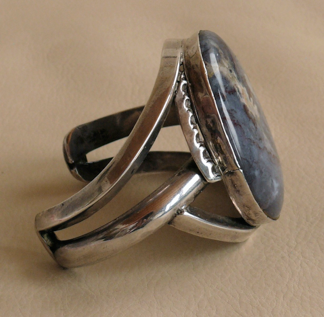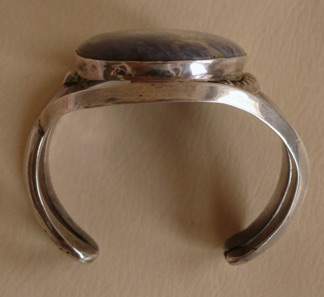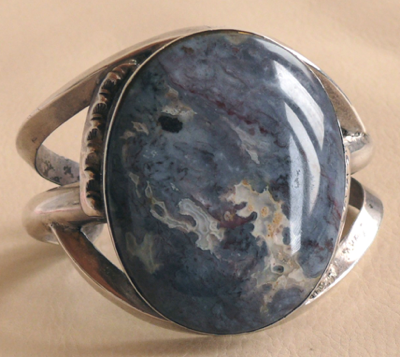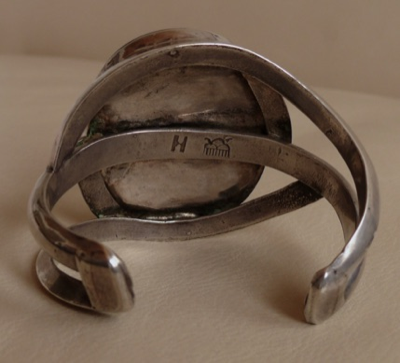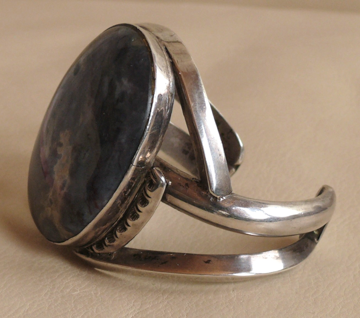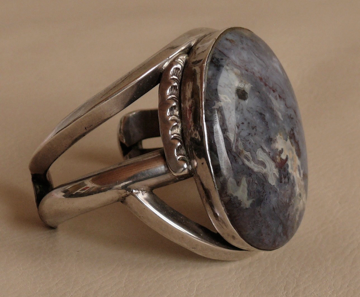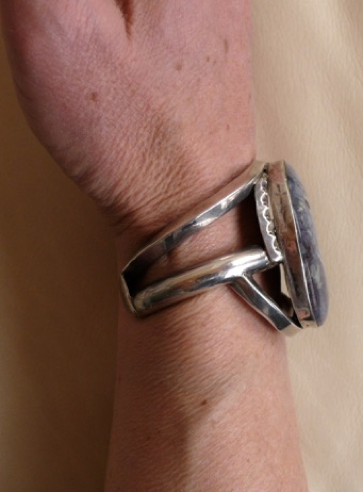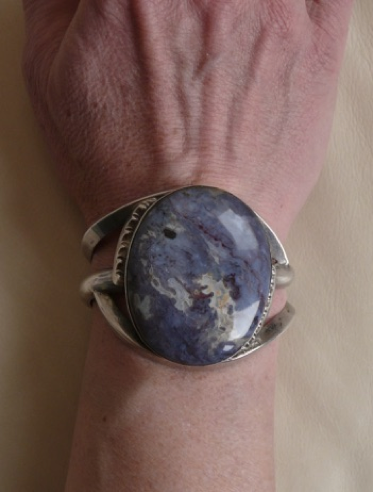 A spectacular and monumental
historic Hopi silver cuff bracelet by
Ralph Tawangyaouma, c.1940's-50's
An interesting and unusual large-scale Modernist-style piece by the renowned historic Hopi silversmith, Ralph Tawangyaouma (188?-1973), one of the most talented Native American jewelers of the 20th century. We are huge fans of Ralph Tawangyaouma's work and are very pleased to be able to offer this outstanding piece since we so rarely have the opportunity to do so. Ralph Tawangyaouma's jewelry is nearly impossible to come by, especially major pieces such as this one, as most of the people who are fortunate enough to own a piece are understandably reluctant to ever part with them.
Tawangyaouma began his silversmithing career in approximately 1910. He worked in various shops in Phoenix and Tucson, including Vaughn's, beginning in around 1930 and he continued to do so for the next 34 years until he relinquished his silversmithing career and returned back to the Hopi mesas in 1964 to fulfill religious obligations. Ralph's jewelry is always bold and assertive, characterized by meticulous, solid craftsmanship and often with interesting and unusually creative uses of silver and stones.
This extremely large-scale bracelet is an exceptional example in every way, one of the very finest and most distinctive of his pieces that we have ever seen. The bracelet features a unique and striking, large, purplish high-domed agate or Jasper cabochon stone which measures a full 2 1/8" by 1 3/4" in width and which is set in a heavy, old-style, plain silver bezel atop a uniquely-constructed, asymmetrically-shaped silver shank formed from three thick carinated silver bands. The bracelet measures 2 1/4" in width at the widest point and tapers down to 5/8" at the terminals. The inner circumference end-to-end is 5 1/2" and the gap between the terminals is 1 1/4" for a total interior circumference of 6 3/4". The bracelet weighs an extremely impressive 118 grams or 4 1/8 ounces and it is in excellent original condition.
It is properly marked on the interior with Ralph Tawangyaouma's characteristic thunderclouds and rain insignia and capital letter "H" for Hopi, the mark he first began using in 1930 and employed for the rest of his career. This is a most unusual opportunity to acquire a particularly fine and historically significant piece from one of the 20th Century's most accomplished and desirable Southwestern silversmiths.
Price $3,250