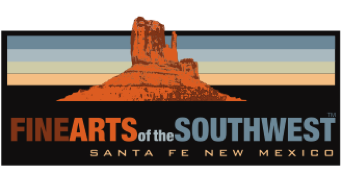 © 2010-2023 by Fine Arts of the Southwest, Inc. All rights reserved.
Unauthorized reproduction or use is strictly prohibited by law.
A rare historic Isleta Pueblo, New Mexico
polychrome pottery bird effigy figure, c.1900-1910
Bird imagery is extremely common throughout the Pueblo world, particularly so in the ancient Pueblo world where all manner of pottery effigies, wood carvings, kiva murals and rock art representations of birds existed in abundance, particularly among the various Great House Pueblos in the Chaco Canyon complex in north central New Mexico, such as Pueblo Bonito, Chetro Ketl and Kin Kletso. Much of this bird imagery is associated with and derived from the ancient Pueblos trade and other relationships with the ancient Pre-Columbian Meso-American civilizations of Mexico and Central america.
In the historic and modern-day Pueblo era, this imagery is less common, but it still exists, as this beautiful pottery bird figure clearly indicates. This avian figure is from the Isleta Pueblo along the Rio Grande River in central New Mexico about 13 miles south of Albuquerque and about 125 miles southwest as the crow flies (no pun intended) from the ancient ruins of Chaco Canyon and also some 150 miles north of the somewhat later but also ancient New Mexico Pueblo ruins at Pottery Mound near Los Lunas, NM which now belongs, incidentally, to Isleta Pueblo.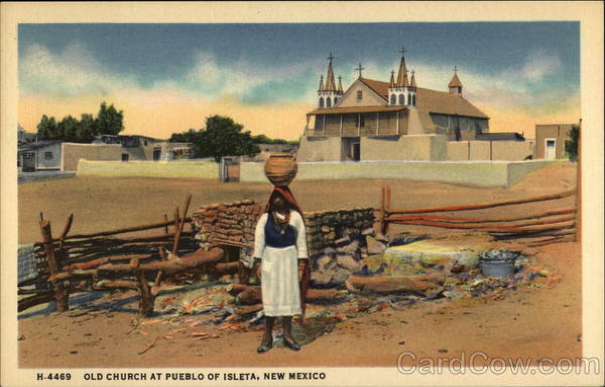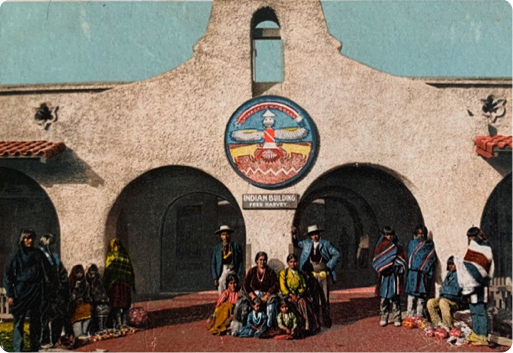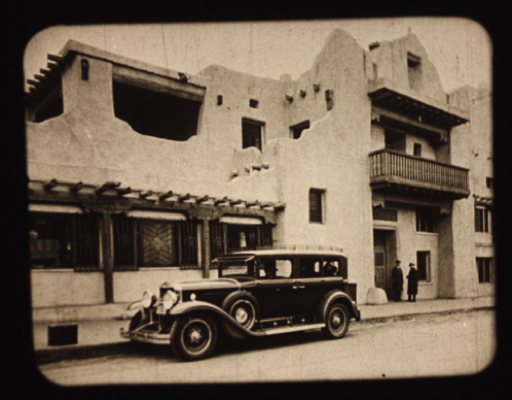 Above, Several of the places where this pottery effigy jar might have been sold. At upper left, La Fonda Hotel, Santa Fe, c. 1920's. At upper right,
The Fred Harvey Company's Indian Building at the Hotel Alvarado in Albuquerque, c. 1910. At center, The Hotel Castaneda in Las Vegas, New Mexico.
Left photo source and © "Scenes from the Indian Detours", Fred Harvey Company, c. 1925. Right photo source and © The Fred Harvey Company, c. 1905. Center photo source and © The Fred Harvey Company, c. 1906.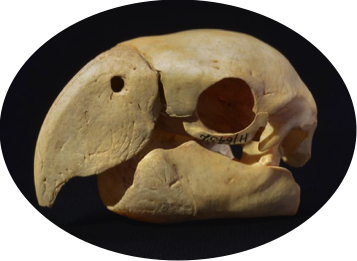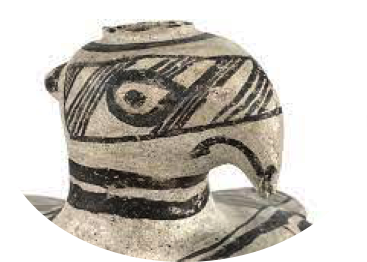 Isleta Pueblo was established in the 14th Century and is distinguished by its being a Tiwa-language speaking Pueblo unlike many of its immediate Keresan Pueblo neighbors at Santa Ana, Zia, San Felipe and Santo Domingo. Only Isleta, its just next door neighbor Sandia Pueblo, just a few miles to the north along the Rio Grande and the Taos Pueblo located some 150 miles north speak the Tiwa language in the modern-day Pueblo world. Historic Isleta Pueblo pottery is fairly rare in general compared to the pottery of other New Mexico pottery making Pueblos such as Cochiti, Santo Domingo Acoma and Zia and it is characterized by its unique reddish-tan paste, smooth river sand temper and the somewhat chalky white, black and deep red paints used in its polychrome pieces, such as this one.
This bird effigy is beautifully and very finely painted with cross-hatched panels representing the wings, a checkerboard pattern representing the back and tail and a series of red and black dots representing the ticking of the breast feathers. The painted design field comprises the upper half of the bird figure with the bottom half being painted a deep brick red.
The effigy measures 6 3/4" in length and is 5" in width at its widest point and 5" in height. It is in generally very good original condition particularly for its Century-plus of age with some areas of abrasion to the painted surface around
the figure's neck and handle. There are no cracks, no significant chips and a thorough examination of the figure under Ultraviolet light reveals no restoration or overpainting in evidence on the vessel.
There is interestingly, a price of .10 or 10 cents hand painted on the bottom in the same black paint used on the rest
of the figure on the base. This potter clearly knew exactly how she intended to price her vessel. Isleta Pueblo potters
of this era sold their wares in their village as well as on the sidings of the nearby Santa Fe Railway or at The Fred Harvey Company's Hotel La Fonda in Santa Fe, Hotel Castaneda in Las Vegas, NM and at their famed Indian Building at Albuquerque's Hotel Alvarado.
This pottery figure is a lovely and rare bird from an interesting, historic Pueblo with a marvelous
and somewhat mischievous "personality", certain to bring a smile to your face every time you look at it.
SOLD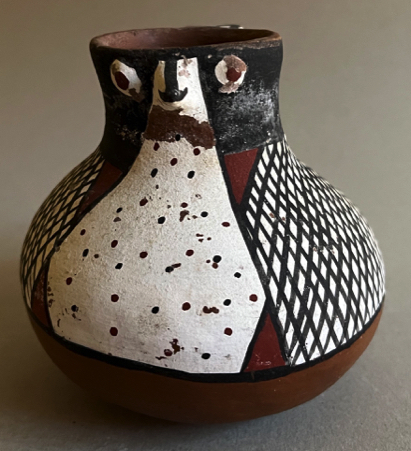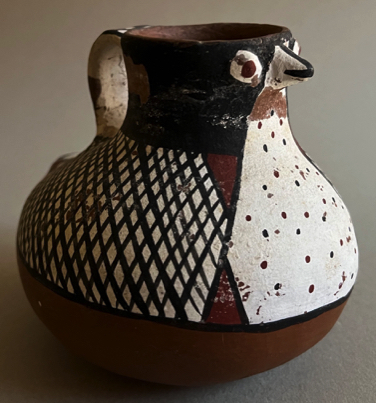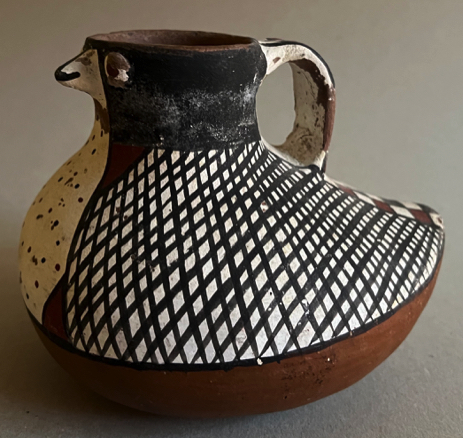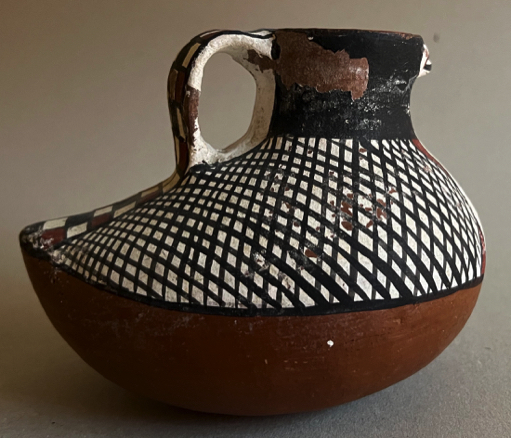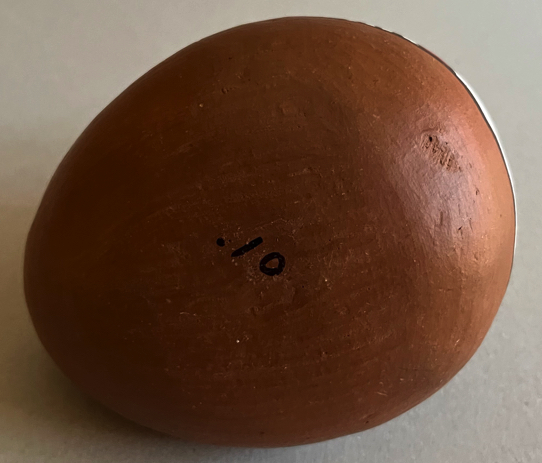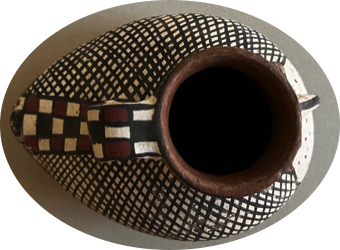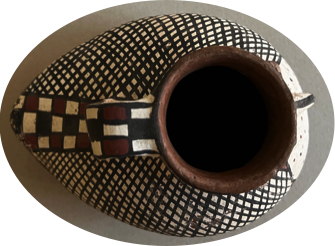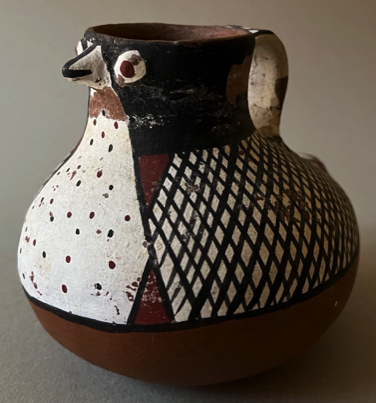 At left, a pottery effigy macaw jar from Chaco Canyon, New Mexico, c. 1100 AD. At center, the "Parrot Woman" kiva mural at Pottery Mound, New Mexico, c. 1500 AD. At right, macaw skull from Pueblo Bonito, Chaco Canyon, New Mexico, c. 1100 AD.
Left photo source and © Bradford Auctions. Center photo source and © "Kiva Art of the Anasazi", by Frank Hibben, KC Publications, Las Vegas, NV, 1975, pp. 62. Right photo source and © Pennslyvania State University Museum.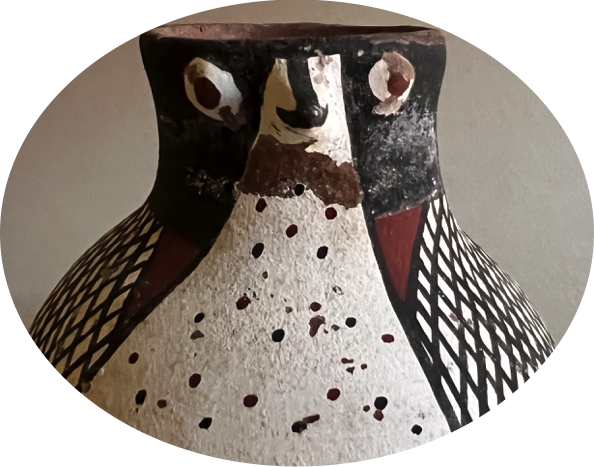 A vintage Fred Harvey Company postcard of the Mission Church of San Augustin at Isleta Pueblo originally built in 1613. It is one of the two oldest surviving Mission Churches in New Mexico.