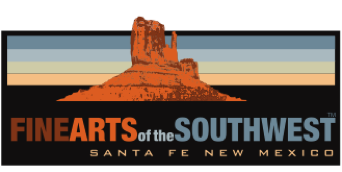 © 2010-2021 by Fine Arts of the Southwest, Inc. All rights reserved.
Unauthorized reproduction or use is strictly prohibited by law.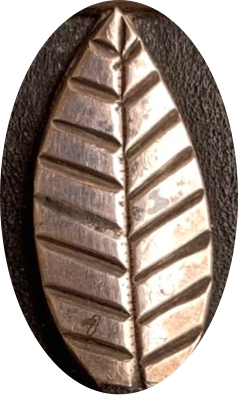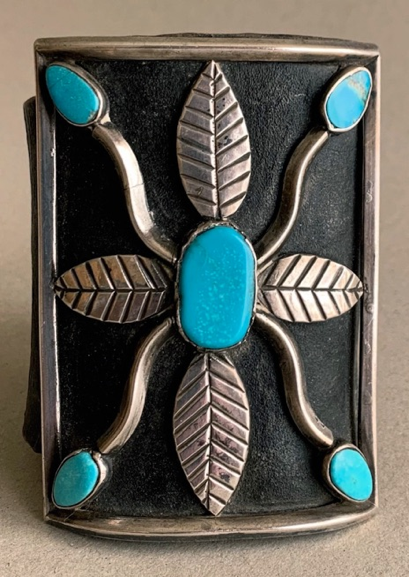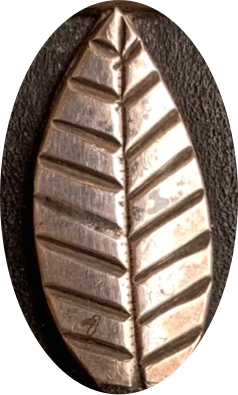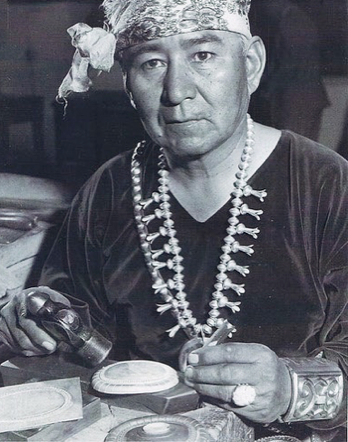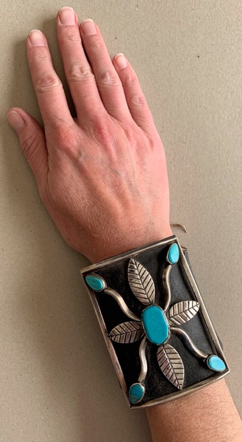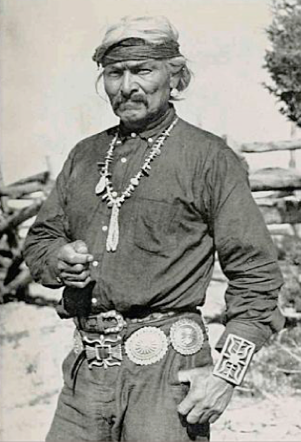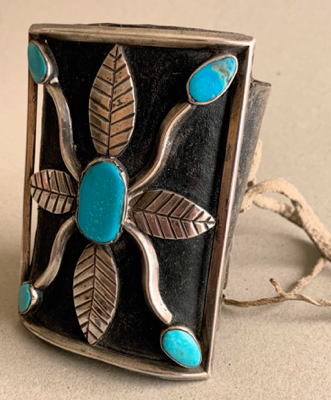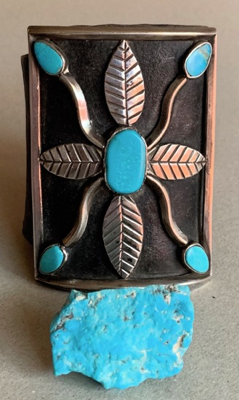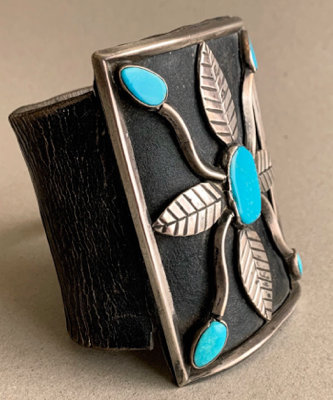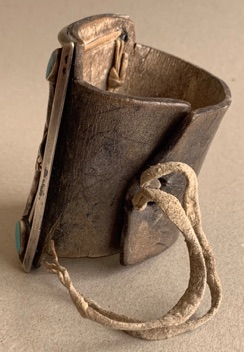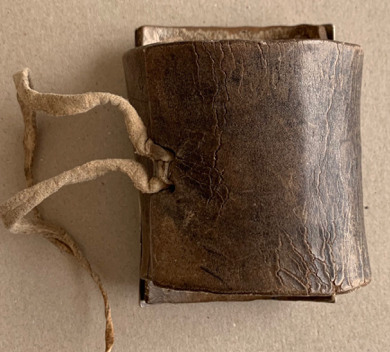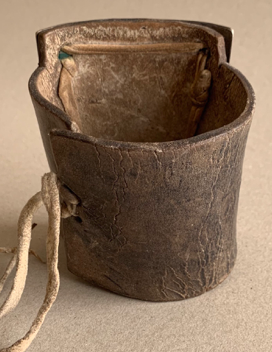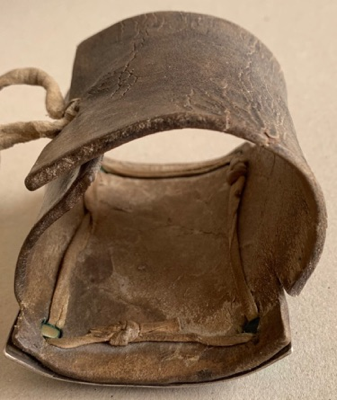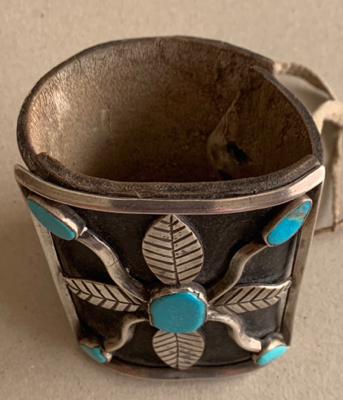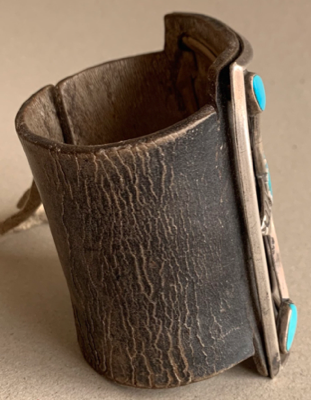 A beautiful, historic Navajo ingot-silver and turquoise Bowguard or "Ketoh", c.1920-30
This gorgeous Navajo silver and turquoise Ketoh or bowguard is one of the most historic and traditional types of Navajo jewelry. Ketohs (pronounced "gay-toes") were originally made for and used by Navajo bow hunters to protect their wrists from the sharp painful twang of the releasing bowstring. The first ketohs were made from hide only, but when silver and silversmithing started becoming an integral part of Navajo life beginning around 1860-1870, leather Ketohs like leather bridles and other functional forms soon began to be adorned with silver decoration. Still later around 1890, the use of turquoise in Navajo jewelry became more prevalent as in this piece. 
Typically in the early years of Navajo silver, Ketohs were made by Navajo silversmiths for Native use only, they were not normally made for sale, but this began changing as the rest of the world became more widely exposed to the beauty of Navajo silverwork in the latter part of the 19th Century and early 20th and subsequently, such pieces began to be appreciated as much for their aesthetic and decorative value as much as for their functionality.
Navajo man c. 1920-30 wearing a ketoh with
a similar four-part, four-directions design.
Photo source and © "The Navajo and Pueblo Silversmiths", by John Adair.
Renowned Navajo silversmith Ambrose Roanhorse 
wearing a beautiful ketoh of his own design, c. 1930's.
The ketoh is made from beautifully tufa-cast ingot-silver almost certainly obtained from a quantity of melted-down American and/or Mexican silver coins. Tufa-casting is one of the most difficult of all traditional Navajo silversmithing techniques; to carve and successfully execute a silver tufa-cast of a piece this size and complexity this delicately and beautifully is incredibly hard to do requiring an immense amount of skill and concentration. The resulting beauty belies the painstaking process of getting there. The four-part design of the ketoh is a completely traditional Navajo visual expression of the four cardinal directions of the world and the corresponding four sacred Mountains of Navajoland and very interestingly in this ketoh there are actually two intersecting four-part designs which provides a marvelous artistic dynamism and energy to the piece.
The smaller inner four-part "leaf" shaped silver designs are beautifully decorated with finely done chisel and file work. The primary outer four-part silver design is very nicely set at the center and at each of the four directional corners with beautiful, hand-cut, clear sky blue turquoise stones. We are not completely certain which mine these stones came from but the Sleeping Beauty Mine in southern Arizona would be a very good candidate. Sleeping Beauty turquoise, renowned for its clear sky-blue color, is one of the country's oldest turquoise mines and has been mined since ancient times. Another possible candidate here is the famous Blue Gem Mine in Nevada which can also yield a clear sky blue stone.
The ketoh pictured with a high-grade Sleeping Beauty turquoise specimen rough stone. 
(Please note that this stone is not for sale.)
The ketoh measures an impressively-sized 3 5/8" in length and it is 2 3/4" in width. The silver ketoh and leather wristband together weigh a comfortable 118 grams or 4 1/8 ounces and they are in excellent original condition with some amount of age-appropriate wear to the silver bezels and the leather wristband.
This ketoh is both a fine fashion item and a fine art object; a beautifully unique and strikingly attractive dress accessory when and if you might decide to wear it as such and an equally attractive and historic art display piece whenever, wherever and however you might choose to display it.
Price $2,350