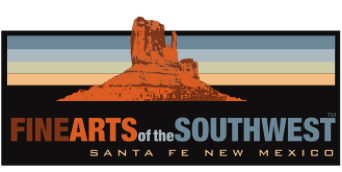 © 2010-2023 by Fine Arts of the Southwest, Inc. All rights reserved.
Unauthorized reproduction or use is strictly prohibited by law.
A particularly beautiful historic Navajo ingot-
silver Modernist-style cuff bracelet, c. 1930's
As our title above suggests, this is a very special piece in our view; it's most beautifully-crafted and extraordinarily decorated with spare and eloquent Modernist-influenced stamp work and chisel work decoration. Exactly how this came
to be is a bit of a conundrum; there is a strong strain of Modernism beginning to be seen in Navajo silverwork starting in the 1930's and coalescing around the creation of the Navajo Arts and Crafts Guild in1940, introduced there by its distinguished Co-founder and first Director, renowned Navajo Silversmith and educator Ambrose Roanhorse (1904-1981).
Roanhorse and some of his contemporaries, such as Chester Yellowhair and Austin Wilson and his later students such as Kenneth Begay transformed and revived the traditions of the Classic Period of Navajo silversmithing (1870-1910), refining and updating them into a more streamlined, lighter, more Modernist aesthetic emphasizing elegant clean lines, the use of all silver primarily without much use of set stones, restrained and minimal use of applied decorative elements and the use in an updated manner of traditional classic Navajo silversmithing techniques such as coin silver and tufa-casting.
The lovely panel of applied decoration around the bracelet's center is composed of a co-joined series of semi-circular stamps punctuated by a wonderful use of small paired semi-circular and round so-called "end of the file" stamps so called because they are made using the end of an iron or steel file essentially as an awl or punch. Around the top and bottom of the central panel are beautifully chiseled and beveled borders and outside these are two rows of stunning repeating parallel stampworked sawtooth-type motifs all placed against a highly-polished backdrop of rich gleaming silver. All in all, it's an especially stunning and visually powerful and arresting display of artistic imagination and technical virtuosity.
Who exactly might have been the maker of this particular piece is a bit of a mystery, it is unsigned which was the predominant practice at the time, Navajo Arts and crafts Guild pieces were signed only with the Navajo Guild's proprietary "Horned-Sun" hallmark not with the individual artist's marks. The only other individual Navajo maker consistently signing his work around this time was the great C.G. Wallace Trading Post Navajo silversmith, Austin Wilson, who could have been the maker. Austin Wilson was one of the earliest individual makers to sign his work beginning around the mid-1930's so this piece could conceivably have been made by him possibly a few years prior.
In actuality, the maker whose work this piece most closely resembles in our minds is the brilliant, world-renowned contemporary Navajo silversmith McKee Platero (b. 1957) even though the bracelet predates his birth by a generation, Platero also happens to be the nephew and former apprentice of Austin Wilson so that element might possible figure in here too as an extra nod to Austin Wilson as being the possible creator. Whoever the maker here was, he was clearly an artist and craftsman of great skill, in complete and supremely confident command of his technique and aesthetic repertoire.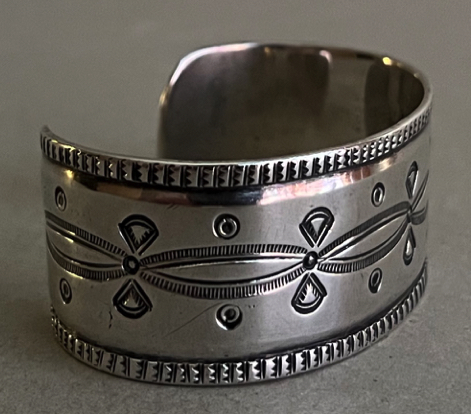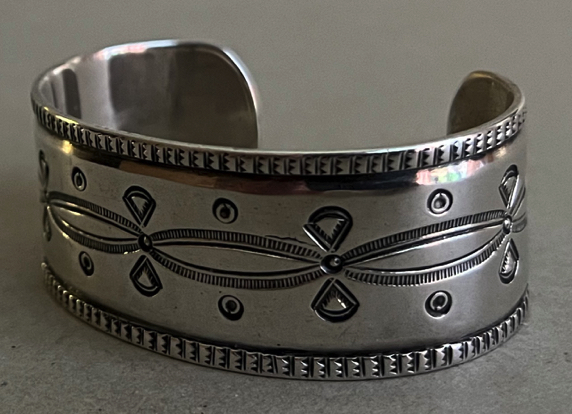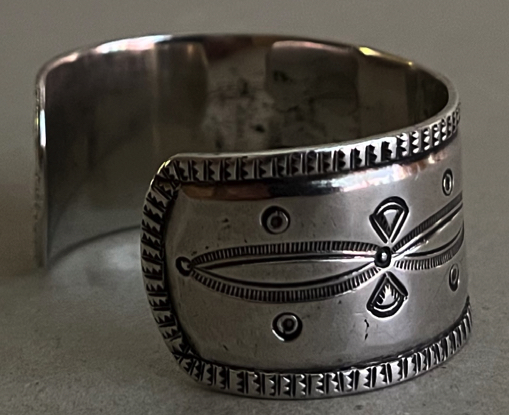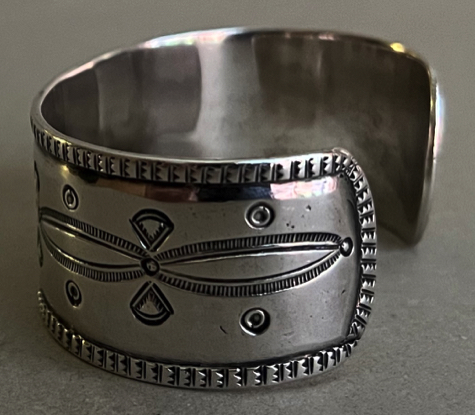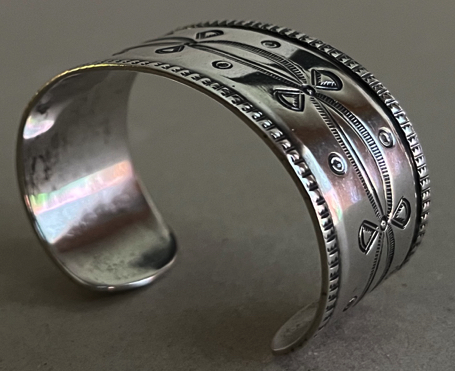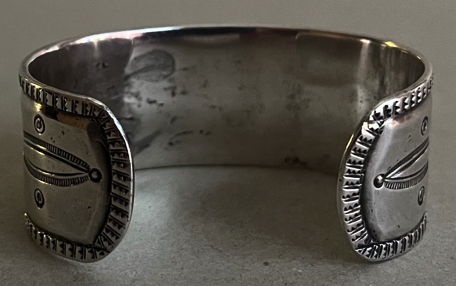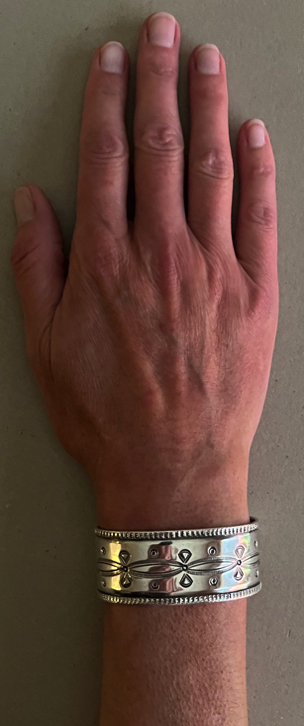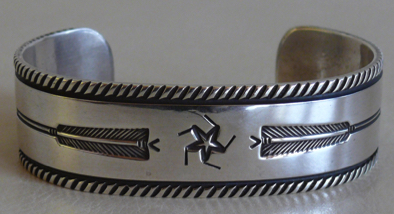 The bracelet measures 1" in continuous width all the way around the shank tapering in very slightly at the terminal ends. The inner circumference end-to-end is 5 3/8" and the gap between the terminals id 1 1/8" for a total interior circumference
of 6 1/2". The bracelet weighs a very comfortable and easily wearable 57 grams or 2 ounces. The piece is in remarkable original condition, particularly for its 80-90 years of age. There is a scratch or nick here and there, but it is amazingly clean overall, worn only occasionally and then clearly very carefully. There are a couple nice ingot silver annealing marks on the interior surface of the bracelet which is completely normal and expected with this method of hand manufacture as is the very tiny spot of delamination visible on the front of the bracelet, a mark of authenticity of method, so to speak.
This bracelet is a very special piece worthy of special consideration and deserving of inclusion in the most distinguished collections, public or private. It is our distinct pleasure to be able to offer such a unique and rare beauty; a perceptive
and aesthetically powerful piece years ahead of its time and at the same time deeply historic and completely memorable.
Price $1,950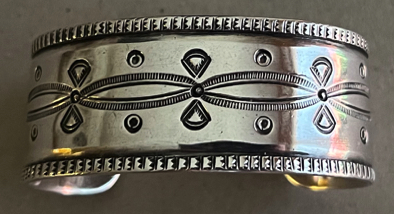 At left and right above, two silver cuff bracelets by contemporary Navajo silversmith, McKee Platero ( b. 1957), made
70 or so years later, but showing a very similar overall Modernist design sensibility, similar zoning and spare decorative elements against a polished silver background. Also a very similar treatment of chiselled and stamp worked borders.