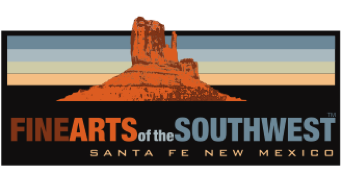 © 2010-2021 by Fine Arts of the Southwest, Inc. All rights reserved.
Unauthorized reproduction or use is strictly prohibited by law.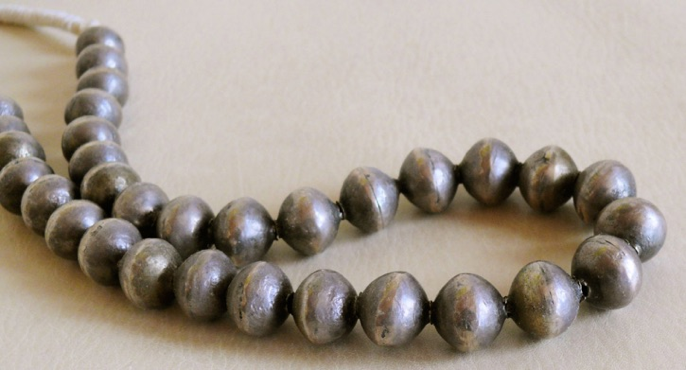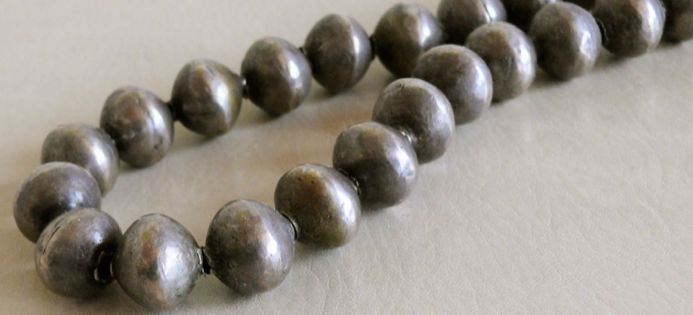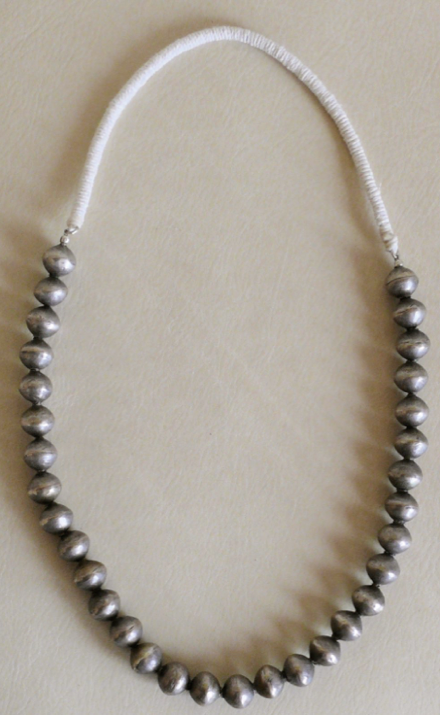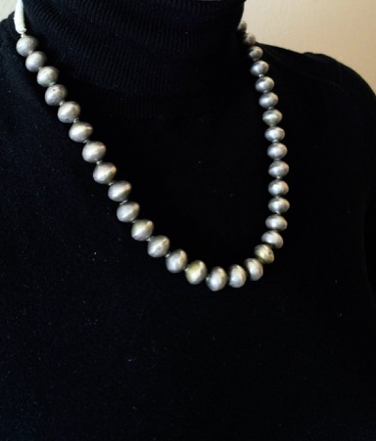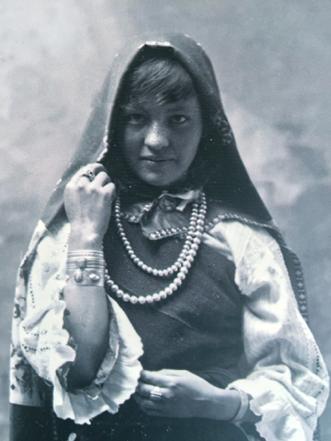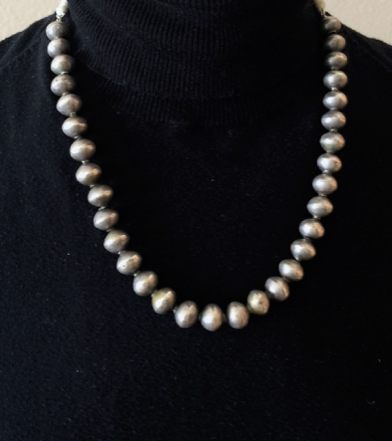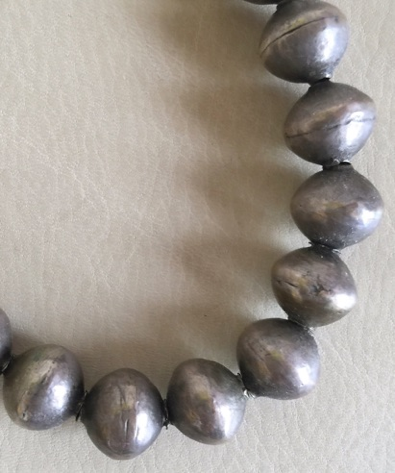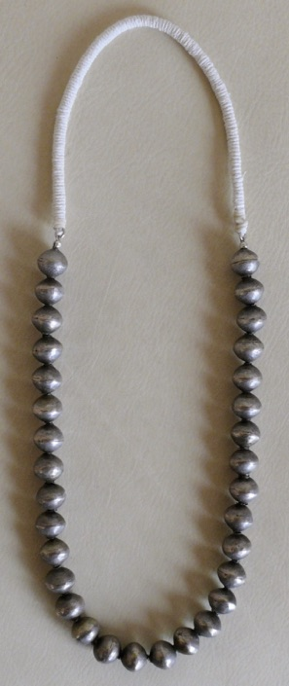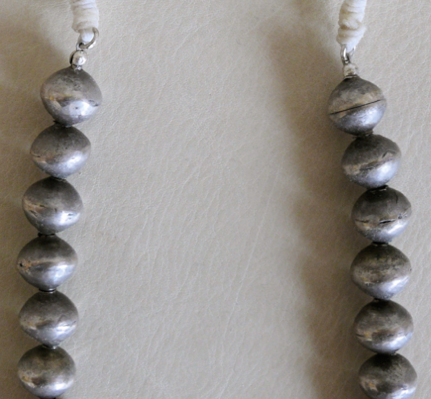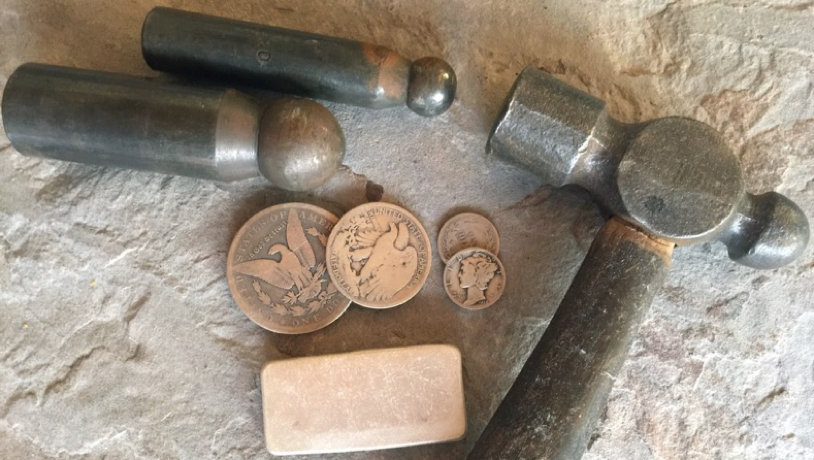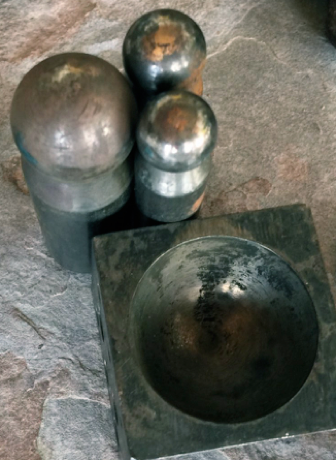 A rare and historic "Navajo Pearls"
silver bead necklace, c.1890-1900
"Navajo Pearls" are some of the most delightful and precious pieces of historic Navajo silver jewelry ever made.
Good old strands such as this one are extremely rare, extremely beautiful and were extremely difficult to make, but they are wonderfully easy and rewarding to wear and the superb, larger-sized, late 19th/early 20th Century hand-crafted strands of silver beads are getting more and more difficult to come by with every passing year as we can personally attest. Despite constantly and comprehensively looking for them, this is only the fourth strand of older Navajo silver beads of this vintage, size and quality that we have been able to acquire over the past 25 years.
The traditional method used by early Navajo silversmiths to make these beads were two-fold and both were laborious and painstaking; in the first method, a quantity of American and/or Mexican silver coins were first melted down and cast into small ingot-silver "slugs" which were then hammered out or "dapped" into semi-circular shaped round silver forms; two for each bead. The semi-circular shaped forms were then carefully punched out in the center, trimmed and filed and painstakingly fitted and soldered together and polished to form each individual finished round silver bead. An alternative method used for making smaller diameter silver beads was to use small silver coins such as historic American "Barber" style silver dimes which would then be filed down on one or both sides to remove the minted design and then hammered or "dapped" directly into the desired semi-circular shape. The first method is somewhat more labor and time intensive, but the amount of concentrated effort and practiced skill required to do this successfully and beautifully using either method is nearly impossible to imagine.
An Isleta Pueblo woman dressed in her finery for a formal studio photographic portrait, c. 1900, including Navajo silver bead necklaces quite similar to this one. Such necklaces were prestigious, high-demand pieces for Navajo and Pueblo people.
Photo source and © The Albuquerque Museum
Historic dapping block and tools at left, and, at right, dapping tools, hammer, period silver coins and cast ingot coin-silver "slug" of the types used by turn-of-the-century Navajo silversmiths to make handmade coin ingot-silver beads like the beads which make up this necklace.
This necklace consists of 32 handmade, two-piece, coin silver beads which each measure approximately 7/16" in diameter. The beads have that lovely, gleaming "white" color that comes from old coin-silver. The necklace has clearly been worn and loved quite a bit over its many decades of life and the beads have the fine, lustrous patina that only comes from years of age and use. The necklace could very easily be polished up to a brighter luster, if desired, but we prefer to keep it "as-is" and let the fortunate next owner decide whether they prefer to polish it or not. We recently had the necklace professionally and securely re-strung for added safety on sturdy foxtail wire chain and finished with a beautiful, handmade, white cotton traditional "Pueblo"-style wrap which is approximately 8" in length.
As presently configured, the necklace is not for someone with a larger sized head because the necklace is on the somewhat shorter side and it must fit completely over the head to wear. It could, of course, easily be re-strung using a longer cotton wrap or installing a clasp, if desired. The necklace measures 10 1/2" in length from the top of the cotton wrap to the bottom of the silver beads measured while lying flat on a table and it is approximately 21" in circumference all the way around. It weighs a very nice feeling yet quite comfortable 75 grams or 2 5/8 ounces. The beads are in generally excellent original condition overall with over a century's worth of age-appropriate wear and patina.
This rare and striking necklace is a gorgeous and classic piece which will immediately turn a lot of envious attention
in your direction whenever you choose to wear it which could be anywhere from the most formal to the most casual occasion. It is at once completely contemporary and completely historic and timeless, as equally at home at an international diplomatic reception or at a Metropolitan Museum of Art gala as it would be on a Saturday morning trip down the street to the grocery store in a t-shirt and jeans. These silver beads are lovely, precious gems; rare silver "pearls" which emerged not from the depths of the deep-blue sea, but from the skilled hands of a talented anonymous Navajo silversmith somewhere in the vast expanses of the Southwestern desert well over a century ago.
Price $2,950