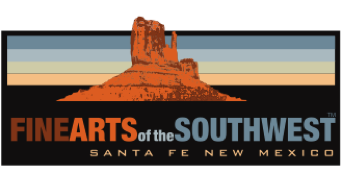 © 2010-2021 by Fine Arts of the Southwest, Inc. All rights reserved.
Unauthorized reproduction or use is strictly prohibited by law.

A pair of beautiful Navajo silver and turquoise earrings made from historic Navajo buttons, c.1920's-30's
Talk about having a second life. This lovely pair of Navajo silver and turquoise earrings began their existence about a century ago as silver and turquoise buttons. They were very likely sewn onto a Navajo woman's velveteen blouse with
a number of their colleagues as shown below. Typically, such buttons would have often been used as currency. In the mostly trade economy of early 20th Century Navajoland, silver coins and the silver buttons made from them were virtually the only forms of "hard" currency the Navajo possessed. When a Navajo woman went to a trading post in Ganado or Oljato to purchase say a pound of coffee or a side of bacon she would remove a silver button or two or three from her blouse to pay for the purchase.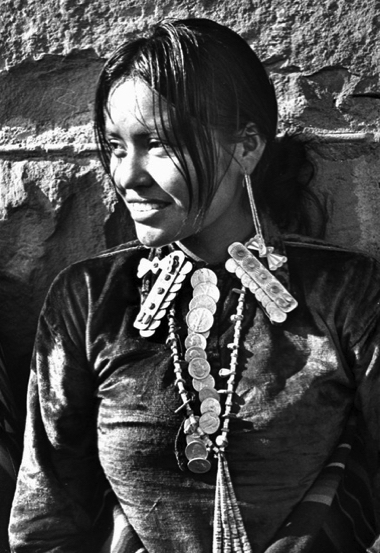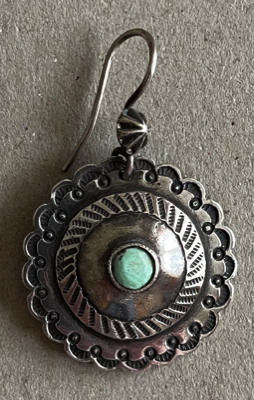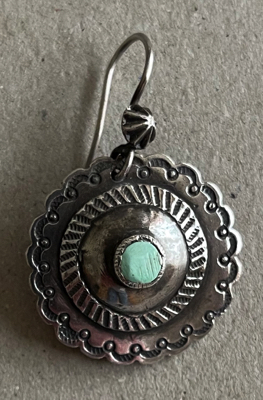 Often these buttons were simply the silver coins themselves, dimes, quarters, half-dollars etc with a small copper loop soldered onto the back by which to fasten them to the blouse, but in the case of these fancy buttons the silversmith really went to town to make full-blown miniature works of art using elaborate doming or repoussee work, and complex chiseled and stamp worked designs. He then set the buttons with beautiful hand-cut pieces of clear blue-green turquoise very likely from Arizona's famed Sleeping Beauty mine. The turquoise stones are beautifully set in old style plain silver bezels but in a very interesting and elegant touch the bezels have been very finely inscised or serrated all the way around. This fine bezel work matches very nicely with the complex stamp work designs around the body of the buttons. The overall workmanship on display here is simply superb.
The silver buttons have been most artfully converted to modern use as earrings by the addition of silver hanging wire fixings. The silver buttons themselves measure 1" in diameter at their widest points. The earrings measure 1 3/4" from the top of the silver hanging hooks to the bottom of the buttons and they weigh a very comfortable 8 grams or 1/4 ounce each. The earrings are in excellent original condition.
These lovely historic earrings are beautiful, functional modern-day pieces of jewelry with a strong connection to the customs and history of the Navajo people in the Southwest, a vibrant living link to a fascinating and storied past.
Price $575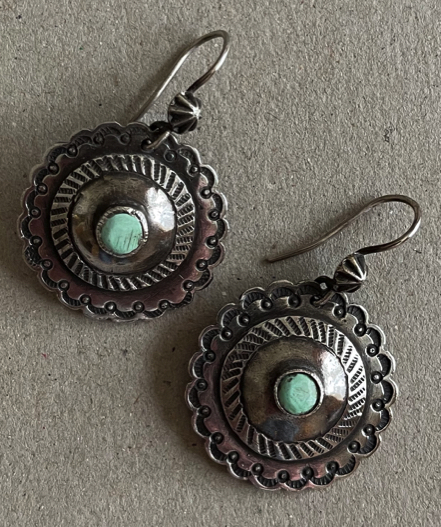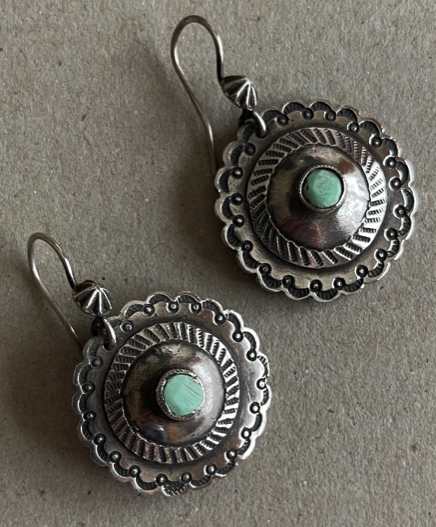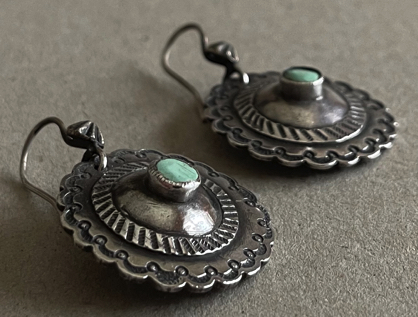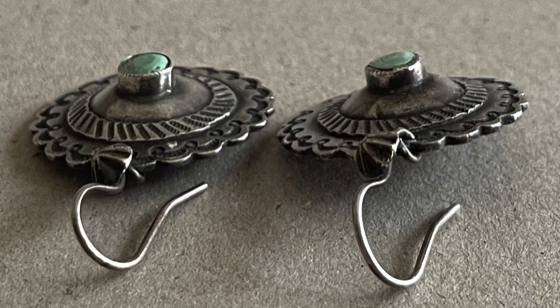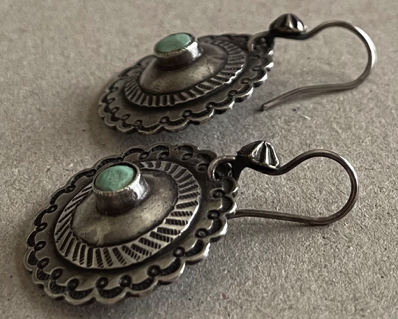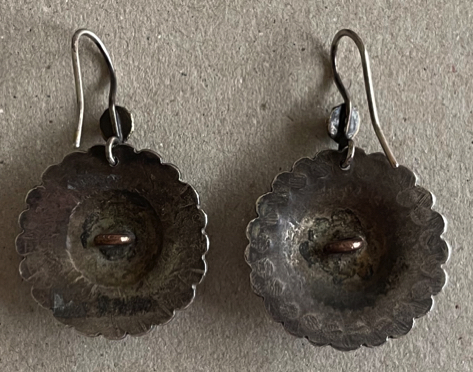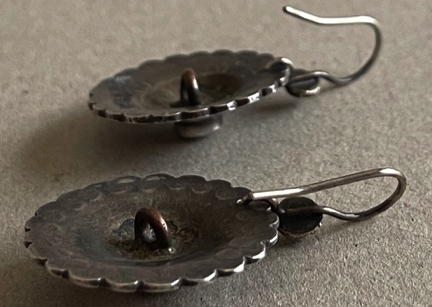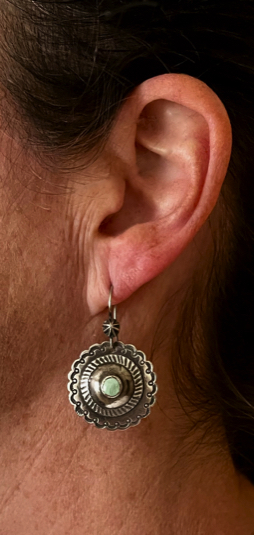 Navajo woman with silver coin buttons and other ornaments on a velveteen blouse, c. 1930's
Photo source and © International Center for Photography