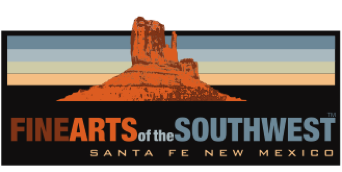 © 2010-2023 by Fine Arts of the Southwest, Inc. All rights reserved.
Unauthorized reproduction or use is strictly prohibited by law.
A very finely stamped and repoussed historic
Navajo copper cuff bracelet, c.1920's-30's
The use of copper in making Southwestern Native jewelry actually predates the use of silver and it is a beautifully expressive metal though somewhat harder to work with than silver due to its 200-plus degree higher melting point and its slightly higher degree of hardness (Copper is a 3 on the standard Mohs metal hardness scale and silver is a 2.5-3.) which makes it more difficult to heat, hammer and stamp. Copper metal can be wonderfully expressive due to its beautiful reddish-brown color and the lovely way it patinates with age as you can clearly see in this handsome bracelet.
The bracelet has a fascinating and very fancy engraved inscription on the interior which reads "Flo from Bess, 12/22/40", most likely given as a Christmas present. Although this inscription fixes the bracelet at a certain point in history, we believe that it was actually made a number of years earlier as it bears all the marks and techniques of traditional Navajo silversmithing of the 1920's and 30's.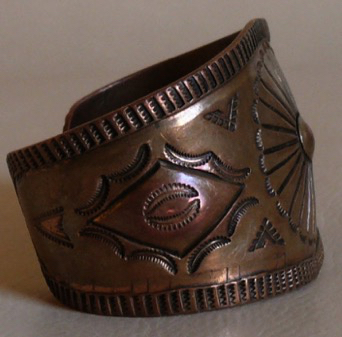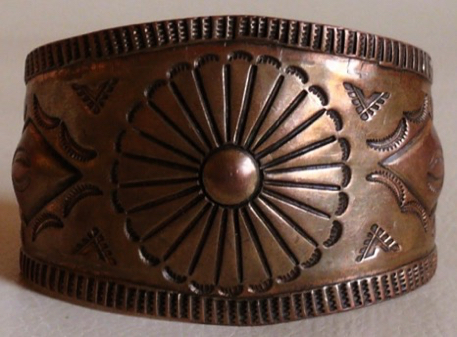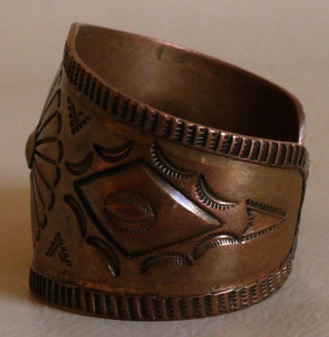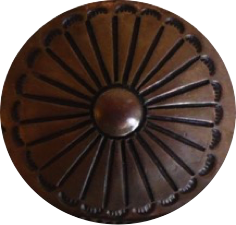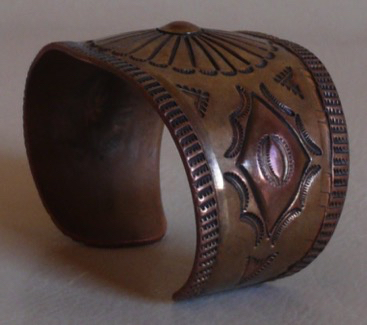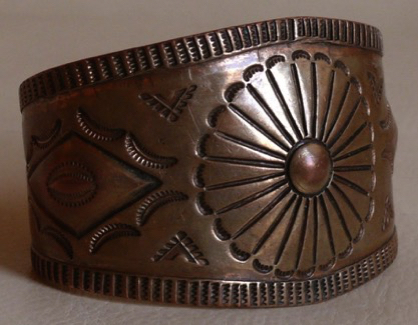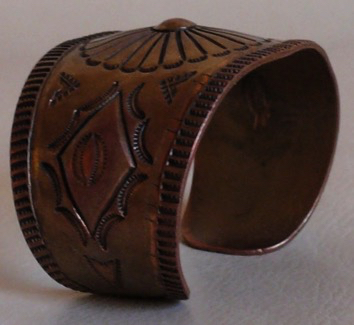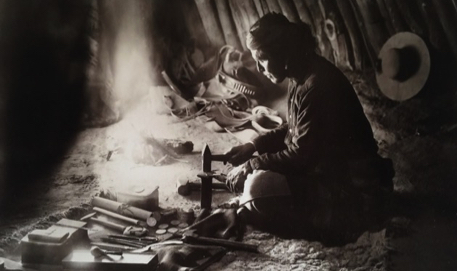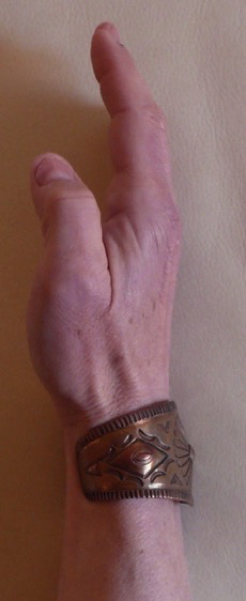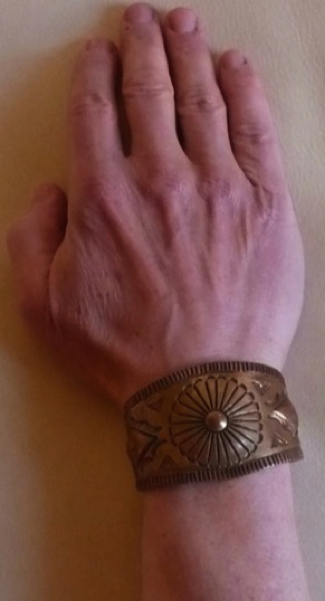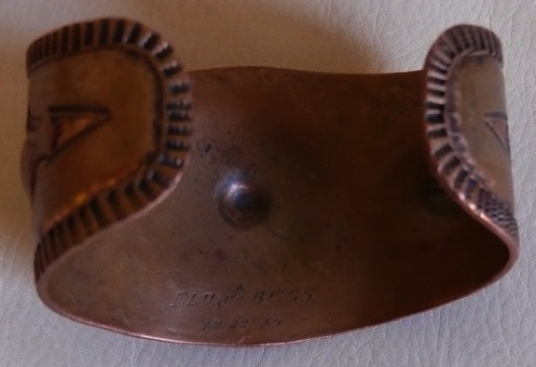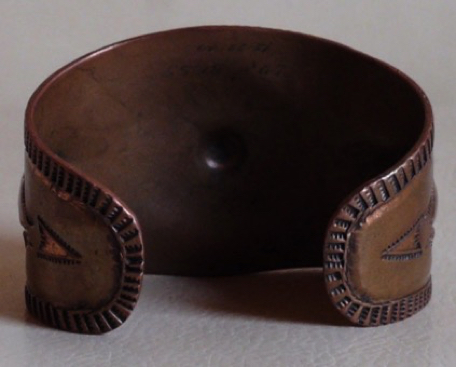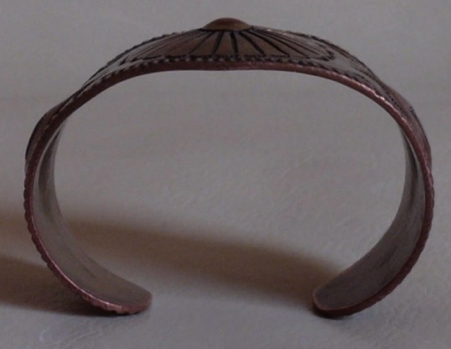 At left, a traditional Navajo silversmith at work, c. 1920. At right, Navajo Mountain. In the remote and rugged country around Navajo Mountain, the use of scavenged copper for making jewelry persisted longer than it did elsewhere in Navajoland.
Right photo source and © Wikipedia
In some of the more remote and isolated areas of Navajoland, such as the vast country around Navajo Mountain and Monument Valley near the Arizona/Utah border, the regular use of copper for Navajo jewelry, often scavenged and hammered out from pieces of old cooking kettles, pots and pans or telephone or telegraph wire continued well through the first quarter of the 20th Century and beyond. Years ago, we purchased a number of such copper pieces from the collection of the old 1906 Oljato Trading Post which is located between Monument Valley and Navajo Mountain. This bracelet is very similar in look and feel to a couple of those pieces.
The unknown Navajo silversmith who created this bracelet was certainly a master artist and craftsman; the stamp work is perfectly executed and very finely applied, the difficult to do repousses or "bump-outs" are done precisely and the design scheme with its large central medallion flanked on both sides by diamond-shaped repousses is well-considered, harmonious and particularly pleasing. The bracelet measures 1 3/4" in width at its widest center point and tapers down to 1" in width at the terminals. The inner circumference end-to-end is 5 9/16" with a 1 1/16" gap between the terminals for a total interior circumference of 6 5/8". It weighs a satisfying, yet very comfortable 68 grams or 2 3/8 ounces.
The bracelet is in remarkably excellent original condition, particularly for its 90-100 or so years of age with some minor age-appropriate scratches and scuffs.
This bracelet is a wonderful piece of Southwestern history and art, the product of a unique time and place and
cultural tradition. And, also, of course, it's a really terrific-looking and very wearable piece of jewelry.
Price $1,650