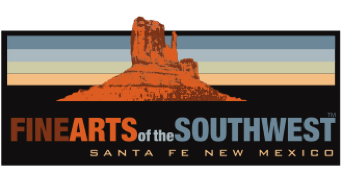 © 2010-2021 by Fine Arts of the Southwest, Inc. All rights reserved.
Unauthorized reproduction or use is strictly prohibited by law.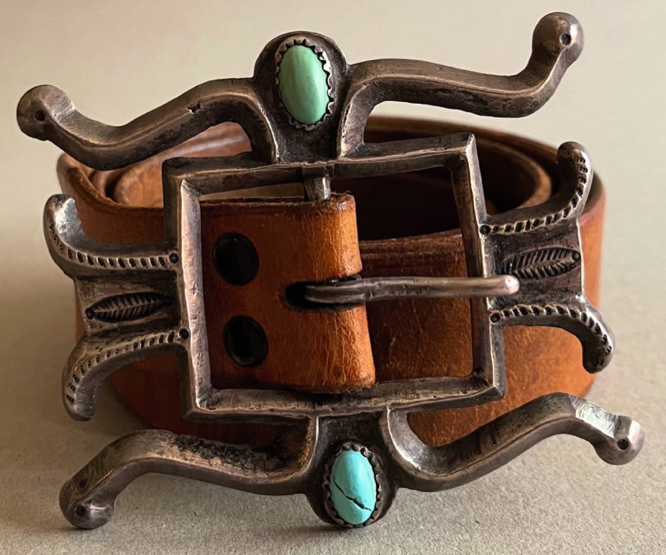 A historic Navajo tufa-cast coin ingot-silver
and turquoise belt buckle, c.1900-1920
This great early buckle has virtually everything anyone could ever ask for or want in such a piece and then some, with great beauty, age, craftsmanship, condition, size, rarity and that intangible quality sometimes referred to as "Zat", meaning that it basically just radiates greatness. The completely hand-wrought product of a highly-accomplished Navajo master silversmith in the early decades of the 20th Century, this buckle would be a credit to the collection of any museum or collector anywhere.  
The tufa-casting here is masterfully done with the perfect combination of strength and delicacy which is the benchmark of outstanding tufa-cast work. The silver for the buckle was obtained from melting down a quantity of American or Mexican silver coins, three silver dollars or so by weight. These coins were very scarce, highly-prized "hard" currency on the isolated and remote reaches of the Navajo reservation in the almost exclusively trade or barter economy which existed there in the early 20th century. The amount of valuable silver coins used here is indicative of the importance of the piece to the person who made it and to the person for whom it was made.
The buckle is decorated with superbly-executed and restrained stampwork designs and is further complemented by two beautifully hand cut, nicely-matched, oval-shaped blue-green turquoise stones set in finely-made serrated silver bezels at the buckle's top and bottom. We are not completely certain which mine the stones came from, but because of their clear blue-green color, the famed Sleeping Beauty Mine near Globe, Arizona comes quickly to mind. Sleeping Beauty is one of the oldest producing turquoise mines in America and this corresponds nicely with the age of the buckle.
A selection of historic tools and materials used by Navajo silversmiths for making tufa-cast silver jewelry.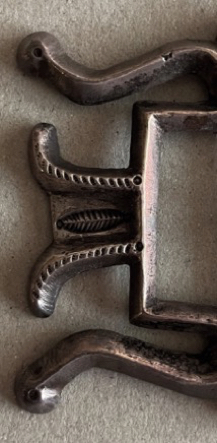 The two stones measure approximately 1/2" in height by 1/4" in width. It is worth noting that the hand-forged silver tang on the buckle is a lovely little piece of work to behold in its own right. The buckle measures a very nicely-sized 3 1/2" in width and is 3" in height. It weighs a substantial, yet easily wearable 76 grams or 2 5/8 ounces and it will accommodate a leather belt strap of up to 1 1/8" in width. The buckle is in excellent original condition with a fine, smooth patina from age and use. One of the two turquoise stones is cracked, but it is completely secure in its bezel.
 If you know how good a piece this is, you also know just how rare it is and just how seldom historic pieces of this quality ever become available. This early historic tufa-cast Navajo silver buckle is a beautiful and extremely wearable piece; perfect for either a man or a woman.
This buckle is simultaneously a stylish piece of jewelry, a fine piece of art, a significant piece of history and an important piece of culture. There's clearly quite a lot to this marvelous piece.
Note: The leather belt pictured here is for demonstration purposes only and is not included in the sale
of the buckle. If desired, we can recommend an excellent custom belt maker here in Santa Fe.
Price $4,200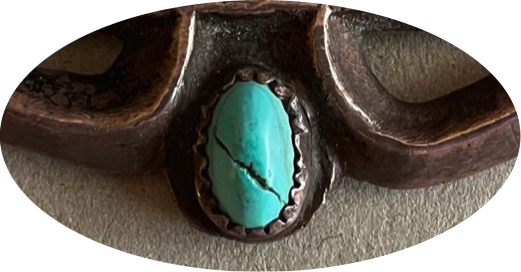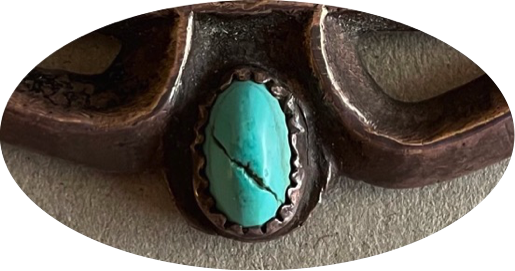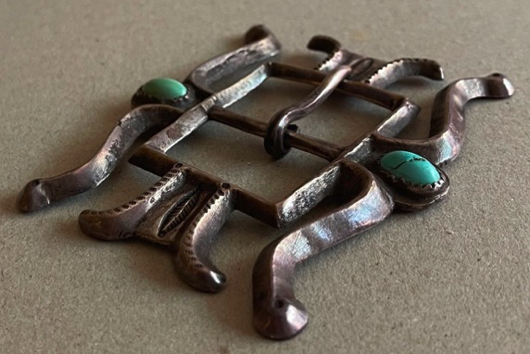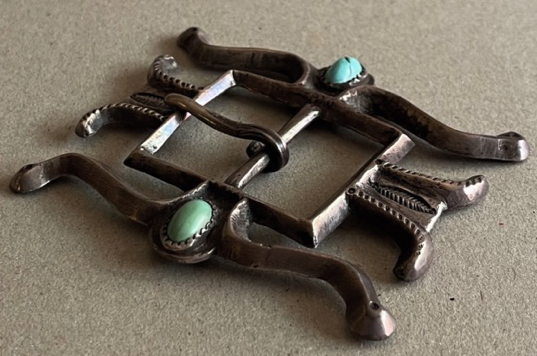 "It sure feel good when you wear handmade jewelry."
-Ambrose Roanhorse, 1936
Quotation source "The Little Book of Marks on Southwestern Silver" © 2011 by Bille Hougart, TBR International, Washington D.C.
The Sleeping Beauty turquoise mine, Globe, AZ
Photo source and © Michael D. McCumber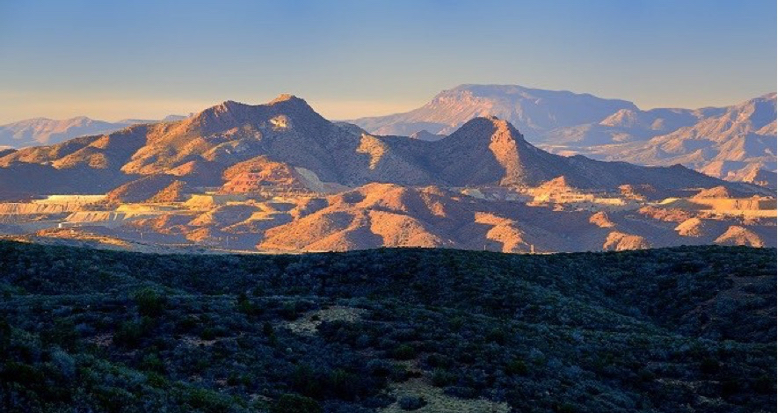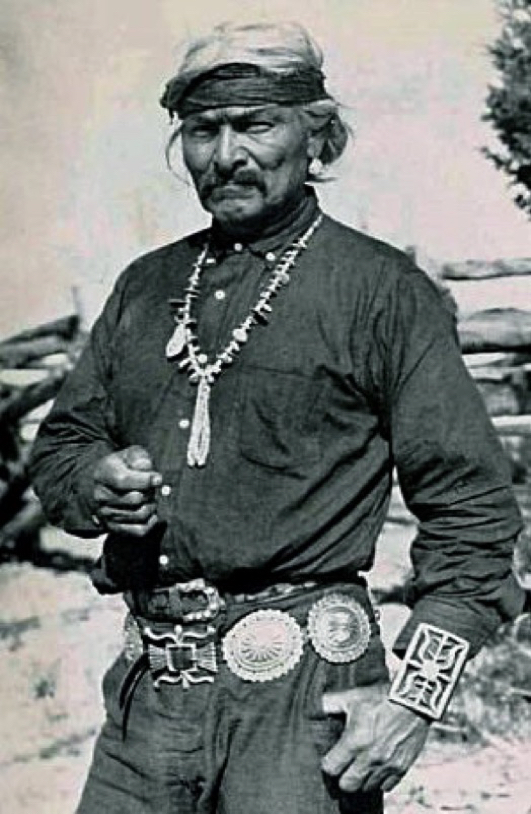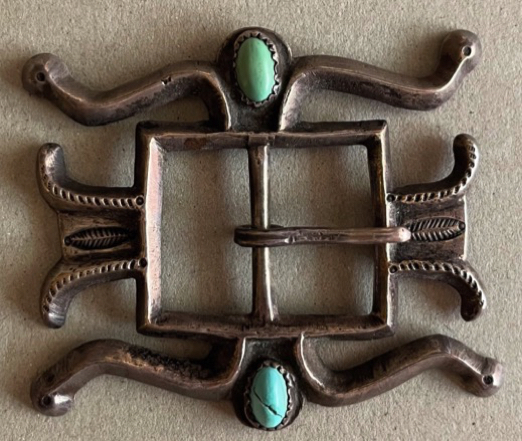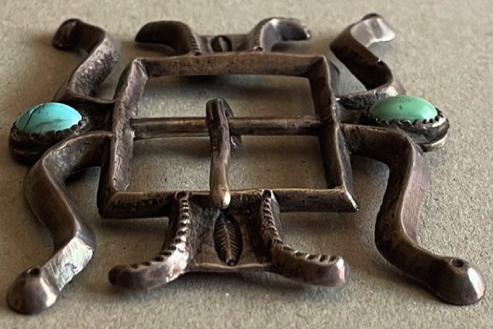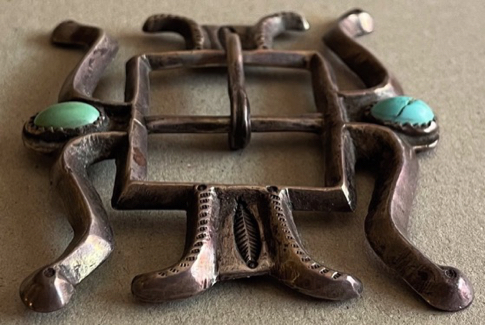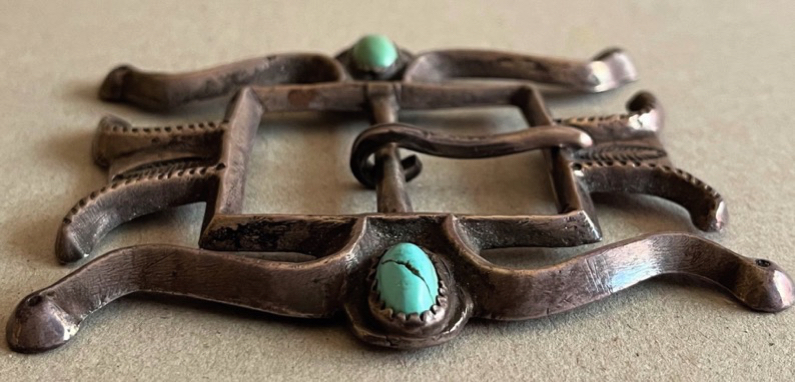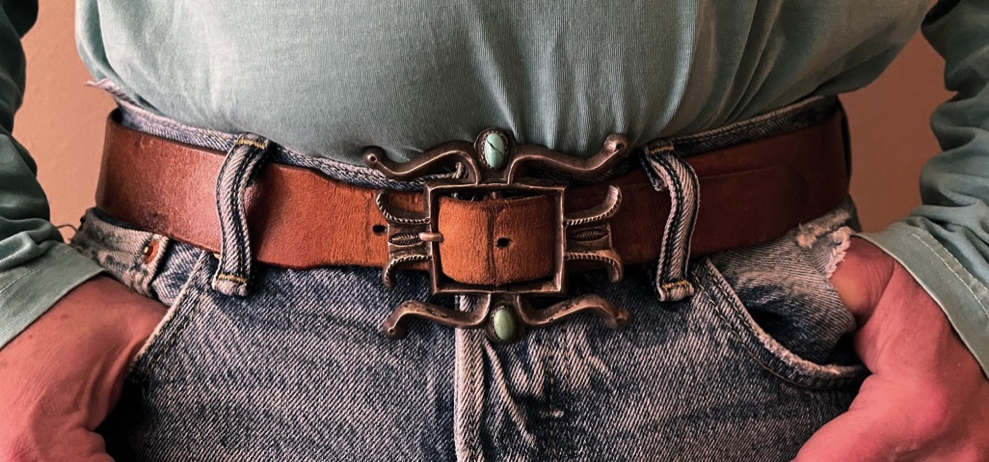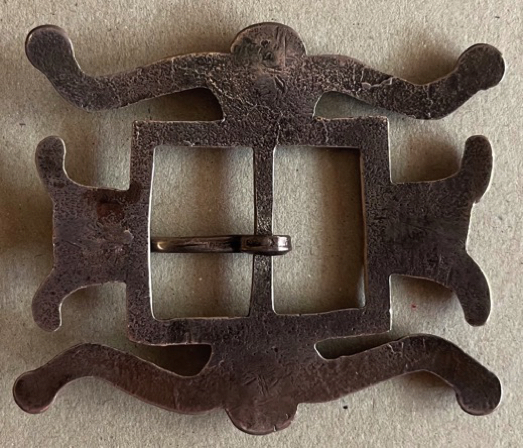 The height of Southwestern fashion a hundred years ago
in 1920, a terrific Navajo tufa- cast silver buckle worn on a classic Navajo Second-Phase Concho belt.
Photo source and © The Navajo and Pueblo Silversmiths by John Adair, University of Oklahoma Press