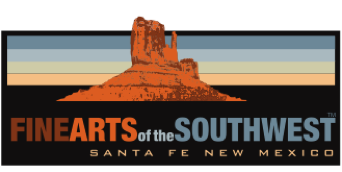 © 2010-2021 by Fine Arts of the Southwest, Inc. All rights reserved.
Unauthorized reproduction or use is strictly prohibited by law.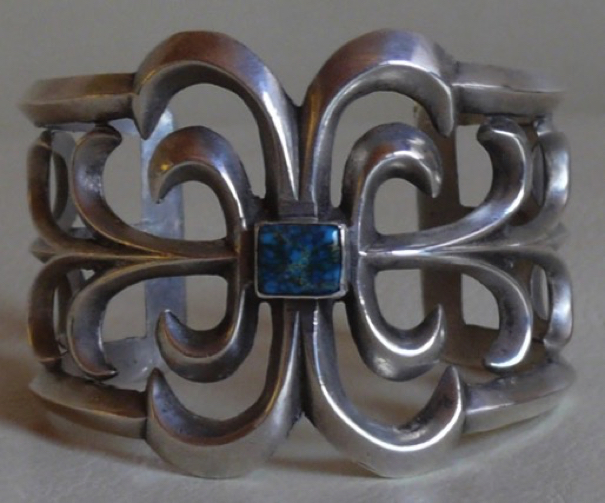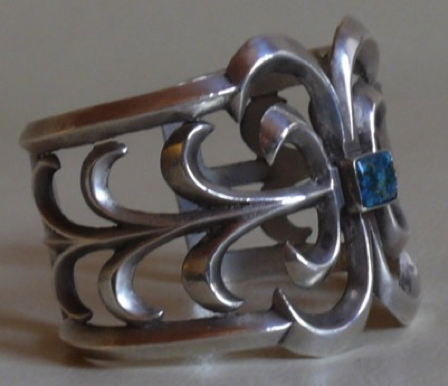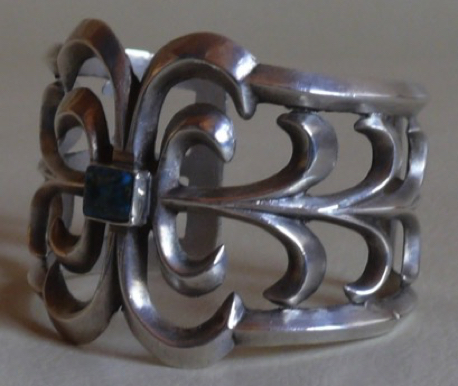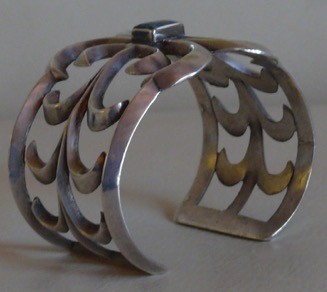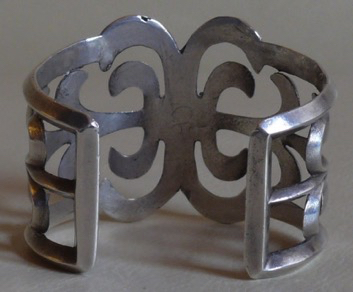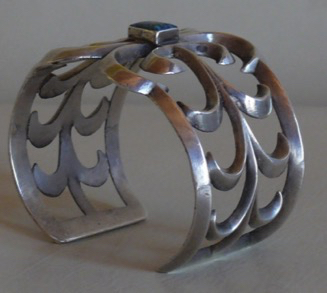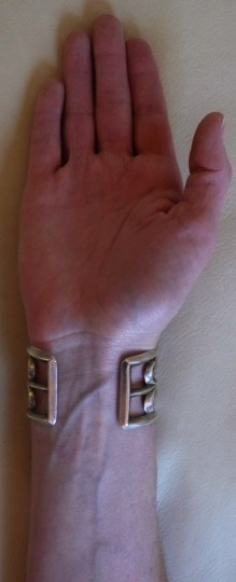 An exceptionally beautiful and intricate historic Navajo tufa-cast silver cuff bracelet set with a fine Nevada spiderweb turquoise stone, c.1950's
This marvelous bracelet is an "Encyclopedia Brittanica", so to speak, on the treacherous and nerve-wracking art of tufa-casting. At the very least to do this right requires exceptional skill, a sure and steady hand, incredible control and nerves of steel and even then, it's never a sure thing. But, when it all comes together as it does in this exceptional piece with the ideal combination of strength, detail and delicacy, the results can be glorious indeed.
The bracelet measures 2" in width at the widest center point and tapers down to 1 1/4" at the terminals. The inner circumference end-to-end is 5 1/2" with a 1 1/8" gap between the terminals for a total interior circumference of 6 5/8". The bracelet weighs a very nice feeling 74 grams or 2 5/8 ounces. It is in excellent original condition. In an intriguing little detail, there is what appears to be an old Trader's code incised into the silver on the inside of the bracelet which reads "CG". Naturally, this brings to mind the great historic Indian Trader, Charles Garrett (C.G.) Wallace of Zuni and Gallup, New Mexico and this bracelet could very easily have been a Wallace piece; made for him, commissioned by him, or even held in his personal collection. It is certainly of a quality and uniqueness which Wallace's Navajo and Pueblo silversmiths, who were many of the very finest in the field, giants such as Ambrose Roanhorse, Austin Wilson, Charlie Bitsui, Jack Adakai, Leo Poblano, Della Casa Appa and others strove for and attained.
The bracelet is set with a very nice small square piece of beautiful, high-grade, blue-green Nevada spiderweb turquoise, possibly from the famous old Last Chance-Burnham-Godber mine, a top-quality stone widely considered
to be one of the finest turquoises available. This is an elegant and distinctive historic bracelet, an especially outstanding expression of a difficult traditional Navajo silversmithing technique, which would be a joy and
cherished heirloom to own and wear.
Price $2,200