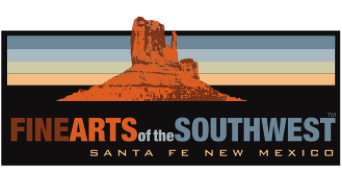 © 2010-2021 by Fine Arts of the Southwest, Inc. All rights reserved.
Unauthorized reproduction or use is strictly prohibited by law.

A historic New Mexican tin and glass retablo
by Higinio Valentin Gonzales, c.1880-1890
This beautiful, historic New Mexican tin retablo holds a framed Holy Card entitled in French, "Examen du couer" "C'est Jesus qui Ecoute" or "Look into one's heart, it is Jesus who hears." This Holy card is typical of many brought or imported to Santa Fe from 1875 to 1888 by the French-born, First Catholic Archbishop of Santa Fe, Jean-Baptiste Lamy (1814-1888) and commonly given as gifts to members of the Church Clergy and parishioners. A Holy Card such as this being given to a priest or parishioner by the archbishop would have been a perfect occasion for the commissioning of a fancy tin frame such as this one to preserve and present the Holy image on the wall of the family home as an object of veneration and devotion. The tin frame is beautifully constructed in an elaborate pattern of cut out triangles and is further adorned with detailed decorative stampwork and red and green painted designs.
From a close examination of the style of the tinwork, the stamping and the painted decoration, renowned New Mexican tinwork authority, Maurice M. Dixon, Jr. has verbally attributed this piece to the highly-accomplished, historic New Mexican tinsmith Higinio Valentin Gonzales (1842-1921). Mr. Dixon is co-author of "New Mexican Tinwork 1840-1940" (University of New Mexico Press,1990) as well as Author of a recent profile of H.V. Gonzales, "Mystery and Mastery, The art of Higinio V. Gonzales" recently published in the Museum of New Mexico's periodical "El Palacio", (Volume No. 115, Spring, 2010, pp.38-45). The tin frame measures 13 1/2" in diameter and is in very good original condition. It is missing two of its thirteen diamond-shaped finials and a couple solder joints are cracked. This could be easily repaired by a competent restorer should one desire, but is not necessary.
Price $2,750