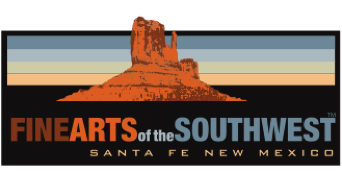 © 2010-2021 by Fine Arts of the Southwest, Inc. All rights reserved.
Unauthorized reproduction or use is strictly prohibited by law.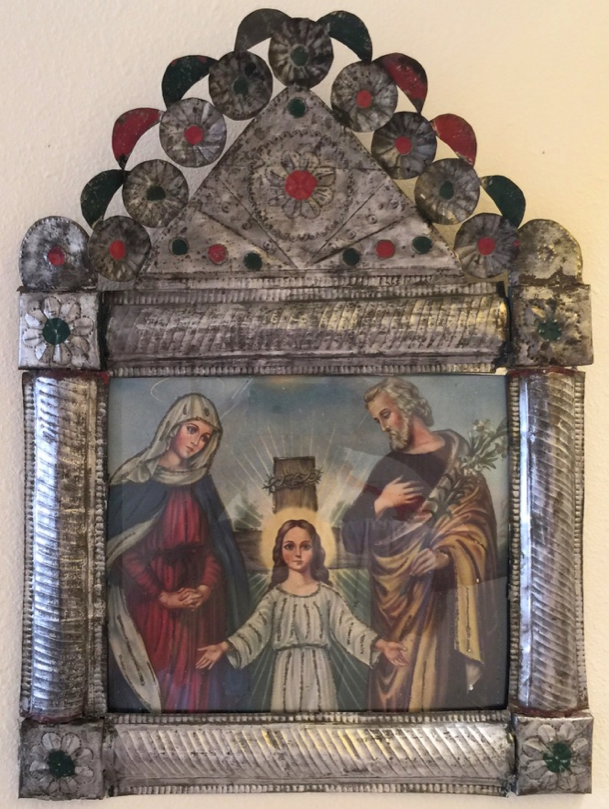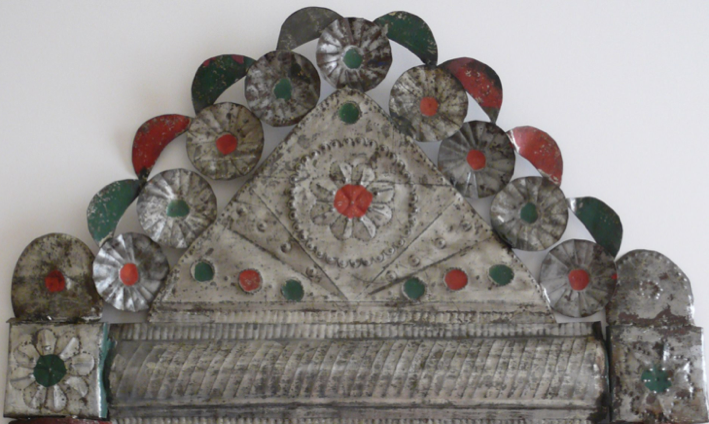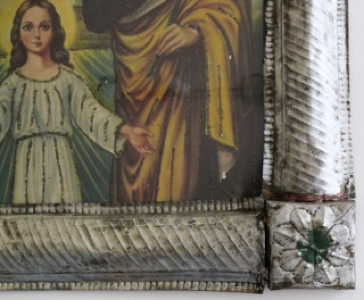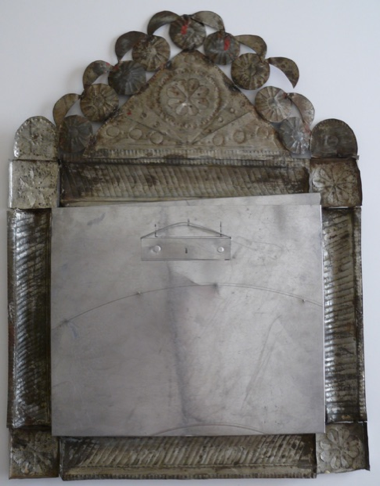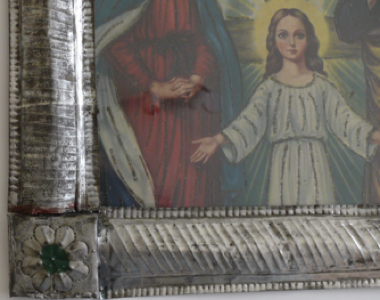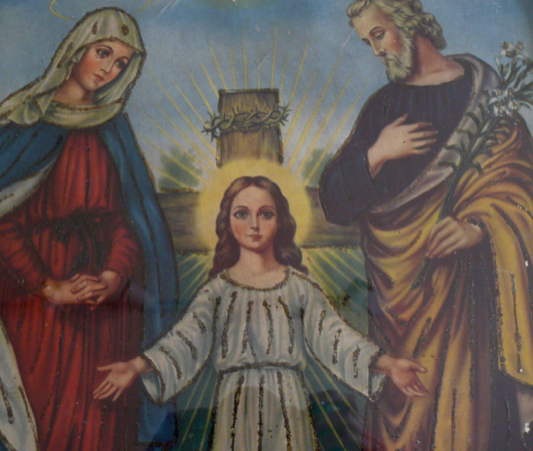 A large New Mexican tin and glass frame
or retablo by the Valencia Red and Green
tin workshop, c.1890-1900
New Mexico has a unique and ancient cross-cultural history, combining influences from its original Native American inhabitants, the Spanish conquistadors and colonists, and, lastly, the much later arrival of the Americans. Naturally, this history was not all sweetness and light, but it had many bright and interesting spots, among the best of which is seen in the development of various uniquely New Mexican artistic traditions.
One of the most interesting examples of these are historic New Mexico tinwork frames or retablos which combine a centuries-old tradition of making Hispanic devotional art with the more commonplace materials of commercial American tin lard cans which were first transported here from back east when New Mexico was essentially a foreign country, on wagon trains over the Old Santa Fe Trail. These lard cans were eventually and creatively re-purposed as "found materials", essentially free for the taking (which was very important in this far-flung and impoverished colony of New Mexico) into devotional tin retablo frames which replaced the older, painstakingly hand-carved and painted wooden retablos for use in catholic New Mexico family homes, churches and other religious facilities.
This particular tin retablo frame is most beautifully designed and elaborately decorated in the characteristic style of the "Valencia Red and Green tin workshop" so named for its location in Valencia County in central New Mexico near the town of Belen and its frequent use of distinctive red and green paints in its decorative designs. The large triangular-shaped pediment on the top is especially well-executed; beautifully and ornately stamped with a large central rosette and surrounded by a very complex border of interconnected small tin discs and crescents stamped and painted in characteristic red and green.
The four sides of the retablo have wonderful domed borders with horizontally-opposed stamped designs and are joined by four nicely embossed square corners also decorated with stamped and painted rosettes. The overall effect here is richly ornate and marvelously complex, a testament to how beautifully made a folk art object can be with such humble materials as salvaged tin cans, glass, a paper print and house paint. It speaks volumes to the devotion and dedication of its unknown maker in suffusing it with such religious meaning and strength.
This tinwork is what we would describe as being a "decorator piece"; meaning that it is not in completely original and historically intact condition, but that it still looks beautiful with lots of authentic, historic character and appeal. The original, color chromolithograph has been replaced, but replaced properly with a similar period color chromolithograph of the same age, type and composition to the one which was originally used. The glass was also replaced and the glass and print are held in place by a recently-fabricated tin framework soldered onto the back of the original tin frame. It is the front facade of this piece however, which is the most important part and it is completely original with very beautifully fashioned tinwork and terrific red and green paint so visually this piece is completely wonderful if not completely original. This can be considered as being an opportunity to acquire a terrific-looking historic piece at a mere fraction of what the price would cost if the print and glass had not been replaced which would easily be three to four times higher in our estimation, some $6,500-$8,500.
The tin frame measures a very sizable 21" in height and is 16 1/2" in width. Even though it is taller than wide, it has a horizontal orientation visually which is somewhat uncommon in larger-sized historic New Mexico tinwork.
Its size and complexity leads us to believe it was meant to be an important piece from the outset; a commission perhaps, for a distinguished client or possibly a church, chapel or Penitente morada. The beautiful richly-colored chromolithograph print is a depiction of the divine Christ child flanked by The Virgin Mary at left and his helper, Saint Christopher, at right. In an interesting touch, the linework in the historic print has been enhanced with the application of what appears to be hand-applied oil paint, possibly with sand or other material mixed in for texture. We have seen a number of historic New Mexico tins, mostly found in the various Indian Pueblos in New Mexico, in which the print has been enhanced in a similar manner with paint and/or glitter. As indicated previously, the tinwork is in very good "restored" condition. This is a fragile and complex piece in a somewhat delicate condition and it will need to be handled carefully.
All in all, this is a most beautiful and impressive piece of historic New Mexico devotional and folk art and in our opinion a whole lot of artistic "bang", so to speak, for not too much buck.
Price $2,300 plus any applicable shipping