© 2010-2021 by Fine Arts of the Southwest, Inc. All rights reserved.
Unauthorized reproduction or use is strictly prohibited by law.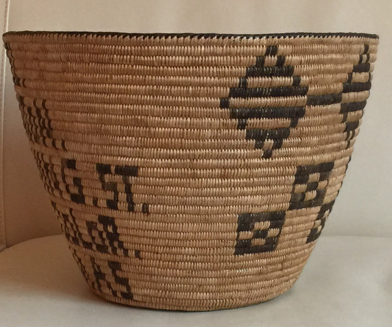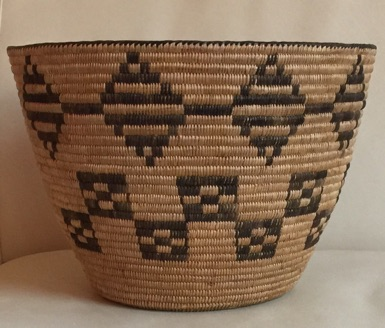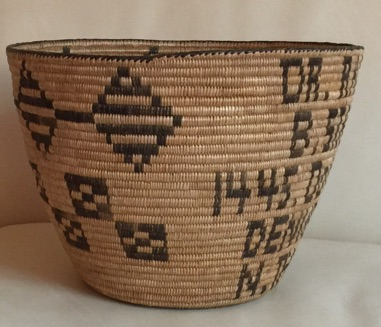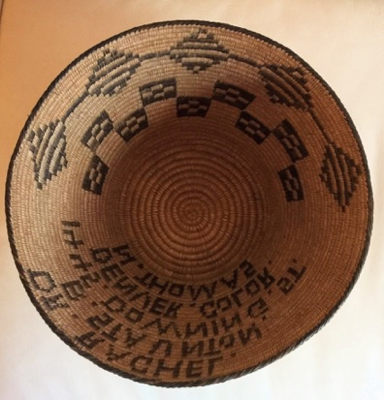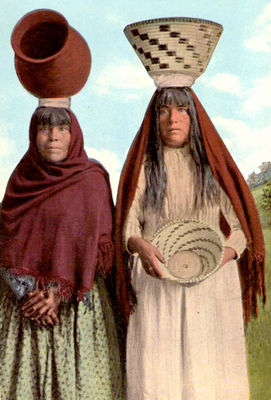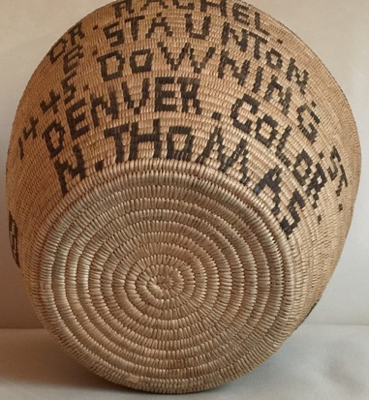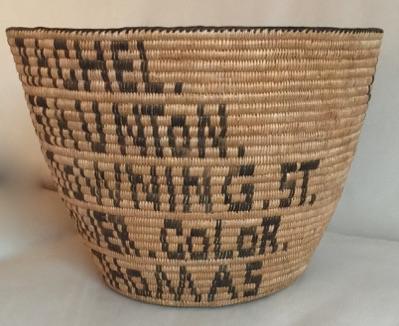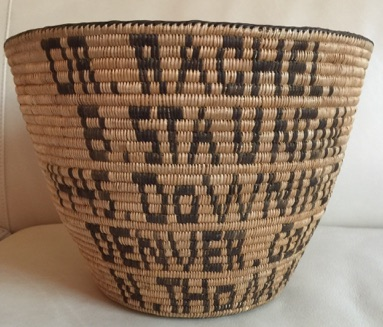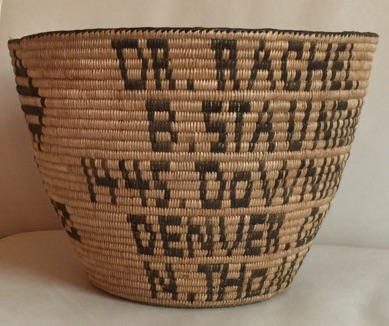 The "Dr. Rachel B. Staunton" Pima pictorial
basketry bowl by Nancy Thomas, c. 1920's
Dr. Rachel Bullard Staunton (1879-1946) and her Doctor Husband, Archibald G. Staunton (1868-1958), moved to Denver, Colorado from West Virginia in 1903 and lived there until her death in 1946 and his in 1958. At some point in the 1920's or 30's, they commissioned this basketry bowl to be custom-made for her by the Pima Indian basketweaver, Nancy Thomas in Arizona. After the Staunton's deaths, their only daughter, Francis, inherited their entire estates. Francis Staunton never married and after her death in 1989, her estate, including this basket, was dispersed.
The bowl prominently features as its primary design the beautifully-woven inscription of Dr. Rachel B. Staunton's name and Denver home (or, possibly, office) address with the charming mis-abbreviation of Denver, CO as "Denver, Color" instead. The "1445 Downing Street" address location on the basket still stands today in the historic heart of old Denver just a few blocks away from the Colorado State Capitol and quite near where The Denver Art Museum now stands.
The bottom line of the letters on the basket is the weaver's signature, "Nancy Thomas". The existence of a native artist's personal signature on a piece of artwork during this time period is a very unusual and unique occurrence and probably only exists because the Staunton's must have asked Nancy Thomas specifically to do so and possibly wrote out the letters of her name for her to follow as we have no way of knowing whether Nancy Thomas was literate in English. The letterforms have some very interesting variations in height and width and the overall effect of the design is completely charming. The other side of the bowl is decorated with traditional Pima geometric designs. All of the dark designs are done in the traditional black Devil's Claw against the lighter willow background.
Historic Fred Harvey Company color postcard of
Pima and Maricopa basket weavers, circa 1920.
The bowl measures 8" in height and 11" in diameter and it is in remarkably fine original condition with only some extremely minor stitch loss in a couple of places. It must have been very highly-prized by its owners and very well taken care of indeed to have remained this intact over the past nine decades. For those interested in the technical details of its construction, there are four coils to the inch and approximately fifteen stitches to the inch.
This basket is a great-looking and exceptionally well-crafted example of early 20th Century Southwestern Native American basketry; a fascinating historical document and a completely delightful piece of American folk art all at the same time, all of which is quite an illustrious achievement, in our opinion.
Price $2,950