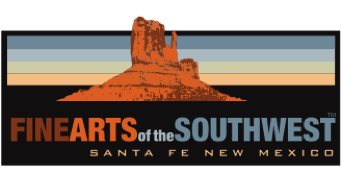 © 2010-2022 by Fine Arts of the Southwest, Inc. All rights reserved.
Unauthorized reproduction or use is strictly prohibited by law.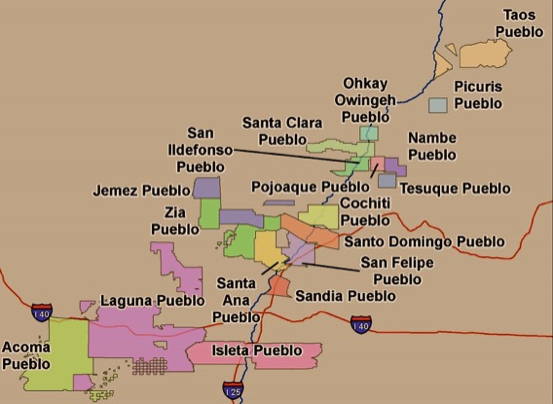 Present-day map of New Mexico Pueblos
-Photo source and © U.S. Bureau of Reclamation, Washington, D.C.
San Juan Pueblo village scene by Edward S. Curtis, 1927.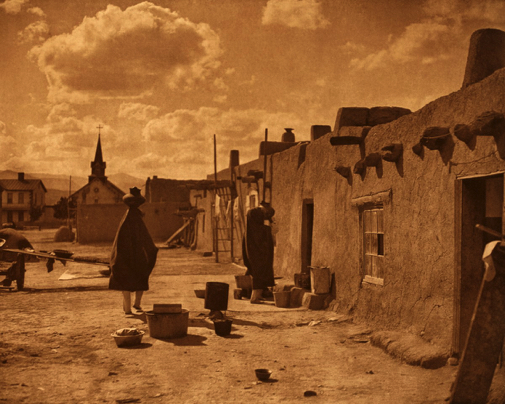 A small historic black-on-grey upright pottery jar from San Juan Pueblo, New Mexico, c. 1900
The San Juan Pueblo in northern New Mexico, known today as "Ohkay-Owingeh" or "Place of the strong people" in its indigenous Tewa Indian language has historically produced some of the most beautiful and traditionally crafted pottery in the historic Pueblo pottery world. San Juan is one of the oldest existing historic Pueblos in the Rio Grande Valley, established around 1200 A.D. by migrating refugees of the Mesa Verde culture moving southwards down along the Chama River drainage from what is now present-day southern Colorado.
The Pueblo of San Juan de Los Caballeros has long played a pivotal role in the history of New Mexico and the greater Southwest region. It was here in 1598 that the Spanish conquistador and colonizer, Juan de Onate arrived from Mexico at the head of his large army of Spanish soldiers and settlers. Onate gave the Pueblo its Spanish name after his patron Saint, Juan Bautista and declared there the first Spanish Colonial capital in the territory of New Spain,
"Santa Fe de Nuevo Mexico" or "The Holy Faith of New Mexico". And to that end, they built the very first Catholic church in New Mexico in the Pueblo village. Years later, in 1680, after suffering nearly a century of oppression and persecution at the hands of the Spanish, it was also here that, perhaps fittingly in a historic irony, that San Juan Pueblo religious leader Pope secretly planned, coordinated and put into motion the historic Great Pueblo Revolt that drove the then-hated Spanish entirely out of the region for the next twelve years.
San Juan Pueblo has long been renowned in the Southwest for the quality and unique beauty of its distinctive historic pottery. Unpainted, plainware pottery, defined entirely by its wonderful shapes, sizes and forms and by its distinctive clay and slip colors and its two distinct but completely related remarkable color patterns; the red-on-tan and the black-on-grey. Historically, most San Juan pottery was generally made for home usage in the local village though it has always been a valuable utilitarian staple in many other local households of Northern New Mexico, whether Pueblo Indian, Hispanic or Anglo, highly-valued for its beauty, utility and durability.
As such, it was an important and significant trade good in frontier New Mexico prior to its later becoming even more highly appreciated and prized as artwork which in the world of today it is held in even higher esteem. Its classic, disciplined, understated, elegant beauty is appreciated by both traditionalists and Modernists alike. The only decorative touches on traditional historic San Juan pottery other than its unique red and black colors are the omnipresent distinctive and plentiful dark-grey to black firing clouds. Due to their quantity and beautiful artistic placement on almost all San Juan pottery vessels it has long been theorized by various Pueblo pottery scholars and aficionados that these might have been deliberately arranged and orchestrated by the various San Juan potters though that theory has yet to be definitively proven. What does not ever need to be proven further however is the enduring and historic aesthetic beauty and cultural integrity of traditional San Juan Pueblo pottery.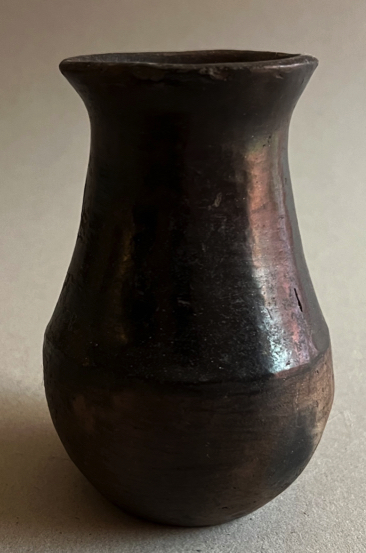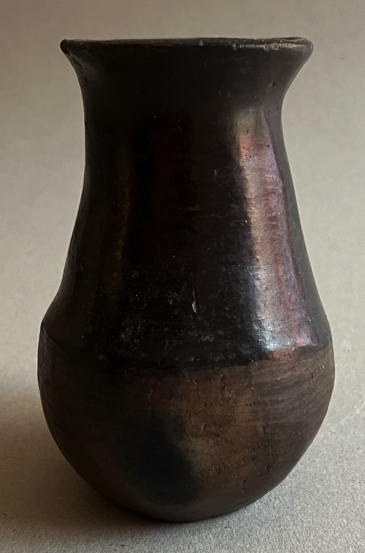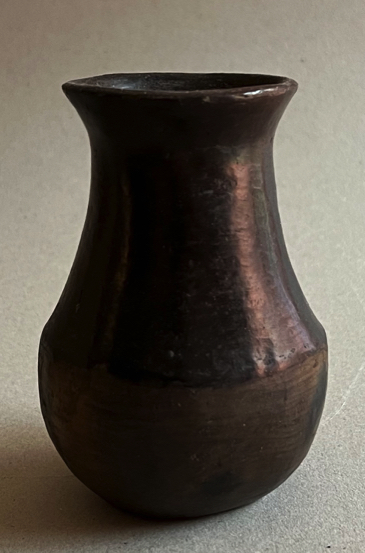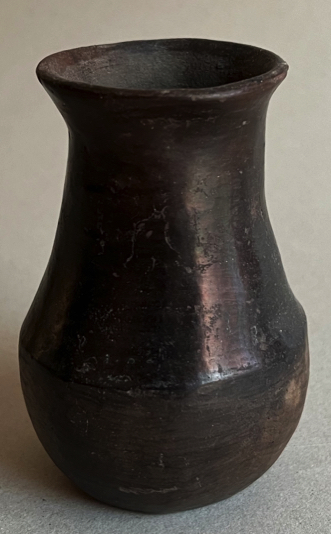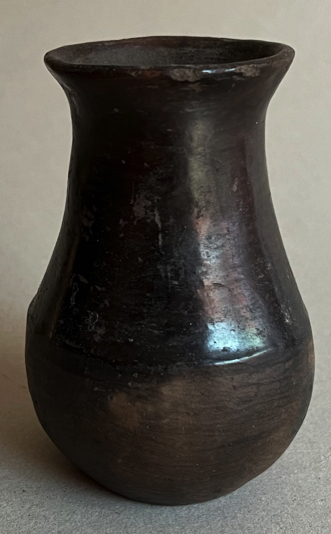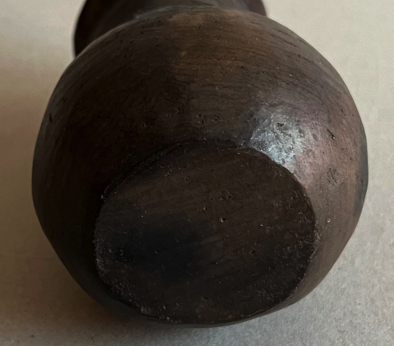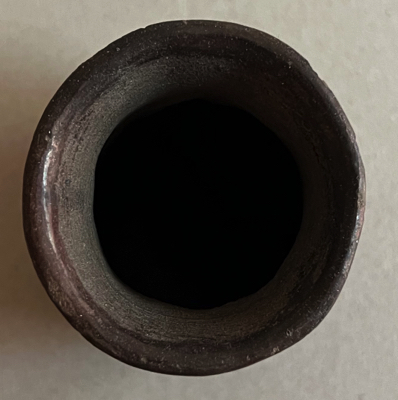 This lovely diminutive upright jar is a perfect miniature example of San Juan's huge pottery greatness, a superb sculptural object with a beautiful tapering elongated shape, graceful profile, fine polish and a slightly outwardly flaring rim and a lovely, perfectly-placed (whether deliberately or not) little fire cloud. The jar has a distinct "monumentality" to it; without something to compare it to for scale you can't really tell if it's four and a half inches tall or fourteen and a half inches tall. The jar measures a small 4 1/2" in height and it is 2 3/4" in diameter at its widest point. It is in excellent original condition with no cracks or significant chips and examination under ultraviolet light reveals no evidence of restoration or overpainting. There are various assorted small scuffs, abrasions and tiny rim chips as befits the jar's 120 or so years of age.
This is a little sweetheart of a jar, not quite a miniature, but a lovely small piece with the heart and soul and history df a giant. To view other pieces of historic San Juan Pueblo pottery available on our website, please click here.
Price $425