© 2010-2021 by Fine Arts of the Southwest, Inc. All rights reserved.
Unauthorized reproduction or use is strictly prohibited by law.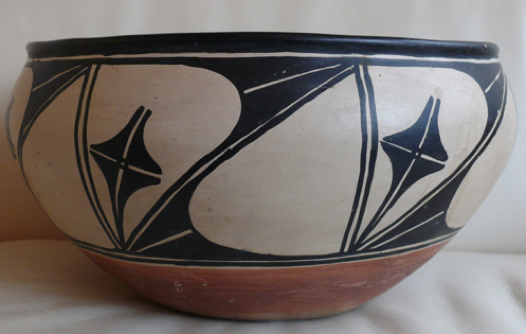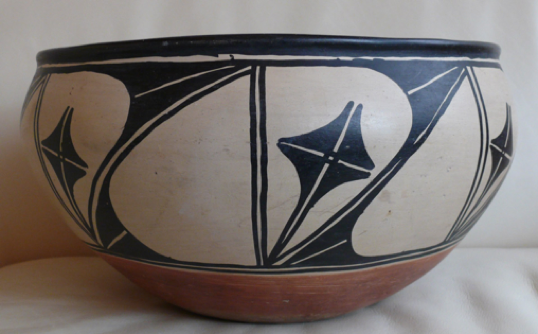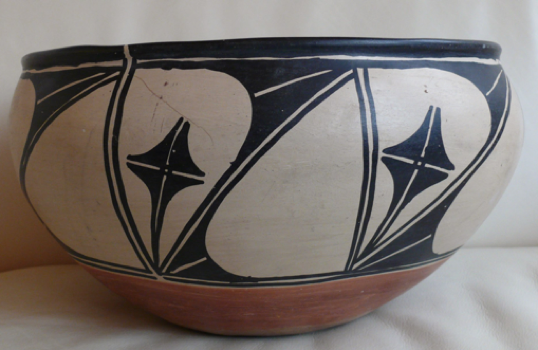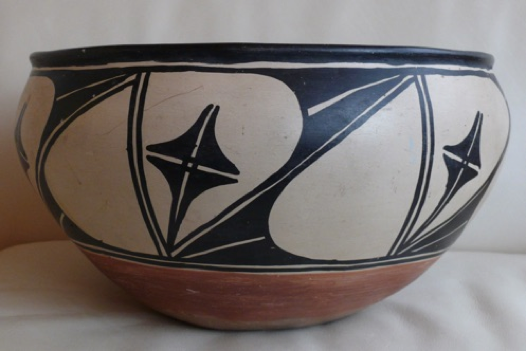 A superb, historic Santo Domingo polychrome pottery dough bowl by Monica Silva, circa 1920's
This big girl is a real beauty queen. She's got a gorgeous form, fantastic potting, striking and dramatic painting, very good age and she's in splendid original condition; pretty much the entire pottery package. And it's little wonder, since her maker, Monica Silva (born around 1900) was such an outstanding potter, among the finest of all 20th century Pueblo potters. Silva was renowned precisely for large, beautifully-shaped, dramatic vessels such as this one. During the 1920's, Monica Silva regularly won 1st prizes for her pottery at the annual Southwest Indian Fair in Santa Fe, now known as Santa Fe Indian Market. The distinctive high-shouldered shape of this bowl, its fine, creamy white-slipped surface, deep, rich vegetal black paint, striking geometric designs and perfect traditional firing are all tell-tale characteristics of Monica Silva's skilled hand.
The bowl measures 15" in diameter and is 7 1/2" in height. It is in excellent-plus original condition, particularly for its 90 or so years of age. There are no cracks, no chips, no wear, only a few surface scratches and tiny pits but nothing that could really be called "damage." In fact, this bowl is a bit of a time capsule in that it is in such remarkable condition. It exhibits virtually no evidence of use which indicates to us that it was originally collected when new directly from Silva purchased by a trader or a collector either at Santo Domingo Pueblo or at one of the various Indian fairs or markets where she exhibited.
That the bowl is quite a bit older than it looks from its near-pristine condition is also clearly evidenced by its very wide and deeply-colored painted red band at the bottom of the design field. Through the early part of the 20th century, such "red-banding" on polychrome pottery, a distinctive characteristic at the various polychrome pottery-making Pueblos along the Rio Grande river basin, (Zia, Santa Ana, Santo Domingo, Cochiti, Tesuque, San Ildefonso etc.) grew progressively narrower in width and lighter in color until eventually disappearing almost completely by the 1930's. There are also the remnants of two red-bordered Fred Harvey Company style adhesive paper labels on the bottom of the bowl which seems to indicate the likelihood that this bowl passed through a Harvey Company trading post, very possibly the famous Indian Building at Albuquerque's renowned Alvarado Hotel only 30 miles away from Santo Domingo.
Naturally, the vessel is unsigned which was the norm during the early time period when it was made, but,
as we mentioned, it bears all the characteristic hallmarks of Monica Silva's work. However, as an additional affirmation, Angie Reano Owen, the highly-respected Santo Domingo jewelry maker and granddaughter of Monica Silva examined the bowl and stated that it was her Grandmother's work. This is an impressive and historic piece of Pueblo pottery in nearly new condition by one of the finest Pueblo potters who ever handled clay. It could be beautifully displayed in any style of home from a traditional New Mexican adobe to a modernist New York loft.
SOLD