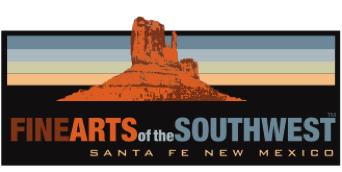 © 2010-2021 by Fine Arts of the Southwest, Inc. All rights reserved.
Unauthorized reproduction or use is strictly prohibited by law.

While the design and construction of this interesting bowl contains certain elements of both the Tewa culture pottery of Tesuque Pueblo and of nearby San Ildefonso Pueblo, the truth of all Pueblo pottery's origin, as the pioneering ceramics analyst, Anna O. Shepard, proved, is always conclusively in the specific materials of the vessel's clay body, slip and paint. Thus, we are confident that the origin of this bowl is from Tesuque Pueblo just a few miles north of Santa Fe due to the characteristic use of thick black mineral paint, bright white slip and the pinkish-tan clay in the underbody and interior as opposed to the more brownish-tan colored clay body and somewhat less bright white, more light cream-colored slip one would expect to see from San Ildefonso. Also, the presence of mica in the clay body points strongly to Tesuque. In the other Southerly direction, the high-keeled Tewa Pueblo profile of this bowl distinguishes it from the more rounded Keresan Pueblo profile one would expect to see from nearby Cochiti or Santo Domingo Pueblos.
Also, the loose waviness and varying thickness of the painted black lines and the dimpled concavities in the very highly stone-polished underbody is more characteristic of a Tesuque Pueblo origin. The bowl is very finely stone-polished and it is finished with a very narrow, dark-red painted encircling band at the very bottom of the design field. Such "red-banding" is characteristic of pottery from various Rio Grande Pueblos in the first two decades of the 20th century with the more narrow band being fairly consistent with Tesuque Pueblo.
And continuing to the additional particulars of the bowl, it is a beautiful and fairly early 20th Century historic piece, very finely-formed with the classic Tewa high-keeled profile and outwardly flaring rim and very beautifully painted in a loose, expressionistic somewhat folky style. The bowl features a bold and striking exterior design field of a series of large floral rosettes and kiva step terraces executed in thick heavy black and red paint. Floral rosettes of varying types and sizes were commonly used on Tesuque Pueblo pottery of the 19th and early 20th centuries.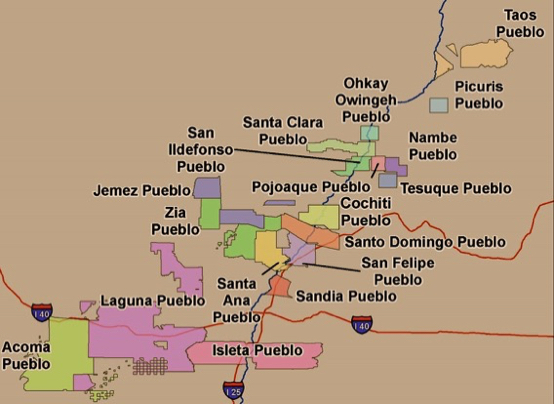 The bowl is slightly asymmetrical, just slightly out of round, and the rim is slightly uneven in height which is completely consistent with a handmade Pueblo pottery vessel of this time frame particularly such a large one. It measures a very good-sized 14 3/4" in diameter and is 6" in height. It is in generally excellent original condition particularly for its century plus of age. A thorough examination under ultraviolet light reveals no evidence of restoration or overpainting. There are two slight slip cracks, one extending 3-4 inches down from the rim, the other about 5" in length along the lower shoulder. both of these could be readily restored at minimal cost, if desired though it is hardly necessarily since they do not impinge upon the structural integrity of the bowl and are not visually intrusive. The bowl has a perfect "Ping" when lightly tapped with a finger indicating the cracks do not go all the way through the clay body. There are a number of paint smudges on various parts of the bowl's exterior and interior. The bowl's interior is completely plain, slipped in the pinkish-tan clay characteristic of Tesuque. There is some degree of ethnographic wear from use to the lower portion of the bowl's slipped interior as one would obviously expect from the process of making dough.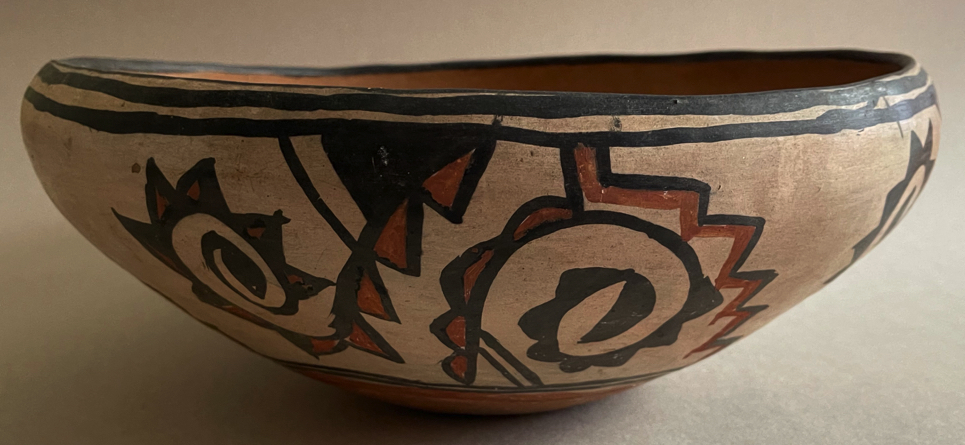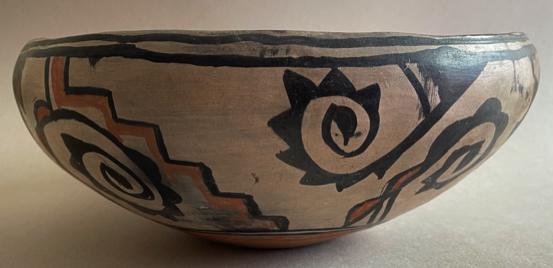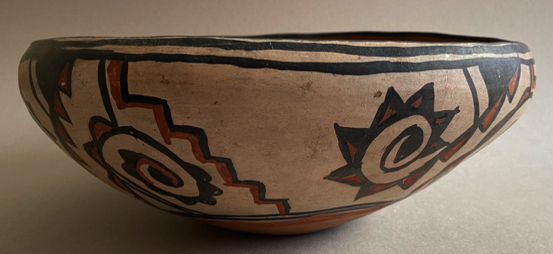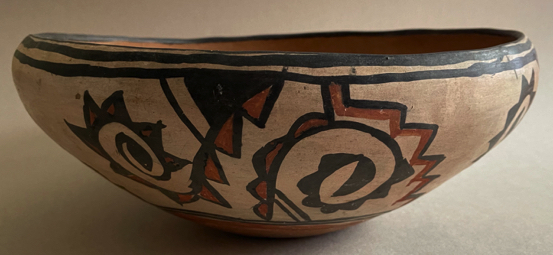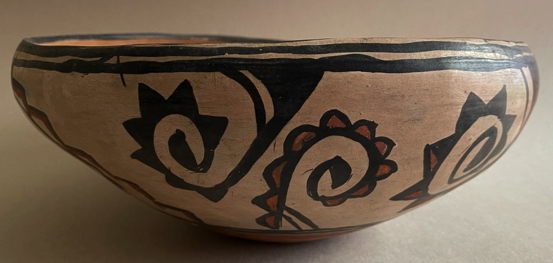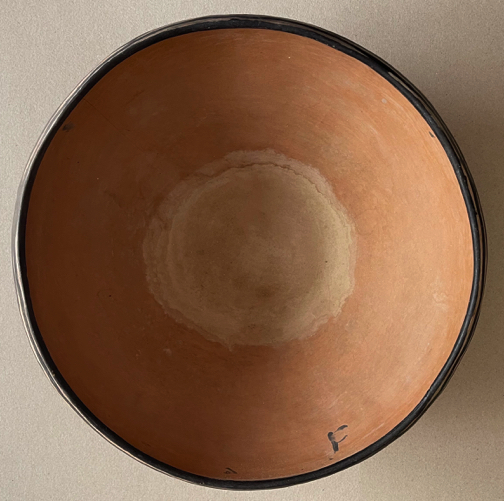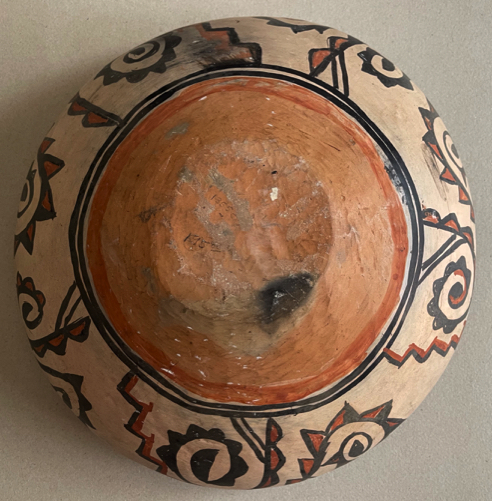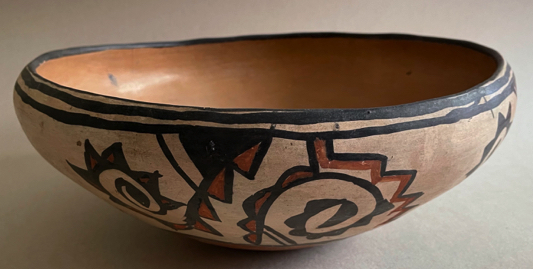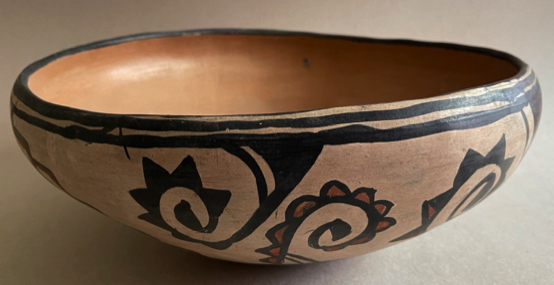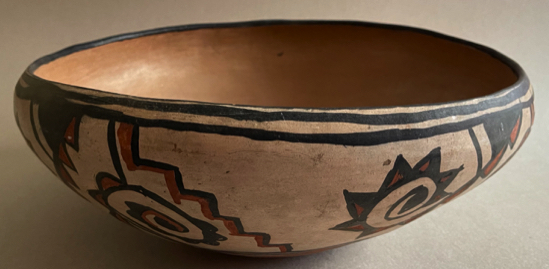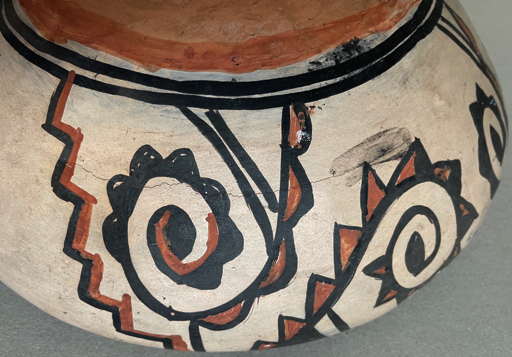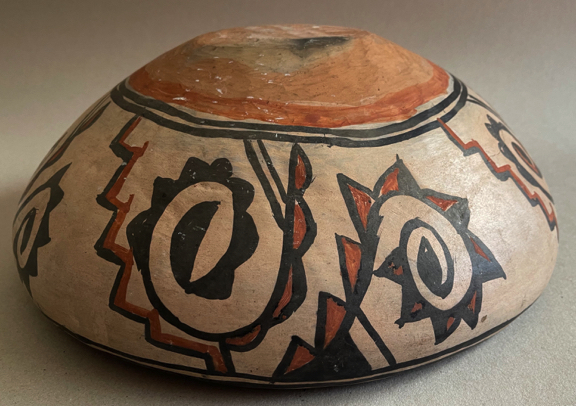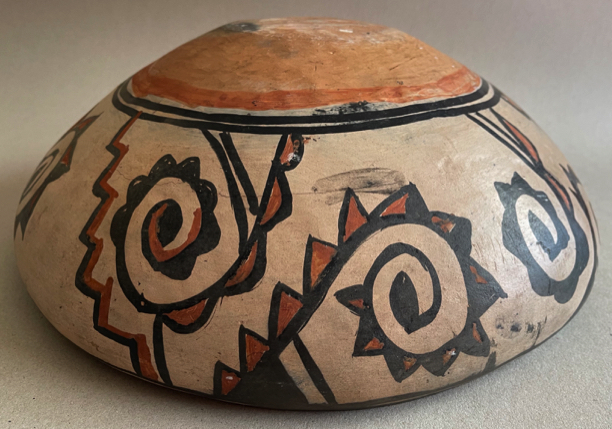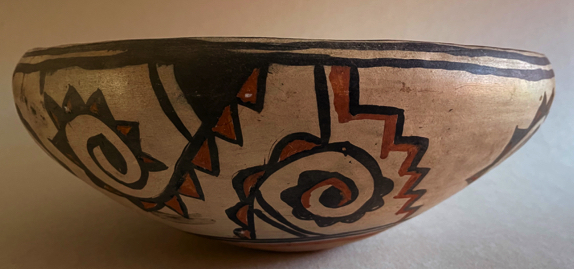 A unique historic Tesuque Pueblo polychrome pottery dough bowl, c.1910-1915
Historic photo taken by Santa Fe artist Carlos Vierra of the
San Diego Church at Tesuque Pueblo during a dance, c. 1920
Photo source and © University of New Mexico Special Collections
There is a certain degree of design similarity here in this bowl to certain early 20th Century painted pottery pieces from neighboring San Ildefonso Pueblo which brings up some interesting possibilities such as the very likely chance that this particular potter might have been a San Ildefonso Pueblo woman who moved to Tesuque Pueblo to marry a Tesuque man and from then on made pottery there using characteristic Tesuque materials and methods. This has happened many times in 20th Century Pueblo pottery history with many important potters such as Martina Vigil, Monica Silva, Helen Shupla, Virginia Garcia and perhaps most notably, Nellie Nampeyo and her niece, Daisy Hooee Nampeyo, moving away to various other Pueblos from their own native Pueblos and pottery styles and then subsequently making pottery in the different style and with the different materials and methods of their newly-adopted Pueblos.
This large and visually striking dough bowl is a fascinating and very folksy-looking historic piece with a very impressive size and presence and a marvelous aged patina. It's an awful lot of bowl for the buck, so to speak!
Price $2,850