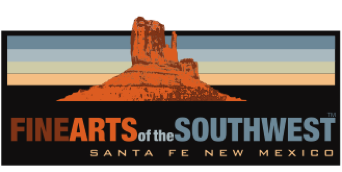 © 2010-2021 by Fine Arts of the Southwest, Inc. All rights reserved.
Unauthorized reproduction or use is strictly prohibited by law.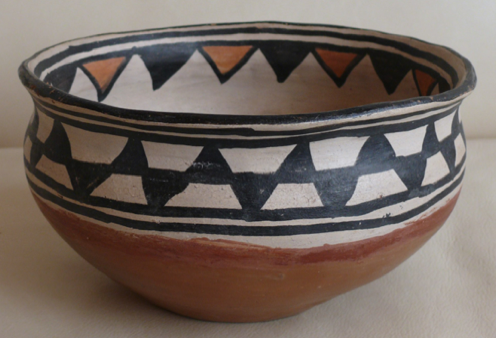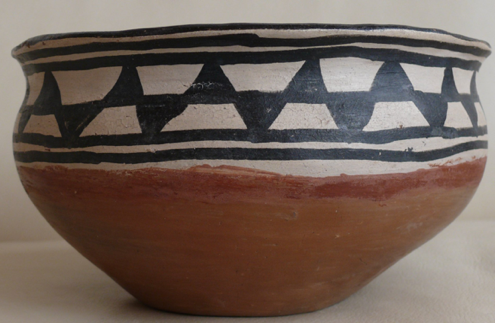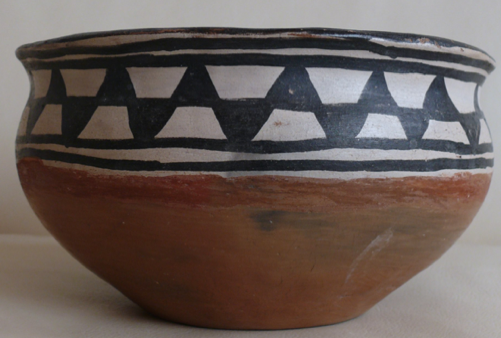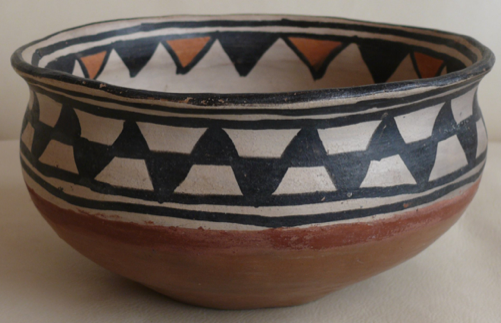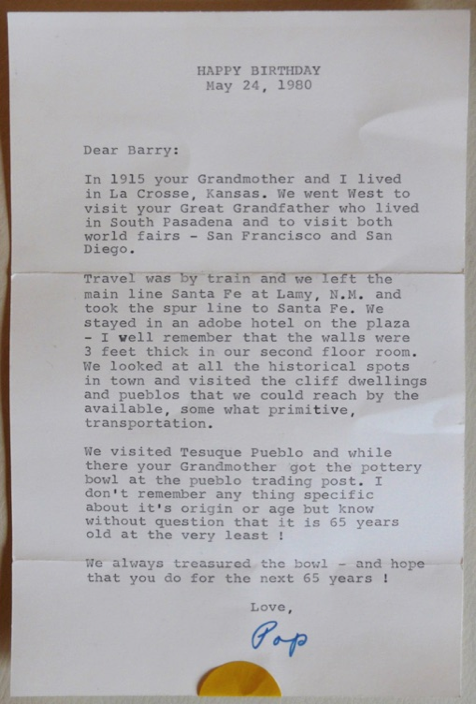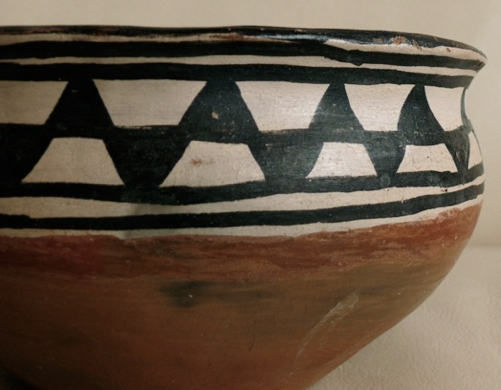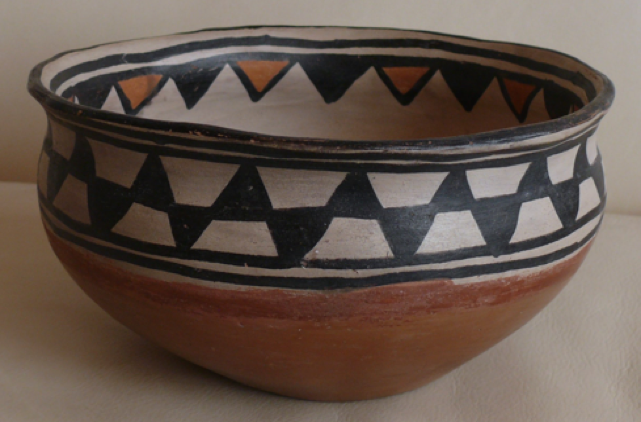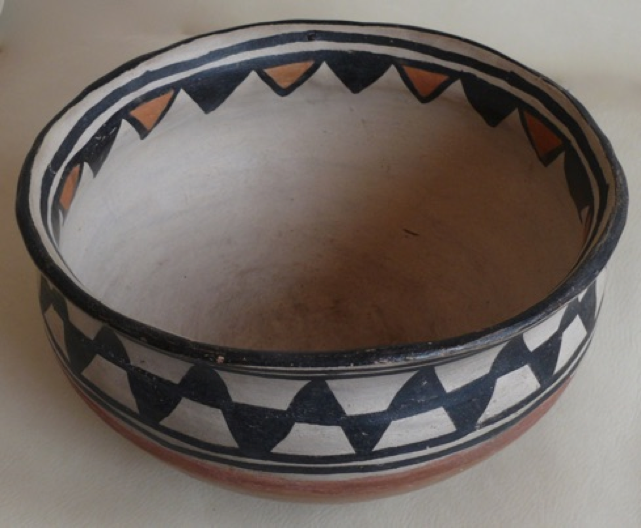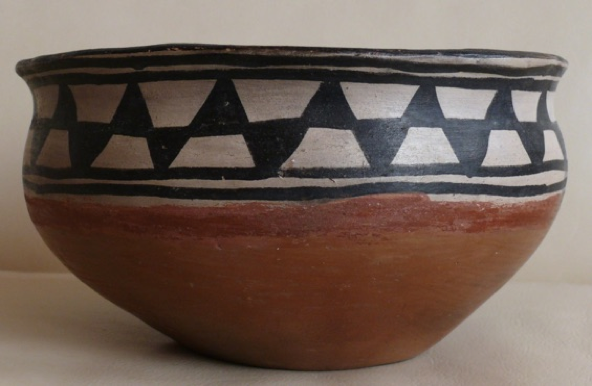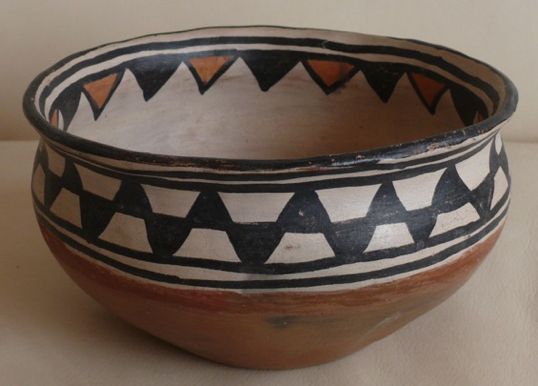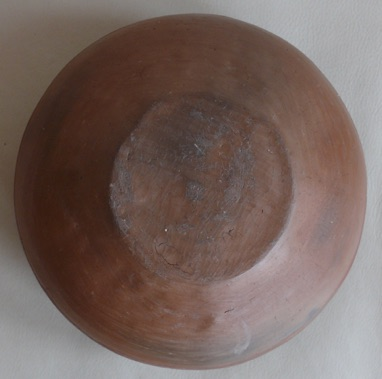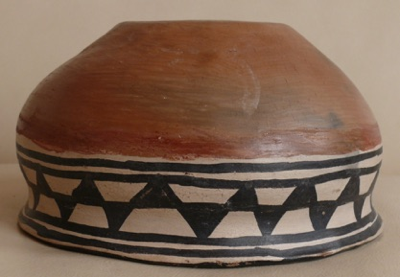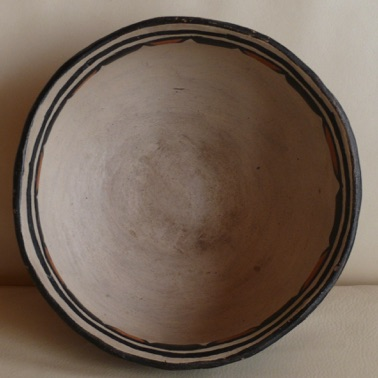 A marvelous historic Tesuque Pueblo
polychrome pottery small dough bowl, c.1915
This wonderful bowl is a true Pueblo time warp. It was originally purchased a century ago in 1915 in a trading post at the Tesuque Indian pueblo a few miles north of Santa Fe, New Mexico by a Kansas couple on a Southwestern pleasure excursion. They brought the bowl back with them to Kansas where they treasured it for the next 65 years until they bequeathed it to their Grandson in 1980. Recently, the Grandson sold the bowl to us and included the letter he originally received with the bowl from his Grandfather in 1980 recounting the fascinating story of acquiring the bowl which is nothing less than a wonderful capsule history of Southwestern tourism in the early years of the 20th Century.
And now on to the particulars of the bowl itself. Beautifully-formed with the classic Tewa high-keeled form and outwardly flaring rim and very beautifully painted, the bowl measures 8 1/4" in diameter and is 4 1/2" in height. It is essentially "as-new", basically in the same original condition in which it was purchased at Tesuque Pueblo back in 1915. The bowl features a striking interior design of alternating red and black triangles hanging downwards pendant style off the lower framing line. The exterior design field is a classic alternating triangle black-on-cream design which strongly resembles design motifs often used on pottery at the neighboring Santo Domingo Pueblo some 25 miles south of Santa Fe.
This brings up some interesting possibilities such as the very likely chance that this particular potter might have been a Santo Domingo woman who moved to Tesuque Pueblo to marry a Tesuque man and from then on made pottery there using characteristic Tesuque materials and methods. This has happened many times in 20th Century pueblo pottery history with many important potters such as Martina Vigil, Monica Silva, Helen Shupla, Virginia Garcia and perhaps most notably, Nellie Nampeyo and her daughter, Daisy Hooee Nampeyo, moving away to various other Pueblos from their own native Pueblos and pottery styles and then subsequently making pottery in the different style and with the different materials and methods of their newly-adopted Pueblos.
While the design of this bowl contains certain elements of both Santo Domingo and San Ildefonso Pueblo pottery, the truth of all Pueblo pottery's origin, as the pioneering ceramics analyst, Anna O. Shepard, proved, is always conclusively in the specific materials of the vessel's clay body and paint. Thus, we are confident that the origin of this bowl is from Tesuque Pueblo itself due to the characteristic use of thick black mineral paint (Santo Domingo pottery always uses vegetal black paint), bright white slip and the pinkish-tan clay in the underbody and the high-keeled tewa profile as opposed to the more rounded Keresan profile one would expect to see from Santo Domingo or the more brownish-tan colored clay body and somewhat less bright white, more light cream-colored slip one would expect to see from San Ildefonso.
Also, the slight waviness and thickness of the painted black lines and the dimpled concavities in the very highly stone-polished underbody is more characteristic of a Tesuque Pueblo origin. The bowl is very finely stone-polished and it is finished with a narrow, dark-red painted encircling band at the very bottom of the design field. Such "red-banding" is characteristic of pottery from various Rio Grande Pueblos in the first quarter of the 20th century. This bowl is a beautiful and early historic piece in exceptional original condition with a marvelous and unique history, something to be highly treasured for the next hundred years and beyond.
Price $2,950