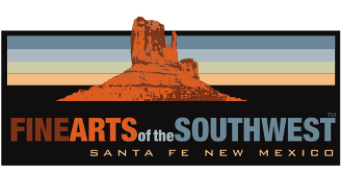 © 2010-2021 by Fine Arts of the Southwest, Inc. All rights reserved.
Unauthorized reproduction or use is strictly prohibited by law.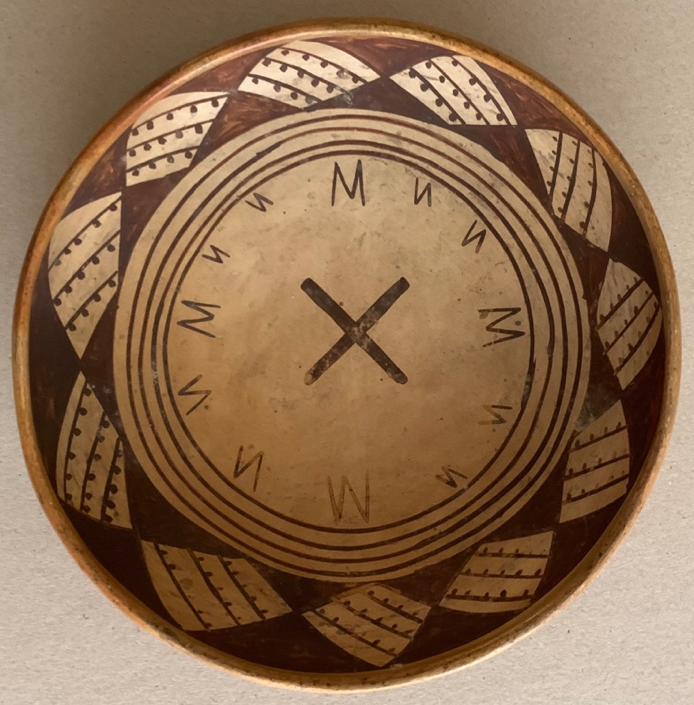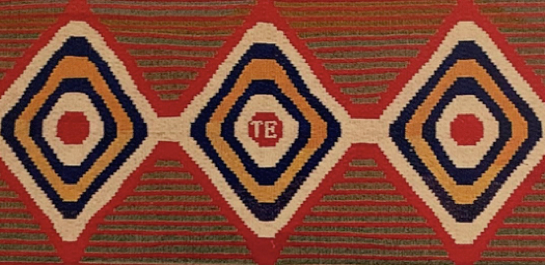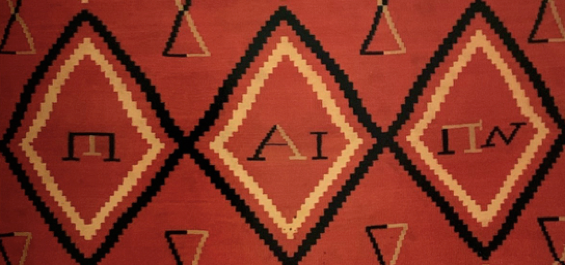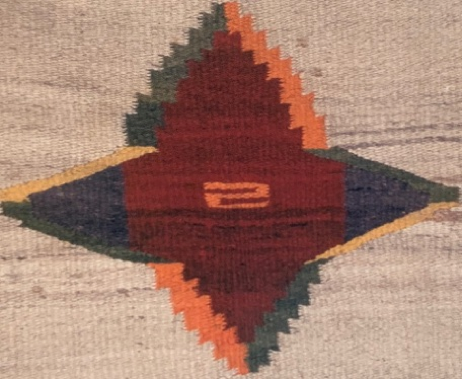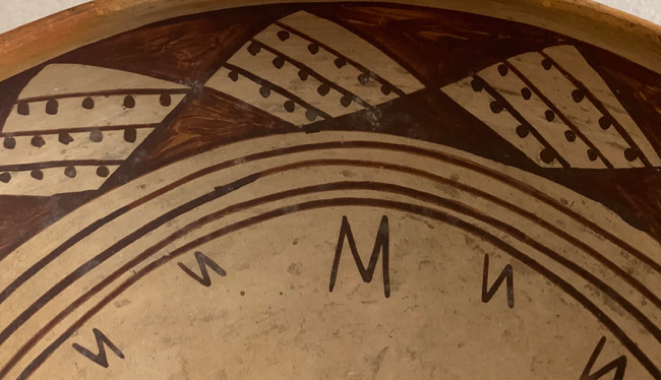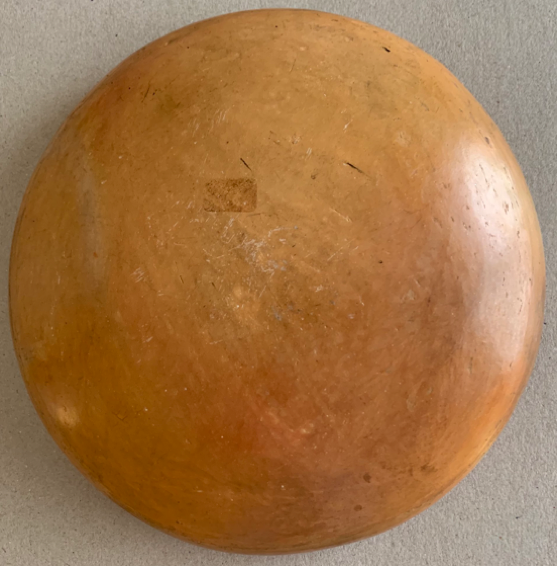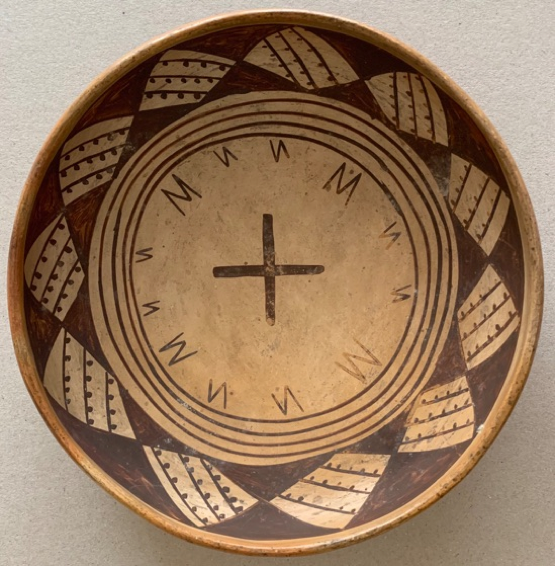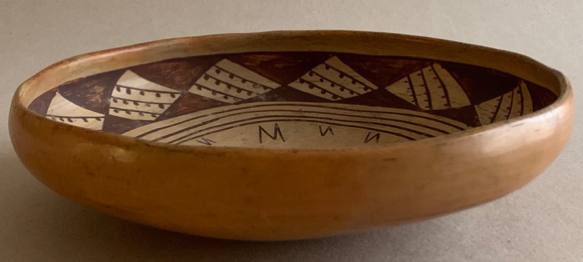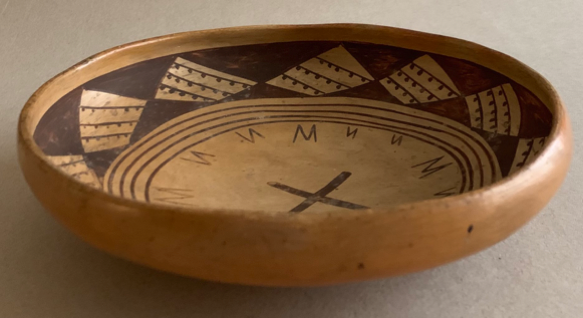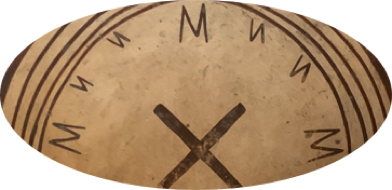 An unusual historic Hopi black-on-yellow
pottery bowl with "M" and "N" capital letter
pictorials, c. 1910-1920
We have had a lot of marvelous historic Hopi bowls over the years but we can say without a doubt that
we have never see one quite like this before. It's like Hopi pottery meets American Folk Art meets English language class. The only thing we can remotely compare it to are certain Navajo weavings of the late 19th and early 20th Centuries, in around the same general time frame as this bowl some of which also used various english letters as pictorial design elements. These letters are often inverted as well in the same fashion as the inverted capital "N" letters on this bowl. It might be a function of Native non-English speakers simply seeing the written english language on signs or elsewhere and being fascinated with the form of the letters and adapting these for their own artistic use. There is also the possibility that this bowl was a commissioned piece of sorts made for an Indian trader or for a trader's important client whose name had the initials "M" and "N". The way the characters are oriented would seem to rule out the initials of our home state, New Mexico. However it came to be, it's absolutely fascinating culturally and historically and very visually arresting and attractive.
In addition to the English letter designs, the bowl also has several very interesting Southwestern pottery "Revival" design elements—encircling negative parallelogram motifs almost like prehistoric textiles, series of concentric interior circles etc. —which are derived from and reminiscent of designs on ancient Gila/Tonto Basin, Kayenta and Mimbres pottery vessels all off which makes the piece a marvelous amalgam of the ancient and the more modern. As for the prominent "X" design in the bowl's center, it's another mystery of sorts. It could simply be the letter "X", it could be a four directions indication, it could be a variation of an ancient pottery based cross design or another design from Navajo weaving or it could be yet another design motif which we have repeatedly seen before prominently placed on the bottom of various historic Pueblo pieces from Pottery to stone fetish figures which is the distinctive X mark of the X shape of the Southwestern Roadrunner bird's foot and track.
"The tapestry technique and new range of aniline colors gave them
(Navajo weavers) the technology to reproduce whatever intrigued them—American flags,
cattle, trains, letters, even labels from flour sacks or coffee cans."
-Quotation source and © Kate Peck Kent, Navajo Weaving, 
Three Centuries of Change, SAR Press, Santa Fe, 1985, pp.79
Detail of Navajo pictorial blanket c.1885. Note the slanted capital letter "N" at right.
Photo source and © Nancy J. Blomberg. "Navajo Textiles, The William Randolph Hearst Collection"
University of Arizona Press, 1988, pp.203
Detail of Navajo "TE Serape', c 1870, likely made for an AZ government contractor, Thomas Ewing
Photo source and © Joe Ben Wheat "Blanket Weaving in the Southwest" University of Arizona Press, 2003 pp.290
Detail of Navajo Saddle Blanket with inverted letter "S" pictorial, c. 1895-1905
Photo source and © Kathleen Whitaker, "Southwest Textiles, Weavings of the
Navajo and Pueblo", Southwest Museum, 2002, pp.207
The bowl measures 8 1/4" in diameter and is 2" in height. The bowl has very finely formed thin walls, an excellent overall stone polish, soft and silky, a nice high-temperature coal firing and a good "ping" when tapped which is somewhat unusual for a historic Hopi bowl. It is in excellent plus original condition especially for its century plus of age with no significant chips or abrasions and no cracks. A thorough UV light examination reveals no evidence of any restoration or overpainting on the bowl. There is a tiny spot or two of an unknown residue on the interior and a small rectangular remnant residue of an old paper sticker, most likely from a Fred Harvey Company trading post on the bottom of the bowl.
Now to the important question of the bowl's maker? Simply put, we do not know. The bowl has certain elements which we associate with the work of Nampeyo of Hano's eldest daughter, Annie Healing Nampeyo (1884-1960) and Annie did go to an American school in nearby Keams Canyon as a young girl where she would have learned the English alphabet, but there is not enough to make an attribution to her with reasonable certainty. We consulted with scholar, author and former Museum curator, Dr. Edwin L. Wade who is today the preeminent world authority on historic Hopi pottery and he said that he didn't know either. He felt certain about the 1910-1920 time frame, but not about a specific maker so this will have to remain a mystery unless and until a documented similar example shows up which seems fairly unlikely. For the time being, we will just have to be satisfied with what we do know about this bowl, that it's an absolutely unique, beautiful and somewhat enigmatic cross-cultural historic piece.
Price $2,750