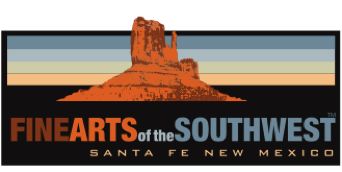 © 2010-2022 by Fine Arts of the Southwest, Inc. All rights reserved.
Unauthorized reproduction or use is strictly prohibited by law.

A lovely, historic Hopi pottery chalice or cup
by Annie Healing Nampeyo, c. 1910-1920
This beautiful ceramic vessel was made by Annie Nampeyo (1884-1968), eldest daughter of the renowned Hopi pottery matriarch, Nampeyo of Hano (1858-1942). Annie learned pottery-making from infancy at her Mother's side and was also likely helped by her Father, Lesou, who some scholars believe was an accomplished potter and pottery painter himself.
Annie began coming into her own as a potter at a very young age, in her pre-teen years. At first, she helped Nampeyo form and paint vessels and soon began making her own pottery as well. Completely grounded as she was in the family tradition her Mother began, Annie's pottery is often extremely similar to Nampeyo's in shapes and general design motifs, but, on her own personal vessels, her painting and designs are generally somewhat looser in form and line.
This fine small chalice or footed cup is a very good example. The form is rooted in the "Sikytaki-Revival" style of Hopi pottery popularized by Nampeyo, and is based on early Spanish-style chalices made originally by Hopi potters for priests at the Franciscan churches at Hopi in the late 17th Century such as the example shown here. The complex geometric design Annie painted on this chalice is very intricately rendered in black paint on a yellow ground and is cleverly divided into alternating triangular panels.
An early, historic Hopi "San Bernardo polychrome" type pottery Communion chalice, Hopi, c. 1680-1700. Height 3 1/2", diameter 4". Private Collection.
Annie Healing Nampeyo with some of her own and Nampeyo's pottery, c. 1905
Photo © by Adam Clark Vroman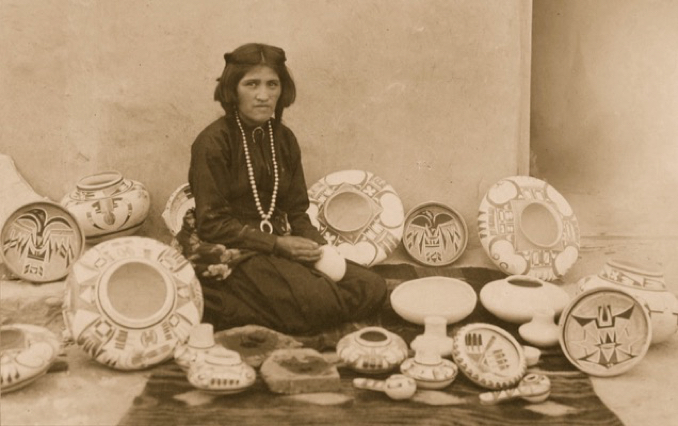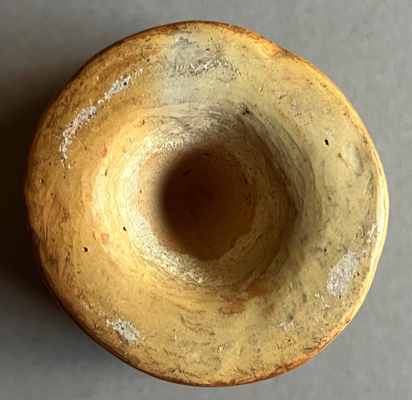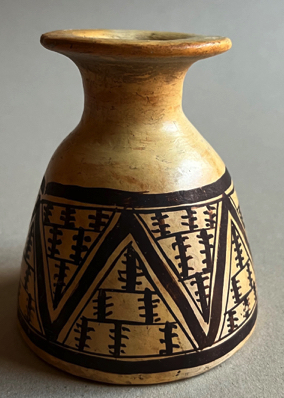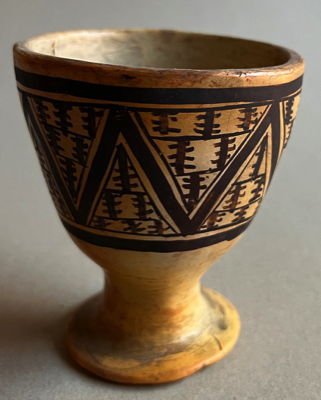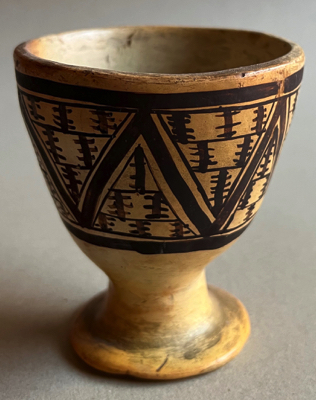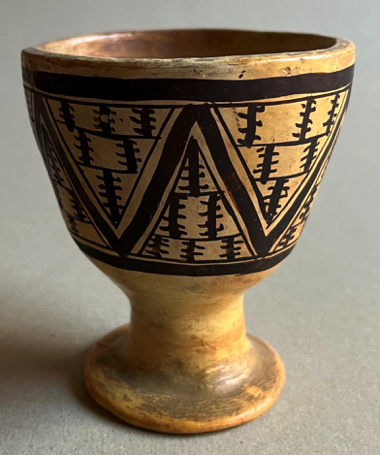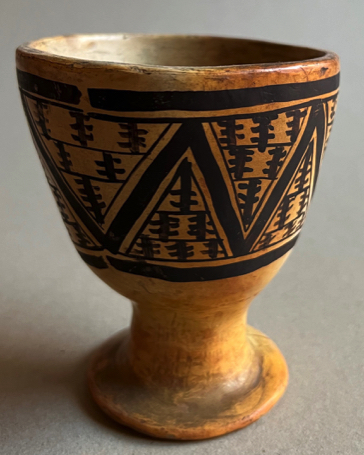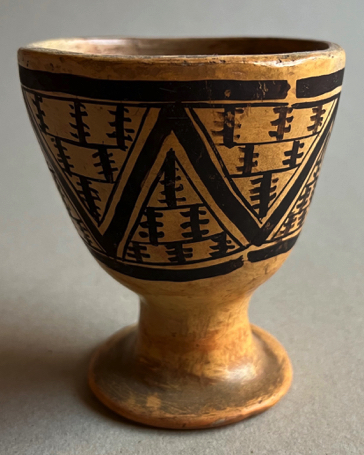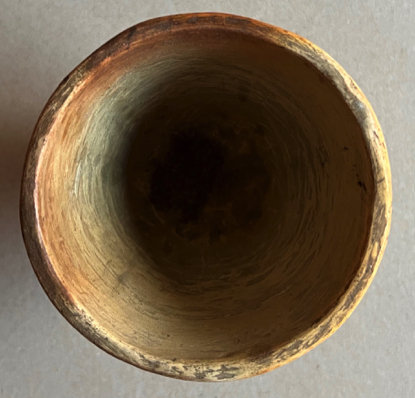 The vessel is beautifully formed, finely-polished and extremely well-fired, all strong indications of Annie's accomplished work. Like Nampeyo, Annie did not customarily sign her pottery, particularly in the early years before
the 1930's when Hopi and other Pueblo potters first began signing their work. In the course of doing our scholarly due diligence, we showed this chalice to the distinguished historic Hopi pottery scholar and author, Edwin L Wade, Ph.D., for his opinion on its maker. Dr. Wade also attributed the piece as being the work of Annie Healing Nampeyo.
The chalice measures 4 3/4" in height and it is 3 1/2" in diameter at the widest point. It is in excellent original condition, particularly considering its century or so of age, with no restoration or overpainting in evidence under
UV light examination. This chalice is a very beautiful and interesting historic piece by one of the most significant and accommplished of all known historic Pueblo potters.
Price $1,100