© 2010-2021 by Fine Arts of the Southwest, Inc. All rights reserved.
Unauthorized reproduction or use is strictly prohibited by law.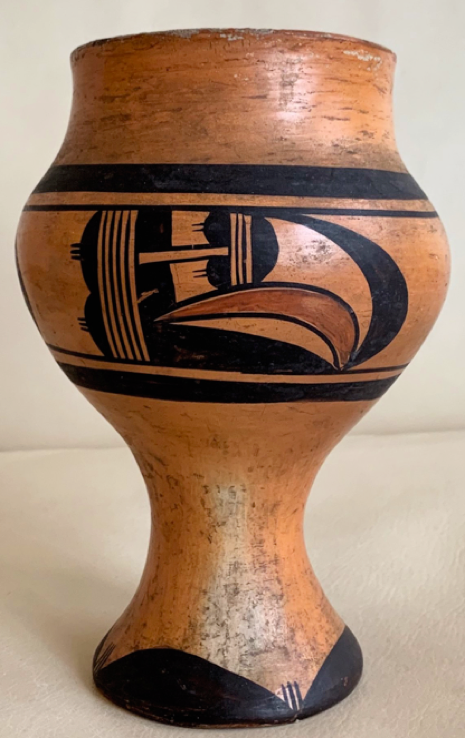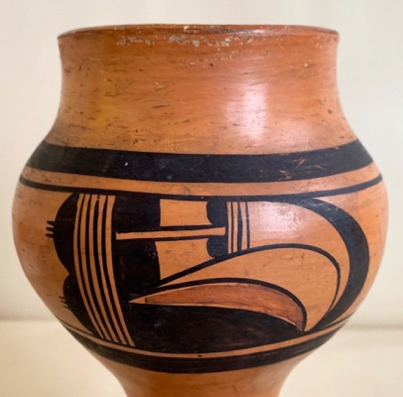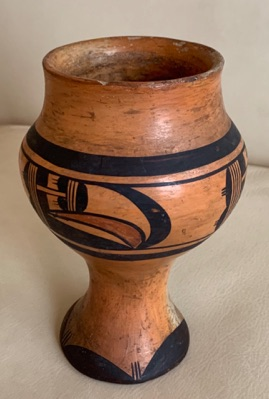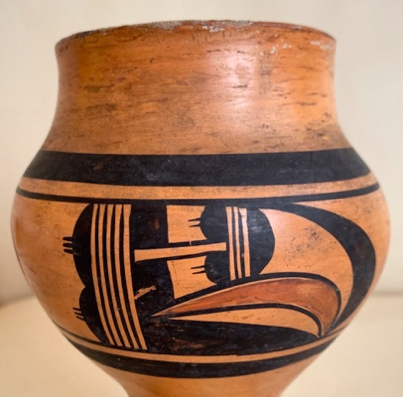 A Hopi polychrome pottery chalice by Nampeyo
and Fannie Nampeyo, c.1918-1925
NAMPEYO OF HANO WAS A CONSUMMATE POTTERY-MAKER; she could make anything and she excelled at making all types of pottery, from the traditional, functional Hopi forms she grew up making such as jars, bowls and canteens to the later, non-traditional, more decorative forms of the Twentieth Century tourist era such as chalices, vases, plates, tiles and picture frames. A unique part of her prodigious talent was to take a non-traditional Hopi form such as a chalice and turn it into a distinctive creation of her own which is precisely what she did with this lovely piece.
The vessel is most beautifully painted around the upper shoulder and base with characteristic Nampeyo family polychrome designs, including a variation of her signature "Kilroy" or clown face motif held within double unbroken framing lines. The square design around the vessel's base is most interesting echoing the square designs around the round necks found on many of Nampeyo's jars such as the large one pictured below.
"The sculptural expertise of Nampeyo in the forming of her exquisite jars and bowls is now well established.
Yet less known and little studied are her figurative forms, pottery heads, animals, European-influenced clay baskets, teapots, pitchers, cups, candlesticks and chalices. Though today such objects are referred to as "curios"--suggesting that their importance and the talent and their work expended upon them may be less than that associated with artworks--in the hands of Nampeyo such works expressed her full artistic vigor. This chalice is an example. It is a beautifully-shaped vessel, delicately polished and robustly painted. Its composition and painting sports the inflated motifs and dense pigment associated with the hand of Nampeyo's youngest daughter, Fannie, which dates the piece to a period from the late teens to early 1920's."
-Historic Hopi pottery scholar, Edwin L. Wade, Ph.D.
The chalice measures 6 1/2" in height and it is 4 1/4" in maximum diameter. It is in excellent original condition especially for its century or so of age with no cracks no significant chips and no restoration or overpainting. There is some slight abrasion wear around the interior rim and one very small chip. There is also some asymmetry to the shape of the chalice when viewed from its different sides, but this is as it should be with a completely handmade ceramic and it only adds to the charm of the piece. The chalice's excellent original condition would seem to indicate that it was very likely collected new either purchased directly from Nampeyo at Hopi or from one of the area trading posts which sold her work at the time such as Thomas Varker Keam, Thomas Polacca, J.L. Hubbell or The Fred Harvey Company.
Nampeyo was a virtual pottery celebrity during this time period and a steady stream of distinguished visitors from across the country and around the world made their way to her tiny stone house on top of her remote mesa in hopes of personally buying a piece of her pottery. Quite clearly, after this prize vessel had been collected, it was cherished, admired and well cared for over the succeeding decades.
This vessel is a beautiful interpretation of a European form by indigenous non-European Native artists who imbued it with all the beauty and vitality of their own extraordinary age-old Hopi pottery traditions while also, simultaneously giving it a lovely, modern artistic presentation uniquely their own.
Price $1,850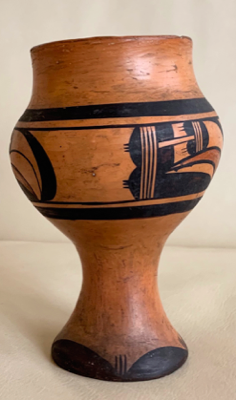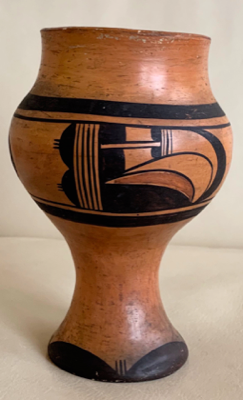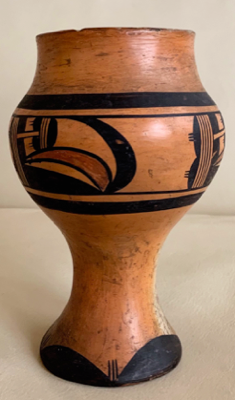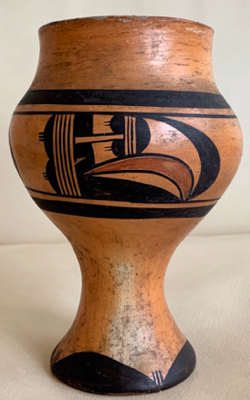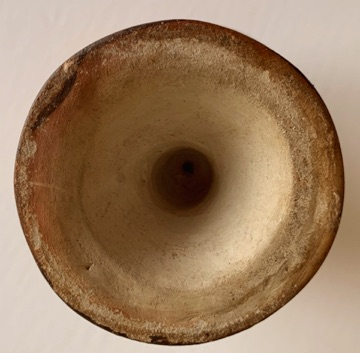 A large Nampeyo pottery jar painted with a square neck design similar to that on the round base of the chalice above. 16" in diameter. We sold this jar to the Art Institute of Chicago in 2003 and it is on display as part of their permanent collection.
Photo source and © Fine Arts of the Southwest, Inc., Santa Fe, NM. Photo by Addison Doty.