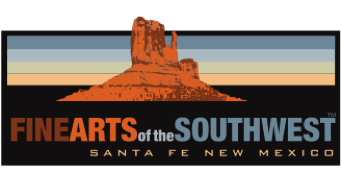 © 2010-2022 by Fine Arts of the Southwest, Inc. All rights reserved.
Unauthorized reproduction or use is strictly prohibited by law.

A beautiful "Sikyatki-Revival" style Hopi polychrome pottery bird effigy pitcher by Nampeyo, c.1900-1910
Here we see the great Hopi pottery Matriarch, Nampeyo (1858-1942) take a relatively common pottery form and give it extraordinary energy and life. Bird images painted on pottery and bird effigy pottery pieces themselves, both stylized and realistic, were common in the extraordinary ancient Hopi ceramics of the Sikyatki Period (1375-1625 A.D.). Bird effigy pottery pieces were made in the form of low bowls and pitcher-like forms as seen below.
Nampeyo came of age as a potter in the late 1870's and early 1880's when the so-called "Sikyatki-Revival" of the ancient Hopi pottery forms and designs had begun to take hold among contemporary Hopi potters and by virtue of her remarkable talent and ability Nampeyo quickly emerged as an influential and energetic leader of this movement.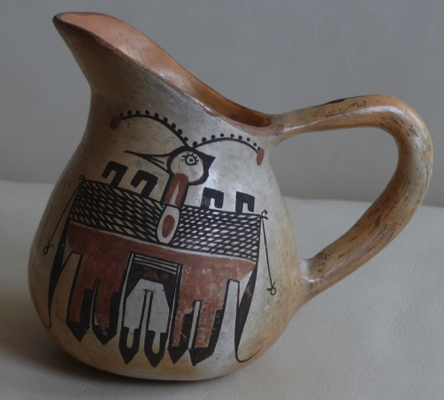 Above left, bird design on a Sikyatki Polychrome pottery bowl. At lower left, Sikyatki Polychrome bird effigy bowl. Above right, Archeologist Jesse Walter Fewkes, 1926.
Above left photo source and © "Pottery Treasures", Graphic Arts Center Publishing, 1976, pp. 8. Below left photo source and © "Canvas of Clay", El Otro Lado, 2012, pp.75. Above right photo source and © Alamy Stock Photo
"Nampeyo makes her designs after some she has seen on ancient ware."
-Hopi Ethnologist Alexander M. Stephen, 1893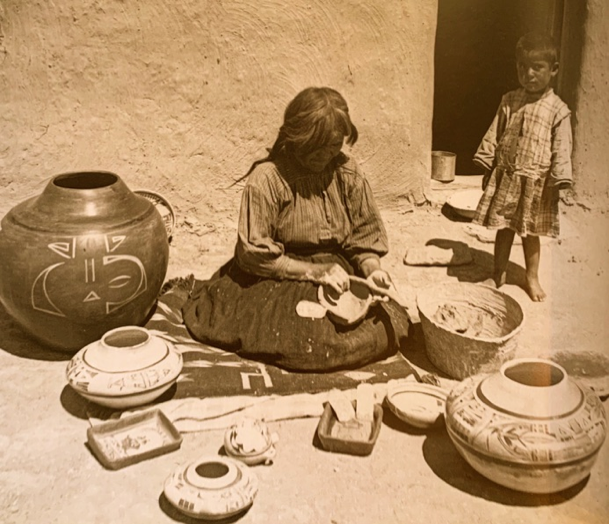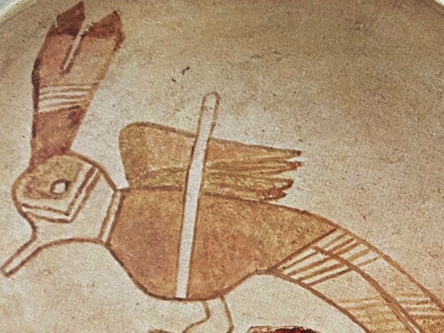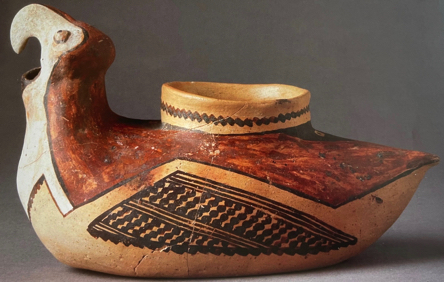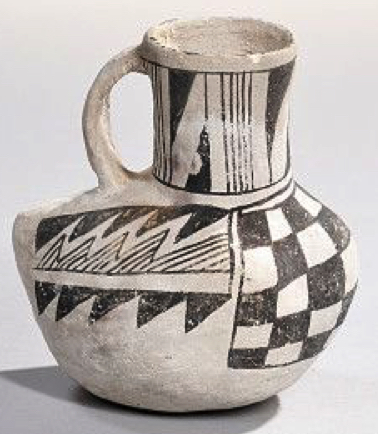 Commercial success was also in the wind for "Sikyatki-Revival" pottery. The Hopi potters were encouraged and often commissioned by Hopi Indian traders, Thomas Varker Keam, Alexander Stephen, J.L.Hubbell and Nampeyo's older brother Thomas Polacacca to make pieces in the ancient styles and forms and this sort of piece is precisely what we have here, Nampeyo's modern-day version and presentation and interpretation of an ancient form eminently suitable for decorative home use and also for modern utilitarian use as a beautifully decorated fully functional home implement. If you wanted to serve your lemonade in a Nampeyo pottery pitcher, you could.
Nampeyo has beautifully formed this stylized bird shape and literally covered it with a veritable multitude of ancient-inspired stylized painted bird and feather designs. And what extraordinary and inspired painting she did here, finely rendered linear painted forms as well as beautifully detailed fine stipple work rendered in her characteristic streaky red pigment and also in rich black. It's a tour de force of design and decoration. Other distinctive Nampeyo touches present here are the double unbroken black framing lines at the top and bottom of the design field, the very fine long stroke stone polishing on the vessel and the high-temperature coal firing.
The pitcher measures 7" in height. It is 5" in width at the widest point and 3" in depth. It is very fine original condition with no significant chips, no cracks and no restoration or overpainting in evidence under UV light examination. There is some degree of surface abrasion to the painted designs visible in several areas.
This pitcher is a stunning modern artistic presentation of an ancient Hopi form and ancient Hopi motifs given new life
by the singular vision and unique ability of an exceptional Modern-day Hopi artist.
Price $3,450
"When I first began to paint, I used to go to the ancient village and pick up
pieces of pottery and copy the designs. That is how I learned to paint. But now,
I just close my eyes and see designs and I paint them."
-Nampeyo
The ancient pottery was all around to see at Hopi. The ground around the ancient ruined Hopi village sites of Sikyatki on First Mesa and of Awatovi, Kawaika-A, Kokopynama and others on Antelope Mesa was literally carpeted in potsherds and potters became increasingly inspired by both the quality and beauty of the designs and images and by the extraordinarily high technical standard of the ancient's pottery making. Modern Hopi potters re-discovered the ancient clay sources on Antelope Mesa and elsewhere and taught themselves the painstakingly difficult ancient method of high-temperature coal firing using the abundant Lignite coal seams in Antelope Mesa as fuel. Adding to this was the increasing frequency during this period of various major archaeological expeditions to the Hopi mesas in 1879, 1881, 1892 and 1895, several of which were lead by the Smithsonian's Jesse Walter Fewkes, which revealed literally thousands of pieces of the ancient pottery, including a great many intact or near intact examples.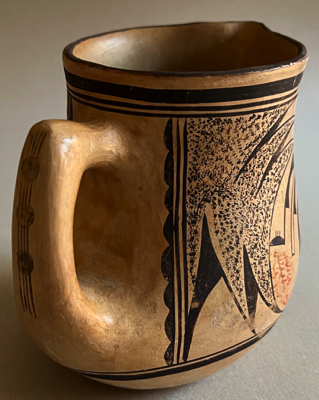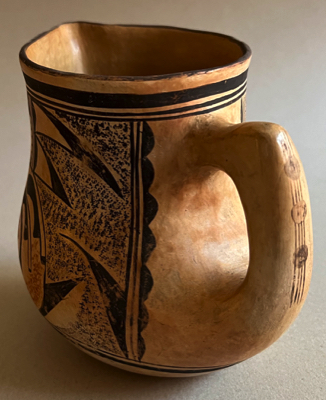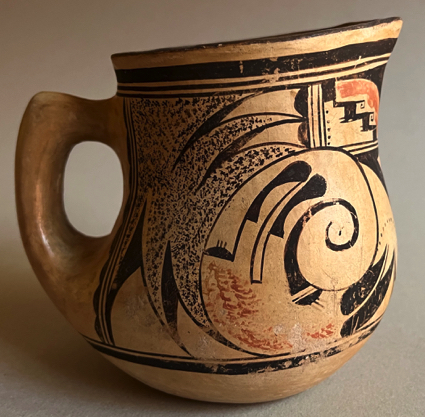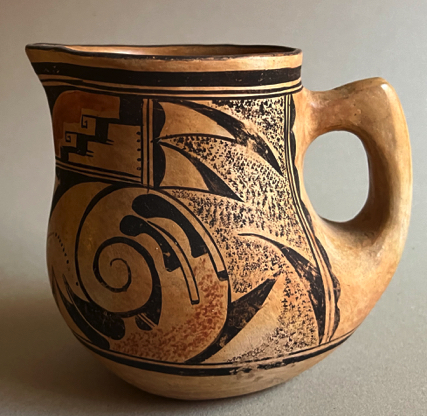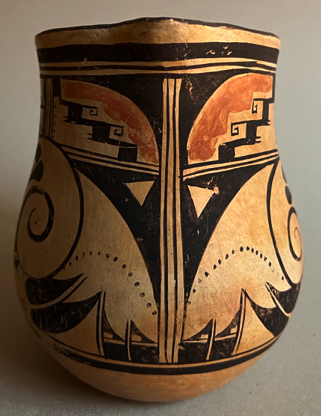 Above center, another Sikyatki Revival-style Nampeyo pottery pitcher with bird imagery and stylized shape, c. 1900. Below center, Anasazi black-on-white bird effigy pottery pitcher, c. 1000-1150 A.D. (Same basic idea 1000 years earlier!)
Below photo source and © Pinterest
"Mrs. Nampeyo, an acknowledged best Hopi indian woman Pottery maker 1st Mesa Hopiland, Ariz. Sichomovi."
-R. Raffius photo, 1905
Photo source and © Keystone-Mast Collection, UCR/California Museum of Photography, University of California, Riverside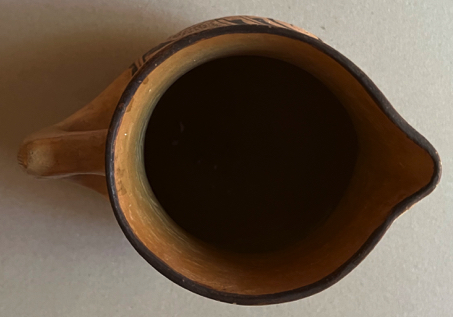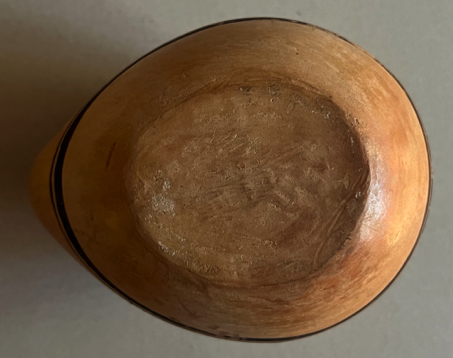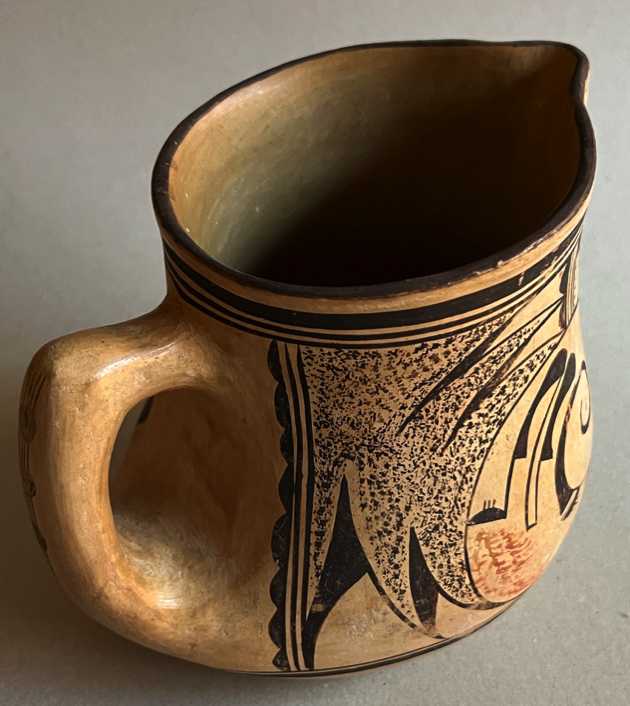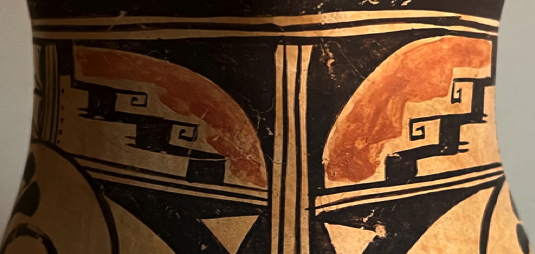 At left, illustration source and © "Prehistoric Hopi Pottery Designs", Jesse Walter Fewkes, Bureau of American Ethnology, 1898 reprinted by Dover Publications, 1973, pp. 132