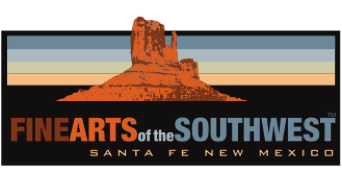 © 2010-2021 by Fine Arts of the Southwest, Inc. All rights reserved.
Unauthorized reproduction or use is strictly prohibited by law.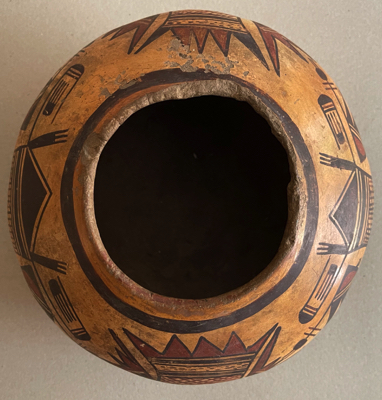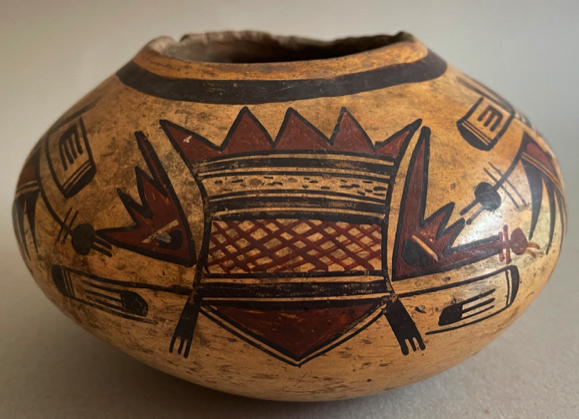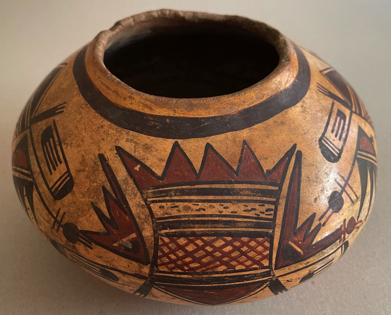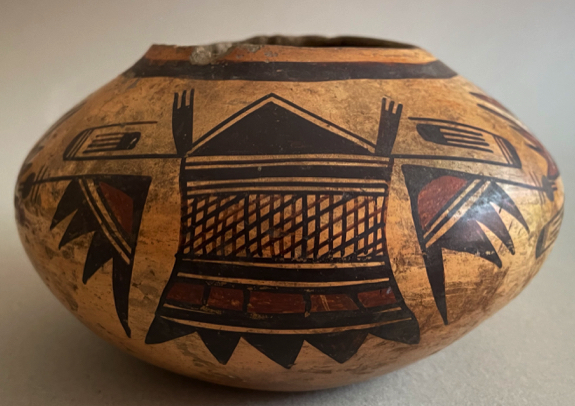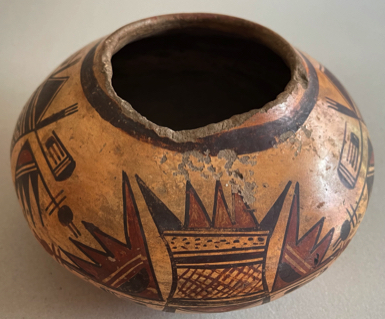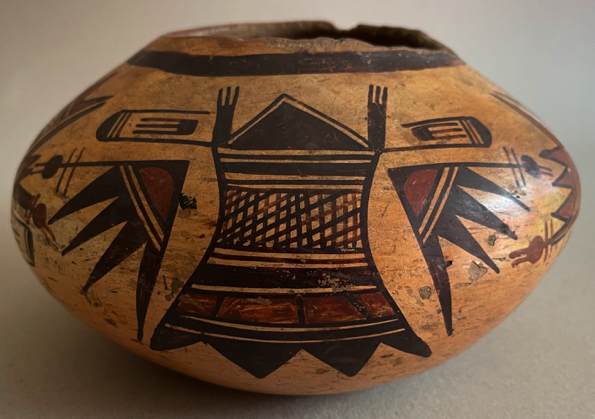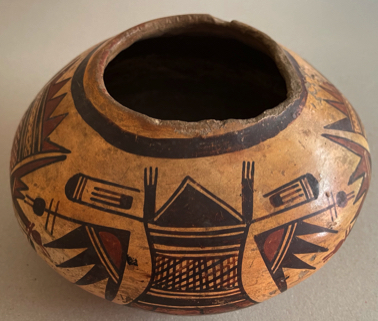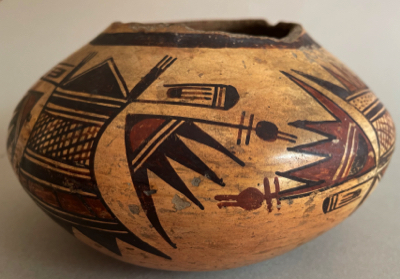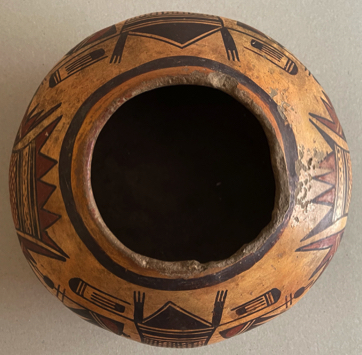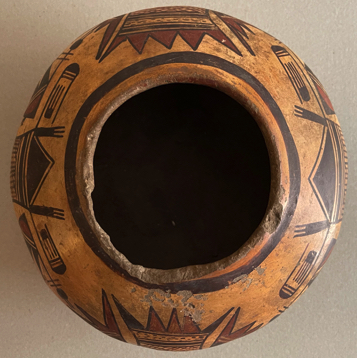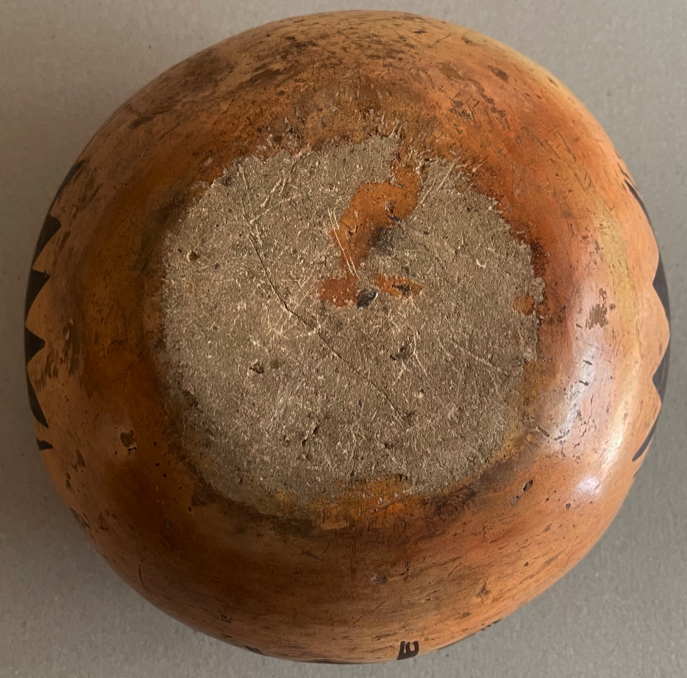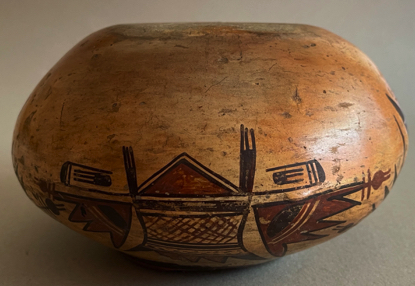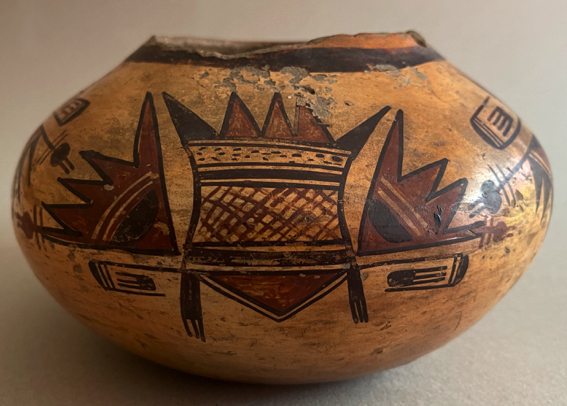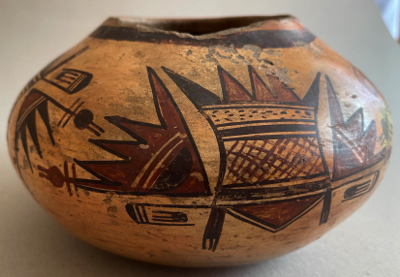 A Hopi "Sikyatki-Revival" style pottery jar with elaborate "Thunderer" designs by Nampeyo, c.1895
This wonderful small jar is a pure example of Nampeyo's "Sikyatki-Revival" style pottery of the late 19th and early 20th centuries. The designs are based on the elaborate and unique 14th-17th Century designs on Hopi Sikyatki-Period pottery jars and bowls, but Nampeyo always gives her presentation of the ancient designs her own uniquely Modernist twist and modification.
On this jar, the designs appear to be elaborately abstracted versions of the Hopi Sikyatki-Period (1375-1625 A.D.) supernatural being, "Um-tok-ina", or the "Thunderer", a fanciful and fearsome abstracted toothed bird-like creature as seen here embellished with a variety of stylized feather, prayer plume and geometric designs. In a characteristic Nampeyo presentation fashion there are four primary design motifs in all on the jar, two matched pairs each horizontally opposed. They are all essentially the same design, but one pair have been turned upside down which gives the designs a wonderful symmetry and distinct energy.
Three depictions of "The Thunderer" between 1740-1900. At right, a fierce and literal depiction on a large Hopi Nampeyo low-profile jar, c. 1900. At center, a highly abstracted stylized version on a historic Hopi San Bernardo/Payupki Polychrome jar, c. 1740.
There are slight variations in each of the four matched designs which is another distinctive Nampeyo characteristic; she simply couldn't resist using these sorts of melodic riffs in the execution of her painted designs. It's like a virtuoso jazz saxophonist playing the melody just a bit differently each time just because
they like to; it's the beauty of free artistic improvisation and expression.
The solid unbroken encircling black painted framing band around the jar's mouth is another Nampeyo telltale technique and it borders and accentuates the four painted designs perfectly. There is a very interesting pattern of abrasion wear inside the jar's mouth which is consistent with abrasion wear from consistent use of a pottery ladle. This jar was repeatedly used over the years for some purpose to hold something, whether it was food, or liquid or some other substance. There also appears to be a small amount of organic deposits on the jar's interior.
The jar measures 7 3/4" in diameter and is 4" in height. It is in generally very good original condition with the aforementioned ladle wear around the mouth. There is also some slight surface spalling to an area of the upper shoulder and some general mild staining around the jar. A thorough examination of the jar under ultraviolet light reveals no evidence at all of restoration or overpainting.
The jar is at once a stunning artistic and an exceptional ethnographic object, the proud product of the skilled hands and brilliantly inventive mind of one of the greatest Native American pottery artists in history.
Price $5,700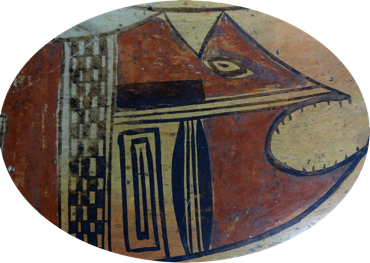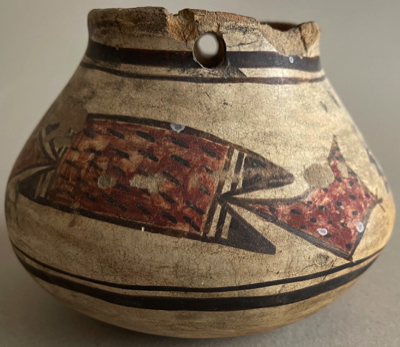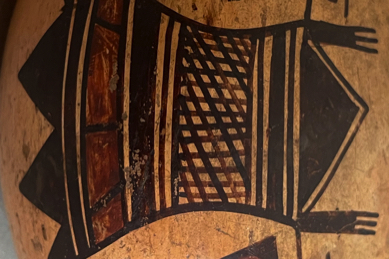 View of Walpi Village on the Hopi First Mesa, 1911
Photo source and © Leo Crane Collection, Cline Library, Northern Arizona University