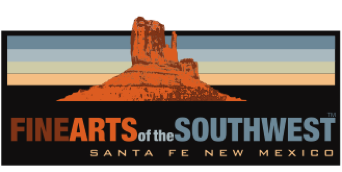 © 2010-2021 by Fine Arts of the Southwest, Inc. All rights reserved.
Unauthorized reproduction or use is strictly prohibited by law.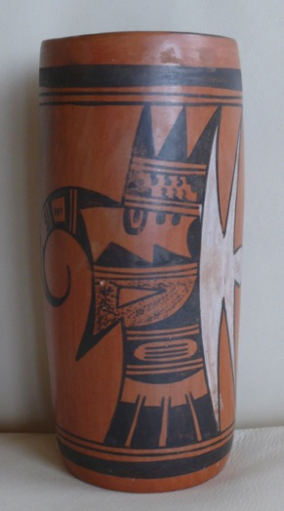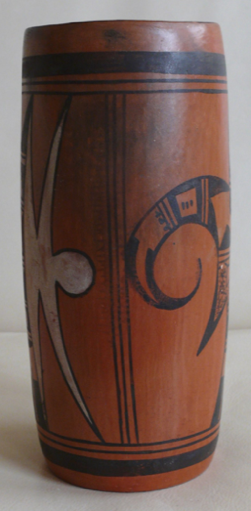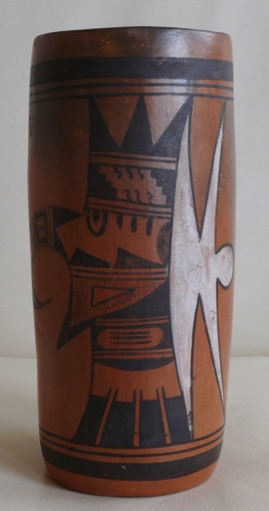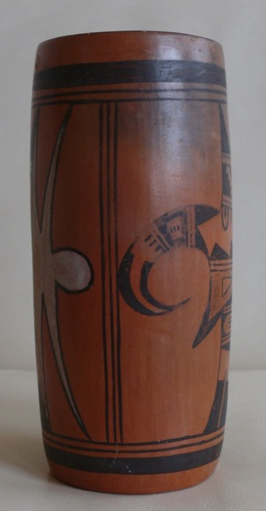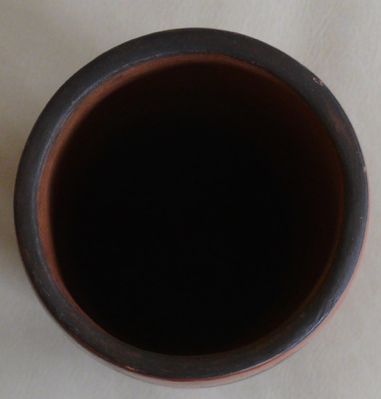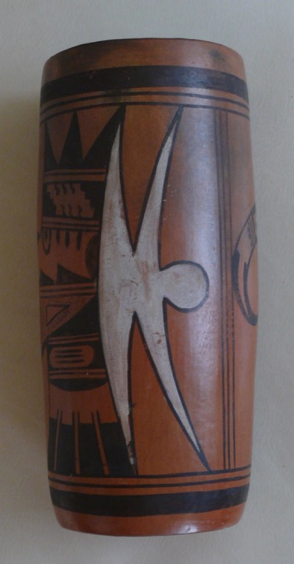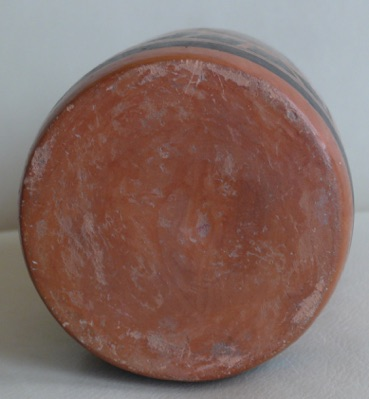 A Hopi red polychrome pottery cylinder jar with
stylized bird designs attributed to Paqua Naha (Frogwoman) or Garnet Pavatea, c. late 1930's
THIS VESSEL is a very fine example of an early Hopi cylinder jar made in the unique and rare "red polychrome" style originally developed by the renowned Hopi pottery matriarch, Nampeyo of Hano around 1890-1900 and derived from prehistoric Hopi pottery types such as Bidahochi Polychrome (1325-1400 a.d.) and Homolovi Polychrome (1300-1400 a.d.) which are found in various ancient ruins around the Hopi mesas and which employed decorative designs containing white painted outlining against darker clay colors. In the first two decades of the 20th century, Nampeyo and her eldest daughter, Annie were the primary Hopi potters working in this style. Starting in the 1930's and 1940's, other Hopi potters such as Paqua Naha, Garnet Pavatea and Zella Cheeda also began making some red polychrome vessels. These red polychrome vessels are distinguished by the application of areas of kaolin white mineral paint, which in addition to the red-slipped surface and black paint forms the third color which makes the vessel technically a "polychrome".
Although this particular piece is unsigned by its maker as is typical of this earlier time period, we are attributing this jar to either Paqua Naha, who is also known as "Original Frogwoman", or to Garnet Pavatea based on the jar's shape and its formalized design composition and bold forceful execution which utilizes heavy black lines and large broad curvilinear graphic motifs. We feel that this cylinder resembles a number of Paqua Naha's bowl designs of this period, but our attribution is pretty much 50% Paqua, 50% Garnet Pavatea. You can't go wrong with either potter, as far as we are concerned, since both had outstanding artistic and technical ability and their work is highly desired. Garnet, in particular, was known for her enthusiasm for and the extremely high quality of her red pottery, both her red polychromes and her plain and incised redware pieces.
The stylized avian or bird designs on this jar are beautifully and very strikingly presented here with precisely-executed black painting and the bold and swoopy application of the kaolin white paint is particularly distinctive especially in its stark, vivid brightness juxtaposed against the darker red and black colors. The design is extremely vigorous and conveys a powerful sense of "motion". The jar measures a nice-sized 9 1/4" in height and is 4" in diameter. It is in excellent original condition, particularly for its 70-80 years, with no discernible restoration or overpainting, only a couple of completely age-appropriate dings and scuffs here and there and a small chip to the rim.
All in all, this jar is a beautiful and visually striking sculptural object; a historic ceramic piece which well
communicates its age and time and unique place of origin and additionally conveys a bold and shockingly modern elegance— a "modernism" that several of the finest 20th century Hopi potters were able to achieve—a compelling
level of sophistication which makes it extremely satisfying on a number of different levels.

Price $1,675