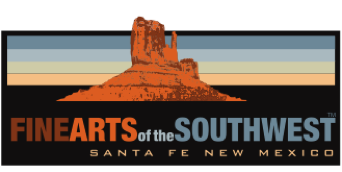 © 2010-2021 by Fine Arts of the Southwest, Inc. All rights reserved.
Unauthorized reproduction or use is strictly prohibited by law.

A Hopi Second Mesa-style coiled
pictorial basket, circa 1950's
The wonderful basket is typical of the Hopi Second Mesa coiled basketry style and features two large, horizontally-opposed pictorial depictions of the sacred Hopi kachina, "Crow Mother", whose appearance is a focal point of the great Bean Dance held each year in mid-to-late February. At the opposite quarters of the basket are two horizontally-opposed smaller, whimsical depictions of mudhead clowns or "Koyemsi".
The faces are each accentuated by the addition of imbricated basketry stitches which are commonly added to such baskets as final, finishing details after the basket has been woven. The basket measures 9" in diameter and 4 1/4" in height. It is in excellent original condition.
Price $525