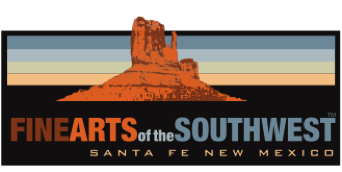 © 2010-2023 by Fine Arts of the Southwest, Inc. All rights reserved.
Unauthorized reproduction or use is strictly prohibited by law.
An exceptional and rare signed Hopi "Sikyatki-Revival" style black-on-cream pottery jar
by Nampeyo and Fannie Nampeyo, c. 1920-25
This jar is the rare and unique product of an unusual time and confluence of events. The renowned Hopi pottery Matriarch, Nampeyo of Hano (1858-1942), periodically suffered from a rare eye disease called trachoma which caused her to have recurring episodes of diminished sight and blindness. In the early to mid-1920's, she suffered an extended bout of trachoma and her youngest daughter, the soon to be world-renowned potter in her own right, Fannie Polacca Nampeyo (1900-1986), became her Mother's close pottery-making colleague and collaborator. Nampeyo would form, shape, sand, stone polish and later fire the vessel and Fannie would apply the painted design in close collaboration
and consultation with her Mother. Fannie would subsequently sign these particular pieces of her Mother's and her pottery "Nampeyo/Fannie" in all capital letters with Nampeyo's name on top as seen here. This is one of the extremely rare instances of Nampeyo's pottery actually being signed, as Nampeyo herself could neither read nor write in English and never signed her pottery pieces.
At left, Nampeyo and Fannie Nampeyo making pottery, c. 1925. Note the similarities in the size and shapes of the jars in the right side of the photo and in the quality and appearance of the bold painting. At right, Nampeyo completing the formation of a large pottery jar, 1935. This is precisely the stage at which she would hand the vessel over to Fannie for painting after which Nampeyo would fire it.
Left photo source and © Frasher's Fotos. Right photo source and © Tad Nichols, Tad Nichols Collection, 1935
Nampeyo "Eagletail" low-profile polychrome jar, c. 1900 sold to The Art Institute of Chicago in 2002 by Fine Arts of the Southwest.
The top of the design field is bordered by a characteristic Nampeyo unbroken wide framing line encircled by three narrower ones. On this jar all the designs are most richly, boldly and precisely rendered and as an additional and
very attractive design element there are lovely white-ish-yellow-ish-orange-ish firing clouds or "blushes" visible in areas of the vessel's surface from its high-temperature firing in ultra-hot burning Lignite coal. These blushes beautifully intermingle with the painted elements becoming in effect an additional layer of design themselves.
The overall effect here is absolutely wonderful, at once harmonious, timeless and classic. It's one of the finest,
most vivid and striking Nampeyo jars we have everhad the pleasure of having. And despite its medium size, it conveys
a certain monumentality.
The jar measures a very nicely-sized 7" in diameter and is 5" in height. It is in remarkably excellent original condition particularly for its century or so of age with a number of small nicks and abrasions around the shoulder and one small chip to the rim. There is also a very slight amount of "lean" when the jar is viewed from certain angles, but this is a completely normal and natural occurence for a handmade Pueblo pottery vessel. The use of a round acrylic or other type of display base or stand would be a simple and easy way to even things out completely, if desired. In our view, this wonderful condition indicates to us that the jar was very likely collected early and directly either from Nampeyo herself or from an early trading company which got it from Nampeyo such as Thomas Varker Keam, J.L. Hubbell or
the Fred Harvey Company through one of their famous Southwestern trading posts such as the Hopi House at The Grand Canyon, The La Posada Hotel Winslow, AZ, the La Fonda hotel in Santa Fe, NM or their famous Indian Building
at Albuquerque's Hotel Alvarado.
In any case, the jar has clearly been carefully safeguarded in its remarkable condition for the entire past century which is truly amazing, like a time warp right back to the 1920's! A thorough examination of the vessel under Ultra-violet light reveals no evidence of any restoration or overpainting. The jar is properly signed "NAMPEYO FANNIE" in all capital letters in Fannie Nampeyo's hand on the bottom as shown below.
This superlative jar is an extraordinary synthesis of Mother and daughter's abilities, a Nampeyo and Fannie Nampeyo joint masterpiece; a true artistic and historic treasure worthy of any museum or top-tier private collection anywhere.
Price $7,950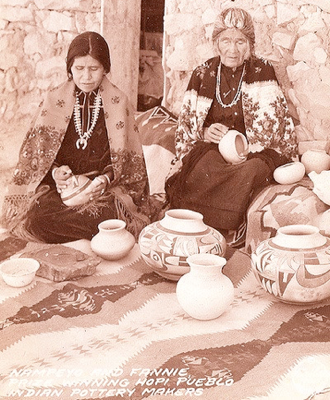 On to the particulars of this amazing jar; the upright globular shape with slightly out-flaring rim is simply sublime
and voluptuous; just beautifully balanced, like a delicious bubble. The vessel walls are relatively thin
and the all-over stone polishing is almost otherworldly in its quality and beauty, it seems as if the jar literally
glows from within. The painted design is done in black paint only against a cream background, a two-color variation
on the more usual three or four-color polychrome, and is exceptionally well done and incredibly intricate and vibrant;
a perfectly-balanced symmetrical characteristically Nampeyo-type arrangement consisting of two sets of matching symmetrically opposed designs, this time done in a total of six panels as opposed to the more usual four, the first design scheme is of stylized pendant eagle tails with stylized tadpoles suspended in their centers and the second
design is of horizontally placed geometric elements with long vertical tail feather forms painted with wonderful stipling extending downwards towards the base of the jar.
This overall design treatment is quite reminiscent of many of the designs found on ancient Hopi Sikyatki-Period (1375-1625 A.D.) pottery. These designs and symbols are deeply rooted in Hopi history and tradition. Some of these motifs have a distinctly Meso-American feel and symbolism. There is a longstanding cultural connection between the ancient Meso-American world and that of Hopi including a certain commonality of myth and language.