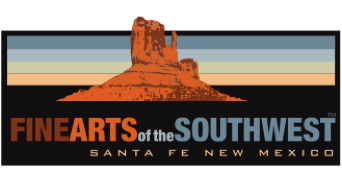 © 2010-2021 by Fine Arts of the Southwest, Inc. All rights reserved.
Unauthorized reproduction or use is strictly prohibited by law.

An early historic Hopi silver overlay
style belt buckle by the Hopi SilverCrafts
Cooperative Guild, c.1947-50
This buckle is a wonderful and unusual early piece made by a clearly very talented Hopi silversmith working under the auspices of the prestigious Hopi Arts and Crafts SilverCrafts Cooperative Guild. The Hopi Guild was started by distinguished Hopi artist and educator Fred Kabotie (1900-1986) and his cousin and fellow artist, jeweler Paul Saufkie (1898-1993) in the late 1940's with the help of the US Government's GI Bill and the active encouragement and support of the Hopi Tribal Authority. The Hopi Guild continues today as an official agency of the Hopi Tribe.
From its inception The Hopi Guild created and promoted an officially sanctioned style of Hopi jewelry making known as "silver overlay" which Kabotie and Saufkie had been instrumental in developing and which they believed was a critical factor in establishing a separate and different look and unique identity for Hopi silver work that was distinct from that of Navajo silver which pre-Guild Hopi silverwork had generally resembled in previous years and also distinct from Zuni Pueblo-style jewelry. Over the seventy-plus years since the founding of the Hopi Guild, Hopi silver overlay jewelry has developed in its own distinct manner and direction, generally becoming lighter in gauge and weight and is often now extremely precise, increasingly complex in design and very seldom uses set stones.
"The Hopi Arts and Crafts Silvercraft Cooperative Guild located on Second Mesa is a non-profit membership organization that helps members promote their arts and crafts. The Guild has been instrumental in training individuals who now sell their own work in private shops located throughout the mesas. Jewelry sold through the Guild is marked with the sun symbol and the clan mark of the individual artist."
-Quotation source and © Northern Arizona University
Original promotional pamphlet for The Hopi Arts and Crafts SilverCrafts Cooperative Guild
Photo source and © Worthpoint
This older buckle is made in the earlier, more substantial, heavier style and overall larger scale and it still shows several earlier Navajo influences in its oval "concho" style shape and extensive use of repoussee and stamp work.
In our opinions, these characteristics, plus the heavier gauge of silver used and the turquoise nugget and coral set stones all seem to indicate that this is one of the very earliest Hopi Guild silver overlay pieces. And, it is an extremely ambitious piece indeed with a number of very interesting details. The buckle's base is a large oval-shaped piece of silver which is decorated all the way around the perimeter with three parallel bands of interesting and very well done stamped designs.
Attached at the center of this oval base layer is a diamond-shaped silver overlay panel composed of heavy-gauge silver and cut out in a very complex, decorative pattern around its outside perimeter and its inside opening. This panel is also beautifully-decorated with stampwork designs. The panel has been repousseed or domed upwards to enclose and highlight the nice red coral and blue turquoise nugget stones set inside it. These two stones are set
in finely-serrated silver bezels which are encircled by finely twisted silver wire surrounds.
The buckle measures a good-sized 3 1/2" in width and 3" in height and it is 3/4" in depth. It weighs a substantial
75 grams or 2 5/8" ounces. The buckle can accommodate a belt of up to 1 3/8" in width. The buckle is in excellent condition overall. The hinge on the back has been upgraded for safety by our professional jeweler. The buckle is properly hallmarked on the back with The Hopi Guild's official "Dawa" or "sun face" insignia and the capital letter "H" for Hopi and is also marked with the individual maker's mark of a crescent moon in accordance with Guild custom.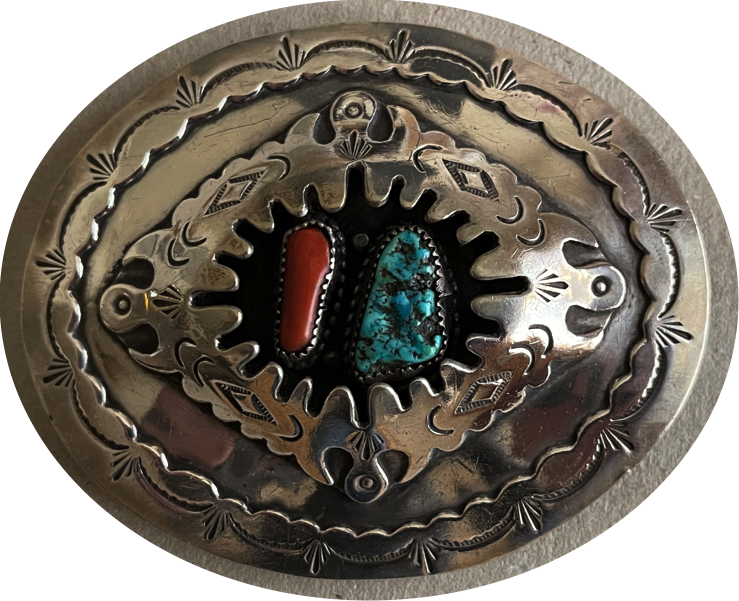 The only name reference anywhere for who this particular maker might be is this official 1947-49 Milton Snow photograph of the Hopi Guild's artists shown above. The artist at the far upper right of the photo is holding up a drawing of a crescent hallmark like the hallmark on the back of this buckle, so most likely this is him. The photo caption identifies this man as Valjean Joshevema. In an intersting touch, the very same crescent stamp used as the artist's personal hallmark on the back of the buckle also appears multiple times as part of the decorative stampwork design on the front of the buckle.
Whoever this artist was, whether Valjean Joshevema or someone else using a similar crescent hallmark, he was most certainly an accomplished artist and craftsman. The level of artistic imagination, detail, composition and meticulous technique demonstrated in this unique Hopi buckle are most impressive, so good in fact that it might have been made in close conjunction and with the active hands-on assistance of his mentor, the master Hopi silversmith and Guild co-Founder Paul Saufkie. This is truly a stunning and extremely historic early piece of Hopi Guild jewelry.
Price $1,350
Note: the leather belt pictured here is for demonstration purposes only and is not included
in the sale of this buckle. We can recommend an excellent leather shop in Santa Fe if desired.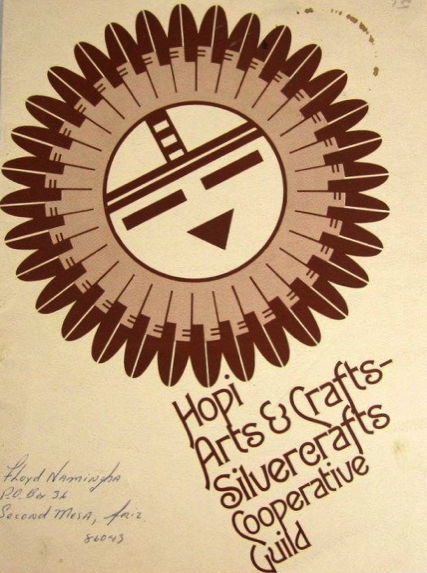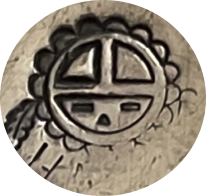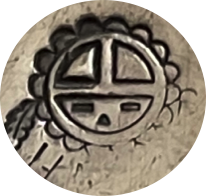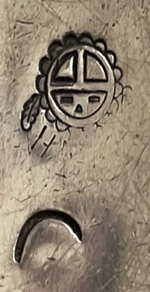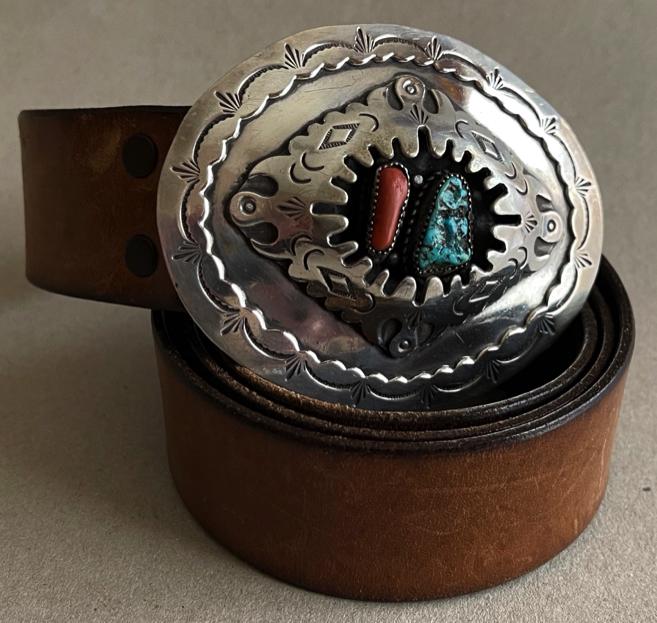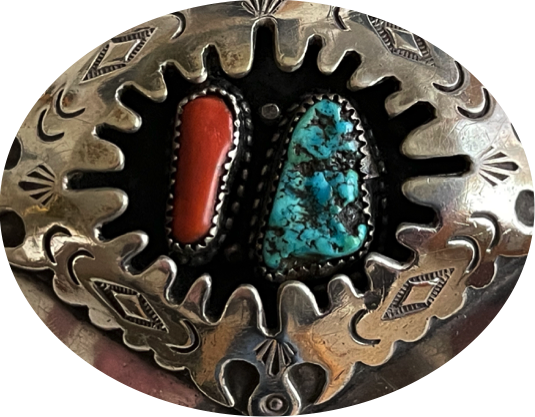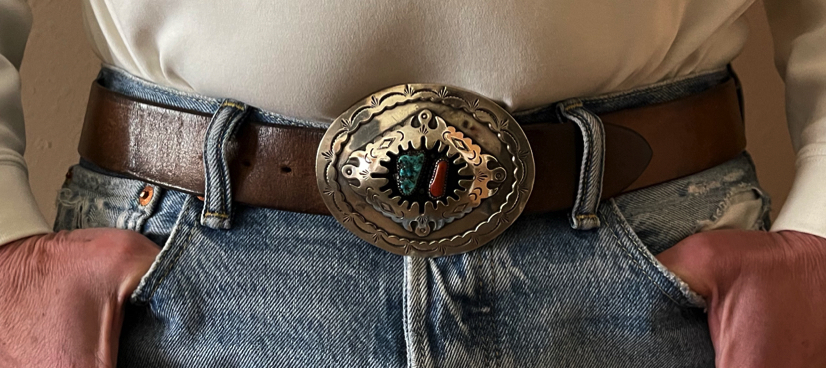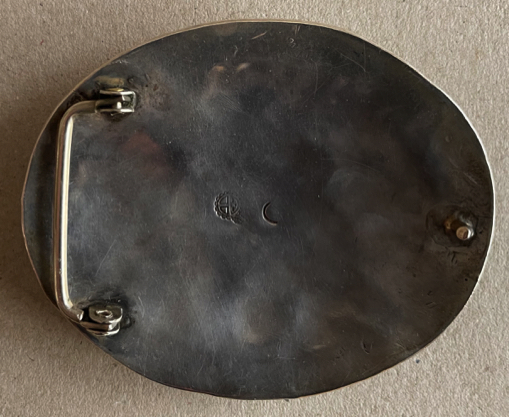 Hopi SilverCrafts Guild co-founders Fred Kabotie (at left front) and Paul Saufkie (at right front) with their first group
of GI Bill/Hopi Guild jewelry students c. 1947-49. Each of the students is holding up a placard showing his personal hallmark. The student at the far upper right holding up the crescent hallmark is identified as Valjean Joshevema.
Photo by Milton Snow. Photo source and © Nortthern Arizona University