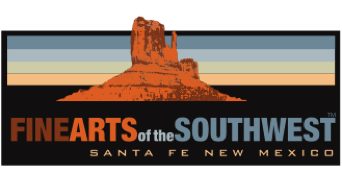 © 2010-2021 by Fine Arts of the Southwest, Inc. All rights reserved.
Unauthorized reproduction or use is strictly prohibited by law.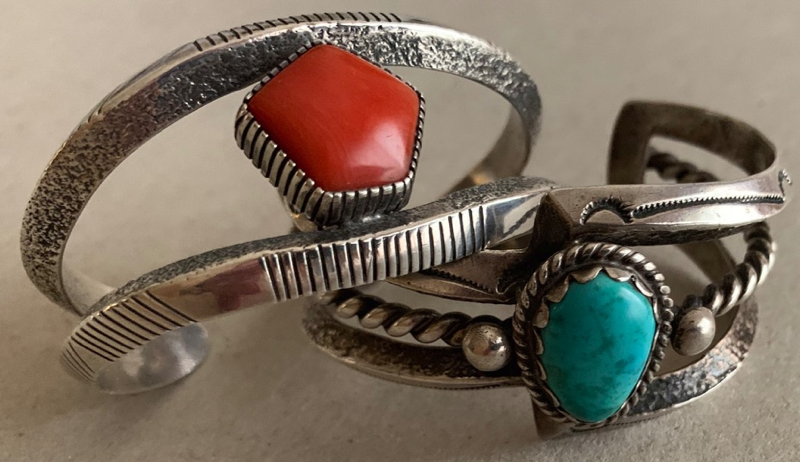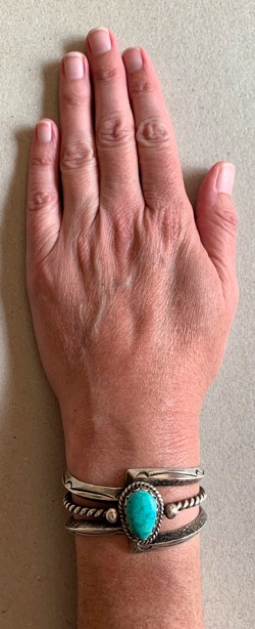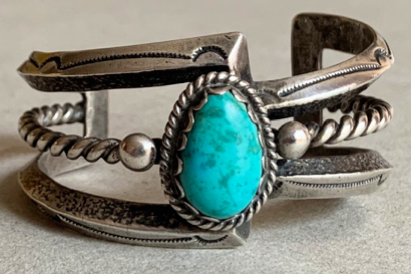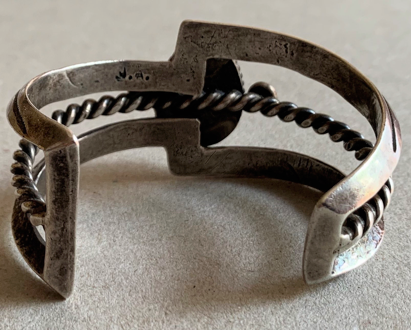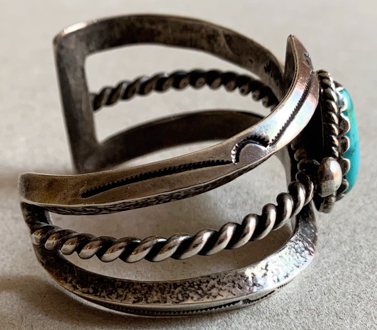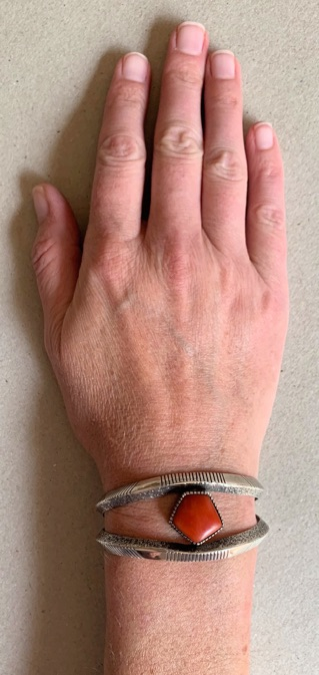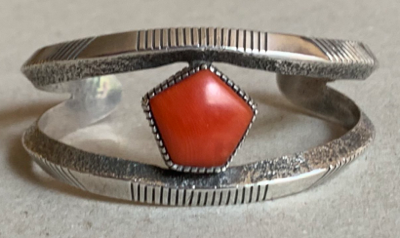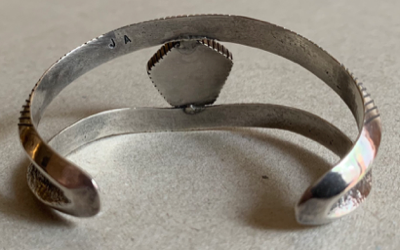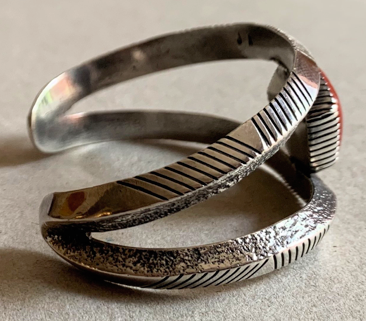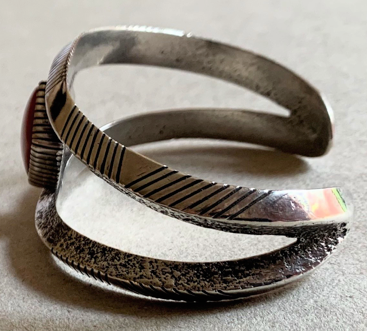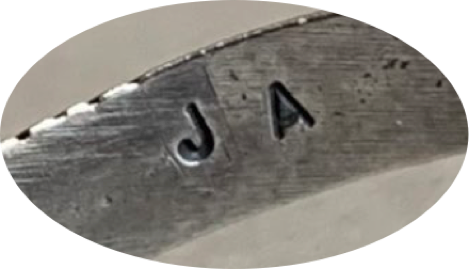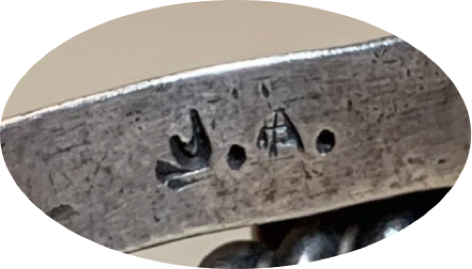 Two unique Modernist-style Navajo silver
bracelets by Jack Adakai, c.1950's-60's
JACK ADAKAI (Active 1950's-1980) was a brilliantly original and innovative Navajo silversmith who lived the quiet, rural life of a traditional Navajo way out on the Navajo reservation at the far edge of western New Mexico in the era before the worldwide web, before smartphones and texting, before Facebook, Google, Instagram and Twitter, before the rise of "superstar" Indian Artists becoming social media and cultural sensations. Were Jack Adakai alive and working today, he might well be one of these himself based on his exceptional artistic abilities. 
Adakai worked at various times for the various prominent Indian trading companies in western New Mexico;
C.G. Wallace, Tobe Turpen, M.L. Woodard and he also worked extensively with the Foutz trading family of Farmington and Shiprock, NM. Adakai's work is characterized by its generally larger scale and its excellent mastery of all traditional Navajo silversmithing techniques, such as tufa-casting, fabrication, stamp, chisel, repoussee and file work. His various innovations such as asymmetrical, bold, angular shaping and selective polishing of pieces in addition to his wonderful and unique double-sided sandwich or laminated bracelets are important achievements in the field of Navajo silver. In addition to his own formidable silversmithing abilities, Adakai was also an excellent teacher and mentor in the late 1960's and early 1970's to his young clan nephew, the now highly-renowned Navajo silversmith, McKee Platero (b.1957), who is himself today an international internet sensation and social media superstar made so by his legion of adoring fans.
One can certainly see the very strong influence that Master silversmith Jack Adakai had on his brilliant
young student in the daring creative design and excellent sophisticated technical execution of these outstanding bracelets and the "family" resemblance both stylistically and technically in both men's work is quite remarkable,
in our view. The asymmetrically shaped and geometric nature of both these bracelets is a fairly radical departure from more typical and traditional Navajo design treatments and represents a wonderful expression of Adakai's Modernist sensibility which clearly made a deep impression upon his young apprentice, Platero. Too, the innovative form and employment of tufa-casting as an expressive manner in which to create a unique contrast in surface texture and shadow is another things which can be seen more fully developed in Platero's later work.
The startling juxtaposition between the polished and unpolished areas of the cast silver shank presents a compelling design tension and expression that would be more fully explored in later years by McKee Platero's later work as well as by the later work of the great Hopi jeweler, Charles Loloma who like Adakai also employed tufa and other types of metal casting and selective surface polishing or not as a means of creative expression. Both of these fine bracelets represent the innovative and influential work of an inspired master artist at the height of his creative powers. Not only are they beautiful and compelling artworks in their own right, they are significant in their foretelling of later artistic greatness to come in the subsequent development and legacy of 20th and 21st Century Navajo and Pueblo silverwork.
Bracelet Number one
An asymmetrically-shaped tufa cast-silver and twisted wire cuff bracelet set with a beautiful blue oval-shaped turquoise stone set in a finely scalloped silver bezel with a twisted silver wire surround and decorated with
stamp work designs. An additional perfectly handwrought thick twisted silver wire runs all the way through the bracelet's center panels on both sides of the stone which is itself bordered on both sides by large applied silver "raindrops". The primary panels of the bracelet's shank are tufa-cast silver smoothly and brightly polished on their exterior surfaces and left unpolished and rougher on the interiors.
The polished sections are further embellished all along their lengths by beautifully-applied detailed stampwork designs. The maximum center width of the bracelet is 1 1/4", the interior circumference end-to-end is 4 3/4" and the gap between the terminals is 1 1/4" for a total interior circumference of 6". The bracelet weighs 57 grams or 2 ounces. It is in excellent original condition and is perhaps just very slightly out of round as if someone might have enlarged it a bit at some point. The bracelet is properly signed with Jack Adakai's capital initials "J.A." signature on the interior.
Price $1,100
Bracelet Number two
Another unusually daring form, two tufa-cast silver gracefully arching silver bars meeting at the terminal ends and in the center middle of the bracelet holding a dramatically suspended serrated silver bezel platform holding a beautiful hexagonally-shaped high-grade Mediterranean deep red coral stone. The serrated sides of the silver bezel are beautifully complemented by six sections of parallel stamped designs on both sides of the bracelet's shank. A final marvelous touch is that Adakai left the interior sections of the bracelet's silver shank unpolished with a rougher tufa-cast texture while the outer sections are smoothly and highly polished.
This is a tour de force statement of visionary modern design fabulous fabrication. The bracelet measures 11/4" in width at the widest center point tapering down to approximately 3/8"at the terminal ends. The inner circumference end-to-end is 5 1/16" and the gap between the terminals is 1 1/8" for a total interior circumference of 6 3/16". The bracelet weighs a very comfortable and wearable 42 grams or 11/2 ounces and is in excellent original condition. It is properly signed "J A" on the interior in Jack Adakai's customary capital initials signature.
Price $1,275
Artist's signature on Bracelet Number One
Artist's signature on Bracelet Number Two