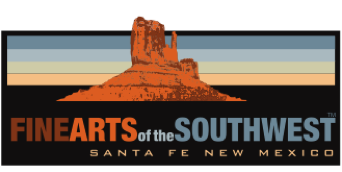 © 2010-2022 by Fine Arts of the Southwest, Inc. All rights reserved.
Unauthorized reproduction or use is strictly prohibited by law.

A very beautiful pair of Navajo channel-inlaid
silver earrings by Jack Adakai, c. 1960's-1970's
JACK ADAKAI (Active 1950's-1981) was a brilliant Navajo silversmith who lived the quiet, rural life of a traditional Navajo way out on the Navajo reservation at the far edge of western New Mexico in the era before the worldwide web, before smartphones and texting, before Facebook, Google, Instagram and Twitter, before the rise of "superstar" Indian artists becoming social media and cultural sensations. Were Jack Adakai alive and working today, he might well be one of these superstars himself based on his exceptional artistic and technical abilities.
Adakai worked at various times for the various prominent Indian trading concerns in and around Gallup in Western
New Mexico; C.G. Wallace, Tobe Turpen, M.L. Woodard and he also worked with the Foutz trading family of Farmington and Shiprock, NM. Adakai's silverwork is characterized by its generally larger scale and its clear technical superiority showing excellent mastery of all traditional Navajo silversmithing techniques such as tufa-casting, fabrication, stamp, chisel, repousse and file work. He also was expert in channel inlay work as in these earrings, likely as a result of working in close proximity to Zuni Pueblo silversmiths at the various trading posts in and around Gallup.
In addition to his own formidable silversmithing abilities, Adakai was also an excellent teacher and mentor in the
late 1960's and early 1970's to his young clan nephew, the now highly-renowned Navajo silversmith, McKee Platero (b.1957), who is himself today an international internet sensation and social media superstar made so by his legion
of adoring fans, particularly in Japan.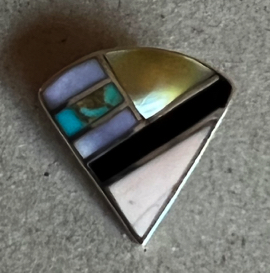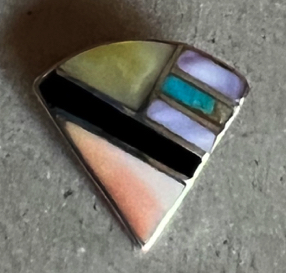 We love the design and shape of these earrings, and, particularly, the subtle, fresh, spring-like, pastel palette of peachy-pink and purple shell, Mother-of-Pearl, black onyx and blue turquoise with brown matrix. The earrings measure
a very wearable 7/8" by 7/8" and each earring weighs a completely comfortable 4 grams or 1/8 ounce. These are definitely pieces you can wear anywhere, anytime. The earrings are properly signed "JA" in Adakai's customary capital initials signature on the back of each earring and they are also marked "Sterling" and "Handmade". The earrings are mounted on their original clip closures and they are in excellent original condition with just a tiny, completely inconsequential hairline crack in one of the shell pieces. The earring's clips could easily be converted to posts by a professional jeweler, if ever desired.
Jack Adakai's jewelry pieces are highly-prized for their exceptional artistry and marvelous craftsmanship
and these pieces are no exception. They are completely classic and completely elegant.
Price $875