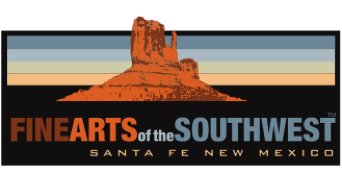 © 2010-2021 by Fine Arts of the Southwest, Inc. All rights reserved.
Unauthorized reproduction or use is strictly prohibited by law.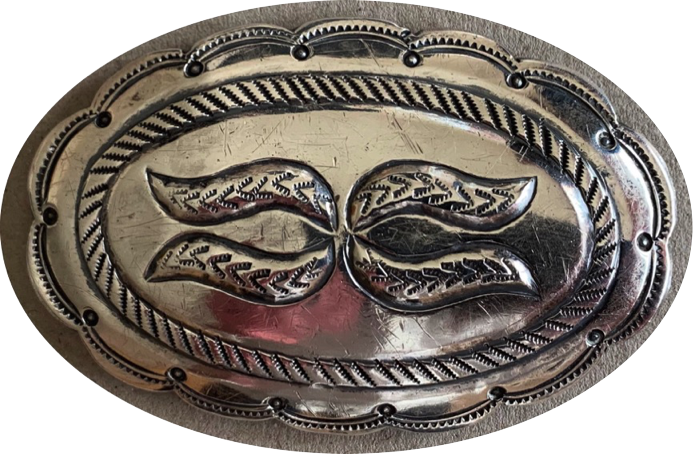 A beautiful hand-wrought vintage Navajo
silver buckle by Jack Adakai, c. 1950's-60's
This is a gorgeous old-style silver piece by the Navajo silversmith's silversmith, Jack Adakai,
(Active 1950's-1981) one of the finest traditional Navajo craftsmen who ever swung a hammer.
Jack Adakai is not as well known today as some of his contemporaries such as Austin Wilson, Hosteen Goodluck or Charlie Bitsui, but he was every bit as talented and influential. His heavy, often cast-silver pieces decorated with incredible deep stamp worked and chiseled designs set a standard of quality that is seldom equalled. And Adakai left his mark not only as an outstanding silversmith himself but as an outstanding silversmithing teacher; his most well-known and accomplished apprentice is his nephew, the remarkable, now world-renowned artist McKee Platero (b.1957).
This buckle is an excellent example of Jack Adakai's work; it is completely and traditionally Navajo in its design and execution, but the designs have a certain cleanliness and modernity to their layout and execution which always sets Adakai's work apart. The four-part center design is beautifully repousseed or domed and stamped and is surrounded by
a finely-stamped border which is itself surrounded by another precisely stamped border and finally a beautifully scalloped outside edge.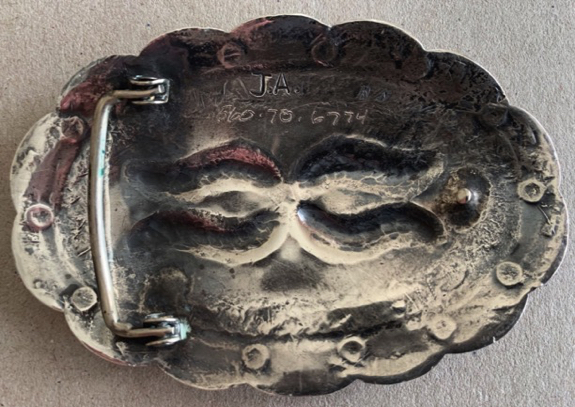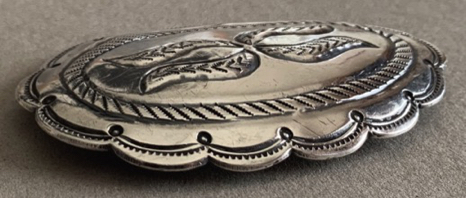 The buckle measures a very good sized 3 3/4" in width and is 2 1/2" in height. It weighs 66 grams or 2 3/8 ounces
and it will accept a belt strap of up to 1 3/8" to 1 1/2" in width. The buckle is properly signed "J.A." in Jack Adakai's customary capital initials signature on the back. The buckle has been very nicely contoured to hug the body well.
The buckle is in very good original condition with a considerable amount of dedicated age-appropriate wear.
It has clearly been worn and loved for decades and shows this clearly with a fine patina. There is also, somewhat interestingly, what appears to be an old social security number inscribed in electric pen under the artist's signature
by a previous owner, likely for identification purposes.
This buckle is an outstanding example of a traditional old-style Navajo piece; beautiful, totally wearable
and basically indestructible. An everyday or special occasion buckle to be worn with great satisfaction and pride.
Note: The leather belt pictured here is for photographic purposes only
and is not included in the sale of this buckle.
Price $1,550