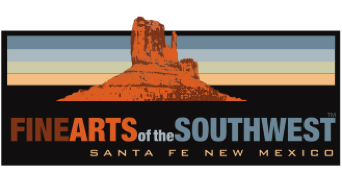 © 2010-2021 by Fine Arts of the Southwest, Inc. All rights reserved.
Unauthorized reproduction or use is strictly prohibited by law.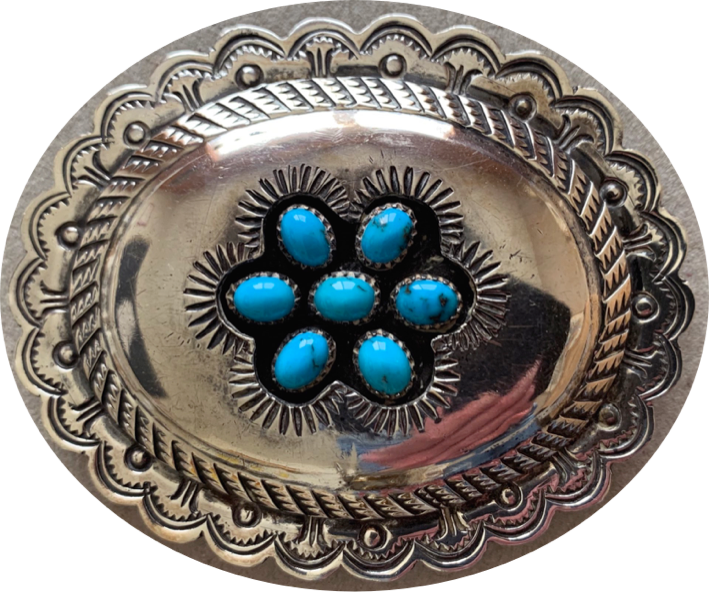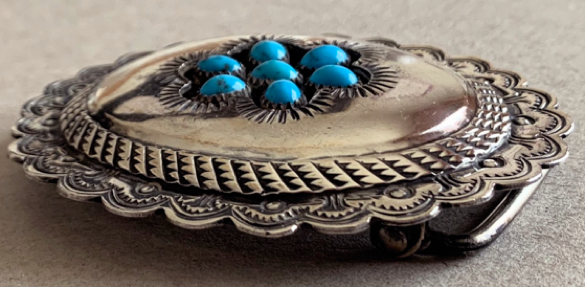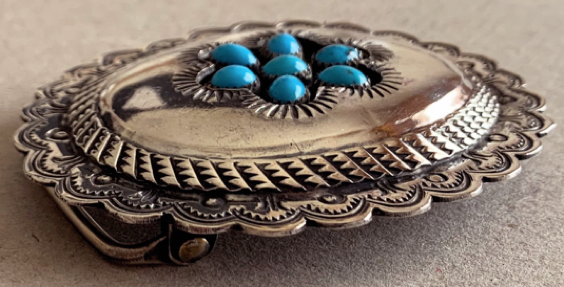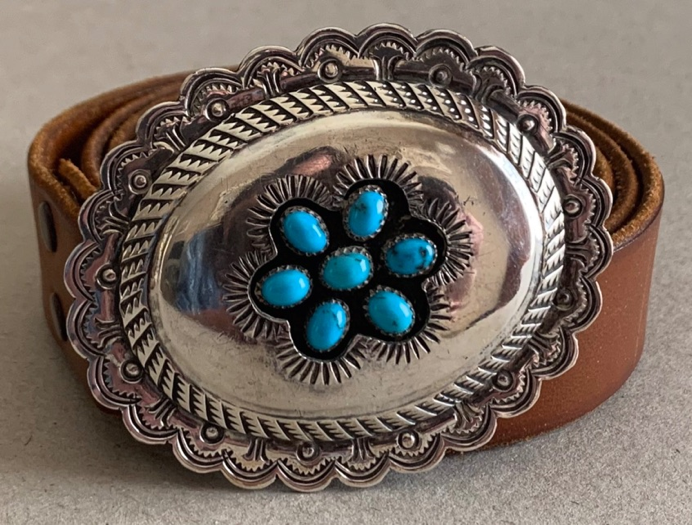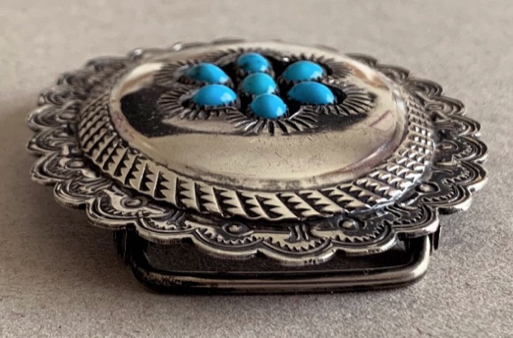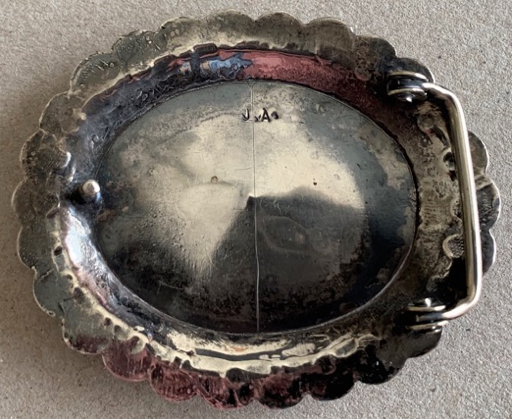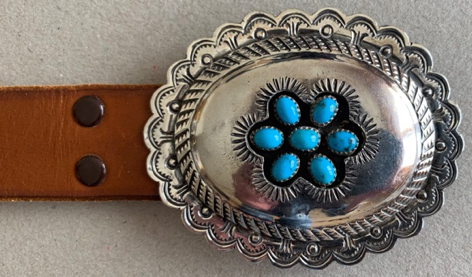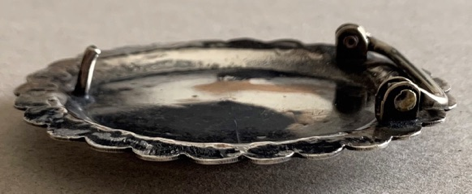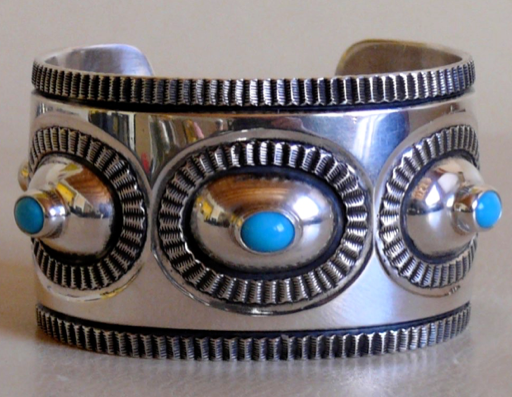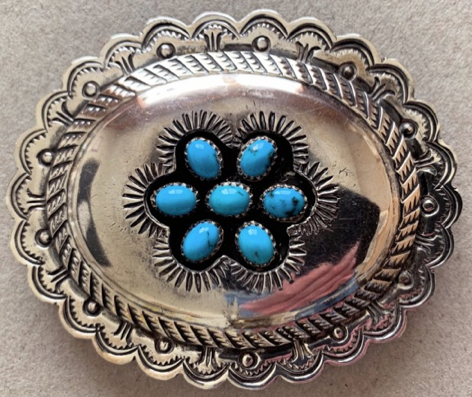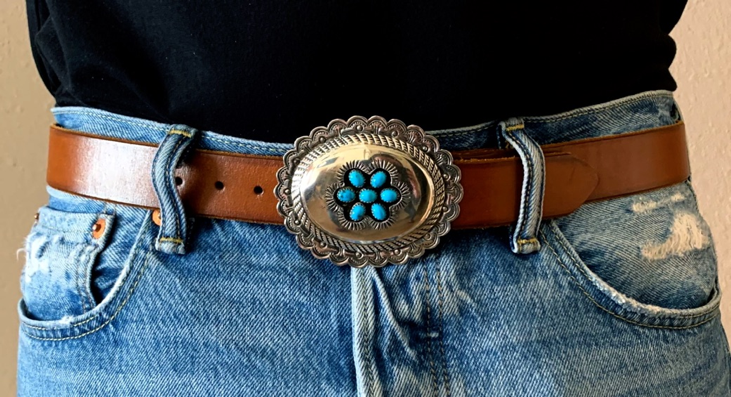 A wonderful vintage Navajo silver and turquoise "cluster" buckle by Jack Adakai, c.1950's-60's


This is a unique and beautiful buckle by a brilliant artist who is not nearly as widely known as he should be and as the quality and beauty of his work so richly deserves. Jack Adakai (Active 1950's-1981) is not as famous as his contemporaries Mark Chee, Austin Wilson and Kenneth Begay but he is in numerous ways the Navajo silversmith's silversmith, one of the finest, most creative Navajo craftsmen who ever swung a hammer.
Adakai's superbly made and distinctively designed silverwork; heavy, often cast-silver, pieces decorated with incredible deep stamp worked and chiseled designs set a standard of quality that is seldom equalled.
And Adakai left his indelible mark not only as an outstanding silversmith himself but as an outstanding silversmithing teacher; his most well-known and spectacularly successful apprentice is his nephew, the remarkable, now world-renowned Navajo silversmith McKee Platero (b. 1957). In Platero's later work can be seen the strong influence of his mentor and in Adakai's earlier work likewise can be seen stylistic indications and foreshadowing of much of the greatness Platero was later able to achieve. It's a fascinating look at how the style and methods of one uniquely skilled artist and teacher can profoundly influence another like seeing in Leonardo Da Vinci's paintings the powerful influence of his mentor, Andrea del Verocchio.
This buckle is a perfect example of Jack Adakai's finest work; it is completely and traditionally Navajo in its design and execution, but the design has a certain creative freshness, and distinctive twist in this case setting a beautiful "cluster" of seven small very vividly sky-blue high-grade turquoise stones (possibly Bisbee or Morenci) in the buckle's center, an unusual and striking visual treatment we have not seen before and possibly one that was influenced by Adakai living and working in the far western part of New Mexico in very close proximity to the Zuni Pueblo among whom turquoise cluster bracelets and pins are a highly-desired silverwork specialty and source of pride. The turquoise cluster is set in a recessed shadowbox surround which itself is surrounded and accentuated by some beautifully radiating parallel stampwork designs. Moving outwards from the buckle's center is a finely-stamped border which is itself surrounded by another precisely stamped border and finally by a beautifully scalloped outside edge.
The buckle measures a nicely and very wearable-sized 3 1/8" in width and is 2 1/2" in height and around 1/4" in depth. It weighs 48 grams or 1 5/8 ounces and it will accept a belt strap of up to 1 1/4" in width. The buckle is properly signed "J.A." in Jack Adakai's customary capital initials signature on the back. The repousseed or domed body of the buckle is very nicely contoured to fit the body well. The buckle is in excellent original condition with a small amount of age-appropriate wear and a fine patina.
This buckle is an outstanding example of a traditional Navajo silver piece made with a modern creative twist by a distinguished artist; an absolutely stunning everyday or special occasion buckle to be worn with great satisfaction and pride by anyone. It would be equally wearable and comfortable on a man or woman, worn with everything from jeans to a little black dress.
The leather belt shown here is for photographic purposes only and is not included in the sale of this buckle.
Price $1,950
At right, a 2017 silver and turquoise bracelet by Jack Adakai's nephew and former apprentice, McKee Platero.
On close examination, one can discern certain stylistic similarities between this bracelet and the Adakai buckle in the overall design presentation and zoning, use of open space, stamped and chiseled designs and the shape, size, color and cut of the turquoise stones.