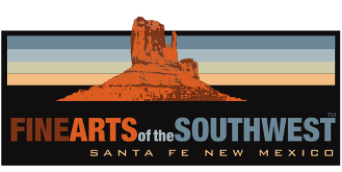 © 2010-2021 by Fine Arts of the Southwest, Inc. All rights reserved.
Unauthorized reproduction or use is strictly prohibited by law.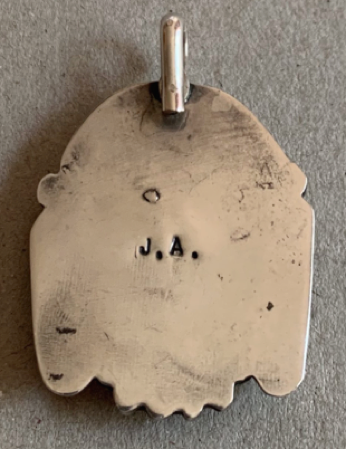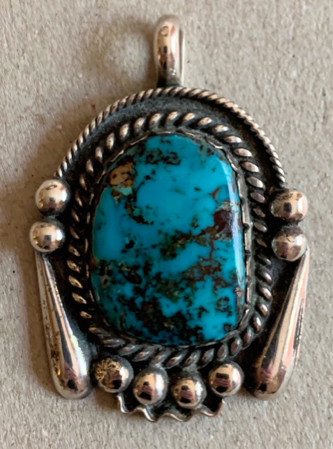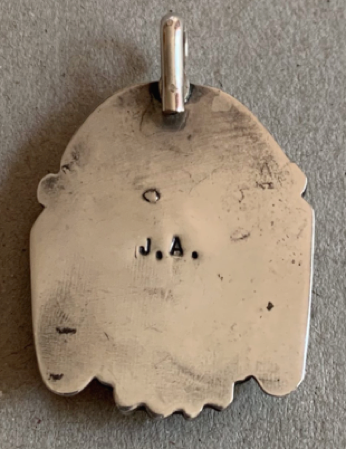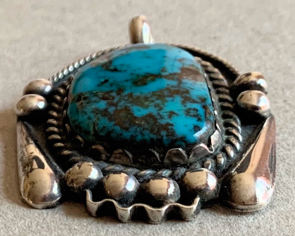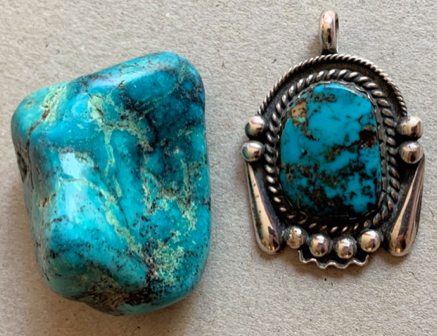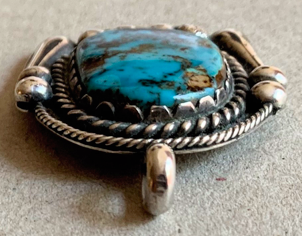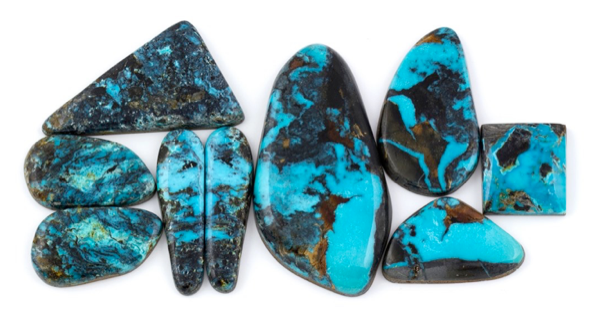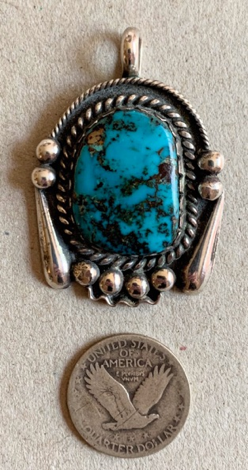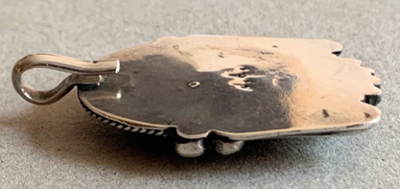 A superb vintage Navajo silver and turquoise 
pendant by Jack Adakai, c.1950's-60's
JACK ADAKAI (Active 1950's-1980) was a brilliant Navajo silversmith who lived the quiet, rural life of a traditional Navajo way out on the Navajo reservation at the far edge of western New Mexico in the era before the worldwide web, before smartphones and texting, before Facebook, Google, Instagram and Twitter, before the rise of "superstar" Indian Artists becoming social media and cultural sensations. Were Jack Adakai alive and working today, he might well be one of these himself based on his exceptional artistic abilities. 
Adakai worked at various times for the various prominent trading companies in western New Mexico; C.G. Wallace, Tobe Turpen, M.L. Woodard and he also worked with the Foutz trading family of Farmington and Shiprock, NM. Adakai's work is characterized by its generally larger scale and its excellent mastery of all traditional Navajo silversmithing techniques, such as tufa-casting, fabrication, stamp, chisel, repoussee and file work. In addition to his own formidable silversmithing abilities, Adakai was also an excellent teacher and mentor in the late 1960's and early 1970's to his young clan nephew, the now highly-renowned Navajo silversmith, McKee Platero (b.1957), who is himself today an international internet sensation and social
media superstar made so by his legion of adoring fans.
The pendant pictured alongside a specimen rough of Blue Diamond Nevada turquoise.
One can certainly see the very strong influence that Master silversmith Jack Adakai had on his brilliant
young student in the design and execution of this outstanding pendant and the "family" resemblance both stylistically and technically in both men's work is quite remarkable, in our view. The beautifully controlled and deeply-applied sophisticated and extremely complex stamp worked borders, the creatively scalloped silver bezel and chiseled designs all work together marvelously and harmoniously "framing" and highlighting the stone in a silver frame like a perfect little blue abstract painting. The overall effect here is that of an ultra-sophisticated and highly-detailed miniature three-dimensional painting presented in finely wrought silver. The marvelous, high-grade spiderweb turquoise stone in the pendant is absolutely gorgeous and we believe that it is most likely from Nevada's famed Blue Diamond mine.
The pendant measures a very nicely-sized 2" in height including the silver bail and it is just shy of 1 1/2" in width at its widest point. It weighs a satisfying 23 grams or 7/8 ounce. The pendant is in excellent original condition and it is properly signed "J.A." in Jack Adakai's customary capital letters signature on the back.
A nice length of black silk jewelry cord will be included along with the purchase of the pendant and, of course, the pendant could also be nicely worn on a soft leather thong or a nice silver chain if desired.
This pendant is an outstanding and extremely wearable piece of preciously crafted jewelry by a supremely accomplished artist, who is not as widely famous an artist as he deserves to be, but who is nonetheless held
in very high esteem by those who understand and value the finest in traditional Navajo silver work.
Price $675
Blue Diamond Turquoise
The Blue Diamond mine, located in central Nevada, opened in the late 1950's and was mined up to 1980. This mine is considered a "hat mine" of which there are very few. A hat mine is a small deposit of turquoise that, "you can cover with your hat." The stones that the mine produces, which are usually large pieces of plate form, looks a great deal like Stormy Mountain turquoise because of its black smoky matrix. This stone features dark smoky matrix surrounded by a brilliant blue, The characteristic black chert is ever-present. This mine is now closed and buried under thousands of tons of rock.
-Photo and text source and © Waddell Trading Company