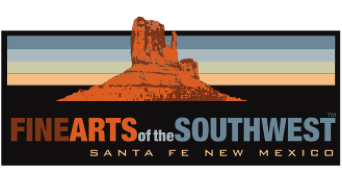 © 2010-2023 by Fine Arts of the Southwest, Inc. All rights reserved.
Unauthorized reproduction or use is strictly prohibited by law.
A superbly-made vintage Navajo silver narrow
Concho belt by Jack Adakai, c. 1950's-60's
This belt is evocative of a particular and fascinating era in the American Southwest, of the open road, Route 66, the so-called "Mother Road" carving through towering red sandstone buttes, vast painted deserts, across mighty rivers
and into small sun-baked towns where the intrepid tourists could have a counter lunch, a cold ice cream cone and a stop at a dusty old-style indian trading post to buy a souvenir of the marvelous time they were having.
Well, this wonderful Concho belt is the prize souvenir they were all looking for and the time was the late 1950's to 60's and the place was in and around Gallup, New Mexico, smack dab on old route 66 on the far western edge of the state near the Arizona border. Gallup was at that time the Indian trading capital of the Southwest and many of the finest Native artists of their era worked in and around there supplying the various trading posts with jewelry and other crafts to sell to the multitudes of travelers.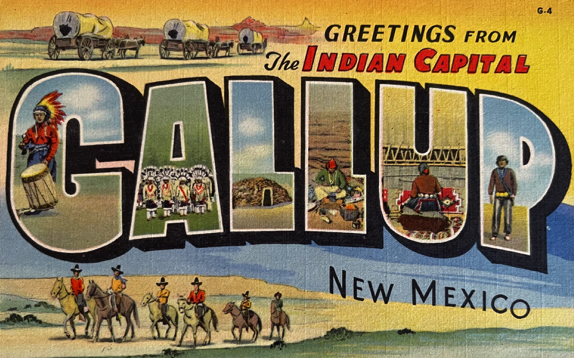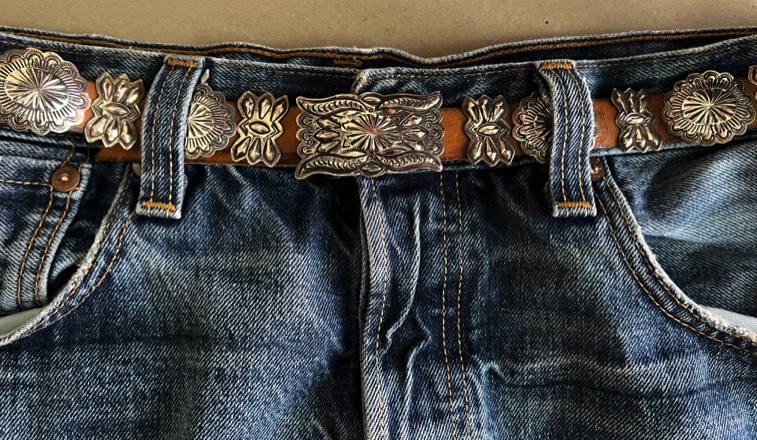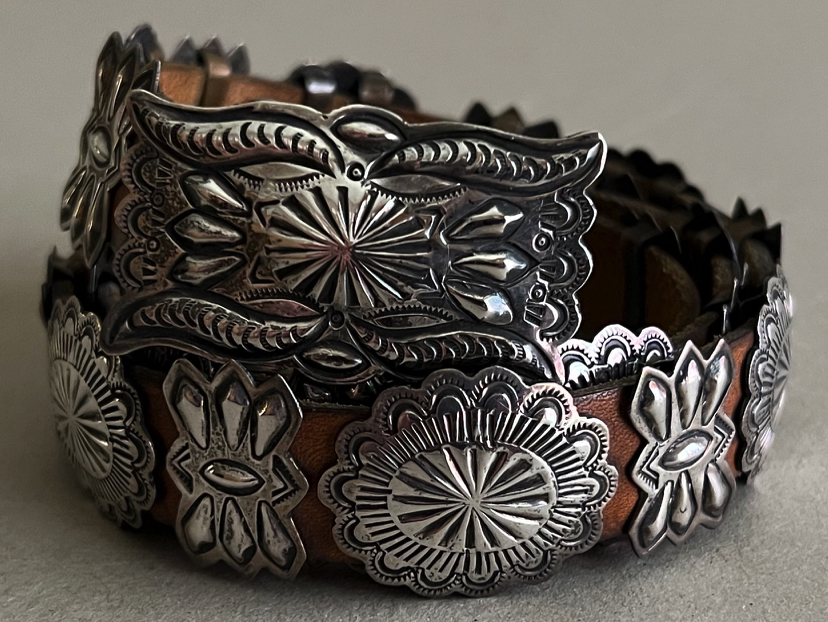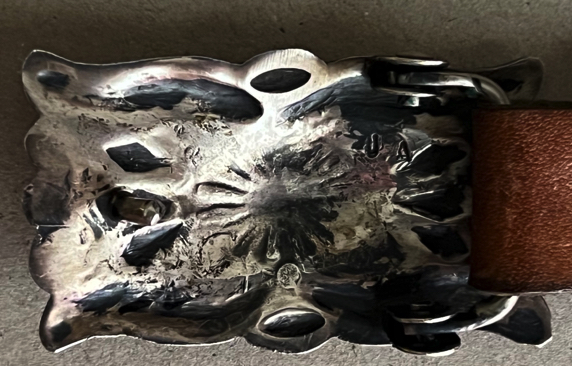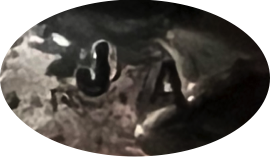 At right, the Zuni Pueblo "Olla Maidens" on parade at the annual Gallup Inter-Tribal Ceremonial.
Photo source and © Rio Rancho Observer
This lovely "Tourist-era" Concho belt is a fine example of Adakai's accomplished silverwork; traditionally-styled with a distinctively modern twist, highly-detailed, beautifully and finely repouseeed, chiseled and stamped. It's easy to wear narrow width makes it the perfect comfortable size to wear with jeans or over a light summer dress. The belt begins with a beautifully-styled rectangularly-shaped buckle which measures 2" in width and 1 1/8" in height. Following the buckle are 13 oval-shaped, perfectly-matched and beautifully decorated silver Conchos in all, each measuring 1 1/4" in width
and 1 1/8" in height. Interspersed between the silver Conchos are 14 matched silver "butterflies" each measuring 1" in height and 1 1/16" in width. All of the silver Conchos and butterflies are attached to the leather belt strap with traditional, hand-forged copper fastening loops. The belt strap itself is 3/4" in width. The amount of concentrated effort and serious hand-craftsmanship involved in creating the 28 elaborate silver pieces contained in this "souvenir" is difficult to imagine but this remarkable piece stands today as a masterpiece of its genre.
The belt measures 35" in total length end-to-end. There are belt holes in the leather at the following size intervals,
30", 30 3/4" and 31 1/2". Of course, if desired, one could always make a couple additional holes in the existing leather
or have a somewhat longer leather belt strap made and space out the 28 silver pieces a little bit more along it.
The entire belt, silver and leather, weighs an extremely comfortable and easily wearable 168 grams or 5 7/8 ounces.
The silver Conchos, silver butterflies and tan saddle leather belt strap are all in excellent original condition and
the belt is properly signed "J.A." in Jack Adakai's characteristic capital initials signature on the back of the buckle.
Whether you wear it regularly or simply just hang it on the wall as decoration, this Concho belt is a beautiful and evocative piece of personal adornment by an extremely accomplished master artist, richly and deeply steeped in tradition, time, place, fully and eloquently representative of a unique and remarkable era in American and Southwestern history.
Price $1,450




All of which brings us to one of our very favorite Navajo artists, Jack Adakai (Active late 1940's to 1981) the extremely talented maker of this fine Concho belt. Jack Adakai is one of the great unsung heroes of Navajo silversmithing in our view, nowhere near as well known today as he should be given his prodigious abilities. Adakai lived and worked a traditional rural Navajo lifestyle essentially out in the middle of vast nowhere western New Mexico where he made
his living crafting his exceptional Navajo silverwork for sale at the local Gallup area Indian trading posts of traders C.G. Wallace, Charles Ilfeld, Mike Kirk, M.L. Woodard and Tobe Turpen.
Keep in mind that this era was long before the rise of the worldwide web, of social media, of a cell phone and its Instagram, Twitter or Facebook-ready camera in every pocket. Were Jack Adkai living in today's digital era he might very well by virtue of his formidable talent have become a worldwide internet sensation like his younger nephew and former apprentice, the great contemporary Navajo silversmith, McKee Platero (b.1957).