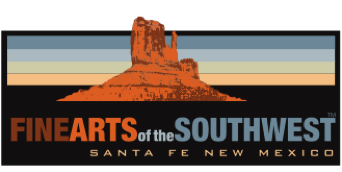 © 2010-2021 by Fine Arts of the Southwest, Inc. All rights reserved.
Unauthorized reproduction or use is strictly prohibited by law.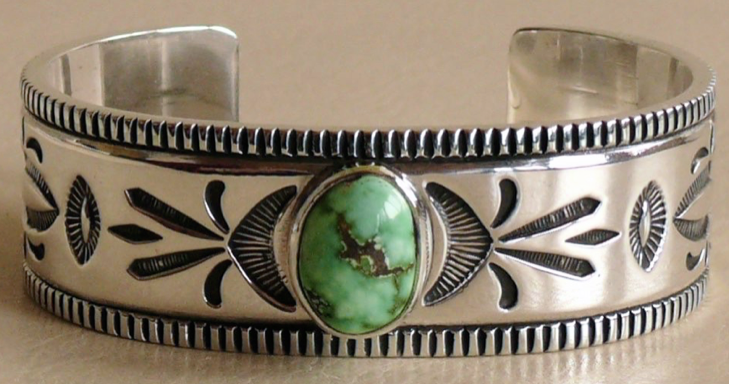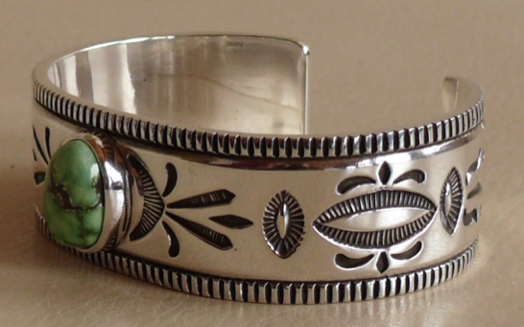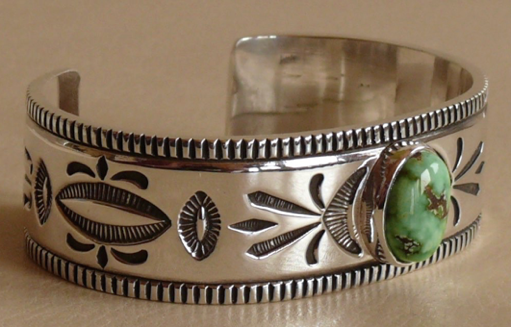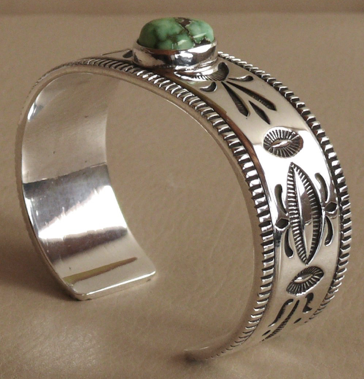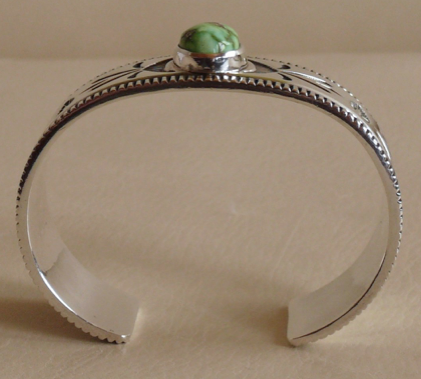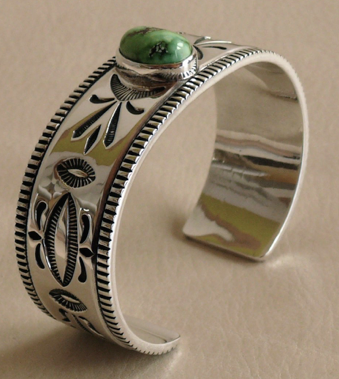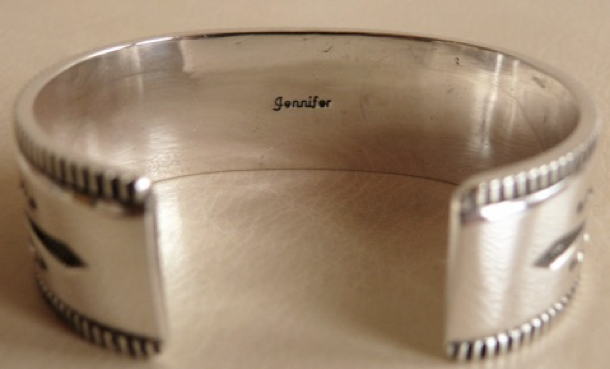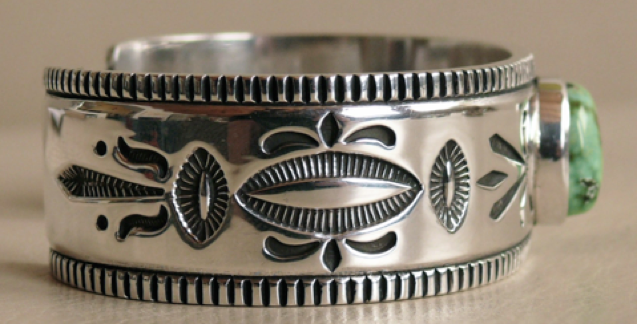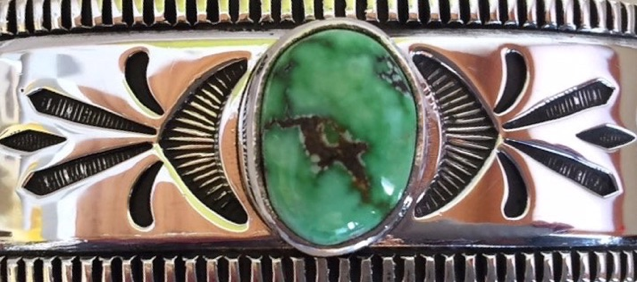 A stunning contemporary Navajo silver and
Carico Lake turquoise cuff bracelet by Jennifer Curtis
The old saying "Like Father, Like Daughter" certainly applies here in spades. Jennifer Curtis is a very serious chip off the old block, which was her brilliant silversmith father, the late Thomas Curtis, Sr. (1942-2013). Thomas Curtis Sr. taught and mentored the young Jennifer in all aspects of traditional Navajo silversmithing beginning at around age eight and you can see the marvelous similarities in the work of these two artists; use of heavy solid silver, intricate precise and deeply applied stamp and chisel work and a unique and compelling design sensibility.
This fine bracelet is a simply outstanding example of Jennifer Curtis' work. Graphic and powerful stamp work decoration on a thick, very beautifully hand-fashioned silver shank which is bordered by highly detailed stampwork all the way along both edges. It all frames an elegant and very striking gem-quality Carico Lake, Nevada turquoise cabochon stone. Carico Lake is one of America's finest turquoise. The mine is located in the legendary turquoise territory of Lander County, Nevada where much of the country's finest quality turquoise is found.
The bracelet measures 3/4" in width all the way around. The inner circumference end-to-end is 5 3/8" and the gap between the terminals is 1" for a total interior circumference of 6 3/8". The silver shank is 1/16" in thickness.
The bracelet weighs a substantial 66 grams or 2 1/4 ounces yet it is extremely comfortable on the wrist. It is in new original condition and is signed on the interior with Jennifer Curtis' cursive hallmark of her first name "Jennifer".
"The awards are great honors, but the most important 
accomplishment is meeting the standards of my family … 
I want my work to be as good as a handshake."
-Jennifer Curtis
Quotation source: Garland's
This is an extremely attractive and easily wearable piece by one of the finest navajo silversmiths working
today and it is guaranteed to turn heads immediately in your direction in whatever room you walk into.
Price $1,650