© 2010-2022 by Fine Arts of the Southwest, Inc. All rights reserved.
Unauthorized reproduction or use is strictly prohibited by law.

An exceptionally fine contemporary Navajo silver
"Naja" pendant and bead necklace by Jennifer Curtis
One of the very finest Navajo jewelry artists working today, Jennifer Curtis's (B.1964) work is completely traditional in technique, tools and methods but beautifully modern and elegant in appearance. Her streamlined interpretations of traditional Navajo silver forms such as this Naja pendant are just impeccable.
Jennifer started learning her craft at a very young age, beginning to assist her father, renowned Navajo silversmith Thomas Curtis Sr. (1945-2013) when she was just eight years old. She learned her lessons well absorbing Thomas' use of heavy gauge silver, deep, often complex precision stamp work and purity of form. While she now owns and uses the handmade tools and stamps passed on to her by her Father, her style is distinctly her own, bold, elegant and refined.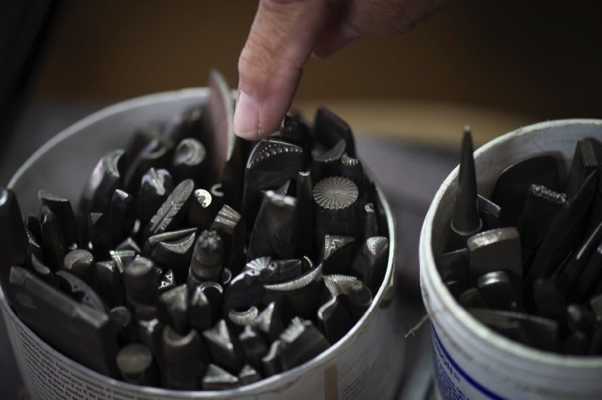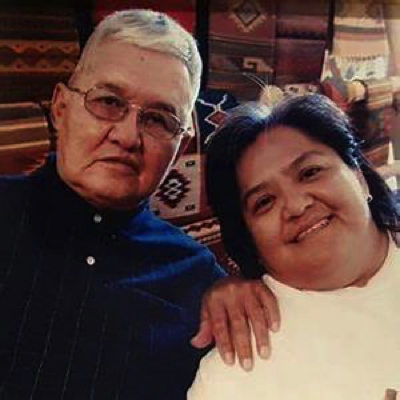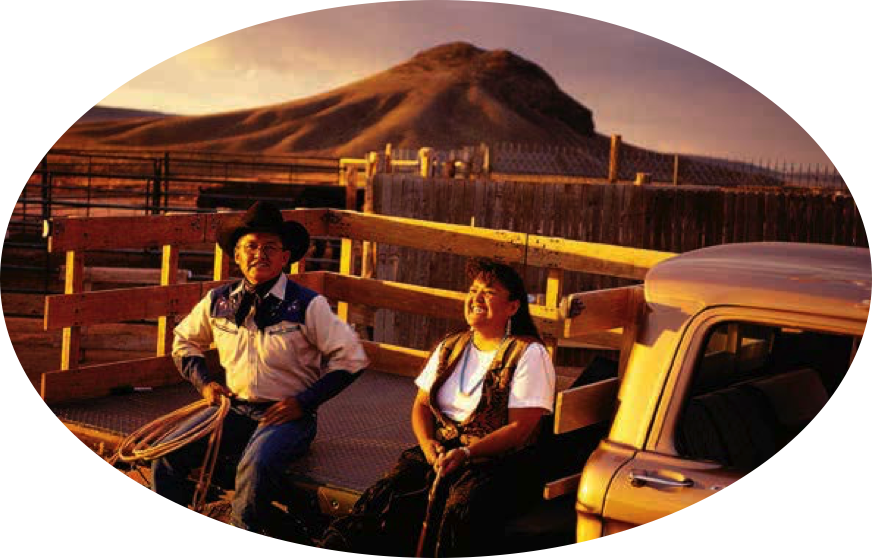 At left, Thomas Curtis, Sr. and Jennifer Curtis, c. 2010. At right, Jennifer Curtis's handmade jewelry stamps which she inherited from her father.
Photo source and © Four Winds Gallery, Pittsburgh, PA
Thomas Curtis, Sr. and Jennifer Curtis, 2003
Photo source and © Arizona Highways Magazine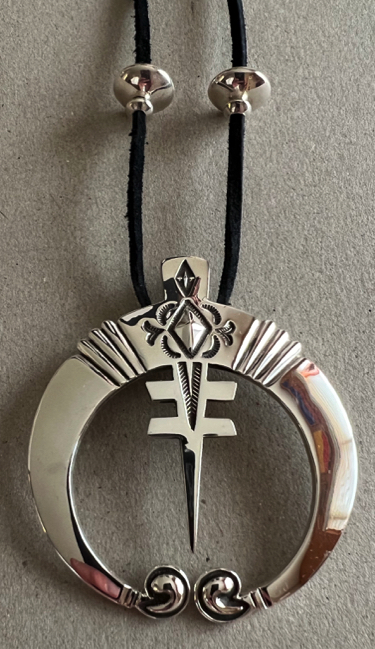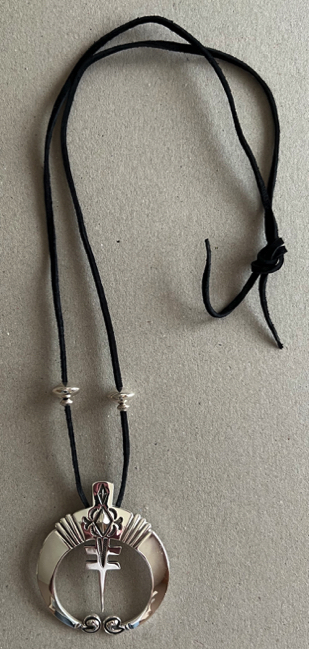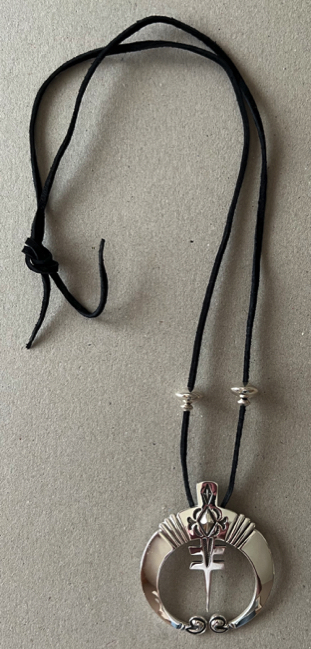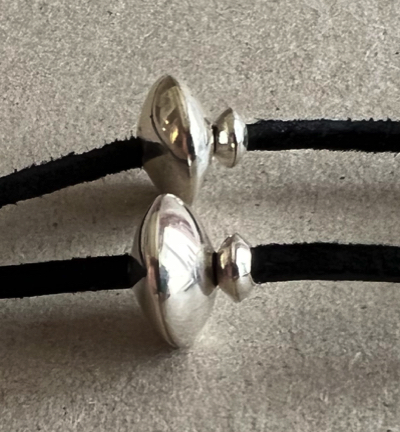 The Naja pendant measures 2 5/8" in height and 2 1/4" in width. the two large silver beads each measure slightly under 1/2" in diameter, the two small silver beads each measure 3/16" in diameter. The necklace weighs a substantial 41 grams or 1 3/8 ounces. The suede leather cord measures 35" end-to-end and can be adjusted for length depending on how one ties it. The Naja, beads and leather cord are all in pristine new original condition and the back of the Naja is properly signed "Jennifer" in Jennifer Curtis's customary cursive signature.
"What my work represents is what I want someone to see in me-that I care about what I make. The awards are great honors, but the most important accomplishment is meeting the standards of my family."
-Jennifer Curtis
Several years ago, Jennifer changed her jewelry signature. She had formerly signed her pieces "J. Curtis" in a
cursive script in an homage of sorts to her beloved Father who always signed "T. Curtis" in a cursive script. One day her husband suggested that this signature did not distinguish her work as having been made by a woman something
that is very important to her so she changed it to "Jennifer" written in the same cursive script.
Whether made by a man or woman, one look at this lovely piece tells you it was made by an absolutely
singular and exceptionally talented artist.
Price $1,250
*Special thanks to Four Winds Gallery, Pittsburgh, PA for biographical information.
This remarkable silver Naja pendant and bead necklace is a wonderful example. The first thing that strikes you when you look at it is the purity, power and intensity of the silver. She has taken the traditional curved form of the Naja pendant and stylized it further, doming the entire pendant itself and incorporating a double-barred or "dragonfly" cross design in the center. The decorative stamp work and chisel work designs are powerfully and meticulously rendered. The Naja's incurving circular terminal ends are a final beautiful crowning touch, repoussed or domed up
in an striking manner. There are two oval-shaped beautifully-made two-piece silver beads, one large, one small, on either side of the Naja pendant. The pendant and beads are all perfectly and attractively strung on a black suede leather cord which nicely highlights the silver.