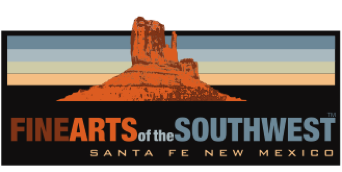 © 2010-2022 by Fine Arts of the Southwest, Inc. All rights reserved.
Unauthorized reproduction or use is strictly prohibited by law.

A gorgeous, old-style hand-forged ingot-silver
and turquoise cuff bracelet by contemporary Creek silversmith, Jesse Robbins, 2016
Jesse Robbins (B.1987) of Creek Indian ancestry, who hails from Prescott, Arizona is one of the newest young hotshots on a very old Southwestern block and he has for the past several years been taking the Southwestern jewelry world by storm with his beautifully han-wrought interpretations of old classic Navajo jewelry pieces made in heavy ingot-silver and ingot coin-silver.
This bracelet is a most impressive and substantial cast ingot-silver piece, set with 7 natural nicely-matched round blue and green hand-cut turquoise stones, 3 larger, 4 smaller, which appear to be from the Royston Mining District in Nevada. Then stones are nicely set in old style "foldover" type silver bezels and the bracelet's shank
is beautifully decorated with wonderful repousse and complex curvilinear stamp and chisel-work designs.
The bracelet measures 1 1/16" in width at the center widest point. The inner circumference end-to end is
5 13/16" and the gap between the terminals is 7/8" for a total interior circumference of 6 11/16". The silver shank is just slightly less than 1/8" in thickness all around and the bracelet weighs a very impressive 104.5 grams or 3.7 ounces. The bracelet is in excellent original condition and it is properly signed on the interior
with Jesse Robbins' co-joined initials "JR" hallmark.
This bracelet is an extremely attractive and well-made "old soul"
type piece from an already outstanding young silversmith.
SOLD