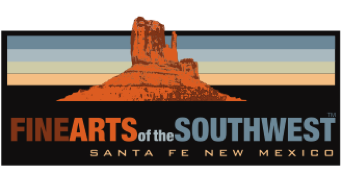 © 2010-2021 by Fine Arts of the Southwest, Inc. All rights reserved.
Unauthorized reproduction or use is strictly prohibited by law.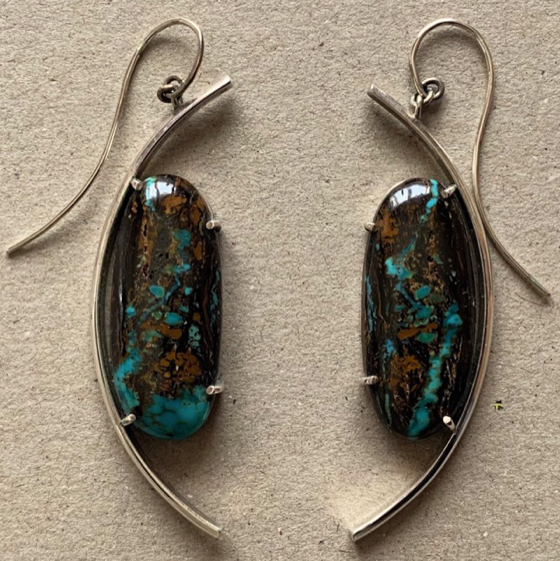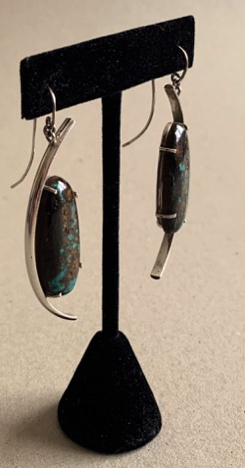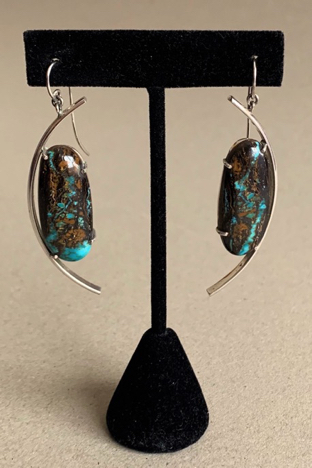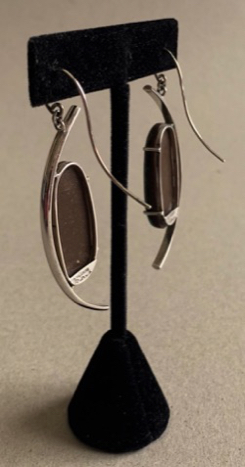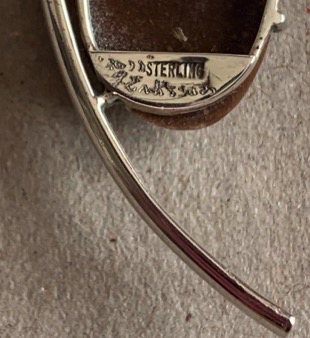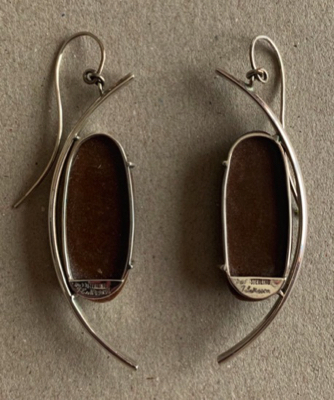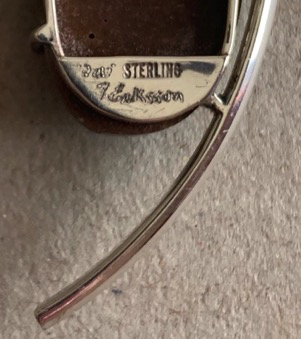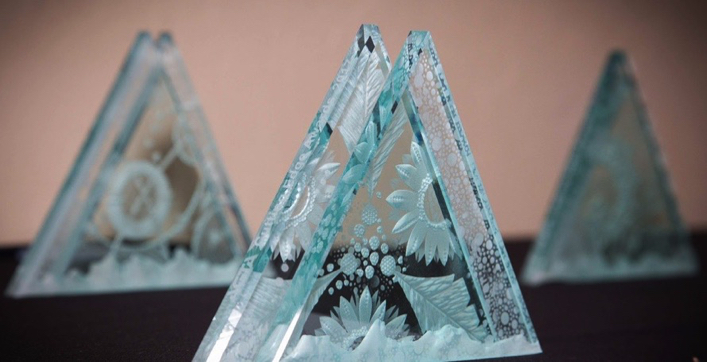 A beautiful pair of contemporary Sterling silver and Kingman turquoise earrings by award winning Arizona fine jeweler, Jimmy Eriksson, 2011
These gorgeous and dramatic earrings were made by the outstanding contemporary Scottsdale, Arizona jeweler, Jimmy Eriksson (active 1970's-present). Winner of multiple American Gem Trade Association "Spectrum" Awards, which are the jewelry industry's equivalent of Hollywood's Academy Awards, Eriksson's remarkable original designs combine outstanding and meticulous classic fine jewelry craftsmanship with a daring modern aesthetic. These are some of the most interesting and delightful new pieces we have seen and they are also extremely well-priced considering their their startling originality, quality and exceptional craftsmanship. 
Eriksson is a former longtime friend and colleague of and collaborator with the renowned Hopi jewelry artist, Charles Loloma (1921-1991). Jimmy executed all of Loloma's fine-gem settings for Charles' jewelry pieces starting in the 1980's. Jimmy continues to work in the same capacity today with Loloma's famous former apprentice and studio heir, the distinguished Hopi jeweler, Verma (Sonwai) Nequatewa (b.1949).
The beautifully-matched large oval-shaped turquoise stones used in these earrings are high-grade red-webbed turquoise from the famed Kingman Mine in western Arizona, considered one of the world's finest turquoises. We purchased these stones in 2011 from renowned American turquoise authority and longtime owner of the famous Lone Mountain turquoise mine in Nevada, Gene Waddell and we gave the stones to Jimmy Eriksson to make these earrings.
The stones are beautifully and dramatically showcased here being suspended inside a lovely architectural framework of finely-fabricated silver. The earrings measure an impressive 2 1/4" in length, 5/8" in width at their widest points and they weigh 8 grams or 1/4 ounce each. The "drop" from the top of the gracefully curved silver hanging wires to the bottom of the earrings is 2 5/8". The earrings are in pristine original condition and they are signed "J Eriksson 2011" in cursive script and also marked "Sterling" on the back of each earring.
These earrings are dynamic and artistically powerful pieces which use classic Southwestern jewelry
materials as the basis for a daring and completely unique contemporary creative expression. Bravo!
Price $775
Jimmy Eriksson has won five "Spectrum" Awards from the American Gem Trade Association for his unique original jewelry designs.
Photo source and © AGTA
Kingman Turquoise
Copper mining in the Mineral Park Mining District around Kingman has produced a large supply of turquoise through the years.
The Kingman mine re-opened in September 2004 after being closed since the 1970's. About 95% of Kingman is stabilized which makes it very affordable. The remaining 5% of the Kingman turquoise stays in its natural state. High-grade Kingman turquoise is medium to dark blue color and frequently flecked with pyrite and sometimes quarts. In its high-grade form it has always been considered among the top quality turquoise. The best Kingman being produced today is deep blue with black matrix with some being spider web.
Kingman turquoise photo and text source and © Waddell Gallery, Scottsdale, Arizona